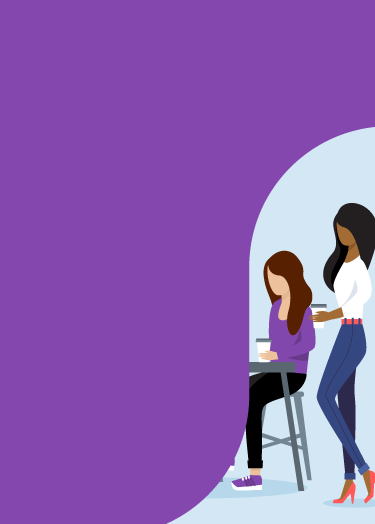 Wellstar Women's Health
Comprehensive Care for Every Life Stage
From adolescence to menopause and beyond, we offer advanced, specialty care tailored to your changing healthcare needs in every stage of life. We are committed to helping women live longer, healthier lives.
---
Women's Health at Wellstar
Wellstar women's health experts understand the conditions unique to women in all stages of life. Our comprehensive, compassionate team offers personalized care in a comfortable environment. We treat various health issues and life events, from gynecology and pregnancy to fertility and breast health. We also have extensive experience treating gynecologic cancers, as well as urogynecologic and other pelvic conditions.

Staying healthy is easier with convenient, state-of-the-art diagnostic, surgical and maternity services. Every woman should schedule an annual check-up at least once a year. As part of your well-woman exam, your provider will take your blood pressure, perform a Pap smear, pelvic exam and a breast exam. Depending on your age and medical history, your physician may recommend additional testing to catch potential health issues early.
Our Care Philosophy
Wellstar Women's Health understands that every woman is unique, and we know how to empower you to achieve optimal health. We are committed to caring for you with compassion and expertise.
Fertility
Deciding to have a family is a personal decision with many options. Based on your health, our team will help you achieve your goals and craft a plan tailored for you.
Obstetrics
Whether you need routine prenatal and delivery services or high-risk pregnancy care, we're here to ensure the health and wellness of you and your baby.
Gynecology
Healthcare needs change as you age. Get the most effective care for everything, from puberty and sexual health through menopause and hot flashes.
Breast Health
We use the latest screening technologies to monitor your breast health, which can help doctors diagnose abnormalities or breast cancers at the earliest stage.
Our Care Team
Our team partners with you to ensure you receive the comprehensive care you need and the experience you desire. For our expecting patients, we offer a variety of birth and care plans. Our gynecological team provides integrated care with other medical specialties, both medical and surgical, to determine the best possible treatment plan for you. Our team members collaborate with experts in other medical disciplines throughout Wellstar to provide you with personalized care tailored to your needs.
Comprehensive, specialized care
Medical specialists collaborate to create patient-centered care plans. Our multidisciplinary teams often include board-certified OB/Gyn's and certified nurse-midwives who have the most advanced training and knowledge in their fields. They collaborate with specialists, including:
Breast Surgeons
Gyn-oncologists
Maternal-fetal medicine specialists
Reproductive endocrinologists
Urogynecologists
Innovative technology, individualized treatment
You will experience the convenience and commitment of a dedicated team providing the highest quality care. We will develop a plan that is specific to you based on your needs and goals. Team members may include:
Advanced nurse practitioners
Genetic counselors
Lactation and breastfeeding specialists
Physical therapists
Specialized imaging technicians
Ultrasound professionals
Wellstar Foundation
As a not-for-profit, gifts to the Wellstar Foundation make it possible to provide patients with additional resources and amenities for a higher level of comfort and care. Every dollar donated supports Wellstar's vision of delivering world-class healthcare, carried out through patient-centered programs, advancements in technology and making reliable healthcare available close to home. Your generosity also makes it possible to provide free screenings and diagnostic services to uninsured and underinsured patients every year. For more information about how to support our fight against disease, visit the Wellstar Foundation.
---
Obstetrics
Expectant Mother and Family Education Classes
Gynecology
Preventative Care and Contraception
Robotic Gynecologic Surgery
Pelvic Floor Physical Therapy
Breast Health
3D Mammography
Breast Reconstruction
Currently showing
74

total listed locations