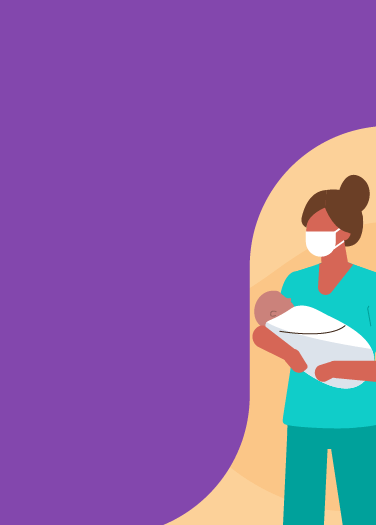 Wellstar Midwife Services
At Wellstar, nurse midwives advocate for women's health and wellness, including assisting women with all aspects of their experience of preparing for, giving birth and mothering.
Midwife Services at Wellstar
Midwives are registered nurses who have received additional education and training in comprehensive
care for women.
While they may be associated with childbirth — and do support patients through every aspect of
labor and delivery
— they also offer personalized care for women through every phase of life. Midwives collaborate with other members of a patient's care team, including nurses and OB/GYNs, to provide comprehensive care during birth. Whether the patient has a natural childbirth or a medically-assisted birth, midwives provide personalized, expert care and advocate for the patient. Numerous studies have shown the highest quality comprehensive birth experiences come from a multidisciplinary treatment team of midwives and OB/GYNs supporting and caring for a mom together. After the patient gives birth, midwives support patients through education on parenting topics such as
breastfeeding
and newborn care. Midwives work with patients at these Wellstar locations: Wellstar
Cobb,
Douglas,
Kennestone,
North Fulton,
West Georgia
and
Spalding
medical centers. If you already have a Wellstar OB/GYN physician, ask your provider about working with a midwife. If you need a new provider, you can
find a Wellstar OB/GYN location near you.
Midwives assist women with:
Health education
Annual wellness exams
Birth control, IUDs and Nexplanon insertions
Prenatal and postpartum care
Do I need a referral to see a midwife?
No, appointments with a midwife do not generally require a referral from your primary care physician or OB/GYN.