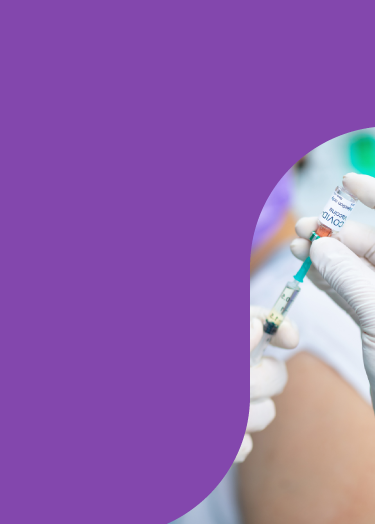 Stick it to COVID & Stay Healthy
Anyone ages six months and older can now receive the COVID-19 vaccine. Check the DPH website or your local retail pharmacy for more information.
Getting the COVID-19 vaccine is a key defense against the virus. Even once you've been vaccinated, it's important to continue to keep yourself and others protected by following safety precautions. Visit our COVID-19 resource page for health tips.
For more information about the COVID-19 vaccine, visit the CDC's FAQs page.
COVID-19 Vaccine: Children ages six months and older
The U.S. Food and Drug Administration (FDA) has approved the
Pfizer and Moderna COVID-19 vaccines for emergency use authorization for children ages six months and older.
Getting vaccinated is an important way to protect your child's health during the pandemic, especially as new variants of the virus emerge. Wellstar is offering COVID-19 vaccines for pediatric patients who are over six months of age. Parents can call their child's Wellstar pediatrician to schedule the vaccination. You can also schedule a COVID-19 vaccine for your child at your local retail pharmacy or visit
vaccines.gov
to find a convenient vaccination site close to you.
COVID-19 Booster Shots
The CDC recommends
everyone ages five years and older get one booster shot after completing their COVID-19 vaccine primary series. For adults ages 50 years and older, and people ages twelve years and older who are moderately or severely immunocompromised, the CDC recommends a second booster.
Learn more about how to stay up to date with your COVID-19 vaccine status.
Find a vaccine near you
If you are eligible to receive a COVID-19 booster, please bring your vaccination card to your local pharmacy or vaccination site to request the COVID-19 booster. At this time, your Wellstar physician is not able to provide COVID-19 vaccinations at their office. If you need help finding a convenient COVID-19 vaccination site, visit
vaccines.gov.