Our Nurses Bring Compassionate Care to Every Patient
At Wellstar, our nurses see their profession as a calling to serve each and every patient they meet. It's a goal that's as rewarding as it is challenging.
Our nurses and nursing support team members use their experience and expertise to make a meaningful impact on the lives of our patients. They thrive in our diverse and collaboration-driven professional environment, whether they perform their work in one of our hospitals, office practices or other clinical settings. They are driven by a passion for exceptional patient outcomes.
Our nurses value shared leadership, embracing the advantages teamwork brings. They prioritize continuing education and strive to further advances in new research for their specialties. By practicing holistic patient- and family-centered care, they honor the voice of each patient to collaborate on their healthcare and focus on living their healthiest lives.
As a result of their successes, our nurses have brought superlatives to Wellstar by earning such awards as the Emergency Nurses Association Lantern Award and the American Nurses Credentialing Center's Magnet® recognition for nursing excellence.
In who they are and all they achieve, our nurses are the embodiment of what we at Wellstar call PeopleCare.
Mission
Wellstar Nursing: Caring Compassionately, Practicing Professionally
Vision
Wellstar nurses will be recognized as a national leader in the practice of nursing by promoting holistic patient and family-centered care, quality and innovation, education, evidence-based practice, and research.
Values
We serve with compassion. We pursue excellence. We honor every voice.
Wellstar Nursing Professional Practice Model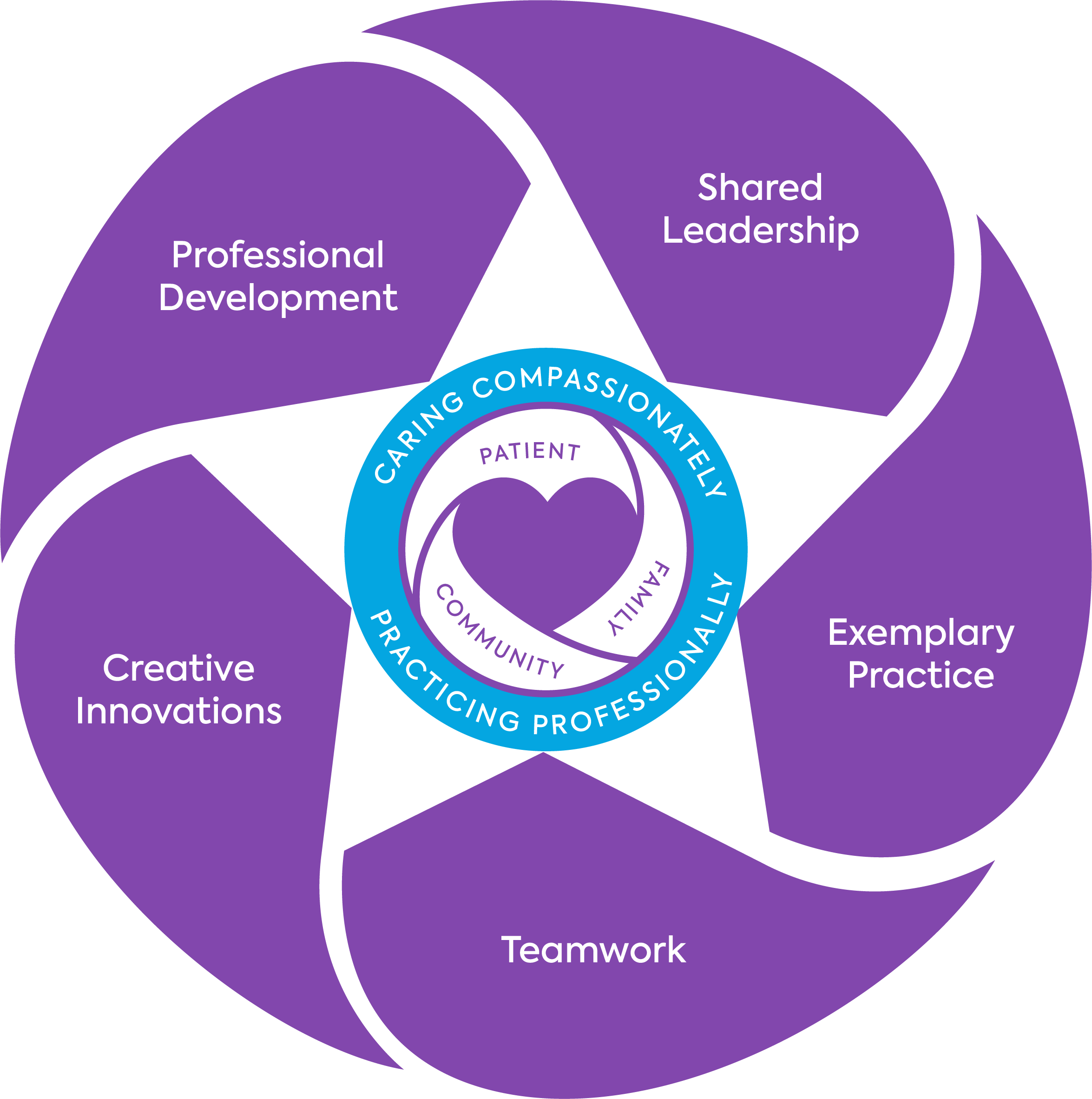 The Wellstar Nursing Professional Practice Model (PPM) is grounded in five practice sustaining elements that encircle nursing's mission and values, those nurses care for, and how care is delivered.

The star, created by the continuous flow of the practice elements, represents exceptional care provided by exceptional caring, professional nurses.

The heart in the center represents how care is delivered across the continuum supporting Wellstar's belief in a life well-lived.
Care Delivery Model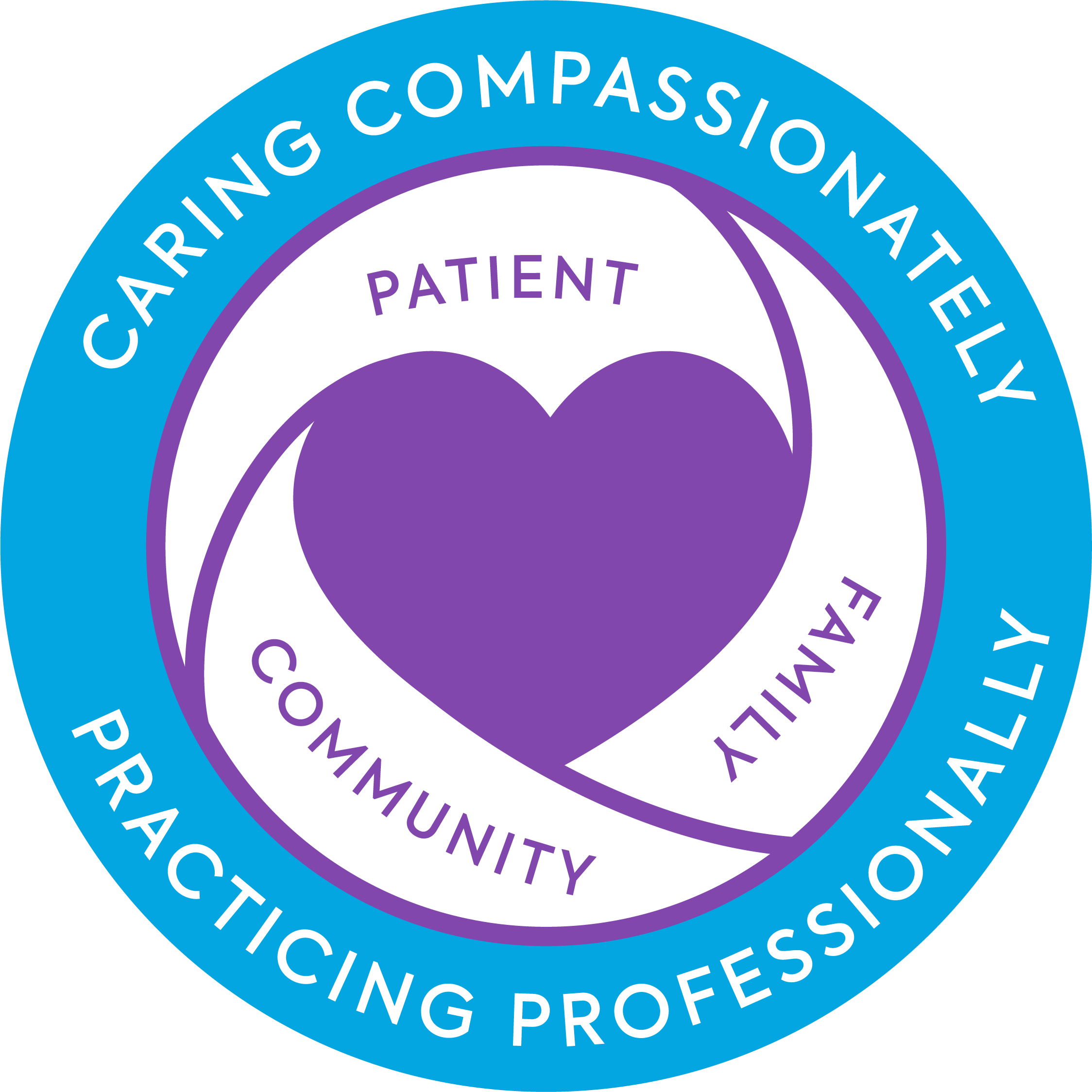 The Holistic Patient-and Family-Centered Care Delivery Model is at the center of the Nursing Professional Practice Model and addresses those nurses caring for the patient, the family and the community, and how care is provided. The heart represents Holistic Patient- and Family-Centered Care, encompassing the art and science of nursing. Holistic care recognizes the patient as a whole and acknowledges the interdependence among the body, mind and spirit's role in health and well-being, and is inclusive of the patient's social paradigms with family and community. The patient and family are active partners with nurses, as care is viewed as doing things with and not to or for the patient. We believe this level of participation in care leads to a higher level of patient engagement, happiness and recovery. The Wellstar Nursing Care Delivery Model is a contemporary model, not based on a nurse theorist, but rather grounded in the elements of Holistic nursing, principles of patient- and family-centered care, and professional nursing ethics.
Rising Star Nurse Residency Program
The Wellstar Nurse Residency Program (NRP) is a 12-month program designed to help new graduate RNs successfully transition from advanced beginners to become competent professionals. The NRP facilitates experiences and learning that contribute to the newly licensed RNs understanding and management of professional concepts such as role development, conflict resolution, delegation, quality outcomes, ethics, diversity, inclusion, and professional research.
Nurse Residency Program Objectives
Utilizing effective decision-making skills.
Providing clinical nursing leadership at the point of care.
Incorporating research-based evidence into practice.
Strengthening professional commitment to nursing.
Formulating an individual development plan.
Preceptor Training
Wellstar recognizes the critical role nurse preceptors play in the education, socialization, and mentoring of our new team members. Nurse preceptors are provided the tools and evidence-based training to become effective preceptors.
Nursing Fellowships
Nursing Fellowships are open to new nurses joining the WPH nursing team and for current nurses transitioning to a different nursing practice area. Fellowships are offered in the following nursing specialty practice areas:
Acute Care
Critical Care
Emergency Services
Perioperative
Cardiac Cath Lab
Nurse Pathways Program
Wellstar offers Nurse Pathways Programs that allow high school students to receive training and credit hours towards several areas of nursing including certified nursing assistant, licensed practical nurse or registered nurse. Wellstar partners with Chattahoochee Technical College and Georgia Highlands College in offering this comprehensive program to these students enabling them to get a head start towards their dream of becoming a nurse.
University Partnerships
Wellstar partners with universities in providing research and practical opportunities for students in nursing programs. These partnerships allow nursing majors to gain the experience they need, while allowing Wellstar to help mold and attract talented nurses back into the organization. These university partnerships include Kennesaw State University, Mercer University, University of West Georgia, Chattahoochee Technical College and Georgia Highlands College.

One example of a partnership, Wellstar has aligned with Kennesaw State University creating an endowment that provides nursing scholarships to students. Their goal is to increase the number of scholarships awarded each year attracting more and more students into the nursing program. Wellstar continues to find innovative ways to leverage that by partnering with quality nursing programs in the region.
Sigma Mu Phi/Sigma Theta Tau
Sigma Mu Phi at-Large is a local professional nursing chapter which is part of the global nursing honor society, today known as Sigma. Sigma was founded as Sigma Theta Tau in 1922 by six nursing students at Indiana University. From those six founding members, our organization has grown to more than 135,000 active members, in more than 530 chapters in over 100 countries around the world. Sigma, at the global and local level, aims to foster high professional standards, recognize superior achievement and leadership qualities, encourage creative work, and strengthen commitment to the ideals and purpose of the profession. Sigma's mission is to "Advance world health and celebrate nursing excellence in scholarship, leadership, and service."

In 2019, Sigma Mu Phi at-Large was introduced as an innovative Sigma chapter combining the nursing power of Kennesaw State University and Wellstar Health System. This unique partnership harnesses the power of thousands of nurses in our region. In October of 2019, five Wellstar hospitals joined the Sigma Mu Phi at-Large chapter as practice settings. Globally, Mu Phi was just the 5th chapter to add practices settings and is the first and only chapter in Region 7 to include practice settings. Region 7 includes: South Carolina, Georgia, Florida, and Puerto Rico. Finally, Mu Phi is a close second to Nu Beta (Johns Hopkins) in regard to the number of practice settings. We're global leaders rooted here at Wellstar with our local community of nurses.
Membership Benefits
Being part of a highly respected and esteemed professional nursing organization that reflects local and global nursing innovation, research, scholarship, and practice.
Attend and engage in local Sigma Mu Phi Chapter Meetings:


Network—Share Best Practice—Collaborate: EBP & Research
Obtain Continuing Education credits and hours
Learn more about Sigma Nursing chapter and membership benefits!