Wellstar Paulding Medical Center Nursing
At Wellstar Paulding Medical Center, it takes a village to deliver personalized care to the community. Our healthcare heroes are more than just nurses, doctors and staff helping people overcome illnesses. We are truly friends caring for friends, family caring for family and neighbors caring for neighbors.
Watch video
Nursing at Wellstar Paulding Medical Center
---
Nursing Mission
Wellstar Nursing: Caring Compassionately, Practicing Professionally
Nursing Vision
Wellstar nurses will be recognized as a national leader in the practice of nursing by promoting holistic patient and family-centered care, quality and innovation, education, evidence-based practice, and research.
Nursing Values
We serve with compassion. We pursue excellence. We honor every voice.
Wellstar Nursing Professional Practice Model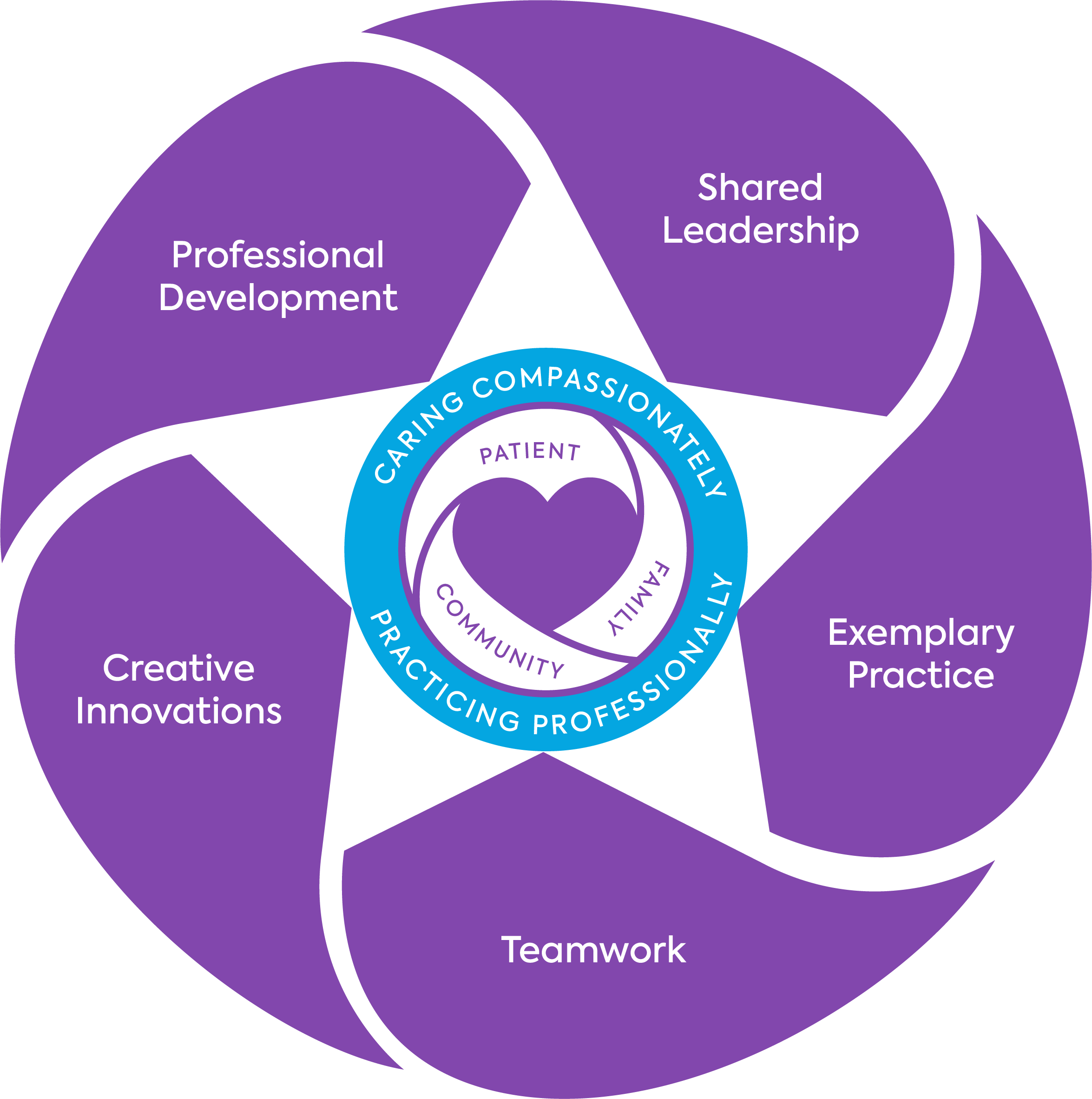 The Wellstar Nursing Professional Practice Model (PPM) is grounded in five practice sustaining elements that encircle nursing's mission and values, those nurses care for, and how care is delivered.

The star, created by the continuous flow of the practice elements, represents exceptional care provided by exceptional caring, professional nurses.

The heart in the center represents how care is delivered across the continuum supporting Wellstar's belief in a life well-lived.
Care Delivery Model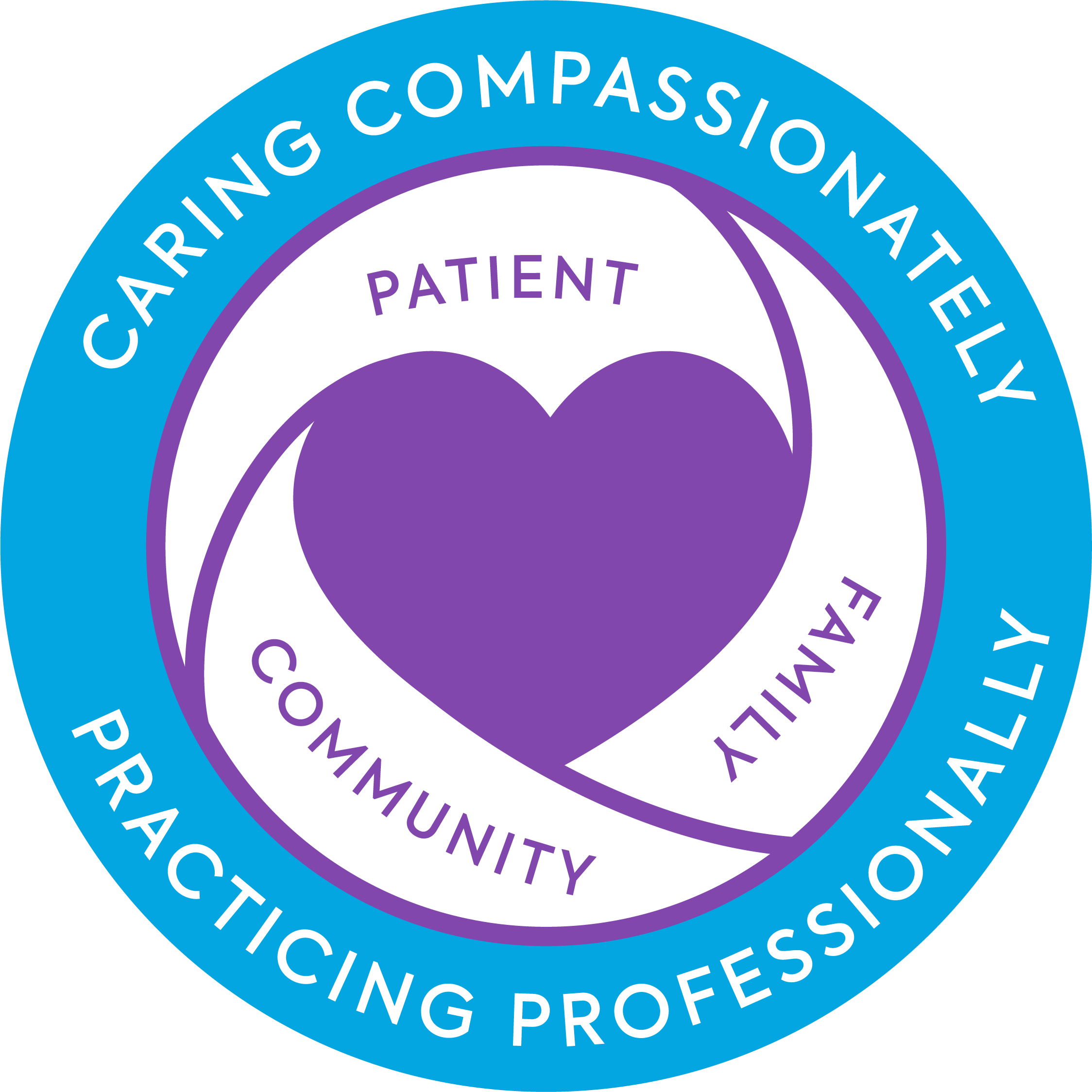 The Holistic Patient-and Family-Centered Care Delivery Model is at the center of the Nursing Professional Practice Model and addresses those nurses caring for the patient, the family and the community, and how care is provided. The heart represents Holistic Patient- and Family-Centered Care, encompassing the art and science of nursing. Holistic care recognizes the patient as a whole and acknowledges the interdependence among the body, mind and spirit's role in health and well-being, and is inclusive of the patient's social paradigms with family and community. The patient and family are active partners with nurses, as care is viewed as doing things with and not to or for the patient. We believe this level of participation in care leads to a higher level of patient engagement, happiness and recovery. The Wellstar Nursing Care Delivery Model is a contemporary model, not based on a nurse theorist, but rather grounded in the elements of Holistic nursing, principles of patient- and family-centered care, and professional nursing ethics.
Rising Star Nurse Residency Program
The Wellstar Nurse Residency Program (NRP) is a 12-month program designed to help new graduate RNs successfully transition from advanced beginners to become competent professionals. The NRP facilitates experiences and learning that contribute to the newly licensed RNs understanding and management of professional concepts such as role development, conflict resolution, delegation, quality outcomes, ethics, diversity, inclusion, and professional research.
Nurse Residency Program Objectives
Utilizing effective decision-making skills.
Providing clinical nursing leadership at the point of care.
Incorporating research-based evidence into practice.
Strengthening professional commitment to nursing.
Formulating an individual development plan.
Preceptor Training
Wellstar recognizes the critical role nurse preceptors play in the education, socialization, and mentoring of our new team members. Nurse preceptors are provided the tools and evidence-based training to become effective preceptors.
Nursing Fellowships
Nursing Fellowships are open to new nurses joining the WPMC nursing team and for current nurses transitioning to a different nursing practice area. Fellowships are offered in the following nursing specialty practice areas:
Acute Care
Critical Care
Emergency Services
Perioperative
Cardiac Cath Lab
Nurse Pathways Program
Wellstar Paulding Medical Center offers a Nurse Pathways Program that allows high school students to receive training and credit hours towards several areas of nursing including certified nursing assistant, licensed practical nurse or registered nurse. Wellstar partners with Chattahoochee Technical College and Georgia Highlands College in offering this comprehensive program to these students enabling them to get a head start towards their dream of becoming a nurse.
University Partnerships
Wellstar Paulding Medical Center partners with universities in providing research and practical opportunities for students in nursing programs. These partnerships allow nursing majors to gain the experience they need, while allowing Wellstar to help mold and attract talented nurses back into the organization. Wellstar Paulding's university partnerships include Kennesaw State University, Mercer University, University of West Georgia, Chattahoochee Technical College and Georgia Highlands College.

One example of a partnership, Wellstar has aligned with Kennesaw State University creating an endowment that provides nursing scholarships to students. Their goal is to increase the number of scholarships awarded each year attracting more and more students into the nursing program. Wellstar Paulding continues to find innovative ways to leverage that by partnering with quality nursing programs in the region.
Sigma Mu Phi/Sigma Theta Tau
Sigma Mu Phi at-Large is a local professional nursing chapter which is part of the global nursing honor society, today known as Sigma. Sigma was founded as Sigma Theta Tau in 1922 by six nursing students at Indiana University. From those six founding members, our organization has grown to more than 135,000 active members, in more than 530 chapters in over 100 countries around the world. Sigma, at the global and local level, aims to foster high professional standards, recognize superior achievement and leadership qualities, encourage creative work, and strengthen commitment to the ideals and purpose of the profession. Sigma's mission is to "Advance world health and celebrate nursing excellence in scholarship, leadership, and service."

In 2019, Sigma Mu Phi at-Large was introduced as an innovative Sigma chapter combining the nursing power of Kennesaw State University and Wellstar Health System. This unique partnership harnesses the power of thousands of nurses in our region. In October of 2019, five Wellstar hospitals joined the Sigma Mu Phi at-Large chapter as practice settings. Globally, Mu Phi was just the 5th chapter to add practices settings and is the first and only chapter in Region 7 to include practice settings. Region 7 includes: South Carolina, Georgia, Florida, and Puerto Rico. Finally, Mu Phi is a close second to Nu Beta (Johns Hopkins) in regard to the number of practice settings. We're global leaders rooted here at Wellstar Paulding Hospital with our local community of nurses.
Membership Benefits
Being part of a highly respected and esteemed professional nursing organization that reflects local and global nursing innovation, research, scholarship, and practice.
Attend and engage in local Sigma Mu Phi Chapter Meetings:


Network—Share Best Practice—Collaborate: EBP & Research
Obtain Continuing Education credits and hours
Learn more about Sigma Nursing chapter and membership benefits!
Professional Excellence and Recognition
Wellstar Paulding Medical Center nurses and interprofessional partners strive daily to provide exceptional care to patients and family members as engaged professional colleagues. It is an honor to recognize Wellstar Paulding team members for their contributions to patient care. Nominated by patients or peers, these award winners and finalists are recognized as exceptional in their profession.
Wellstar Paulding Medical Center Awards
2021 Recognition for Nursing Excellence by the American Nurses Credentialing Center's (ANCC) Magnet Recognition Program®
2021 Lantern Award Recipient
2021 Level IV Trauma Designation
2020 Malcolm Baldridge National Quality Award Recipient
CNOR Strong 2019 & 2020
Georgia Oglethorpe Award 2019 Recipient
CMS Five-Star Quality Rated for 2019
Level II Emergency Cardiac Care Center
2019 Remote Treatment Stroke Center
Washington Monthly and the Lown Institute, "Best Hospitals in America"—Top 20, July 2020
Healthgrades Patient Safety Excellence Award™ 2020—top 10% in the nation
Leapfrog Hospital Safety Grade "A" 2016-2020
National Hospital Organ Donation Campaign, Workplace Partnership for Life, US Department of Health and Human Services-Platinum Recognition, 2019
Mission: Lifeline-STEMI Receiving Center—Silver, 2019
Get with the Guidelines® Stroke—Bronze, 2019
Get with the Guidelines® Heart Failure—Bronze, 2018
2021 Wellstar Paulding Nursing Excellence Awards Winners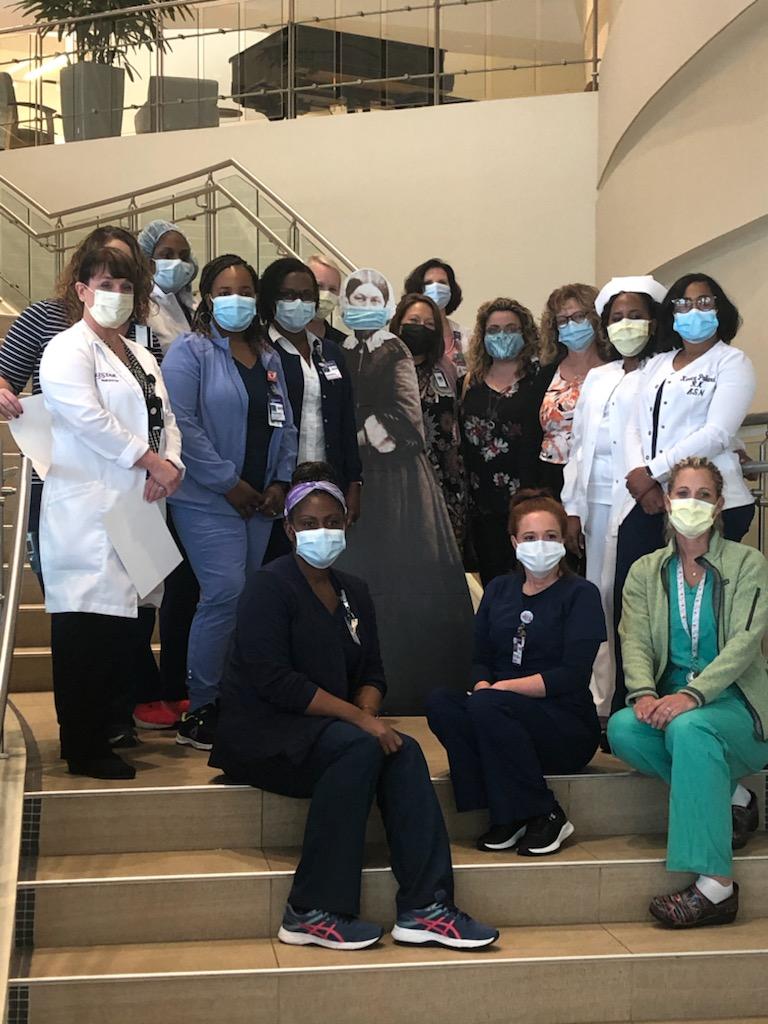 Wellstar Paulding Nursing Excellence Awards Winners and Leaders
Nursing Practice Star - Kerica Pollard, RN
Nightingale Nurse - Nona Harris, RN
Administrative Leadership - Wanda Robinson-Baker, RN
Innovation in Nursing Practice - Andrea Joseph, RN
Preceptor - Amber Estes, RN
Nurse in Expanded Role - Joysline Ndungu, RN
Provider Partner in Practice - David Parks, MD
Helping Hands - Colleen Eichner
Support Star - Mkorongo Tawanda
Shooting Star Award - Erica Holmes, RN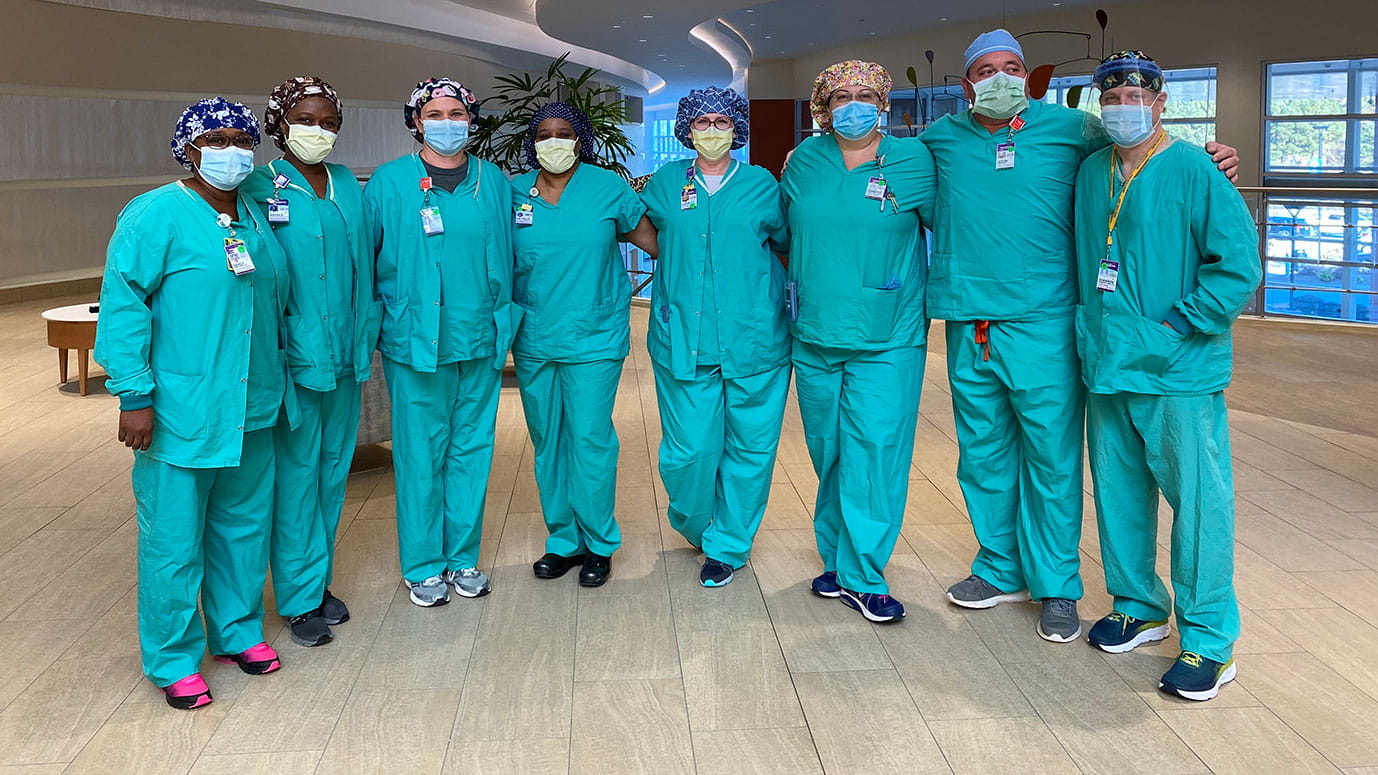 2020 March of Dimes Nursing Award Team Finalist
The Wellstar Paulding Medical Center Surgical Services Team were finalists in the 2020 March of Dimes Nursing Award due to their response to the COVID-19 pandemic. Wellstar Paulding's interprofessional surgical services leadership team took immediate steps to understand the impact of the pandemic as it related to surgery. As information about the virus became available, the team made revisions to equipment and processes needed to ensure safety. From their collaborative efforts to positively impact patient care, to date, there have been no hospital transmission of COVID-19 to any surgical patient.
Clinical Excellence, Research and Commitment to Improvement
Wellstar Paulding nurses contribute to new knowledge through conducting and participating in nursing research to advance clinical and professional practice. Presenting nursing evidence-based practice projects and outcomes via poster and podium presentations locally and nationally are supported and encouraged.
Nursing Research
As professionals, nurses contribute to creating new knowledge through research development and implementation of evidence-based care. Wellstar supports and encourages nurses to participate in evidence-based projects including newly licensed RNs, experienced clinical nurses, and nurse leaders.
Research Studies
Shared Governance Reform: Evaluating the State of Shared Decision Making at Wellstar (IPNG Study)
Further Validation of the Trustworthiness Indicator: Correlation with Hospital Unit or Clinic Level Measures
Effectiveness of Charge Nurse Training to Impact Leadership Style and Resiliency
Effectiveness of Nursing Leadership Training and Strength-Based Coaching to Impact Leadership Style, Capabilities, and Patient Outcomes
Evaluation of the Effectiveness of a Nursing Leadership Mentoring Pilot Program
The Effectiveness of an Outpatient, Nurse-led Heart Failure Education Program in Decreasing 30-Day Readmissions
Efficacy of Moral Distress Interventions during COVID-19 Pandemic
Resource Support
Wellstar Research Institute
Wellstar system-wide Institutional Review Board (IRB)
Electronic access to journals and books
Library resources to support literature reviews
Nursing Research Academic Partners Collaborative
Nursing Outcome Dashboard (NOD)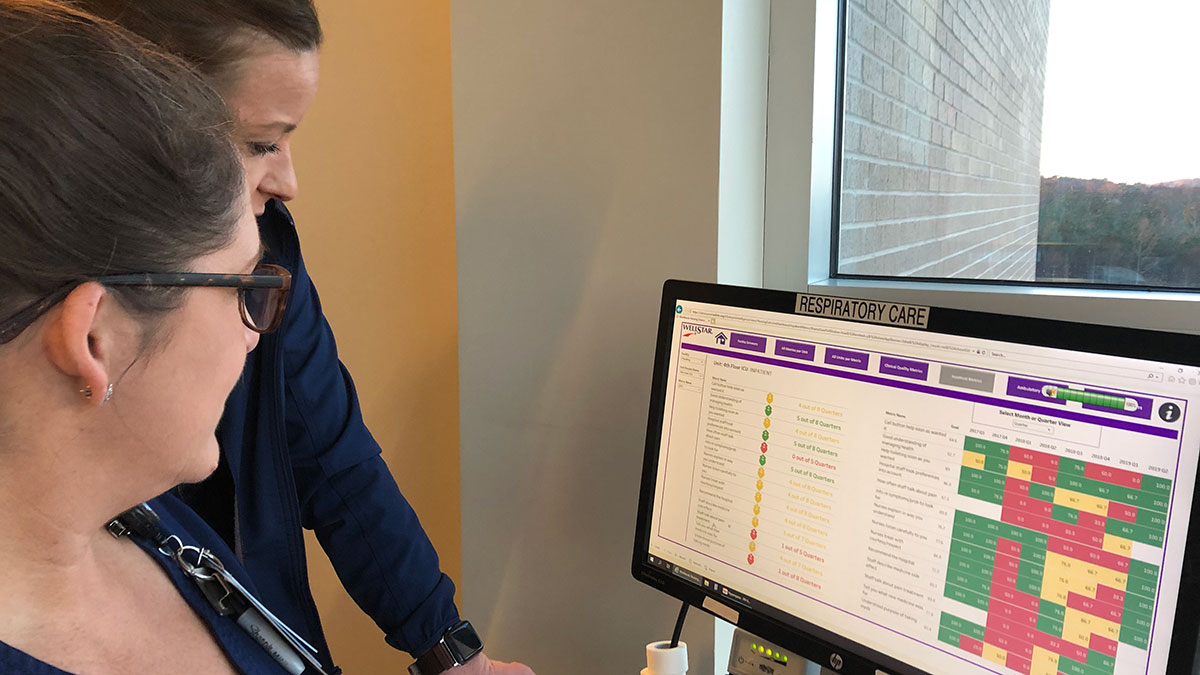 The NOD was created in partnership by Wellstar's Center for Nursing Excellence and Business Intelligence. The dashboard, created for easy access to data for clinical nurses and nursing leaders, provides professional and clinical outcome data at unit, hospital and system levels. NOD data is viewed as one measure of nursing excellence based on clinical and professional outcomes. The standard for nursing excellence is defined as the majority of indicators on the majority of units (by hospital) exceed the benchmarked mean, median, or other measure provided by the organization's national benchmark vendor for five of the most recent eight consecutive quarters. The dashboard is used by nurses to identify opportunities for focused process improvement work and clinical practice projects.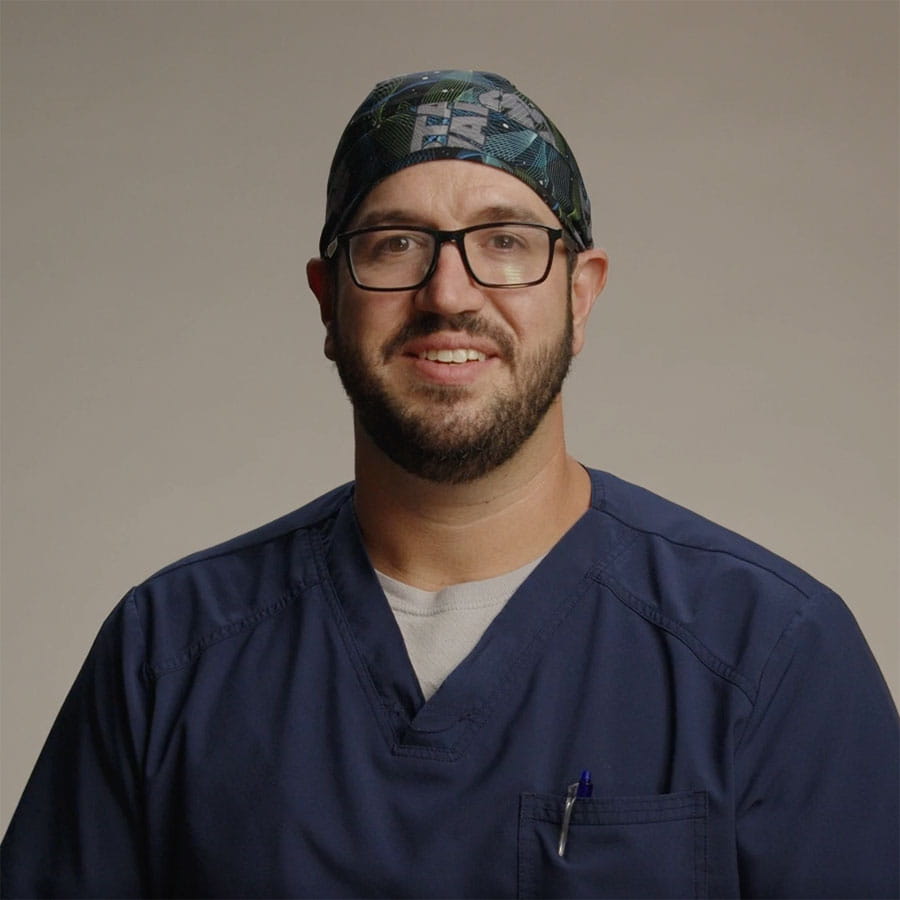 Nic De Jong, BSN, RN
Nic De Jong, BSN, RN, was excited about his opportunity to work at Wellstar Paulding Medical Center before the hospital's new facility was even built. Nic was in nursing school and he and his wife were looking to buy a house. They decided on a home around the corner from where the soon-to-be-hospital was to be built. Now Nic has been a nurse at Wellstar Paulding for over five years and enjoys being part of a team that considers themselves family. He says hospital management is supportive of any innovative ideas they present. Coming from a family of nurses, Nic enjoys his role as a charge nurse and embraces his ability to make a difference. When people find out he works at Wellstar Paulding, they always have a positive response about the great care they received there instilling workplace pride for Nic.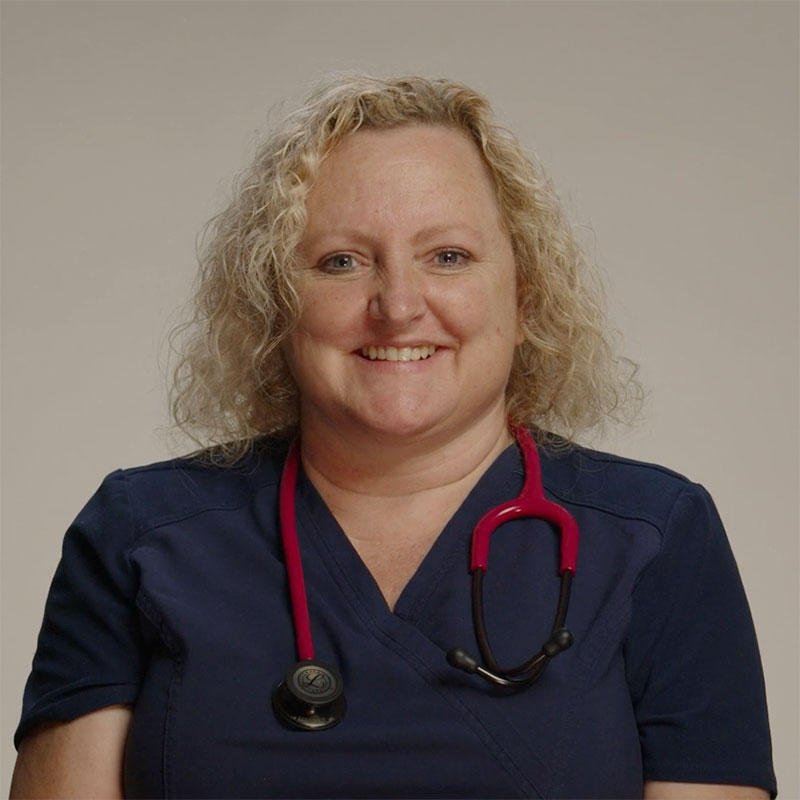 Karen Thula, BSN, RN-BC
When Karen Thula, BSN, RN-BC, and her husband were relocating to Georgia and looking for jobs, both landed opportunities at Wellstar. Living in Paulding County, Karen transitioned to a nursing position at Wellstar Paulding after graduating from nursing school and enjoys working in the community where she lives. She says the positive culture starts at the top and every team member embodies their philosophy of neighbors caring for neighbors. As a nurse, she says she listens to her patients and treats them how she would want to be treated. Connecting with patients and creating a caring community is their number one goal.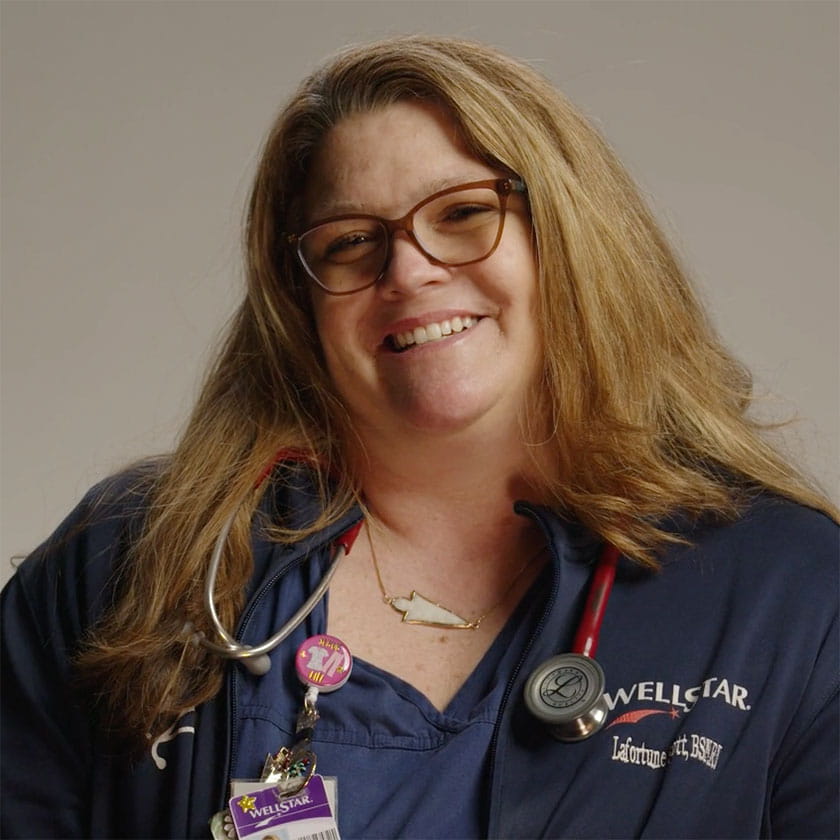 LaFortune Scott, MSN, RN
As a long-time nurse, LaFortune Scott, MSN, RN made the decision to accept an opportunity at Wellstar Paulding Medical Center. What she discovered was a close community and one invested in the hospital. She also loves that when you walk in the door it is obvious that the hospital was designed with the patient in mind. It is the state-of-the-art facility coupled with nurses truly caring for their patients that creates an amazing environment. The community is so grateful for the hospital that the day after the country-wide lockdowns due to COVID-19, neighbors came out and wrote messages for the hospital staff with side-walk chalk as well as circled the hospital with their cars praying for the hospital team and their patients. LaFortune said that experience touched her in a way that has changed her as a nurse.
In 1958, Paulding Hospital, a 25-bed, 14,000-square-foot facility, opened its doors to serve the residents of Paulding County, Georgia. After experiencing exceptional growth in the 1960s and 1970s, the hospital began facing financial difficulties. Despite the many sacrifices the community made to keep this homegrown hospital afloat, it was not able to re-establish its financial footing. In 1994, Northwest Georgia Health System offered the hospital the opportunity to join its growing system; by 1999, the system became known as Wellstar Health System, and this hospital was renamed Wellstar Paulding Hospital. In 2014, an eight-floor, 295,000-square foot, state-of-the-art replacement hospital opened in Hiram. Today, the hospital features 112-private inpatient rooms, 40 emergency exam and pediatric-emergency exam rooms, seven surgical suites, two GI-specific surgical suites, a bronchoscopy suite and decentralized nursing stations. Through our Neighbors Caring for Neighbors (NCN) cultural motto, we provide world-class healthcare and deliver on our mission, vision, and values.