Wellstar Kennestone Nursing
At Wellstar Kennestone Regional Medical Center, our healthcare heroes are more than just nurses, doctors and staff helping people overcome illnesses. We are truly friends caring for friends, family caring for family and neighbors caring for neighbors.
Watch video
"We embrace nursing shared leadership and have adopted the tenets of equity, partnership, accountability and ownership to empower our nurses to provide the highest standards of care for our patients. By focusing on teamwork, improving communication, and involving nurses at all levels in decision-making, our nurses are able to provide safe, reliable, high-quality care." — Marianne Hatfield, Chief Nursing Officer, Wellstar Kennestone Regional Medical Center
Nursing at Wellstar Kennestone Regional Medical Center
---
Nursing Mission
Wellstar Nursing: Caring Compassionately, Practicing Professionally
Nursing Vision
Wellstar nurses will be recognized as a national leader in the practice of nursing by promoting holistic patient and family-centered care, quality and innovation, education, evidence-based practice, and research.
Nursing Values
We serve with compassion. We pursue excellence. We honor every voice.
Wellstar Nursing Professional Practice Model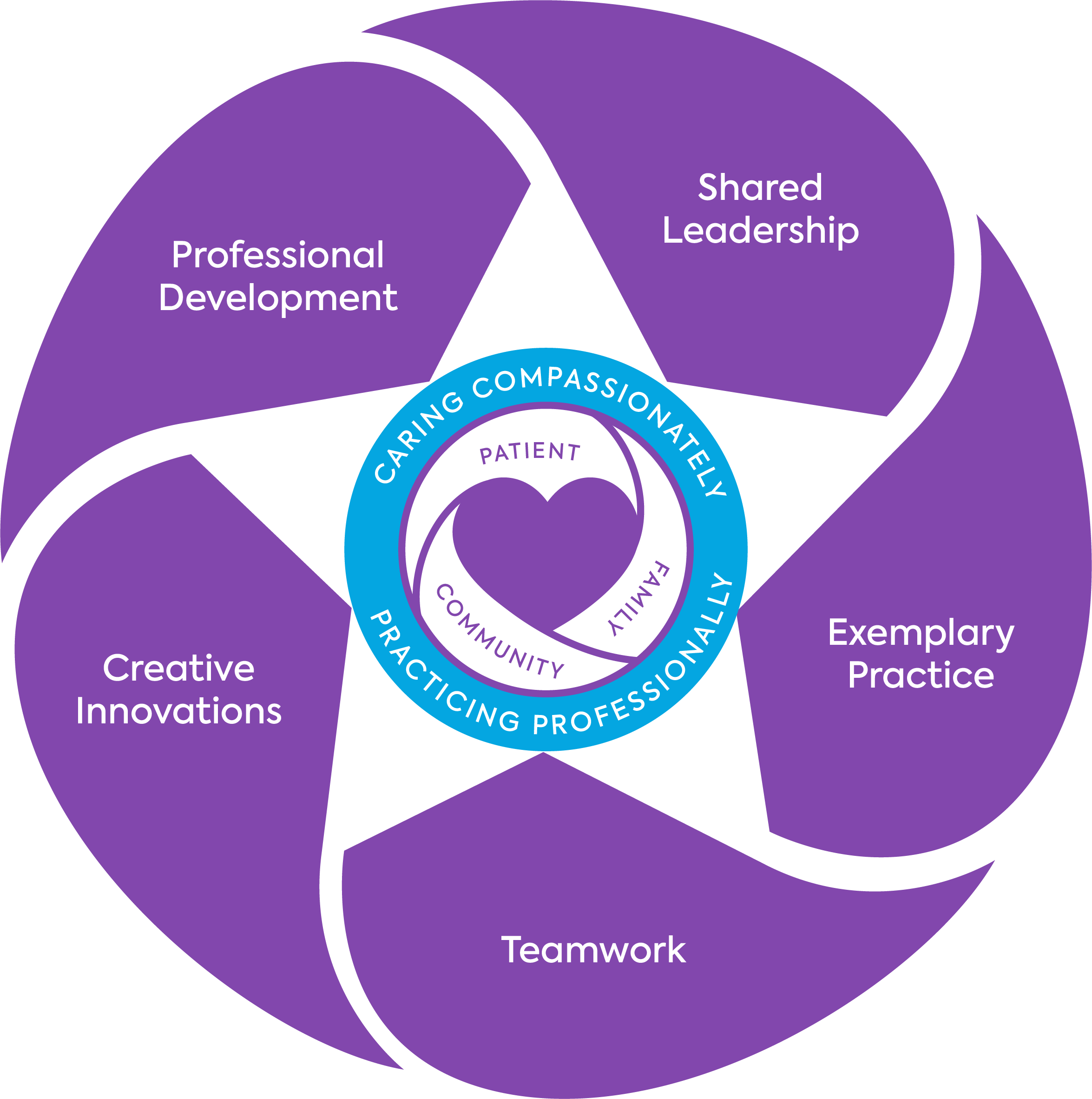 The Wellstar Nursing Professional Practice Model (PPM) is grounded in five practice sustaining elements that encircle nursing's mission and values, those nurses care for, and how care is delivered.

The star, created by the continuous flow of the practice elements, represents exceptional care provided by exceptional caring, professional nurses.

The heart in the center represents how care is delivered across the continuum supporting Wellstar's belief in a life well-lived.
Care Delivery Model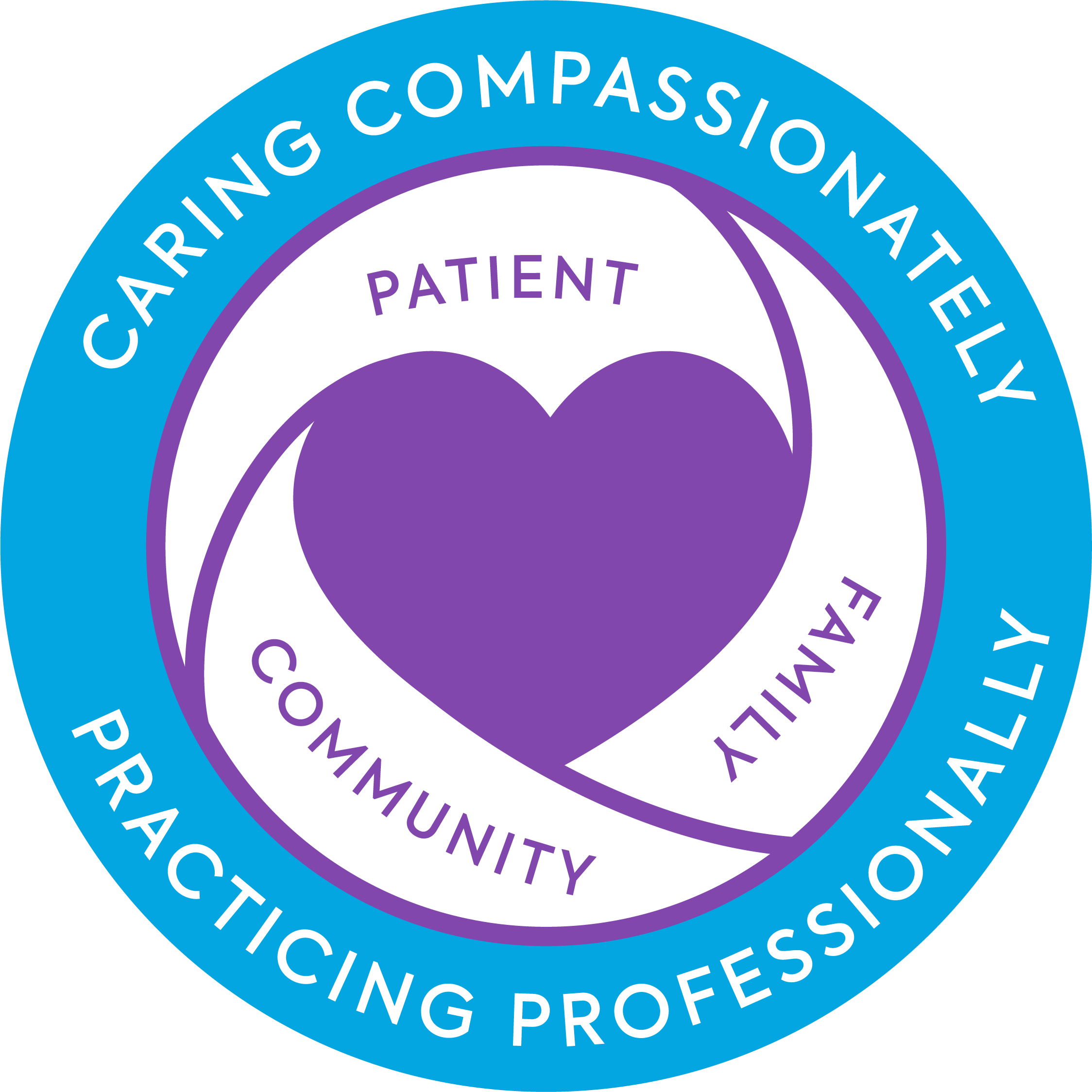 The Holistic Patient-and Family-Centered Care Delivery Model is at the center of the Nursing Professional Practice Model and addresses those nurses caring for the patient, the family and the community, and how care is provided. The heart represents Holistic Patient- and Family-Centered Care, encompassing the art and science of nursing. Holistic care recognizes the patient as a whole and acknowledges the interdependence among the body, mind and spirit's role in health and well-being, and is inclusive of the patient's social paradigms with family and community. The patient and family are active partners with nurses, as care is viewed as doing things with and not to or for the patient. We believe this level of participation in care leads to a higher level of patient engagement, happiness and recovery. The Wellstar Nursing Care Delivery Model is a contemporary model, not based on a nurse theorist, but rather grounded in the elements of Holistic nursing, principles of patient- and family-centered care, and professional nursing ethics.
Rising Star Nurse Residency Program
The Wellstar Nurse Residency Program (NRP) is a 12-month program designed to help new graduate RNs successfully transition from advanced beginners to become competent professionals. The NRP facilitates experiences and learning that contribute to the newly licensed RNs understanding and management of professional concepts such as role development, conflict resolution, delegation, quality outcomes, ethics, diversity, inclusion, and professional research.
Nurse Residency Program Objectives
Utilizing effective decision-making skills
Providing clinical nursing leadership at the point of care
Incorporating research-based evidence into practice
Strengthening professional commitment to nursing
Formulating an individual development plan
Preceptor Training
Wellstar recognizes the critical role nurse preceptors play in the education, socialization, and mentoring of our new team members. Nurse preceptors are provided the tools and evidence-based training to become effective preceptors.
Nursing Fellowships
Nursing Fellowships are open to new nurses joining the WKH nursing team and for current nurses transitioning to a different nursing practice area. Fellowships are offered in the following nursing specialty practice areas:
Acute Care
Critical Care
Emergency Services
Perioperative
Cardiac Cath Lab
Sigma Mu Phi/Sigma Theta Tau
Sigma Mu Phi at-Large is a local professional nursing chapter which is part of the global nursing honor society, today known as Sigma. Sigma was founded as Sigma Theta Tau in 1922 by six nursing students at Indiana University. From those six founding members, our organization has grown to more than 135,000 active members, in more than 530 chapters in over 100 countries around the world. Sigma, at the global and local level, aims to foster high professional standards, recognize superior achievement and leadership qualities, encourage creative work, and strengthen commitment to the ideals and purpose of the profession. Sigma's mission is to "Advance world health and celebrate nursing excellence in scholarship, leadership, and service."

In 2019, Sigma Mu Phi at-Large was introduced as an innovative Sigma chapter combining the nursing power of Kennesaw State University and Wellstar Health System. This unique partnership harnesses the power of thousands of nurses in our region. In October of 2019, five Wellstar hospitals joined the Sigma Mu Phi at-Large chapter as practice settings. Globally, Mu Phi was just the 5th chapter to add practices settings and is the first and only chapter in Region 7 to include practice settings. Region 7 includes: South Carolina, Georgia, Florida, and Puerto Rico. Finally, Mu Phi is a close second to Nu Beta (Johns Hopkins) in regard to the number of practice settings.
Membership Benefits
Being part of a highly respected and esteemed professional nursing organization that reflects local and global nursing innovation, research, scholarship, and practice.
Attend and engage in local Sigma Mu Phi Chapter meetings:

Network
Share best practices
Collaborate: EBP & Research

Obtain Continuing Education credits and hours
Learn more about Sigma Nursing chapter and membership benefits!
Wellstar Kennestone Regional Medical Center Awards
AMSN PRISM Award®
U.S. News & World Report, Best Hospitals in Georgia
Comprehensive Cardiac Center Certification by The Joint Commission
The Joint Commission's Gold Seal Certification for coronary artery bypass, heart valve repair and replacement, and heart failure
Level I ECCC Emergency Cardiac Care Center Designation by Georgia Department of Public Health
Mission: Lifeline® - STEMI Receiving Center - GOLD by the American Heart Association
Mission: Lifeline® - NSTEMI - GOLD by the American Heart Association
Get With The Guidelines - Heart Failure GOLD PLUS with Target: Heart Failure Honor Roll and Target: Type 2 Diabetes Honor Roll by the American Heart Association
#6 Ranking for Best Hospitals for Cardiology & Heart Surgery in Georgia by by U.S. News and World Report
Walter F. Johnson IV Chest Pain Observation Unit, low-risk chest pain patients receive rapid triage and treatment
Target: Stroke Honor Roll - Elite Plus
Target: Stroke Honor Roll Advanced Therapy
Stroke: Get With The Guidelines: Gold Plus Achievement
GO2 Foundation for Lung Cancer
Cancer Care Continuum Center of Excellence
Healthgrades, America's 100 Best Hospitals for Critical Care
Healthgrades, America's 100 Best Hospitals for Pulmonary Care
Healthgrades, America's 100 Best Hospitals for GI Care
Healthgrades, General Surgery Excellence Award
Joint Replacement Excellence Award
Vascular Surgery Excellence Award
Wellstar Kennestone Daisy Award Winners
Jami Macurak, RN
Jami Macurak, RN, received the Daisy Award for her diligence assessing a patient in the pediatric emergency department. The patient was presenting signs of an ear infection due to high blood pressure. She was administered medications and while the pain improved, the blood pressure did not. Labs were then conducted indicating anemia and abnormal renal function and the patient was transported to a pediatric hospital. Due to Jami's thoroughness, she was able to recognize that the child was dealing with much more than an ear infection.
Eric Cantrell, RN
Eric Cantrell, RN, received the Daisy Award for his ability to offer excellent patient care. He displayed his medical knowledge and was able to foresee the steps ahead for a patient. He was patient and showed sensitivity, making his patient feel that she was a priority. With superb communication skills, he takes action to go above and beyond for his patients.
Faith Desantiago, RN
Faith Desantiago, RN, received the Daisy Award for her quick problem-solving skills. A patient came into her care with slurred speech. She notified the on-call nurse practitioner who ordered further assessment and a CT scan. It was finally determined that the patient had possible cancerous metastasis to her brain. The patient had originally come into the emergency department for another issue. Faith was able to help facilitate this patient to the correct diagnosis.
Kyndall Rodriguez, RN
Kyndall Rodriguez, RN, received the Daisy Award for her ability to coach a delivering mom, providing her a positive childbirth experience. According to the patient, Kyndall's positive energy helped her through every push. She did all the hard work, coaching, guiding and monitoring of the baby throughout the patient's delivery. Kyndall exemplified compassionate care.
Kathleen Sigwald, RN
Kathleen Sigwald, RN, received the Daisy Award for providing nurturing care to a newborn and her mother. Kathleen was able to provide support for breastfeeding and took the time to help the patient with latching, which increased her confidence in nursing her new baby. She made a stressful time a calming experience for the new family. She also provided excellent care to another new mom and newborn. The mom was having a reaction to the morphine, and she was able to care for her.
Donna McNulty, RN
Donna McNulty, RN, received the Daisy Award for helping a patient during a critical time. The patient was in crisis and close to death. She assessed the situation, organized the staff and brought the patient back to consciousness and responsiveness. Because of her interventions, he was able to go home and be with his family.
Wellstar Kennestone Rose Award Winners
Ericka Curtis, Unit Support Associate — Green 6 South
Cierra Wright, Care Partner — Green 7 North
Rosa Terry, Care Partner — Blue 6 East
Malika Peterson, Care Partner — Green 7 South
Candace Gill, Care Partner — Blue 5 West