Wellstar Windy Hill Nursing
At Wellstar Windy Hill, our healthcare heroes are more than just nurses, doctors and staff helping people overcome illnesses. We are truly friends caring for friends, family caring for family and neighbors caring for neighbors.
Watch video
"I have been a Professional Registered Nurse over 35 years and the most fulfilling role in my career has been as CNO for Wellstar Windy Hill and East Cobb Health Park. We are a family. We take care of our patients, families, and each other. Human connection is powerful and the first form of healing. My CNO Nursing Philosophy may be summed up in this way. Lead with compassion and trust will follow. Once you have trust, you will begin to see stability, and from stability, hope will emerge." —Betsy Brakovich, Vice President and Chief Nursing Officer, Wellstar Windy Hill
Nursing at Wellstar Windy Hill
---
Nursing Mission
Wellstar Nursing: Caring Compassionately, Practicing Professionally
Nursing Vision
Wellstar nurses will be recognized as a national leader in the practice of nursing by promoting holistic patient and family-centered care, quality and innovation, education, evidence-based practice, and research.
Nursing Values
We serve with compassion. We pursue excellence. We honor every voice.
Wellstar Nursing Professional Practice Model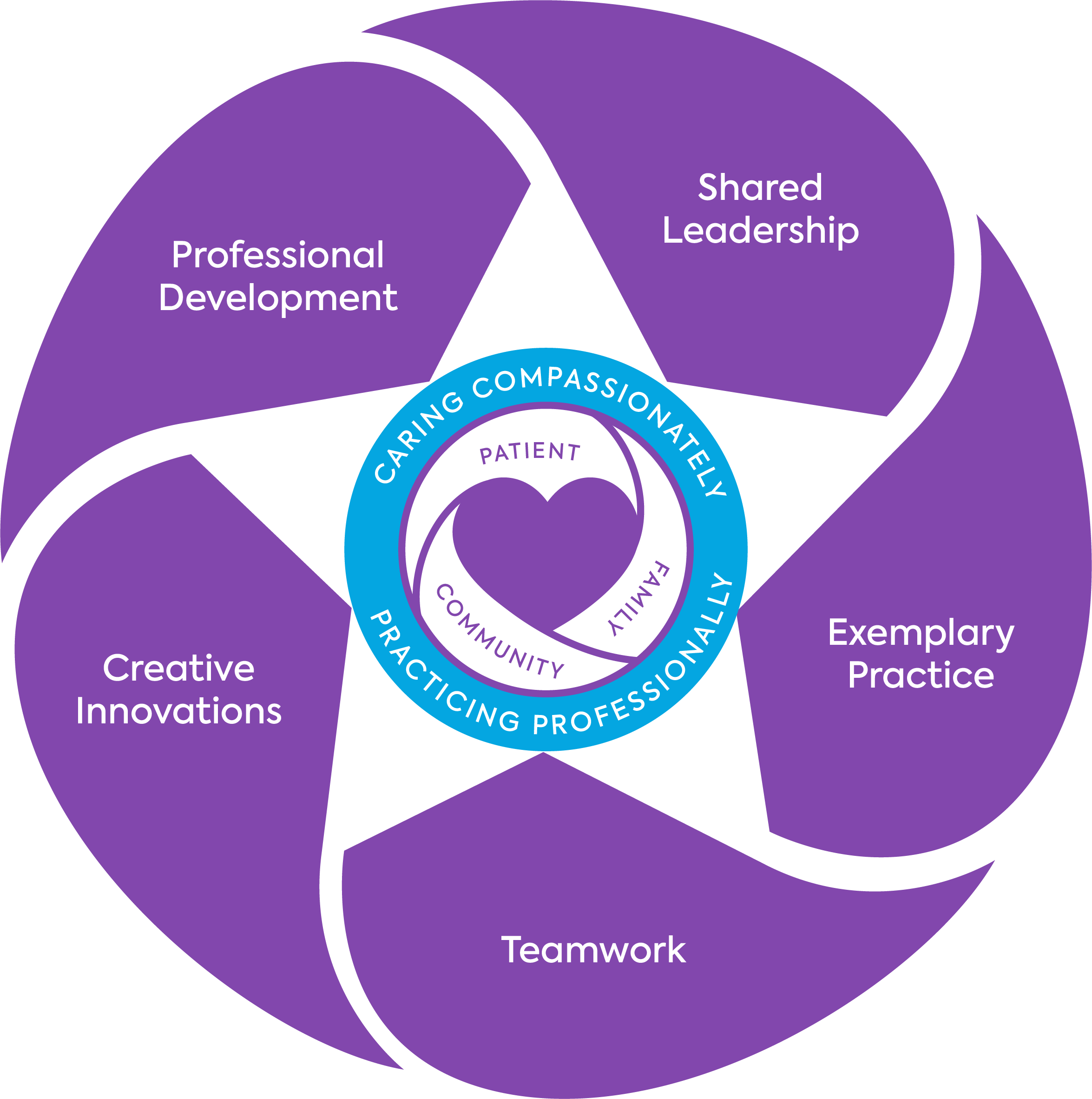 The Wellstar Nursing Professional Practice Model (PPM) is grounded in five practice sustaining elements that encircle nursing's mission and values, those nurses care for, and how care is delivered.

The star, created by the continuous flow of the practice elements, represents exceptional care provided by exceptional caring, professional nurses.

The heart in the center represents how care is delivered across the continuum supporting Wellstar's belief in a life well-lived.
Care Delivery Model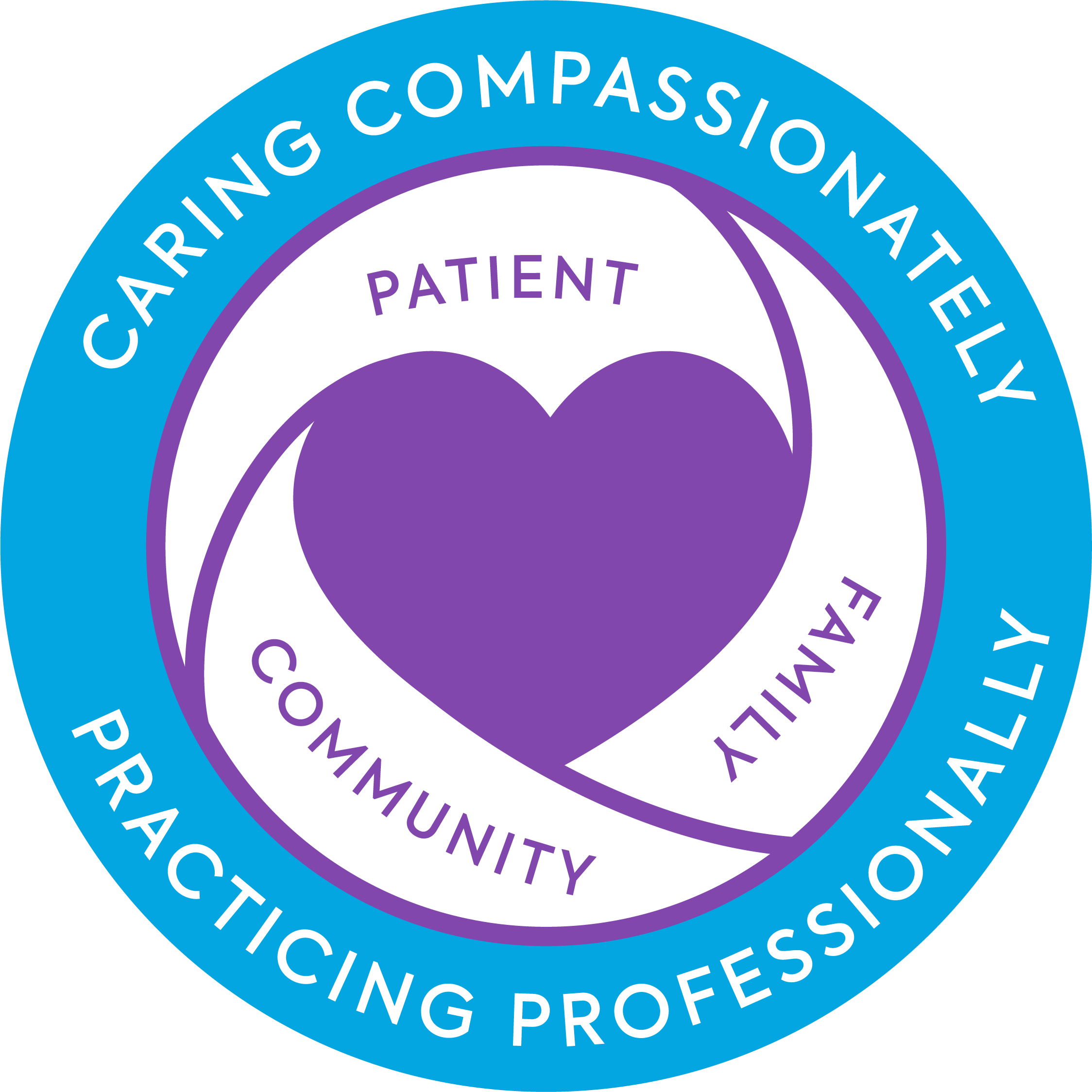 The Holistic Patient-and Family-Centered Care Delivery Model is at the center of the Nursing Professional Practice Model and addresses those nurses caring for the patient, the family and the community, and how care is provided. The heart represents Holistic Patient- and Family-Centered Care, encompassing the art and science of nursing. Holistic care recognizes the patient as a whole and acknowledges the interdependence among the body, mind and spirit's role in health and well-being, and is inclusive of the patient's social paradigms with family and community. The patient and family are active partners with nurses, as care is viewed as doing things with and not to or for the patient. We believe this level of participation in care leads to a higher level of patient engagement, happiness and recovery. The Wellstar Nursing Care Delivery Model is a contemporary model, not based on a nurse theorist, but rather grounded in the elements of Holistic nursing, principles of patient- and family-centered care, and professional nursing ethics.
Rising Star Nurse Residency Program
The Wellstar Nurse Residency Program (NRP) is a 12-month program designed to help new graduate RNs successfully transition from advanced beginners to become competent professionals. The NRP facilitates experiences and learning that contribute to the newly licensed RNs understanding and management of professional concepts such as role development, conflict resolution, delegation, quality outcomes, ethics, diversity, inclusion, and professional research.
Nurse Residency Program Objectives
Utilizing effective decision-making skills
Providing clinical nursing leadership at the point of care
Incorporating research-based evidence into practice
Strengthening professional commitment to nursing
Formulating an individual development plan
Preceptor Training
Wellstar recognizes the critical role nurse preceptors play in the education, socialization, and mentoring of our new team members. Nurse preceptors are provided the tools and evidence-based training to become effective preceptors.
Nursing Fellowships
Nursing Fellowships are open to new nurses joining the WWH nursing team and for current nurses transitioning to a different nursing practice area. Fellowships are offered in the following nursing specialty practice areas:
Acute Care
Critical Care
Emergency Services
Perioperative
Cardiac Cath Lab
Sigma Mu Phi/Sigma Theta Tau
Sigma Mu Phi at-Large is a local professional nursing chapter which is part of the global nursing honor society, today known as Sigma. Sigma was founded as Sigma Theta Tau in 1922 by six nursing students at Indiana University. From those six founding members, our organization has grown to more than 135,000 active members, in more than 530 chapters in over 100 countries around the world. Sigma, at the global and local level, aims to foster high professional standards, recognize superior achievement and leadership qualities, encourage creative work, and strengthen commitment to the ideals and purpose of the profession. Sigma's mission is to "Advance world health and celebrate nursing excellence in scholarship, leadership, and service."

In 2019, Sigma Mu Phi at-Large was introduced as an innovative Sigma chapter combining the nursing power of Kennesaw State University and Wellstar Health System. This unique partnership harnesses the power of thousands of nurses in our region. In October of 2019, five Wellstar hospitals joined the Sigma Mu Phi at-Large chapter as practice settings. Globally, Mu Phi was just the 5th chapter to add practices settings and is the first and only chapter in Region 7 to include practice settings. Region 7 includes: South Carolina, Georgia, Florida, and Puerto Rico. Finally, Mu Phi is a close second to Nu Beta (Johns Hopkins) in regard to the number of practice settings.
Membership Benefits
Being part of a highly respected and esteemed professional nursing organization that reflects local and global nursing innovation, research, scholarship, and practice.
Attend and engage in local Sigma Mu Phi Chapter meetings:

Network
Share best practices
Collaborate: EBP & Research

Obtain Continuing Education credits and hours
Learn more about Sigma Nursing chapter and membership benefits!
Professional Excellence and Recognition
Inpatient Administration of COVID-19 Vaccines in a Long-term Acute Care Hospital
In January 2021, Georgia saw an average of 6000 new cases per day (Georgia Department Public Health, 2021). This statistic made vaccinating patients with multiple comorbidities a primary initiative. Due to the patient population, Wellstar Windy Hill was chosen as the pilot site for inpatient vaccinations. The goal was to optimize the new vaccination process for the remainder of the healthcare system. Challenges with vaccine storage, requirement of multiple doses for vaccination, and verification of patient eligibility were identified. An interprofessional team made of up physicians, nurses, pharmacists, and Epic Connect® analysts was assembled to develop the workflow. The inpatient vaccine pilot began on March 29, 2021. The vaccination program led to a 44% patient vaccination rate by April 30, 2021. At the time of project roll-out, 23% of Georgians had received their first dose of the vaccine (Georgia Department Public Health, 2021.) Change management was critical during the initial phase of pilot development as optimization of the vaccine process continued throughout the development of the administration workflow. Challenges identified in the early stages of the process included tracking patients who received a dose of the vaccine prior to admission, communication between nursing and the physician on time of consent, and nursing education related to vaccine administration. Project team members:
Sarah Meffert, MSN, RN, CNL, CCRN-K, Christin Buckelew, Steve Green, Nicholas Phillips, Hina Mehmood, Pharm.D., BCPS, Nicole Peoples, DO and Betsy Brakovich DNP, RN, MPA, NEA-BC
2023 Daisy Award Recipient
Donnett Johnson, BSN, RN
2023 AJC Celebrating Nurses Nominees
Agnes Bowlin
Belinda Larbi
Denise Lindhardt
Sarah Meffert
Miriam Senior
2022 Rose Award Winner
Brenda Anderson-David,
Monitor Tech, Progressive Care Unit
2022 Wellstar Nursing Excellence Award Recipients
Nursing Practice Star:
Lissa Watson, BSN, RN,
Progressive Care Unit
Nurse in Expanded Role:
Amanda Hill, BSN, RN,
Windy Hill Surgical Services
Preceptor:
Sharrissa Beckford, BSN, RN,
Progressive Care Unit
Innovation in Practice:
Denise Lindhardt, BSN, RN,
Progressive Care Unit
Administrative Leadership:
Erin Glover, DNP, MHA, RN, NPD-BC, NE-BC,
Nursing Administration
Nightingale Nurse:
Agnes Bowlin, ADN, RN,
East Cobb Health Park Cardiac Diagnostics
Provider Partner in Practice:
Monica Gilbert, MD,
Progressive Care Unit
In 1973, what is now known as Wellstar Windy Hill was originally founded as a private-pay hospital called Urban Medical Center on Windy Hill Road. In 1980, Cobb County Kennestone Hospital Authority purchased Urban Medical Center to become Kennestone Hospital and Windy Hill Hospital under the Kennestone Regional Healthcare System. In 1993, the Wellstar non-profit system was founded and evolved into the current Wellstar Health System. Wellstar Windy Hill is one of ten Wellstar Health System hospitals serving the residents of Cobb County, Georgia, and the surrounding communities.  Today, Wellstar Windy Hill is a 115-bed hospital that features nationally recognized specialties in long-term acute care, ambulatory surgery, diagnostic imaging and outpatient rehabilitation. Our orthopedic center offers comprehensive outpatient care, including total knee and hip-joint replacement and world-class pediatric orthopedic services. Additionally, our Ambulatory Surgery Center, diagnostic imaging, outpatient rehabilitation, and cardiac pulmonary rehabilitation services at Wellstar East Cobb Health Park are hospital outpatient departments reporting to Wellstar Windy Hill. The teams at Wellstar Windy Hill and Wellstar East Cobb Health Park ensure that every patient receives the safe, high-quality, personalized PeopleCare they deserve.