Wellstar Spalding Medical Center Nursing
At Wellstar Spalding Medical Center, our healthcare heroes are more than just nurses, doctors and staff helping people overcome illnesses. We are truly friends caring for friends, family caring for family and neighbors caring for neighbors.
Watch video
"I continue to be humbled at how our team members show up each day to take care of our patients, families, physician partners, communities, and one another. Their sense of pride and resiliency is amazing. I am honored to lead and work alongside such remarkable individuals who truly care about the quality, safety, and overall experience they provide in and outside of our hospitals." — Lisa Johnson, Chief Nursing Officer, Wellstar Spalding and Sylvan Grove Medical Centers
Nursing at Wellstar Spalding Medical Center
---
Nursing Mission
Wellstar Nursing: Caring Compassionately, Practicing Professionally
Nursing Vision
Wellstar nurses will be recognized as a national leader in the practice of nursing by promoting holistic patient and family-centered care, quality and innovation, education, evidence-based practice, and research.
Nursing Values
We serve with compassion. We pursue excellence. We honor every voice.
Wellstar Nursing Professional Practice Model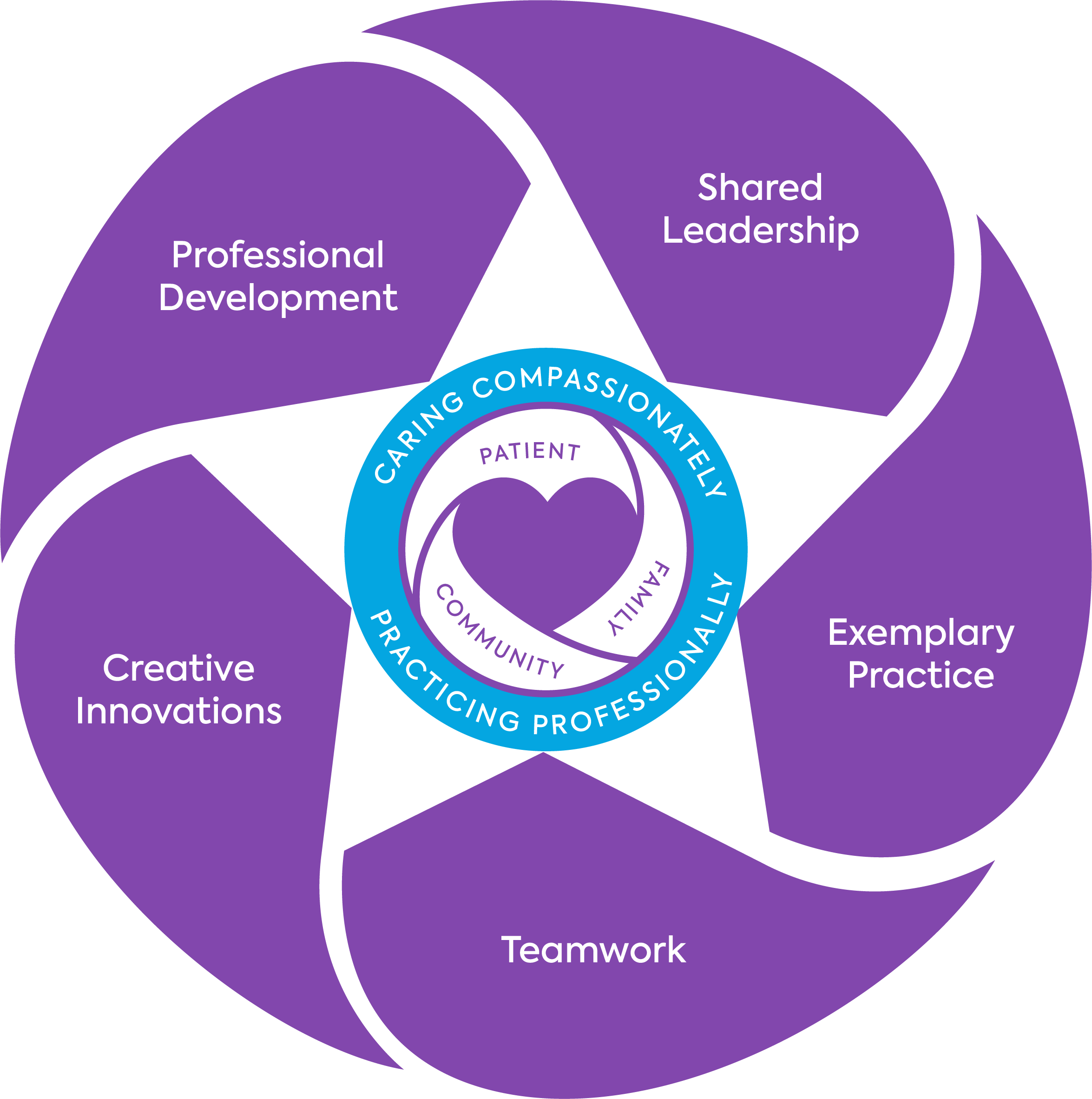 The Wellstar Nursing Professional Practice Model (PPM) is grounded in five practice sustaining elements that encircle nursing's mission and values, those nurses care for, and how care is delivered.

The star, created by the continuous flow of the practice elements, represents exceptional care provided by exceptional caring, professional nurses.

The heart in the center represents how care is delivered across the continuum supporting Wellstar's belief in a life well-lived.
Care Delivery Model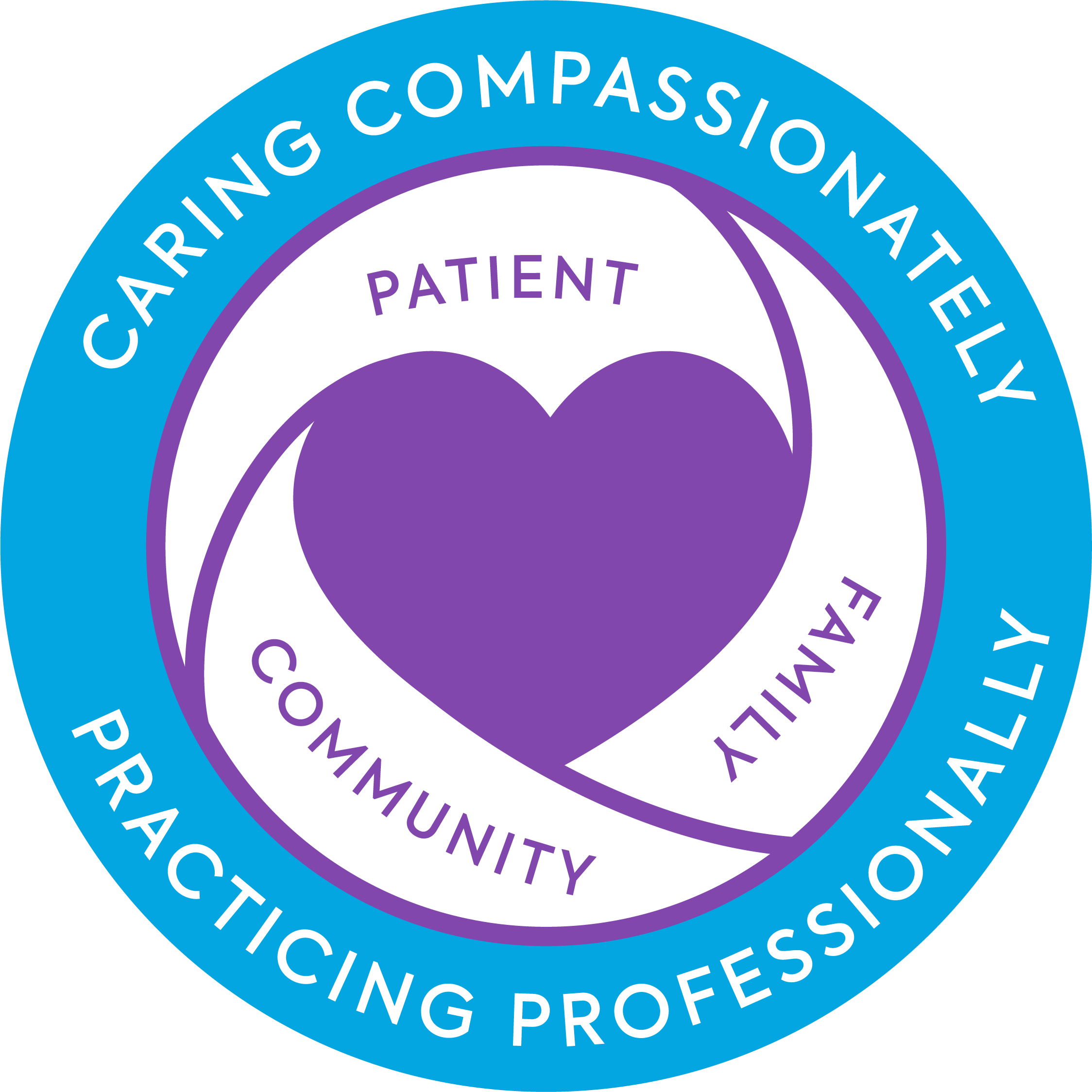 The Holistic Patient-and Family-Centered Care Delivery Model is at the center of the Nursing Professional Practice Model and addresses those nurses caring for the patient, the family and the community, and how care is provided. The heart represents Holistic Patient- and Family-Centered Care, encompassing the art and science of nursing. Holistic care recognizes the patient as a whole and acknowledges the interdependence among the body, mind and spirit's role in health and well-being, and is inclusive of the patient's social paradigms with family and community. The patient and family are active partners with nurses, as care is viewed as doing things with and not to or for the patient. We believe this level of participation in care leads to a higher level of patient engagement, happiness and recovery. The Wellstar Nursing Care Delivery Model is a contemporary model, not based on a nurse theorist, but rather grounded in the elements of Holistic nursing, principles of patient- and family-centered care, and professional nursing ethics.
Rising Star Nurse Residency Program
The Wellstar Nurse Residency Program (NRP) is a 12-month program designed to help new graduate RNs successfully transition from advanced beginners to become competent professionals. The NRP facilitates experiences and learning that contribute to the newly licensed RNs' understanding and management of professional concepts such as role development, conflict resolution, delegation, quality outcomes, ethics, diversity, inclusion, and professional research.
Nurse Residency Program Objectives
Utilizing effective decision-making skills
Providing clinical nursing leadership at the point of care
Incorporating research-based evidence into practice
Strengthening professional commitment to nursing
Formulating an individual development plan
Preceptor Training
Wellstar recognizes the critical role nurse preceptors play in the education, socialization, and mentoring of our new team members. Nurse preceptors are provided the tools and evidence-based training to become effective preceptors.
Nursing Fellowships
Nursing Fellowships are open to new nurses joining the WSMC nursing team and for current nurses transitioning to a different nursing practice area. Fellowships are offered in the following nursing specialty practice areas:
Acute Care
Critical Care
Emergency Services
Perioperative
Cardiac Cath Lab
University Partnerships
Wellstar Spalding Medical Center partners with universities in providing research and practical opportunities for students in nursing programs. These partnerships allow nursing majors to gain the experience they need, while allowing Wellstar to mold and attract talented nurses into the organization. Wellstar Spalding's university partnerships include Clayton State University, Georgia Highlands College, Gordon State College and Mercer University. Wellstar has aligned with Kennesaw State University to create an endowment that provides nursing scholarships to students. Their goal is to increase the number of scholarships awarded each year and attract more and more students into the nursing program. Wellstar Spalding Medical Center strives to provide innovative strategies to increase the interest in nursing by partnering with quality nursing programs in the region.
Rising Star Nurse Extern Program
Overview
The Student Nurse Extern program is designed to support, grow and develop the student nurse into a successful and thriving professional RN and valued Wellstar team member. There are two levels for Student Nurse Externs, I and II.
Student Nurse Extern I
- must have completed one semester of study at an accredited school of nursing and can provide basic care under the direction of a registered nurse. The Student Nurse Extern I is required to work a minimum of 12 hours per pay period and is available to work during summer and winter breaks in alignment with academic calendars.
Student Nurse Extern II
– is within one year of anticipated graduation at an accredited school of nursing and can perform SNE I duties as well as perform advanced technical procedures such as IV insertion or Foley removal in accordance with their knowledge, skill and training. The Student Nurse Extern II is required to work a minimum of 12 hours per pay period is available to work during summer and winter breaks in alignment with academic calendars.
ANCC Success Pays Program
ANCC certification grants a time-limited recognition and use of a credential to individuals who have demonstrated the knowledge and skills and have met predetermined and standardized criteria required in the profession/role. Its purpose is to assure various publics that an individual has mastered a body of knowledge and acquired skills in a particular specialty. ANCC certification meets and exceeds nationally recognized standards of proficiency and professionalism, and represents:
A validation of expertise, knowledge and abilities in your specialty beyond licensure through a rigorous national examination
Clinical experts dedicated to providing quality, evidence-based clinical care that contributes to optimum patient outcomes
Commitment to lifelong learning, patient advocacy, and professional practice through ongoing continuing education and professional development activities
Sigma Mu Phi/Sigma Theta Tau
Sigma Mu Phi at-Large is a local professional nursing chapter which is part of the global nursing honor society, today known as Sigma. Sigma was founded as Sigma Theta Tau in 1922 by six nursing students at Indiana University. From those six founding members, our organization has grown to more than 135,000 active members, in more than 530 chapters in over 100 countries around the world. Sigma, at the global and local level, aims to foster high professional standards, recognize superior achievement and leadership qualities, encourage creative work, and strengthen commitment to the ideals and purpose of the profession. Sigma's mission is to "Advance world health and celebrate nursing excellence in scholarship, leadership, and service."

In 2019, Sigma Mu Phi at-Large was introduced as an innovative Sigma chapter combining the nursing power of Kennesaw State University and Wellstar Health System. This unique partnership harnesses the power of thousands of nurses in our region. In October of 2019, five Wellstar hospitals joined the Sigma Mu Phi at-Large chapter as practice settings. Globally, Mu Phi was just the 5th chapter to add practices settings and is the first and only chapter in Region 7 to include practice settings. Region 7 includes: South Carolina, Georgia, Florida, and Puerto Rico. Finally, Mu Phi is a close second to Nu Beta (Johns Hopkins) in regard to the number of practice settings.
Membership Benefits
Being part of a highly respected and esteemed professional nursing organization that reflects local and global nursing innovation, research, scholarship, and practice.
Attend and engage in local Sigma Mu Phi Chapter meetings:

Network
Share best practices
Collaborate: EBP & Research

Obtain Continuing Education credits and hours
Learn more about Sigma Nursing chapter and membership benefits!
Clinical Excellence, Research and Commitment to Improvement
Wellstar Spalding Medical Center nurses contribute to new knowledge through conducting and participating in nursing research to advance clinical and professional practice. Presenting nursing evidence-based practice projects and outcomes via poster and podium presentations internally, locally and nationally are supported and encouraged.
Nursing Research
As professionals, nurses contribute to creating new knowledge through research development and implementation of evidence-based care. Wellstar supports and encourages nurses to participate in evidence-based projects, including newly licensed nurses, experienced clinical nurses and nurse leaders.
Nurse Residency Program Evidence-Based Practice Projects
Improved RN Hand-off Report
Reducing Nurse Burnout
Poster Presentations
Inpatient/Outpatient Coordination of Movement in Surgical Services: A COVID-19 Pandemic Response to Mitigate Risk
Resource Support
Wellstar Research Institute
Wellstar system-wide Institutional Review Board (IRB)
Electronic access to journals and books
Library resources to support literature reviews
Academic partners collaborative nursing research
Nursing Outcome Dashboard (NOD)
The NOD was created in partnership by Wellstar's Center for Nursing Excellence and Business Intelligence. The dashboard, created for easy access to data for clinical nurses and nursing leaders, provides professional and clinical outcome data at unit, hospital and system levels. NOD data is viewed as one measure of nursing excellence based on clinical and professional outcomes. The standard for nursing excellence is defined as the majority of indicators on the majority of units (by hospital) exceed the benchmarked mean, median, or other measure provided by the organization's national benchmark vendor for five of the most recent eight consecutive quarters. The dashboard is used by nurses to identify opportunities for focused process improvement work and clinical practice projects.
Nursing Testimonial
"I am a nursing professional development generalist at Wellstar Spalding's Perioperative Services Department. Before even applying to Wellstar, I began researching the organizational mission and values to ensure they coincided with my values regarding patient care. Wellstar's view of excellence and honoring every voice were extremely important to me. As a nurse, I feel all team members should be heard and bring something to an organization that they are excellent at. Leaders just need to recognize these talents/skills and utilize them to achieve optimal patient outcomes." —
Shauna Migneault, RN
Professional Excellence and Recognition
Wellstar Spalding Medical Center nurses and interprofessional partners strive daily to provide exceptional care to patients and family members as engaged professional colleagues. It is an honor to recognize Wellstar Spalding's team members for their contributions to patient care. Nominated by patients or peers, these award winners are recognized as exceptional in their profession.
Wellstar Spalding Medical Center Awards
Hospital Accredited by The Joint Commission
Lab Accredited by The Joint Commission
Certified Primary Stroke Program
American Heart/Stroke Association as a Get with the Guideline Gold Plus recipient
Leapfrog Hospital Safety Grade "B"
2021 Nursing Excellence Award Winners
Administrative Leadership: Christy Taylor, RN
Nightingale Nurse: Francis Cantilang, RN
Nurse in Expanded Role: Kimberly Woodall, RN
Nursing Practice Star: Laura Moss, RN
Preceptor: Amanda Lee, RN
Helping Hero: Judith Gomez
AJC Award Nominees
Crystal Chappell, RN
Dana Jones, RN
Hallie Patterson, RN
Sabrina Walden, RN
AJC Award Winner
Laura Moss, RN
Daisy Award Winner
Sabrina Walden, RN, Emergency Department,
received the Daisy Award for going above and beyond to show compassionate care. While working as an emergency department nurse, a patient came by EMS due to a fall. The patient lived alone and Sabrina recognized the patient as her favorite college professor. Sabrina encouraged the patient before her surgery. Once on another floor, Sabrina decided to visit her and learned that the patient wasn't eating. After communicating further, she discovered the patient needed her dentures to eat. Sabrina "left the hospital and drove to the patient's home in Barnesville. She retrieved the patient's dentures. She also packed her essentials that she would need when she was transferred to a rehab facility." This act of kindness from Sabrina provided this patient with the ultimate care that she needed.
Wellstar Spalding Medical Center is a 160-bed hospital that serves the residents of Spalding, Pike, Lamar, Butts, Upson and Henry counties and was founded in 1903. Today, the hospital employs over 850 professionals to deliver world-class healthcare with 48,541 Emergency Department visits, 7,232 hospital admissions, 1,014 newborn deliveries and 54,189 outpatient procedures. Wellstar Spalding is the only Wellstar hospital to employ their own award-winning EMS.