Wellstar North Fulton Medical Center Nursing
At Wellstar North Fulton Medical Center, our healthcare heroes are more than just nurses, doctors and staff helping people overcome illnesses. We are truly friends caring for friends, family caring for family and neighbors caring for neighbors.
Watch video
Nursing at Wellstar North Fulton Medical Center
---
Nursing Mission
Wellstar Nursing: Caring Compassionately, Practicing Professionally
Nursing Vision
Wellstar nurses will be recognized as a national leader in the practice of nursing by promoting holistic patient and family-centered care, quality and innovation, education, evidence-based practice, and research.
Nursing Values
We serve with compassion. We pursue excellence. We honor every voice.
Wellstar Nursing Professional Practice Model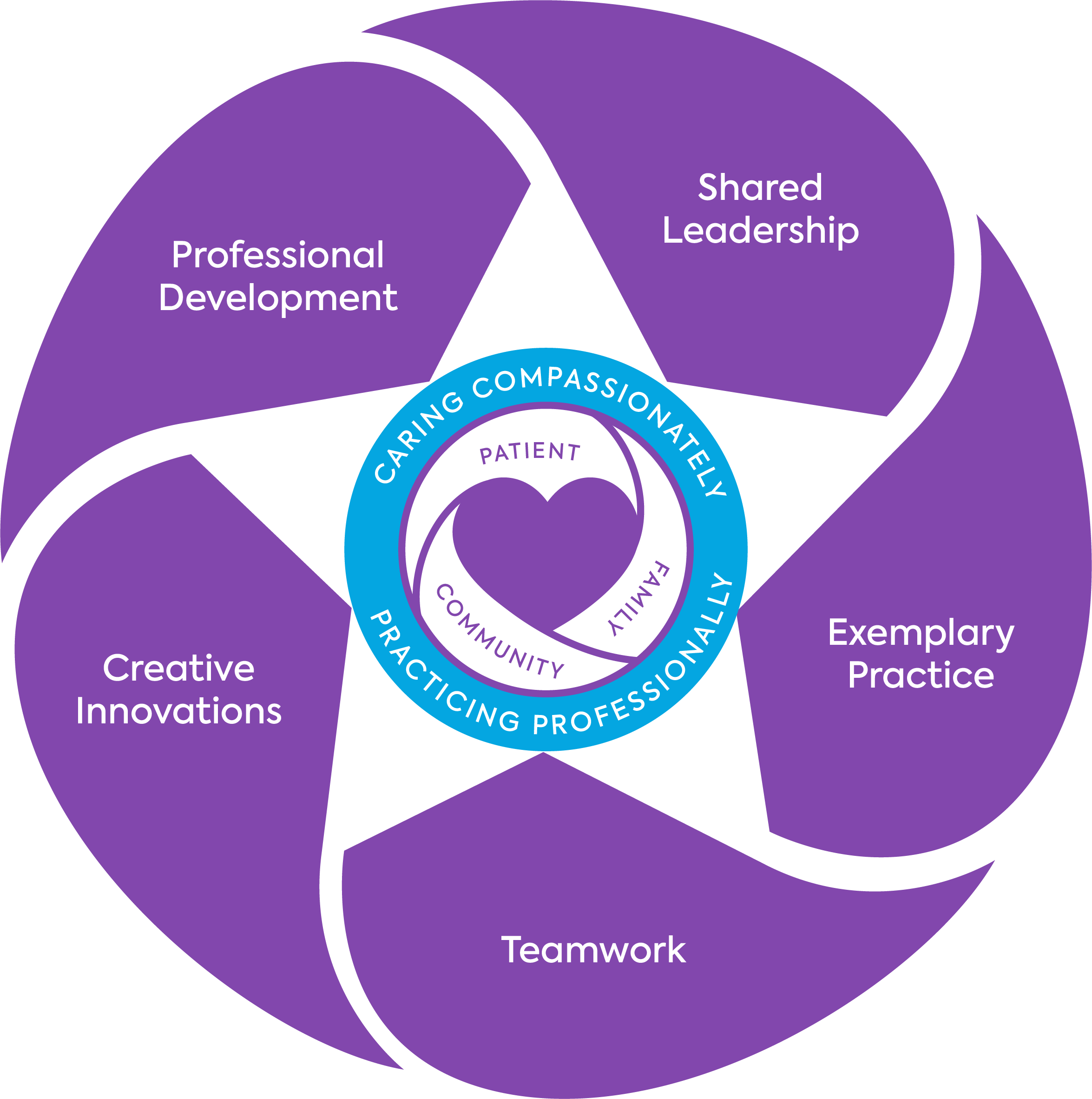 The Wellstar Nursing Professional Practice Model (PPM) is grounded in five practice sustaining elements that encircle nursing's mission and values, those nurses care for, and how care is delivered.

The star, created by the continuous flow of the practice elements, represents exceptional care provided by exceptional caring, professional nurses.

The heart in the center represents how care is delivered across the continuum supporting Wellstar's belief in a life well-lived.
Care Delivery Model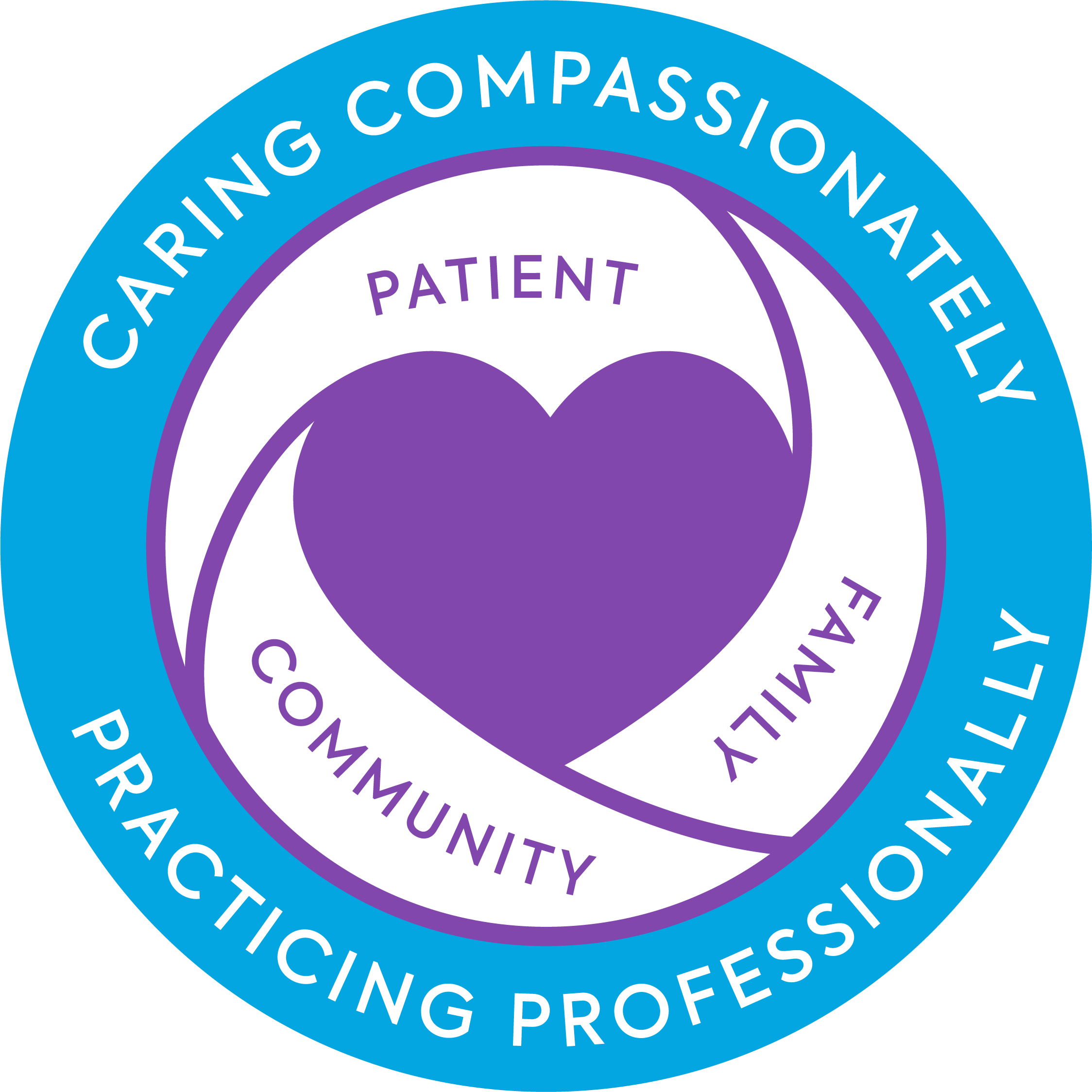 The Holistic Patient-and Family-Centered Care Delivery Model is at the center of the Nursing Professional Practice Model and addresses those nurses caring for the patient, the family and the community, and how care is provided. The heart represents Holistic Patient- and Family-Centered Care, encompassing the art and science of nursing. Holistic care recognizes the patient as a whole and acknowledges the interdependence among the body, mind and spirit's role in health and well-being, and is inclusive of the patient's social paradigms with family and community. The patient and family are active partners with nurses, as care is viewed as doing things with and not to or for the patient. We believe this level of participation in care leads to a higher level of patient engagement, happiness and recovery. The Wellstar Nursing Care Delivery Model is a contemporary model, not based on a nurse theorist, but rather grounded in the elements of Holistic nursing, principles of patient- and family-centered care, and professional nursing ethics.
Rising Star Nurse Residency Program
The Wellstar Nurse Residency Program (NRP) is a 12-month program designed to help new graduate RNs successfully transition from advanced beginners to become competent professionals. The NRP facilitates experiences and learning that contribute to the newly licensed RNs understanding and management of professional concepts such as role development, conflict resolution, delegation, quality outcomes, ethics, diversity, inclusion, and professional research.
Nurse Residency Program Objectives
Utilizing effective decision-making skills
Providing clinical nursing leadership at the point of care
Incorporating research-based evidence into practice
Strengthening professional commitment to nursing
Formulating an individual development plan
University Partnerships
Wellstar North Fulton Medical Center partners with universities in providing research and practical opportunities for students in nursing programs. These partnerships allow nursing majors to gain the experience they need, while allowing Wellstar to help mold and attract talented nurses back into the organization. Wellstar North Fulton's university partnerships include Kennesaw State University, Mercer University, University of North Georgia, Gwinnett Technical College and Lanier Technical College. One example of a partnership, Wellstar has aligned with Kennesaw State University, creating an endowment that provides nursing scholarships to students. Their goal is to increase the number of scholarships awarded each year, attracting more and more students into the nursing program. Wellstar North Fulton continues to find innovative ways to leverage that by partnering with quality nursing programs in the region.
Externship Program
The Student Nurse Extern (SNE) provides basic care under the direction of the registered professional nurse. The SNE role is designed to provide an experiential learning opportunity for students to evolve towards professional nursing practice through the acquisition of basic clinical skills and advancing their knowledge related to patient care. The SNE role promotes a positive patient experience by partnering with the patient, family and other health care providers to provide excellence in customer service and assistance with basic daily living activities and comfort measures.
Professional Excellence and Recognition
Professional Excellence
Clinical Practice Council led Heparin Error improvement project 2019-present. Initial roll out reduced heparin errors on Medical 2 by 75%.
Daisy Award Winners
Tara Arango, RN, received the Daisy Award for her ability to provide excellent care for two family members hospitalized with COVID. An 87-year-old patient was hospitalized with COVID-19 at Wellstar North Fulton. Coincidently, his granddaughter was in the room across the hall from him hospitalized with COVID, as well. The 87-year-old patient's daughter, who also was the mother of the other patient, was feeling helpless at home. She didn't want to call the nurses' station too much as she felt they were so busy. She finally connected with Tara, who took the time to discuss both her father and daughter's cases in detail. Tara was even able to resolve an IV issue with the elder patient. She went above and beyond for the patients and their family members during a stressful time. Deborah Cunningham, RN, received the Daisy Award for stepping up when needed during COVID. She has volunteered to assist wherever needed in the hospital in addition to her normal duties. She has participated at all of the COVID vaccine clinics, working after hours when needed. She routinely assists in the emergency department (ED) taking a patient caseload along with the ED nurses, as well as on the floors. Most recently she has been assisting in the new COVID infusion center on Wednesdays. On a day she was not working in the COVID infusion clinic, a patient required a new, difficult IV site to be started. Upon request, Deborah left her day job to drive to the off-campus site to initiate the IV. This level of dedication is to be commended and so appreciated in these challenging times. Sasha Daniel, RN, works as a night nurse on the labor and delivery floor and received the Daisy Award for displaying compassionate care. She was able to reassure a couple after they gave birth. Sasha came in for the night shift and encouraged them during a stressful time. She displayed kindness and truly listened to the couple's concerns and needs. Rebecca Fabian, RN, received the Daisy Award for demonstrating top-notch care. A patient was not doing well, and she took her time to make the patient and her sister feel comfortable. She communicated effectively to the patient and family member, displaying compassionate care. They were overwhelmed with the kindness she demonstrated to them during their hospital experience. Tessa Fogard, RN, received the Daisy Award for going above and beyond in providing patient care. She cared for an 82-year-old patient admitted with a brain bleed who became very agitated and challenging to treat. Tessa was his daytime nurse and exemplified patience and kindness to him and his daughter. She took the time and explained everything she was doing for the patient. Her gentle care stood out to the patient's daughter for going above and beyond to make patients and family feel comfortable.
Wellstar North Fulton Medical Center is a 218-bed, acute-care hospital located on Highway 9, Alpharetta Highway, in Roswell. Opened in 1983, we serve North Fulton and surrounding counties through our team of more than 800 employees, 400 staff physicians and 200 volunteers. Wellstar North Fulton is a state-designated Level II Trauma Center and provides a continuum of services through its centers and programs, including neurosciences, women's health services, orthopedics, rehabilitation, surgical services, gastroenterology, and oncology. The hospital is fully accredited and also is recognized by the American College of Surgeon's Commission on Cancer as an Accredited Cancer Program, as well as being certified as a Primary Stroke Center by the Joint Commission on the Accreditation of Healthcare Organizations, the nation's oldest and largest hospital accreditation agency.