Wellstar West Georgia Medical Center Nursing
At Wellstar West Georgia Medical Center, our healthcare heroes are more than just nurses, doctors and staff helping people overcome illnesses. We are truly friends caring for friends, family caring for family and neighbors caring for neighbors.
Watch video
"Healthcare workers come to work to make a difference, so it's important to always assume good intentions. It is my responsibility to create an environment where nurses practice safely and prevent harm." — Tracy Gynther, CNO, West Georgia Medical Center
Nursing at Wellstar West Georgia Medical Center
---
Nursing Mission
Wellstar Nursing: Caring Compassionately, Practicing Professionally
Nursing Vision
Wellstar nurses will be recognized as a national leader in the practice of nursing by promoting holistic patient and family-centered care, quality and innovation, education, evidence-based practice, and research.
Nursing Values
We serve with compassion. We pursue excellence. We honor every voice.
Wellstar Nursing Professional Practice Model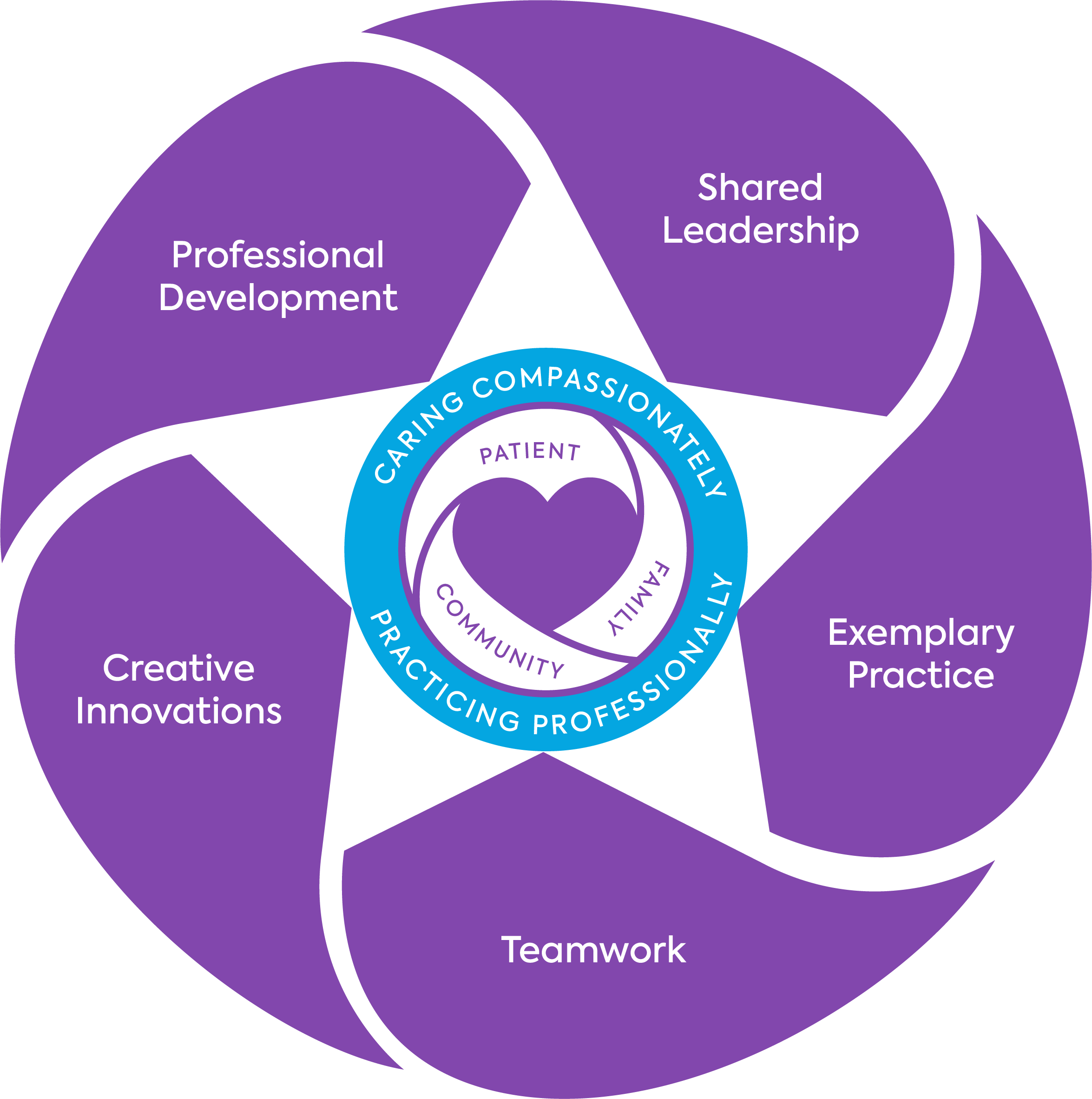 The Wellstar Nursing Professional Practice Model (PPM) is grounded in five practice sustaining elements that encircle nursing's mission and values, those nurses care for, and how care is delivered.

The star, created by the continuous flow of the practice elements, represents exceptional care provided by exceptional caring, professional nurses.

The heart in the center represents how care is delivered across the continuum supporting Wellstar's belief in a life well-lived.
Care Delivery Model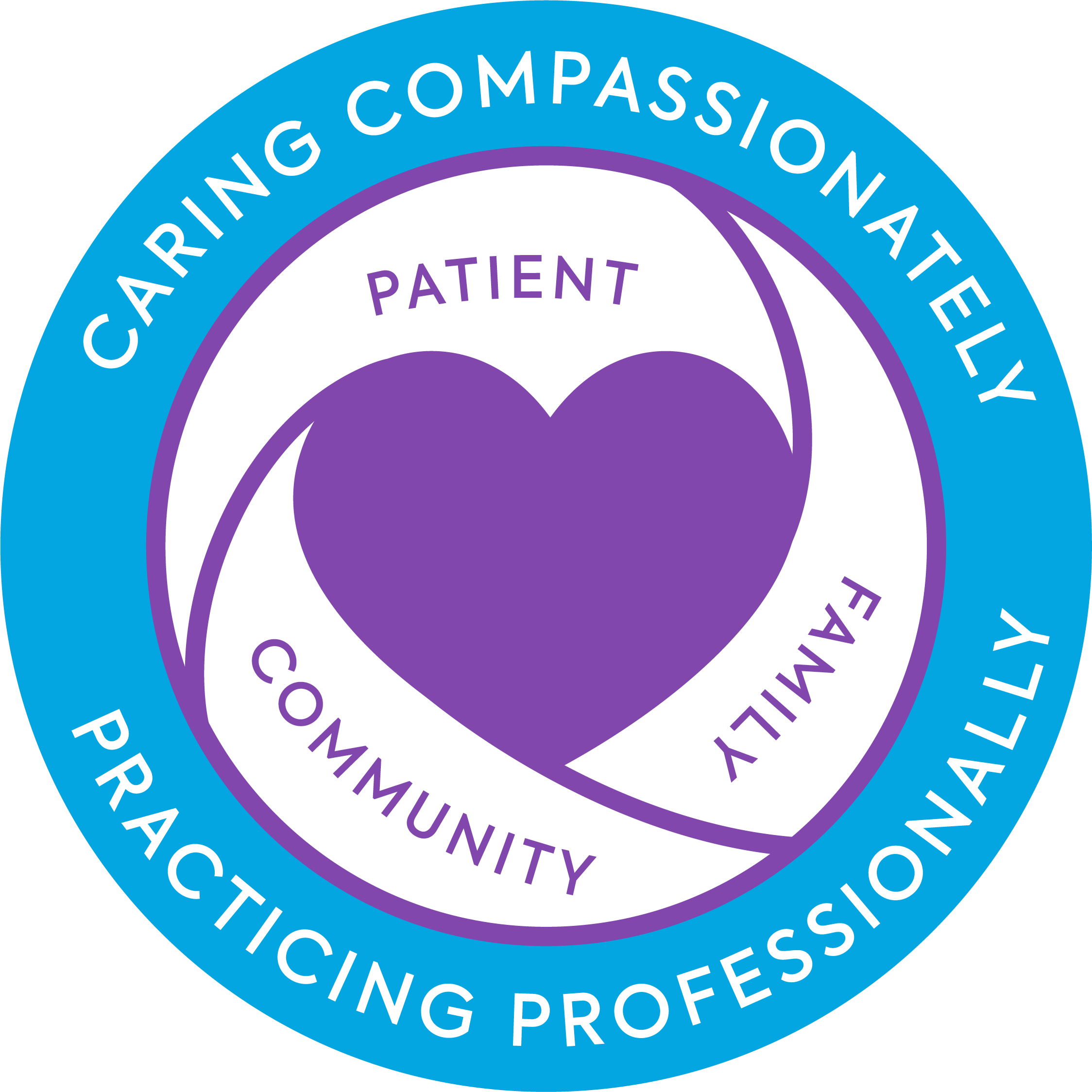 The Holistic Patient-and Family-Centered Care Delivery Model is at the center of the Nursing Professional Practice Model and addresses those nurses caring for the patient, the family and the community, and how care is provided. The heart represents Holistic Patient- and Family-Centered Care, encompassing the art and science of nursing. Holistic care recognizes the patient as a whole and acknowledges the interdependence among the body, mind and spirit's role in health and well-being, and is inclusive of the patient's social paradigms with family and community. The patient and family are active partners with nurses, as care is viewed as doing things with and not to or for the patient. We believe this level of participation in care leads to a higher level of patient engagement, happiness and recovery. The Wellstar Nursing Care Delivery Model is a contemporary model, not based on a nurse theorist, but rather grounded in the elements of Holistic nursing, principles of patient- and family-centered care, and professional nursing ethics.
Rising Star Nurse Residency Program
The Wellstar Nurse Residency Program (NRP) is a 12-month program designed to help new graduate RNs successfully transition from advanced beginners to become competent professionals. The NRP facilitates experiences and learning that contribute to the newly licensed RNs understanding and management of professional concepts such as role development, conflict resolution, delegation, quality outcomes, ethics, diversity, inclusion, and professional research.
Nurse Residency Program Objectives
Utilizing effective decision-making skills
Providing clinical nursing leadership at the point of care
Incorporating research-based evidence into practice
Strengthening professional commitment to nursing
Formulating an individual development plan
Preceptor Training
Wellstar recognizes the critical role nurse preceptors play in the education, socialization, and mentoring of our new team members. Nurse preceptors are provided the tools and evidence-based training to become effective preceptors.
Nursing Fellowships
Nursing Fellowships are open to new nurses joining the WWGMC nursing team and for current nurses transitioning to a different nursing practice area. Fellowships are offered in the following nursing specialty practice areas:
Acute Care
Critical Care
Emergency Services
Perioperative
Cardiac Cath Lab
University Partnerships
Wellstar West Georgia Medical Center partners with universities in providing research and practical opportunities for students in nursing programs. These partnerships allow nursing majors to gain the experience they need, while allowing Wellstar to help mold and attract talented nurses back into the organization. Wellstar West Georgia Medical Center's university partnerships include LaGrange College, Auburn University, University of West Georgia, Columbus State University, West Georgia Technical College, and Southern Union State Community College.
Sigma Mu Phi/Sigma Theta Tau
Sigma Mu Phi at-Large is a local professional nursing chapter which is part of the global nursing honor society, today known as Sigma. Sigma was founded as Sigma Theta Tau in 1922 by six nursing students at Indiana University. From those six founding members, our organization has grown to more than 135,000 active members, in more than 530 chapters in over 100 countries around the world. Sigma, at the global and local level, aims to foster high professional standards, recognize superior achievement and leadership qualities, encourage creative work, and strengthen commitment to the ideals and purpose of the profession. Sigma's mission is to "Advance world health and celebrate nursing excellence in scholarship, leadership, and service."

In 2019, Sigma Mu Phi at-Large was introduced as an innovative Sigma chapter combining the nursing power of Kennesaw State University and Wellstar Health System. This unique partnership harnesses the power of thousands of nurses in our region. In October of 2019, five Wellstar hospitals joined the Sigma Mu Phi at-Large chapter as practice settings. Globally, Mu Phi was just the 5th chapter to add practices settings and is the first and only chapter in Region 7 to include practice settings. Region 7 includes: South Carolina, Georgia, Florida, and Puerto Rico. Finally, Mu Phi is a close second to Nu Beta (Johns Hopkins) in regard to the number of practice settings. We're global leaders rooted here at Wellstar West Georgia Medical Center with our local community of nurses.
Clinical Excellence, Research and Commitment to Improvement
Wellstar West Georgia Medical Center nurses contribute to new knowledge through conducting and participating in nursing research to advance clinical and professional practice. Presenting nursing evidence-based practice projects and outcomes via poster and podium presentations locally and nationally is supported and encouraged.
Nursing Research
As professionals, nurses contribute to creating new knowledge through research development and implementation of evidence-based care. Wellstar supports and encourages nurses to participate in evidence-based projects, including newly licensed RNs, experienced clinical nurses and nurse leaders.
Research Studies
Shared Governance Reform: Evaluating the State of Shared Decision Making at Wellstar (IPNG Study)
Further Validation of the Trustworthiness Indicator: Correlation with Hospital Unit or Clinic Level Measures
Effectiveness of Charge Nurse Training to Impact Leadership Style and Resiliency
Effectiveness of Nursing Leadership Training and Strength-Based Coaching to Impact Leadership Style, Capabilities, and Patient Outcomes
Evaluation of the Effectiveness of a Nursing Leadership Mentoring Pilot Program
The Effectiveness of an Outpatient, Nurse-led Heart Failure Education Program in Decreasing 30-Day Readmissions
Efficacy of Moral Distress Interventions during COVID-19 Pandemic
Resource Support
Wellstar Research Institute
Wellstar system-wide Institutional Review Board (IRB)
Electronic access to journals and books
Library resources to support literature reviews
Academic partners collaborative nursing research
Awards and Recognition
Wellstar West Georgia Medical Center Hospital Awards
Georgia Trend Magazine Top Large Hospital in the State (2016, 2017)
100 Great Community Hospitals by Becker's Hospital Review (2016 – 2019)
Top 100 Hospitals, IBM Watson Health
Joint Commission Chest Pain and Percutaneous Coronary Intervention Certification- 2020
Healthgrades Patient Safety Excellence Award; Top 10% in the U.S. – 2020
Mission Lifeline STEMI – Silver Receiving Center (2020), Bronze Receiving Center (2019)
GHA Patient Safety & Quality Summit Awards (2019)
ED Studer Award for Emergency Department Throughput Metrics - 2019
Nursing Excellence Award Winners
Nursing Practice Star - Amy Laney, RN - endoscopy
Nightingale Nurse - Cinda Morrow-Lott, RN, BSN, RN-BC - manager, CIS
Administrative Leadership - Veronica Hopster, RN, MSN - director, emergency services
Innovation in Nursing Practice - Karley Nelson, RN - patient flow coordinator, emergency department
Preceptor - Angela Mathews, RN, MSN - 3 south, women's services
Provider Partner in Practice - Reginald (Ashley) Orr, MD - medical director, emergency services
Support Star - Valerie Morgan, unit secretary, 4 south, med-surg
Nurse Leader of the Year: Karoline Turner, RN
Karoline Turner, RN,
has the heart of a nurse. She is compassionate and kind, and she leads with clarity. You can always trust her to do the right thing at the right time. She is a trusted leader, advisor, and friend to many. She is the nurse you want to care for you at the bedside, but also lead your nursing team. I am so thankful that she chose West Georgia to be her home as she encourages us to all be the best we can be. She was impressive during the COVID pandemic when she took on a new leadership role as the manager of the COVID unit. Since, she has grown the unit from 12 beds with minimal staff to a full 30-bed unit. She was professional, compassionate, comforting, and encouraging with the families of the patients on the unit and with her staff as they worked long, difficult shifts. She is often the first person to volunteer for committees that help strengthen the camaraderie at West Georgia, most recently the Diversity and Inclusion Council. She always has a smile on her face and a willingness to help.
Nurse of the Year: Meagan Williams, RN
Meagan Williams, RN,
lovingly cares for all of her patients and provides them with the world-class PeopleCare that Wellstar strives for. She is patient and kind, and makes her patients feel as though they are her top priority. She is both an extraordinary person and nurse. Meagan is highly skilled, extremely knowledgeable, and a compassionate team player who consistently displays and promotes the highest ethical standards. She embodies the true meaning of a patient advocate, mentor, role model, and team player. In the ED, she serves as both a preceptor and a fill-in charge nurse. She is passionate about the work she does and is a compassionate human being. Soft-spoken, polite, positive, and always the first person to help other members of the team, Meagan is loved and respected by her coworkers and her patients, as well as the physicians and apps she works with.
2021 AJC Award Nominees
Aleigha Drake, RN
Alice Ussery, RN
Amber Karr, RN
Ana Lambert, RN
Angela Hampton, RN
Janice Parmer, RN
Ashley Ellington, RN
Christy Harry, RN
Cinda Lott, RN
Lindsey Perkins, RN
Karoline Turner, RN
Heather Daniel, RN
Jason Karr, RN
Jessica Harrilson, RN
Karley Nelson, RN
Katherine Bound, RN
Katie Ray, RN
Kayla Murphy, RN
Kelly Frailey, RN
Kim Camp, RN
Kindall Dodgen, RN
Krystle Miller, RN
Michelle Harrison, RN
Kim Gay, RN
Lorraine Strickland, RN
Nicole Cofield, RN
Shaina White, RN
Tammy Lynch, RN
Chasity Boyd, RN
Kathy Clark, RN
Sandra Ezema, RN
Telisha McBride, RN
Thomas Lee, RN
Tanya Maddox, RN
Wellstar West Georgia Medical Center Daisy Awards
Endoscopy Team:
The endoscopy team at WGMC received the Daisy Award for their teamwork and ability to provide seamless care to patients, from thorough communication with patients before the procedure day, to friendly staff upon arrival, visits from RNs and the physician before and after the procedure, all to make the patient feel comfortable. Their excellent teamwork allows them to put the patient first, providing phenomenal care.
Melissa Hidalgo Silva, RN
in the ICU, received the Daisy Award for her compassionate care to a patient who had complications from COVID-19. She was the epitome of what a nurse is by treating the whole person, not just the illness, and doing it in a caring and courteous manner, making a lasting impression on the patient and her family.
ICU Team: Erin Parker, Missy Caldwell, Caroline Scarbrough, Taylor Danford, Madison Lester:
These nurses on the ICU team received the Daisy Award for going above and beyond caring for a patient. They demonstrated kind and compassionate care, keeping the family updated regularly and walking the family through terrifying episodes. The family had everything they needed because of this team of exceptional nurses.
Nurse Team: Jessica Harrill, Elizabeth Ellis, Cindy Huckabee, Lindsey Perkins and Marylois Calhoun, Cathy Porter, Jessica Siggers:
These teams of nurses receive the Daisy Award for acting quickly after a patient had trouble breathing in the recovery room after surgery. They were able to do what was needed to save his life. This patient received excellent follow-up care in the hospital after the incident, and these nurses continued to check on him though he was eventually moved to a different floor. These nurses are applauded for their quick thinking and compassionate care.
Wellstar West Georgia Medical Center Rose Award
Judy Farmer
received the Rose Award for providing encouragement to a patient receiving a lung function test. She was able to cheer the patient on to help her get through this challenging test. Judy's ability to provide patience and reassurance helped this patient reach her goal.
Established in 1937, Wellstar West Georgia Medical Center (WGMC) began as City-County Hospital, a 65-bed facility funded by the city of LaGrange, Troup County, Callaway Foundation Inc., and U.S. federal funding through a Hill-Burton grant. Our founders' vision that a community could come together and commit to providing exceptional, compassionate, world-class healthcare locally, regardless of a patient's ability to pay, is what chartered our organization. As the facility expanded to provide cancer, cardiovascular and home health services, it was necessary to expand and become a larger regional medical center. In 1975, City-County Hospital changed its name to West Georgia Medical Center. Through decades of growth, innovation and intelligent risk-taking, West Georgia Medical Center grew into West Georgia Health System, whose services included a full-service hospital with 276 licensed beds, two skilled nursing facilities with a shared total of 266 licensed beds, 16-bed inpatient hospice home, 92-apartment retirement community, the Enoch Callaway Cancer Treatment Center, Georgia Heart Clinic and a full suite of outpatient services including home health, home hospice, laboratory, occupational medicine, rehabilitation and wound care. In June of 2010, West Georgia Health System opened a state-of-the-art south tower that housed an expanded intensive care and intermediate care unit, the West Georgia Heart Clinic, an expanded 34-bed emergency department with trauma bays and an observation unit, labor and delivery suites, and a level II newborn nursery. West Georgia Health System officially partnered with Wellstar Health System and the facility was renamed Wellstar West Georgia Medical Center in April of 2016. WGMC is one of 11 hospitals that are part of Wellstar Health System (WHS), an organization in the business of not only healthcare, but more importantly, PeopleCare. Numerous programs and facilities have been piloted and pioneered through WGMC's tenure, such as:
First to establish a retirement community in our region
First in the state of Georgia to offer hospital-affiliated home hospice
First U.S. hospital to launch the MEDITECH 6.0 electronic health record (EHR), placing WWG in the first five percent of U.S. hospitals to implement the EHR
First Georgia hospital to petition the state for the ability to provide cardiac intervention without surgical backup, as part of a successful five-year Johns Hopkins trial study
As a long-standing pillar of our community, WGMC's workforce of nearly 1,300 team members continues our generation-spanning healthcare story with a culture that is deep, sincere and unique as we deliver innovative, world-class healthcare locally to every patient, every time.