Wellstar Douglas Medical Center Nursing
At Wellstar Douglas Medical Center, our healthcare heroes are more than just nurses, doctors and staff helping people overcome illnesses. We are truly friends caring for friends, family caring for family and neighbors caring for neighbors.
Watch video
"Nursing is a rewarding profession and has the power to touch people in ways we cannot even imagine. My philosophy of nursing is based on compassionate care and trust. This philosophy applies to not only patients, but their families and the team members that I am so privileged to lead." — Melissa Box, Chief Nursing Officer, Wellstar Douglas Medical Center
Nursing at Wellstar Douglas Medical Center
---
Nursing Mission
Wellstar Nursing: Caring Compassionately, Practicing Professionally
Nursing Vision
Wellstar nurses will be recognized as a national leader in the practice of nursing by promoting holistic patient and family-centered care, quality and innovation, education, evidence-based practice, and research.
Nursing Values
We serve with compassion. We pursue excellence. We honor every voice.
Wellstar Nursing Professional Practice Model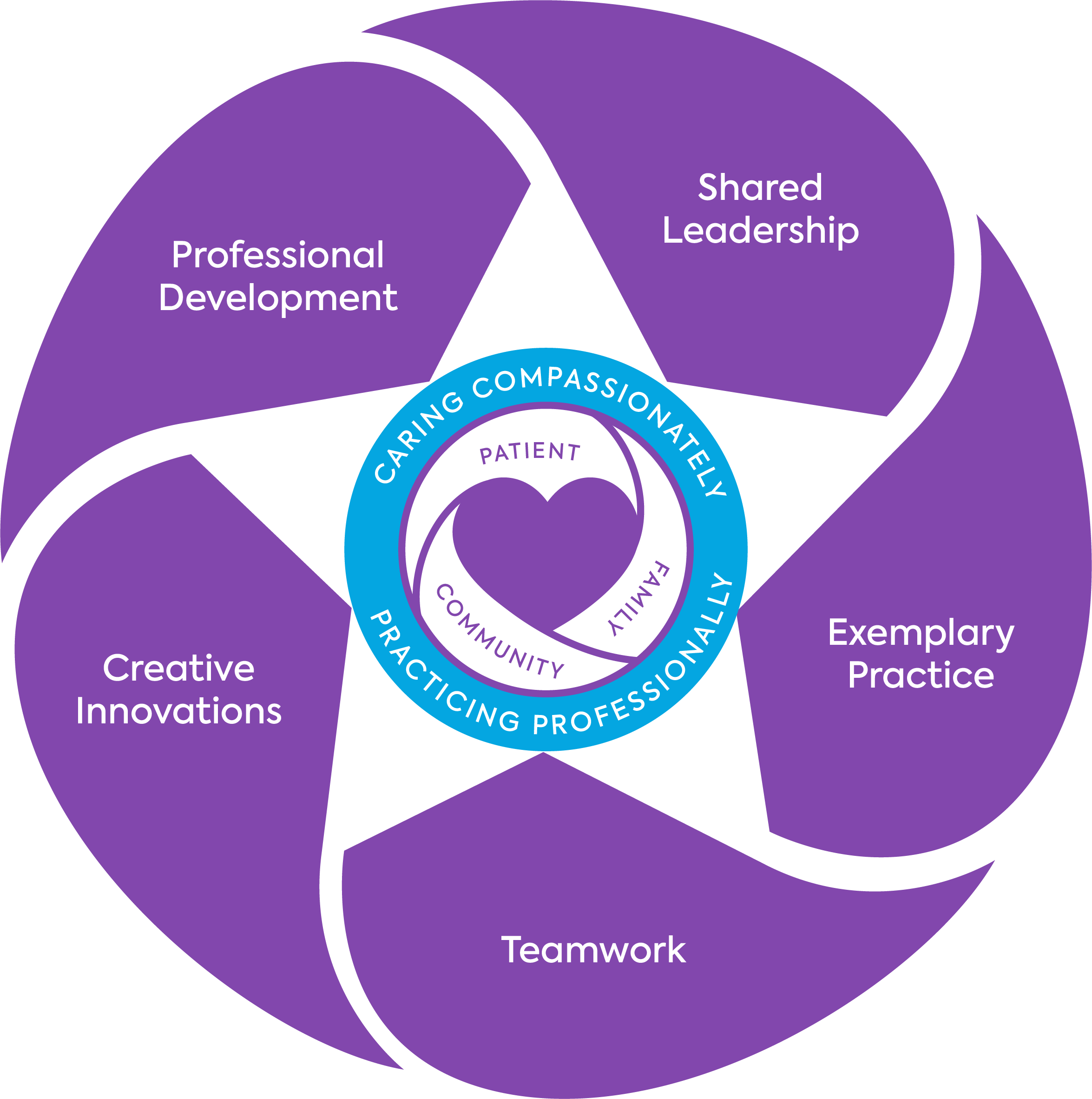 The Wellstar Nursing Professional Practice Model (PPM) is grounded in five practice sustaining elements that encircle nursing's mission and values, those nurses care for, and how care is delivered.

The star, created by the continuous flow of the practice elements, represents exceptional care provided by exceptional caring, professional nurses.

The heart in the center represents how care is delivered across the continuum supporting Wellstar's belief in a life well-lived.
Care Delivery Model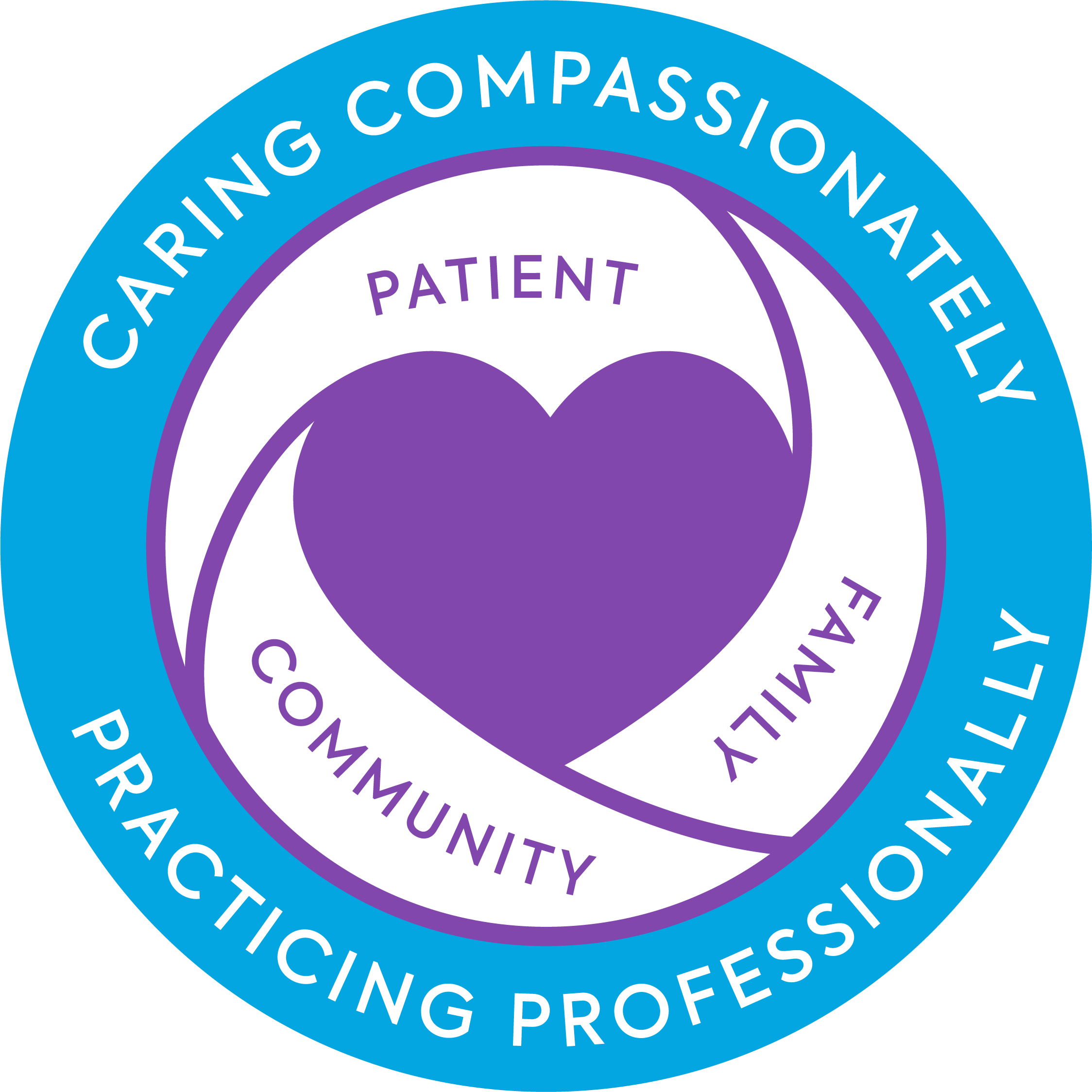 The Holistic Patient-and Family-Centered Care Delivery Model is at the center of the Nursing Professional Practice Model and addresses those nurses caring for the patient, the family and the community, and how care is provided. The heart represents Holistic Patient- and Family-Centered Care, encompassing the art and science of nursing. Holistic care recognizes the patient as a whole and acknowledges the interdependence among the body, mind and spirit's role in health and well-being, and is inclusive of the patient's social paradigms with family and community. The patient and family are active partners with nurses, as care is viewed as doing things with and not to or for the patient. We believe this level of participation in care leads to a higher level of patient engagement, happiness and recovery. The Wellstar Nursing Care Delivery Model is a contemporary model, not based on a nurse theorist, but rather grounded in the elements of Holistic nursing, principles of patient- and family-centered care, and professional nursing ethics.
Rising Star Nurse Residency Program
The Wellstar Nurse Residency Program (NRP) is a 12-month program designed to help new graduate RNs successfully transition from advanced beginners to become competent professionals. The NRP facilitates experiences and learning that contribute to the newly licensed RNs understanding and management of professional concepts such as role development, conflict resolution, delegation, quality outcomes, ethics, diversity, inclusion, and professional research.
Nurse Residency Program Objectives
Utilizing effective decision-making skills
Providing clinical nursing leadership at the point of care
Incorporating research-based evidence into practice
Strengthening professional commitment to nursing
Formulating an individual development plan
University Partnerships
Wellstar Douglas Medical Center partners with universities in providing research and practical opportunities for students in nursing programs. These partnerships allow nursing majors to gain the experience they need, while allowing Wellstar to help mold and attract talented nurses back into the organization. Wellstar Douglas Medical Center's university partnerships include Kennesaw State University, West Georgia Technical College. Georgia Highlands and University of West Georgia where they serve as a designated education unit. One example of a partnership, Wellstar has aligned with Kennesaw State University, creating an endowment that provides nursing scholarships to students. Their goal is to increase the number of scholarships awarded each year, attracting more and more students into the nursing program. Wellstar Douglas continues to find innovative ways to leverage that by partnering with quality nursing programs in the region.

Awards and Recognition
Wellstar Douglas Medical Center Awards
2020 Patient Safety Excellence Award, ranking in the top 10% of hospitals in the nation according to Healthgrades
Wellstar Douglas Hospital No. 3 in state rating list of Top 25 Medium Sized Hospitals – Georgia Trend Magazine
Wellstar Douglas Hospital ranked 5th Top Regional Hospital – US News and World Report Magazine
"A" Rated Safety Score – Leapfrog Group
AHA Mission Lifeline Silver 2019 – STEMI Receiving
AHA Mission Lifeline Silver 2019 – NSTEMI
AHA Mission Lifeline Gold 2020 – Heart Failure
AHA Stroke Gold Plus Award 2020
The Joint Commission Disease Specific – Chest Pain
The Joint Commission Disease Specific – PCI
Cardiac Level II ECCC designation from the GA DPH
Newsweek Magazine's 2020 List of Best Maternity Hospitals
Baby Friendly Designation - 2019
Lown Institute named Douglas the sixth best hospital in the nation when it comes to addressing social inequities
Pathways to Excellence designation from the ANCC - 2020
Eight AJC Celebrate Nursing Honorees – 2020
2020 GHA Awards
Wellstar Douglas won second place in the Hospitals With 100-299 Beds Category for its project titled "Reductions of Both Central Line-Associated Bloodstream Infections (CLABSI) & Catheter-Associated Urinary Tract Infections (CAUTI) Within the Intensive Care Unit." The project reduced the number of CLABSIs and CAUTIs in the intensive care unit. Wellstar Douglas also won third place in the same category for its project titled "The Clinical Nurse Leader: Improving Heart Failure Patient Outcomes." The project improved care and reduce length of stay for heart failure patients.
2022 GHA Awards
Wellstar Douglas won first place in the Hospitals with 100-299 Beds Category for its project titled "Establishing a Nurse-Driven Mobility Protocol in Medical ICU." Wellstar Douglas won third place in the Hospitals with 100-299 Beds Category for its project titled "Increasing Patient Monitoring and Titration Compliance of Intravenous Cardiovascular Medications."
Pathway to Excellence Designation
In April of 2020, Wellstar Douglas Medical Center achieved Pathway to Excellence Designation. The Pathway designation is a global credential that highlights Wellstar Douglas' commitment to creating a healthy work environment where nurses feel empowered and valued. Wellstar Douglas' nurses are an integral part of the healthcare team, with a voice in policy and practice. Pathway nurses are engaged, resulting in higher job satisfaction, reduced turnover, improved safety, and better patient outcomes. As a Pathway organization, Wellstar Douglas leads the effort to enhance quality of care, patient and nursing safety, and the future of healthcare delivery.
Nursing Excellence Award Winners 2021
Nightingale Nurse:
Belinda Jordan
Preceptor:
Amanda Hargis
Partner in Practice:
Dr. Ramin Saghafi
Shooting Star:
Ashley Seman
2021 AJC Awards Nominees
Terry Rudisill, RN
Whitney Robinson, RN
Joni Rigby, RN
Sarah Pacheco, RN
Onyinyechi Okoro, RN
Kathy Ogburn, RN
Adrienne North, RN
Bridget Ngalle, RN
Belinda Jordan, RN
Debbie Green, RN
Wendy Elliott, RN
Michelle Dozier, RN
Carrie De Leon, RN
Jennifer Clifton, RN
Hope Allen, RN
Wellstar Douglas Daisy Award Winners
October 2019 DAISY Winner:
Amber Griswald
Amber Griswald received the Daisy Award for embodying the ideal of nursing. One day on her way home, she was the first to come upon an accident. She immediately responded and began assessing the injured person who was on a motorcycle that had collided with a car. The rider had multiple injuries and rapidly deteriorated, requiring CPR. She started CPR and remained on scene to speak with the first responders. The rider was transported via Life Flight to a trauma center and although critically injured, Amber's rapid assessment and interventions gave her a greater chance at survival. November 2019 Daisy Award Winner:
Nyrva Bertrand
Nyrva Bertrand received the Daisy Award for providing compassionate care. A patient in the ICU received attentive and comforting care as observed by the patient's daughter. Nyrva was personable, relatable, thoughtful and informative, while delivering warm care and sensitivity to the family's needs. December 2019 DAISY Winner:
Akeya Tatum
Akeya Tatum received the Daisy Award for providing great care. This was displayed through her interaction with an ICU patient and their family. The moment she walked in the room to begin caring for the patient, the family felt that the room shifted to a peaceful environment. She made the family feel comfortable no matter how many questions they asked. She was informative and always delivered news with compassion. January 2020 DAISY Winner:
Kallie Liston
Kallie Liston received the Daisy Award for going above and beyond during rounds. She was able to arrange an ultrasound for a patient and his wife's unborn child so they could find out the sex. The patient was a 40-year-old man diagnosed with renal cancer that metastasized to his liver and other organs. Kallie was able to organize a miracle and a moment of peace for this family with help from the ultrasound department. At almost 15 weeks pregnant, the patient and his wife were able to find out they were having a girl. In that moment, Kallie demonstrated exactly what we at Wellstar value, which is to serve with compassion and pursue excellence while honoring every voice. Unfortunately, the patient passed away and will never see his daughter's face, but what Kallie gave to him and his wife will always hold a special place within their hearts. February 2020 DAISY Winner:
Jasmine Middleton
Jasmine Middleton received the Daisy Award for pitching in when assistance is needed. No matter how hectic the night is, Jasmine always goes out of her way to make sure that she helps out whenever she can. She displays a caring attitude towards the patients, staff and others. There have been numerous times that she's assisted with patients and anything that she could to lighten the load. March 2020 Daisy Winner:
Jennie Curtis
Jennie Curtis received the Daisy Award for providing compassionate care. She displayed care for a 70-year-old ICU patient and their family during a difficult time. She explained what she was doing and that the plan of care was for the patient. She did it with kindness and a positive attitude, always making them feel comfortable in the hospital setting. May 2020 DAISY WINNER:
Melissa Box
Melissa Box received the Daisy Award for saving the life of a two-year-old visitor. She was with her mom visiting her grandfather in the hospital. The two-year-old was given a grape by the elder patient and begin choking. Melissa immediately grabbed the two-year-old and administered the Heimlich maneuver dislodging the grape. The child was able to breath again. Melissa went above and beyond during a time of crisis. June 2020 DAISY Award Winner:
Alexis Campbell
Alexis Campbell received the Daisy Award for providing nurturing care to a patient. The patient was to have a heart catheterization done but wasn't allowed to have her husband with her due to hospital rules. She was feeling anxious about not having someone with her and kept saying she wished she had her favorite coffee from Dunkin Donuts. Since they couldn't allow her husband in, Alexis decided to order her favorite coffee from Dunkin Donuts to cheer her up. Using her own money, she ordered it from Door Dash to have it delivered to the hospital. This made the patient so happy and comforted her during this time. July 2020 DAISY Winner:
Danette Toole
Danette Toole received the Daisy Award for providing outstanding care. A COVID-positive patient on the ventilator and medically paralyzed had a spontaneous rupture of the cuff holding their breathing tube in place, causing a medical emergency. The patient's oxygen levels were dropping as a result. Danette recognized the leak of the tube and after she was unsuccessful inflating the cuff, she immediately called for help and provided bag mask ventilation until a respiratory therapist emergently reintubated the patient. Danette was able to think quick and get the patient what they needed in a timely matter. September 2020 DAISY Winner:
Hallie Weatherford
Hallie Weatherford received the Daisy Award for being a true patient advocate. When two patients needed to be transferred to Kennestone Hospital for further cardiac care, it was during a "no visitors" policy due to COVID. Before they were transferred, Hallie contacted their spouses and had them come with overnight bags for the patient and allowed them to see their spouse before they were loaded on the ambulance and transported to Kennestone. Hallie was able to think outside the box for these patients' needs. October 2020 Daisy Winner:
Nikki Cook
Nikki Cook received the Daisy Award for displaying excellent care. She takes time to explain everything to the patient and their family to ease their concerns. With a strong work ethic, she displays positivity showing compassion with everyone she interacts with on a daily basis. November 2020 DAISY Story Winner:
Krystal Washington
Krystal Washington received the Daisy Award for providing excellent care to a delivering mom. The patient was induced and unfortunately, the epidural didn't work. When the pain began, Krystal was there to coach and comfort the patient including breathing with her, never leaving her alone and also being there for the patient's husband. The patient is a nurse as well and recognized Krystal's exceptional care. December 2020 DAISY Winner:
Erica Beckman Story
Erica Beckman received the Daisy Award for being a hands-on manager with her team. She jumps in at a moment's notice to help in any way she can. One example of this there was an incontinent patient that needed cleaning up and his nurse was extremely busy with other patients. She took care of it by cleaning up the patient herself. She answers phones, passes food trays, assists patients to the restroom. She does whatever it takes to help her team and get the job done. February 2021 Daisy Award Winner:
Koletta Knight
Koletta Knight received the Daisy Award for excellent patient care skills. She takes the time to explain medications to her patients. She displays concern to her patients and is gentle when administering injections. She makes her patients laugh and feel at ease. In one example, she was able to successfully move an IV to another area due to a blown vein and did it with minimal pain to the patient. March 2021 Daisy Award Winner:
Jennifer Betts
Jennifer Betts received the Daisy Award for going above and beyond in a patient's time of need. She had a patient who was going to be discharged to a shelter. She stepped up and took the lead, with the help of her colleagues and some creative investigative skills, she created a going home discharge care package that consisted of everything this patient needed. In his brand-new backpack, he had personal hygiene products, items to protect him from COVID and healthy cardiac protective food options. This gesture brought tears to the patient's eyes. He was so thankful and appreciated the thought and attention to detail that Jennifer showed him. April 2021 DAISY Winner:
Charity Hill
Charity Hill received the Daisy Award for providing excellent care. She took the time and patience to address every single issue and concern a patient had. She has an extraordinary ability in making things easy to understand and has always kept the patient in the loop with many things. What impressed the patient was her knowledge on the many questions and concerns they had making the patient feel at ease. June 2021 DAISY Winner:
Lauren Orbeck
Lauren Orbeck received the Daisy Award for demonstrating excellent care. However, on this particular day, her exemplary nursing and human skills shined brightly for many to see. Lauren was taking care of a very sick COVID+ patient, who required a vast amount of attention. In addition to this task, Lauren was also precepting a new grad RN as well. Throughout the shift, Lauren was observed performing detailed assessments of her patient's presenting situation. She consistently utilized critical thinking skills, as well as professional autonomy to make the best possible decisions for her very ill patient. Lauren collaborated in a holistic manner with the entire multidisciplinary care team to form a comprehensive treatment plan for the patient. July 2021 DAISY Award Winner:
Beverly Bates
Beverly Bates received the Daisy Award for her attention to details in patient care. A patient was admitted for arm weakness and numbness. Tests were ordered for the patient, but she recognized that there was not an MRI order and contacted the provider to clarify plan of care. The physician thought he has ordered the MRI, and placed the order. The next day the MRI showed an acute CVA warranting the canceling of the stress test originally ordered. She found an error and was able to rectify the situation. Beverly epitomizes the value of compassionate care as she communicates her assessment findings and advocates for best-evidence care daily. August 2021 DAISY Award Winner:
Krystal Adams
Krystal Adams received the Daisy Award for providing excellent care. A patient entered the ER and had an NG tube in, but it came out and after some difficulties, Krystal was able to put the tube back in with no pain to the patient. She also displayed excellent communication skills from nurse to patient to doctor, making sure the patient's care was the best possible and moving in the right direction. September 2021 DAISY Award Winner:
Allison Bilbo
Allison Bilbo received the Daisy Award for providing compassionate care to a COVID patient. The patient was on 100% oxygen and was scared. Allison was able to show love and kindness towards this patient, making them feel watched over and that all of their needs were met. This provided comfort to the patient during a fearful time. November 2021 Daisy Award Winner:
Jem Doane
Jem Doan received the Daisy Award for going above and beyond. A patient came in with heart issues. He admitted to eating an increase of fast food due to his wife's dementia and safety issues with her cooking. Jem was known to cook and eat healthy. She volunteered to bring food to the patient's home 2-3 times per week to help this patient and his wife get the nutritious heart-healthy meals they need.
Up until the 1940s, there was no official hospital in Douglas County, Georgia. That changed in 1946, after a mother died in childbirth because there wasn't enough time to get her to the hospital in Atlanta. Historical records show that the nurse midwife attending the delivery was so distraught that she went to the Douglas County Board of Commissioners the very next day. With tears streaming down her face, she implored the board to act on behalf of the citizens of Douglas County and build a hospital. Her petition was successful, and the Hospital Authority Board was formed. On April 1, 1948, the first Douglas Hospital opened in a school that was converted into a 15-bed facility. By 1965, the hospital was expanded to 50 beds, but the facility was still inadequate for the community's growing needs. In 1971, funds from the Hill-Burton Act were secured. In 1974, the new Douglas General Hospital was completed, now growing to a 98-bed facility and offering a full range of services: emergency, medical, surgical, obstetrical, inpatient and outpatient care. Through the 1970s and 1980s, the population of Douglas County almost doubled, and although Douglas General continued to provide innovative care, it struggled to keep up with demand and compensate for indigent care. In 1992, Cobb Hospital and Douglas General merged to better serve the community and leverage financial resources. Soon after on July 1, 1993, Cobb and Douglas would merge with four other hospitals to form the Northwest Georgia Health System (NGHS). This new health system began to centralize services and add a corporate structure eventually taking the name Promina Health System. In 1998, after several more mergers, the health system became officially known as Wellstar Health System. This identity was chosen to represent wellness, leadership, and show our commitment to excellence in our community.