Wellstar Cobb Medical Center Nursing
At Wellstar Cobb Medical Center, our healthcare heroes are more than just nurses, doctors and staff helping people overcome illnesses. We are truly friends caring for friends, family caring for family and neighbors caring for neighbors.
Watch video
"I believe every nurse in every capacity is a leader.  The best part of my role is recognizing and rewarding our nurses and team members for living our Wellstar nursing mission.  It is their daily service that inspires and motivates me." — Torry Robinson, CNO, Wellstar Cobb Medical Center
Nursing at Wellstar Cobb Medical Center
---
Nursing Mission
Wellstar Nursing: Caring Compassionately, Practicing Professionally
Nursing Vision
Wellstar nurses will be recognized as a national leader in the practice of nursing by promoting holistic patient and family-centered care, quality and innovation, education, evidence-based practice, and research.
Nursing Values
We serve with compassion. We pursue excellence. We honor every voice.
Wellstar Nursing Professional Practice Model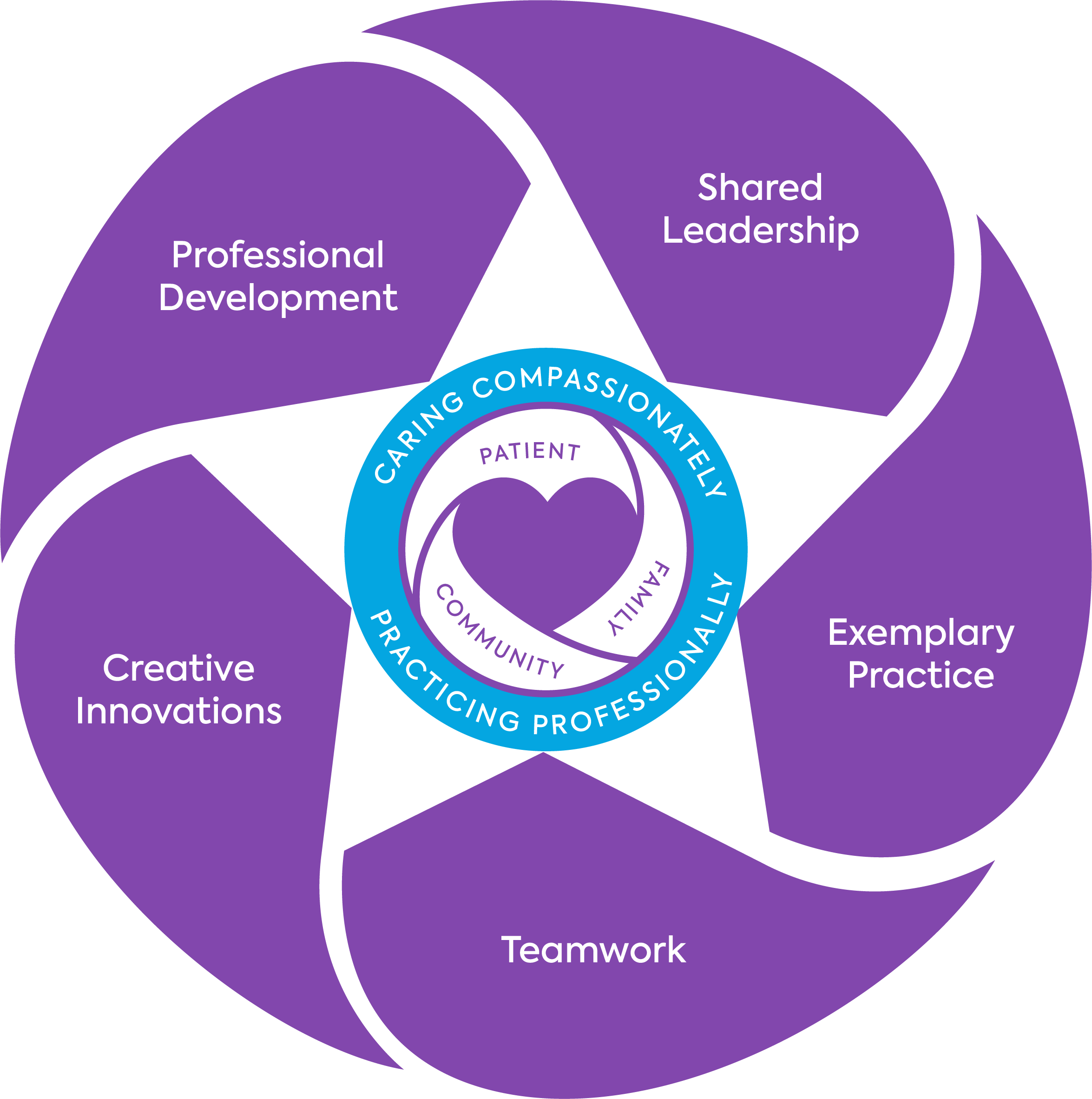 The Wellstar Nursing Professional Practice Model (PPM) is grounded in five practice sustaining elements that encircle nursing's mission and values, those nurses care for, and how care is delivered.

The star, created by the continuous flow of the practice elements, represents exceptional care provided by exceptional caring, professional nurses.

The heart in the center represents how care is delivered across the continuum supporting Wellstar's belief in a life well-lived.
Care Delivery Model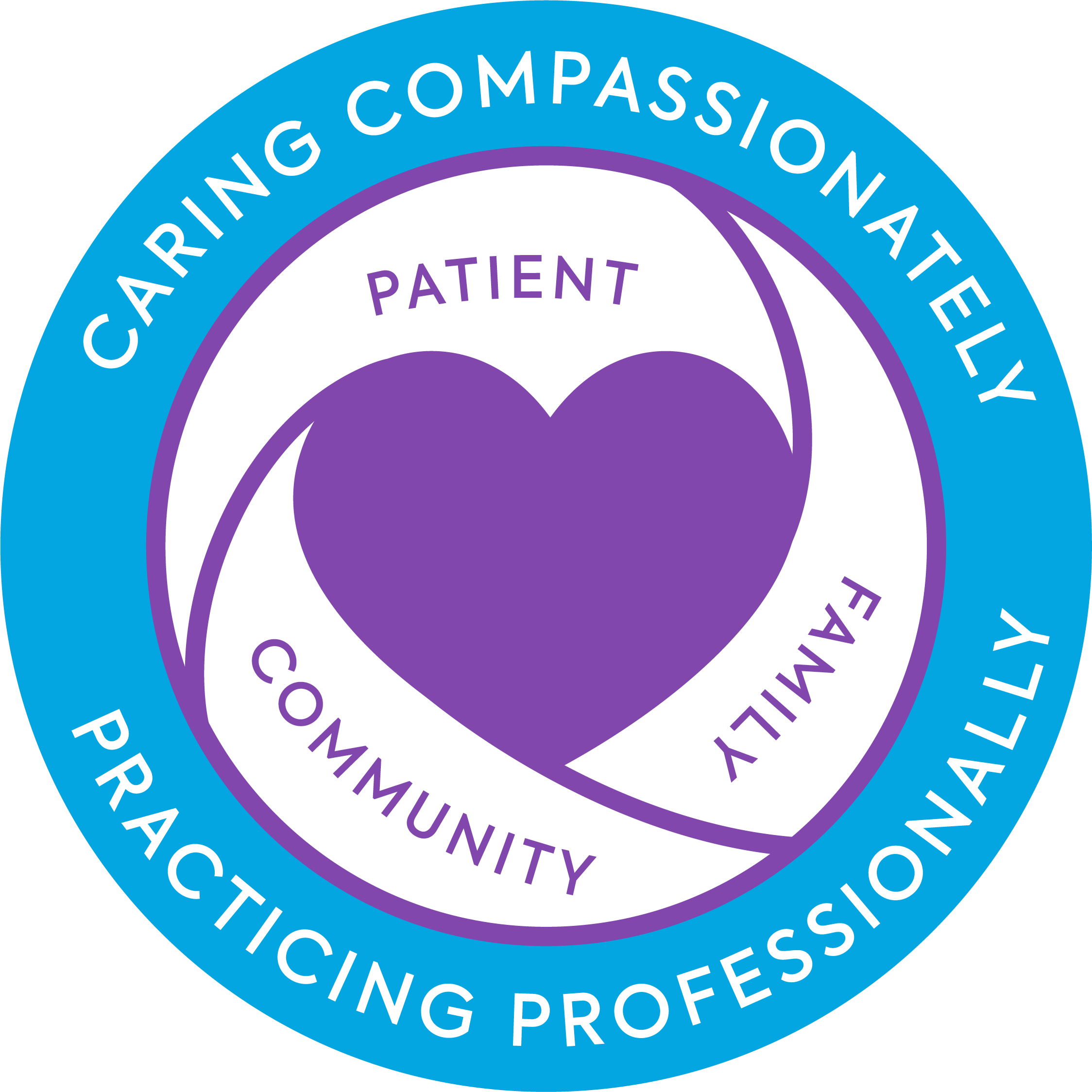 The Holistic Patient-and Family-Centered Care Delivery Model is at the center of the Nursing Professional Practice Model and addresses those nurses caring for the patient, the family and the community, and how care is provided. The heart represents Holistic Patient- and Family-Centered Care, encompassing the art and science of nursing. Holistic care recognizes the patient as a whole and acknowledges the interdependence among the body, mind and spirit's role in health and well-being, and is inclusive of the patient's social paradigms with family and community. The patient and family are active partners with nurses, as care is viewed as doing things with and not to or for the patient. We believe this level of participation in care leads to a higher level of patient engagement, happiness and recovery. The Wellstar Nursing Care Delivery Model is a contemporary model, not based on a nurse theorist, but rather grounded in the elements of Holistic nursing, principles of patient- and family-centered care, and professional nursing ethics.
Rising Star Nurse Residency Program
The Wellstar Nurse Residency Program (NRP) is a 12-month program designed to help new graduate RNs successfully transition from advanced beginners to become competent professionals. The NRP facilitates experiences and learning that contribute to the newly licensed RNs understanding and management of professional concepts such as role development, conflict resolution, delegation, quality outcomes, ethics, diversity, inclusion, and professional research.
Learn more about the Rising Star Nurse Resident Award.
Nurse Residency Program Objectives
Utilizing effective decision-making skills
Providing clinical nursing leadership at the point of care
Incorporating research-based evidence into practice
Strengthening professional commitment to nursing
Formulating an individual development plan
Preceptor Training
Wellstar recognizes the critical role nurse preceptors play in the education, socialization, and mentoring of our new team members. Nurse preceptors are provided the tools and evidence-based training to become effective preceptors.
Nursing Fellowships
Nursing Fellowships are open to new nurses joining the WCMC nursing team and for current nurses transitioning to a different nursing practice area. Fellowships are offered in the following nursing specialty practice areas:
Acute Care
Critical Care
Emergency Services
Perioperative
Cardiac Cath Lab
Sigma Mu Phi/Sigma Theta Tau
Sigma Mu Phi at-Large is a local professional nursing chapter which is part of the global nursing honor society, today known as Sigma. Sigma was founded as Sigma Theta Tau in 1922 by six nursing students at Indiana University. From those six founding members, our organization has grown to more than 135,000 active members, in more than 530 chapters in over 100 countries around the world. Sigma, at the global and local level, aims to foster high professional standards, recognize superior achievement and leadership qualities, encourage creative work, and strengthen commitment to the ideals and purpose of the profession. Sigma's mission is to "Advance world health and celebrate nursing excellence in scholarship, leadership, and service."

In 2019, Sigma Mu Phi at-Large was introduced as an innovative Sigma chapter combining the nursing power of Kennesaw State University and Wellstar Health System. This unique partnership harnesses the power of thousands of nurses in our region. In October of 2019, five Wellstar hospitals joined the Sigma Mu Phi at-Large chapter as practice settings. Globally, Mu Phi was just the 5th chapter to add practices settings and is the first and only chapter in Region 7 to include practice settings. Region 7 includes: South Carolina, Georgia, Florida, and Puerto Rico. Finally, Mu Phi is a close second to Nu Beta (Johns Hopkins) in regard to the number of practice settings.
Membership Benefits
Being part of a highly respected and esteemed professional nursing organization that reflects local and global nursing innovation, research, scholarship, and practice.
Attend and engage in local Sigma Mu Phi Chapter meetings:

Network
Share best practices
Collaborate: EBP & Research

Obtain Continuing Education credits and hours
Learn more about Sigma Nursing chapter and membership benefits!
Professional Excellence and Recognition
Different Hats, One Goal: Our Journey to CAUTI Reduction
Catherine Lorenzo, MSN RN CNL and Brittany Salman, MSN RN PCCN CNL
The Clinical Nurse Leader (CNL) is a valued and versatile member of our leadership team, wearing many hats including researcher, observer, leader, and change agent. After enjoying hospital wide success in reducing Catheter Associated Urinary Tract Infections year by year, the CNLs wanted to further contribute to the hospital's zero patient harm initiative by further reducing CAUTIs. As such, the CNLs decided to take a closer look at CAUTIs for the previous calendar year (2020). The CNLs led the task force, which concluded that education concerning dependent loops was needed. Members of the task force developed a huddle note for hospital wide distribution in June of 2021. After approval from the committee, the huddle note was disseminated (July 19-23, 2021) and discussed in unit-based mid-shift huddles for several weeks. Staff rounding revealed that some staff members missed the information, so the huddle note was again distributed to Nursing Leadership (including Nurse Directors, Nurse Managers, Educators, Quality, and Accreditation) for staff to read and sign. Records to be kept on individual units. Post intervention urinary catheter observations were again conducted on 4 different occasions, spanning 4 months for a total of 79 observations. Post intervention data revealed 34% of observations with loops. Calendar year 2020 had 12 CAUTIs. Calendar year 2021 had 3 CAUTIs.
Wellstar Cobb 2021 AJC Award Nominees
Tim Grant
Julie LaFontaine
Judith Bromfield-Scott
Beth Dargie
Denise Fairclough-Williams
Bryanna Gazo
Karen Gregg
Angela Lawrence-Tarver
Izelle Morales
Tammie Redwine
Lauren Reid
Yalonda Sizemore
Denise Swiezy
Chelsea Trawick
Julie Walker
Patricia Weston
Jacqueline Williams
Wellstar Cobb Daisy Awards
Elma Okogba, BSN
I was very scared and nervous when I came in. Elma's sweet personality made me feel better. She always made sure I had what I needed or wanted. Elma clearly loves her job and cares about her patients. She is also very respectful to her coworkers. They all seem to love her as well. Wellstar is very blessed to have her. Having someone who truly cares in a very scary time is important. I hope that if I am ever admitted again that Elma will be my nurse. She truly made this visit better for me, making me smile, answering my questions, and helping me more than anything to know that I am not alone. She is absolutely amazing. Note: This is Elma's second DAISY Award!
Bryanna Gazo, BSN, RN
Her patient was hospitalized, and he was very anxious and depressed. Knowing Bryanna to be an empathic, compassionate, and selfless/caring nurse, she built a trusting relationship with her patient and found out that he was coordinating his sister's wedding and now was being hospitalized with an NG tube. Bryanna became so involved and reassured the patient that she would be able to help him get through this. On the day of the wedding, she got the patient all dressed up and got him ready for the wedding. She set up his Facetime so he would be able to give his speech. Bryanna went ahead and alerted all the other team members and placed a Do Not Disturb sign on his door. The patient was so appreciative and pleased and really wanted to thank Bryanna for her involvement in his care and for going the extra mile. The patient also gave feedback to the call center and described the team as "courteous, respectful, helpful, kind, and very cheerful."
Ann Anderson, RN
Ann has been a nurse for 35 years. Her experience and knowledge are evident in her daily practice with her patients. You can truly tell she understands the NICU like the back of her hand. While this is one of the many reasons she should be nominated for this award, the most defining characteristic Ann exemplified is her dedication to her tiny patients and their parents. She ALWAYS makes sure to include the parents, taking it one step further to ensure they understand what is going on with their child. She dedicates time, during what can sometimes be a hectic shift, to allow the parents to ask questions and participate hands-on with their infant. Ann continually advocates for her patients, as these tiny warriors can't advocate for themselves. She ensures her patients are continually receiving the best care in the safest environment possible. I'm astounded by the level of care and passion Ann contributes to her work, and if there is one nurse I would wish to be more like, it would certainly be her.
Renah Bennett, RN
Renah is an extraordinary nurse who has demonstrated both her dedication to her patients and passion for her RN role. She is known on the night shift for being the best with those patients who need an extra dose of TLC due to difficult histories with things like mental health struggles or drug use. The most recent of these patients was a young woman experiencing severe withdrawal symptoms in the midst of laboring with her first child. Renah provided such care and compassion in what was by any account an intensely stressful and traumatic situation. Renah consistently stayed by her side from the time she started experiencing convulsions to her urgent C-section and even when she was eventually transferred to the ICU.
Joyce Bowden, RN
To be an operating room nurse, one must know how to be a good listener, a good teacher, a glorified mechanic, a critical thinker, be quick on your feet, be flexible, and always, always be two steps ahead. This nurse knows this. She has patients who come on a routine basis for treatment, and they look for her. Their families look for her. I must say that two things stand out most to me and that is her stamina and her commitment to her patients. Her commitment to her patients is absolutely profound. I know that her patients' experiences, while they are here, are better because of her. Joyce Bowden is a true DAISY nurse.
Stephanie Fearman, BSN, RN
Stephanie Fearman, a Wellstar Clinical Coordinator for Surgical Services, was driving to work recently when she saw a car accident and pulled over to help. She quickly realized the severity of the situation and evaluated the crash victim's injuries and neuro status and administered successful CPR. Stephanie helped keep everyone safe until the EMTs arrived on the scene to transport the patient to the hospital. Stephanie's compassion to stop and check on the accident alongside her clinical expertise saved a life that day. In reference to the event a few days later, Stephanie reflected, "All I could think was how much respect I have for the EMTs and firefighters who do this all day. They are truly heroes! I also felt that the other people who stopped to help were amazing working together to help complete strangers." I agree with this sentiment but believe Stephanie is also a hero each and every day with her unequivocal dedication to her vascular surgery providers, team, and patients. She will never hesitate to come in when she is off, go to another hospital to help, or stay late to make sure the job is done. Stephanie truly understands the importance of her role and answers that calling every day. We are very lucky to have Stephanie on our team and in our community!
Wellstar Cobb 2021 Nursing Excellence Award Winners
Nursing Practice Star:
Kendra Coolman, RN
Nightingale Nurse:
June Butler, RN
Administrative Leadership:
Iman Miles, RN-Nurse Manager
Innovation in Nursing Practice:
Elizabeth Sobczyk, RN-Dir
Preceptor:
Stephanie Salois, RN-Preceptor
Nurse in Expanded Role:
Michael Smith, RN-AVP
Provider Partner in Practice:
Nihdi Huff, MD
Helping Hero:
Sundee Sturdivant, Redeployment Team
Support Star:
Christine George, CNA/CMA
Shooting Star Award:
Lawrence Gakunga, RN
On June 3, 1968, a former peach orchard at the corner of Austell Road and Mulkey Road became the site for a new hospital when Cobb Hospital opened its doors. Today, the 382-bed hospital has a medical staff of over 1,000 and over 2,400 team members providing care to the community it serves. Offering the most advanced comprehensive care to the people of South Cobb County, the hospital provides whole-person, high-quality medical, surgical, rehabilitative, labor and delivery as well as emergency care. Wellstar Cobb's burn, wound and hyperbaric clinic partners with Joseph M. Still Burn Centers, Inc. to offer comprehensive care and management for chronic, non-healing wounds, sores and burn injuries.