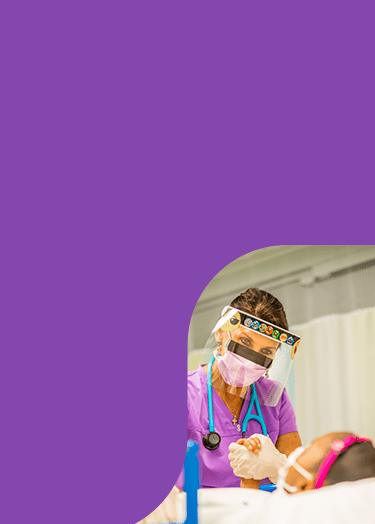 Pediatric Emergency Medicine
Pediatric emergency medicine provides high-quality care for children
and teens experiencing illnesses and injuries that need immediate medical attention.
Pediatric Emergency Medicine at Wellstar
Wellstar emergency pediatricians have advanced training and experience in both pediatrics and emergency care. Children and teens have unique medical needs and higher stress and anxiety in medical environments. Our pediatric specialists have the knowledge and heart needed to care for them and put them at ease.

Wellstar's emergency departments are equipped with state-of-the-art, pediatric-specific equipment, helping us meet the needs of children. We believe children are not small adults but have their own unique set of needs and concerns. Parents appreciate our specialists' ability to put them at ease when they experience anxiety from being in an unknown clinical setting.

Children who have persistent high fevers, severe infections and pain, significant injuries and severe complications from chronic illnesses (such as asthma and diabetes) should receive immediate care from a pediatric emergency physician.
What we treat
Animal bites
Asthma complications
Burns
Cuts
Dehydration
Diabetes complications
Difficulty breathing


Falls
Foreign bodies
Head injuries
Motor vehicle crashes
Overdoses
Persistent high fever
Poisonings


Seizures
Severe allergic reactions
Severe infections
Severe pain
Sickle cell disease complications
Sprains

Pediatric Emergency Department Locations
Currently showing
4

total listed locations