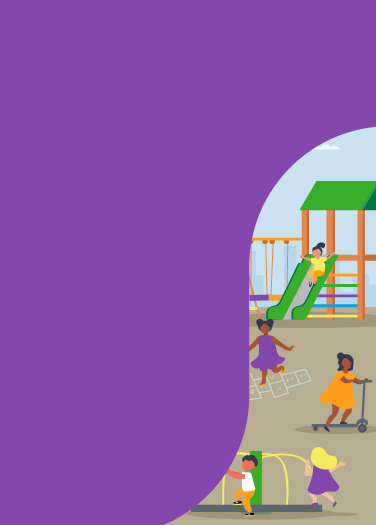 Wellstar Pediatric Care
Partnering with parents for personalized child & adolescent care
Offering a seamless continuum of care throughout every stage of your child's life, from infancy through young adulthood. Using the latest technology, state-of-the-art diagnostics and innovative therapies our pediatric experts are well-equipped to treat common everyday illness, as well as complex childhood diseases and conditions.
---
Child & Adolescent Care at Wellstar
Wellstar partners with parents to deliver personalized, world-class care for children and young adults. We work closely with other child health specialists throughout Georgia to ensure your child has exactly what they need.

From wellness check-ups and immunizations to chronic and complex conditions, our team members customize treatment plans to create a comfortable family-friendly environment that encourages health and healing. Our child and adolescent experts manage the physical, mental, and emotional well-being of their patients from toddler to teen in good health or during times of illness.

We keep good healthcare close to your home, with many convenient locations, and deliver pediatric-specific care in Wellstar offices, physical therapy offices, urgent care centers and dedicated pediatric emergency departments at Wellstar Cobb, Douglas, Paulding and Kennestone medical centers.
Our Care Philosophy
Wellstar Child & Adolescent Care focuses completely on each child and their family to cultivate an environment of warmth, compassion and healing. We do everything with children in mind. Our pediatric team understands that children are not just smaller adults. Their emotional and physical needs are different and we use specialized equipment and techniques that are made for kids to help them get well sooner. No matter what your child's health condition, you can be confident in our experience and skill in treating it.
Our Care Team
Working together, our pediatric experts across various specialties collaborate to develop a customized evaluation and treatment plan. Each child and their family is a key part of our team, allowing us to offer individualized care. You, as a parent, are essential to the health of your child, that is why we care for the entire family.


Child Life Specialists
Child Life Specialists are experts that can help children and their families overcome life's most challenging events, and ensure that everything remains as normal as possible for children experiencing difficult or new environments. Child Life Specialists focus on providing coping mechanisms for children in stressful situations. They promote effective coping through play, self-expression activities and age-appropriate medical preparation and education.
Wellstar Foundation
As a not-for-profit, gifts to the Wellstar Foundation make it possible to provide patients with additional resources and amenities for a higher level of comfort and care. Every dollar donated supports Wellstar's vision of delivering world-class healthcare, carried out through patient-centered programs, advancements in technology and making reliable healthcare available close to home. Your generosity also makes it possible to provide free screenings and diagnostic services to uninsured and underinsured patients every year. For more information about how to support our fight against disease, visit the Wellstar Foundation.
---
Specialty
Anesthesia
Burn Center
Dermatology
Orthopedic Radiology
---
Currently showing
46

total listed locations