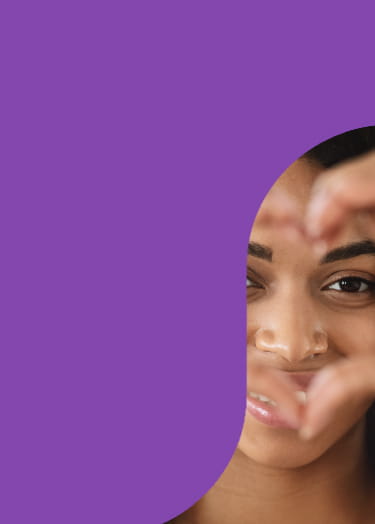 Wellstar Foundation
Through philanthropy and community partnership, we are fueling innovation and action to address vital needs of the diverse communities in Georgia.
Impact of Giving
Through generous support of our community, corporate partners and donors, we are investing in initiatives that create a healthier Georgia for all!
Download our FY22 Impact of Giving INFOGRAPHIC
to see how donations are making a difference, including:
The Talk With Me Baby Literacy Program creates an ecosystem with pediatric offices, schools and early childhood educators to enhance literacy and create a national model that can be expanded to serve and support our country's youth.
Serving 3,150 families at Wellstar's mobile markets and providing access to a SNAP enrollment specialist who provides education and resources that empower individuals to make healthy decisions.
Teaming up with Roswell Rotary to develop a behavioral health podcast series for youth, which are among the highest rates for suicide in Georgia.
As a recipient of an FCC Telehealth Grant and the Center for Global Health Innovation HRSA Grant, we are providing connected care services to patients at their homes and in their communities in response to the COVID-19 pandemic and deploying community health workers to continue our efforts to increase COVID vaccination rates.
Supporting a YouthBuild clinical career pathway program to address healthcare provider shortages in metro Atlanta and strengthen the nursing pipeline while creating opportunities within healthcare for economic mobility and diversity in the workforce.
And so much more!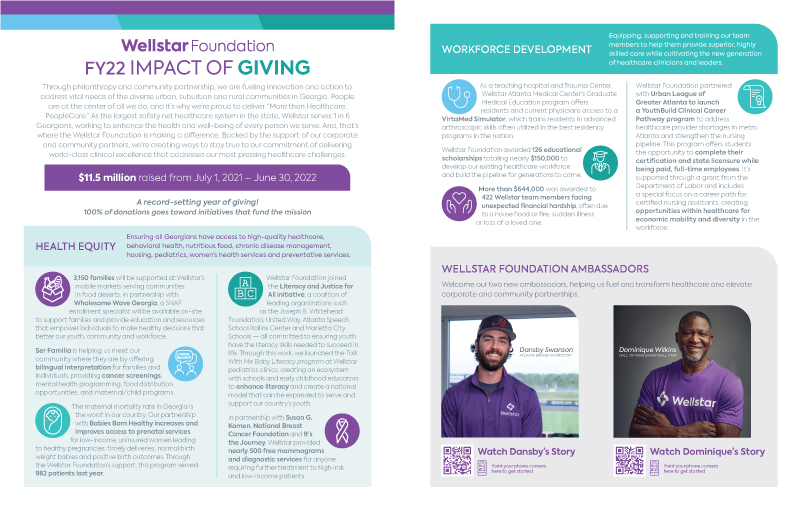 Our Strategic Focus
Philanthropic contributions are transforming healthcare and improving access for all across four areas of focus:
Health Equity
We work to ensure all Georgians have access to high-quality healthcare and preventative services.
Behavioral Health
We help our team members provide whole-person care that integrates behavioral health with other health services.
Innovation
We work to promote best practices and equip our patients and every care site with state-of-the-art technology.
Workforce Development
We equip, support and train our team members so they may provide superior, highly skilled care while cultivating the new generation of healthcare leaders.
Ways to Give
Since 1985, the community has invested millions of dollars through the Foundation to make sure every Georgia resident has access to quality care. As a not-for-profit health system, our passion for people extends beyond our walls and into the communities we serve. Our vision is to ignite the passion of donors and partners to accelerate healthcare innovation and wellness to create a healthier future for all.
100%

of donations support
Wellstar's Mission

30 years

of delivering world-class
healthcare

1 in 6

Georgians rely on Wellstar
for healthcare
A Foundation of People
The heartbeat of our organization is our people — a group of caring and compassionate individuals who provide direction, advice, and expertise. Through their efforts, we are able to meet our shared vision for a stronger, healthier community every day. From our team members, board members, and corporate and community partners, we are honored to help make Georgia a healthier place for everyone.