The future of healthcare is on a rapid acceleration path as new technologies empower patients and providers with unprecedented information access and care delivery solutions that enhance health and wellness. Wellstar Health System continues to foster collaboration to design the future of healthcare, building on a rich history of innovation and impact in delivering world-class care to millions of people each year. As part of this ongoing focus, the
Wellstar Foundation
hosted the second Innovation Series event, "Designing the Future of Healthcare: Digital Health Technologies" on June 15, convening experts and thought leaders from Wellstar, Microsoft, Sharecare, and across the nation.
Panel discussion and breakout sessions explore transformative technologies
More than 100 participants attended the virtual roundtable event, which included a panel discussion and breakout sessions focused on leading technologies that have the potential to transform healthcare. The panel was moderated by Julie Teer, senior vice president of Wellstar and president of the Wellstar Foundation. Panelists included:
Dr. Clifford Goldsmith, chief medical officer and national director, U.S. Providers, Microsoft Health and Life Sciences
Jeff Arnold, founder, chairman and chief executive officer, Sharecare
Dr. Hank Capps, executive vice president and chief information & digital officer of Wellstar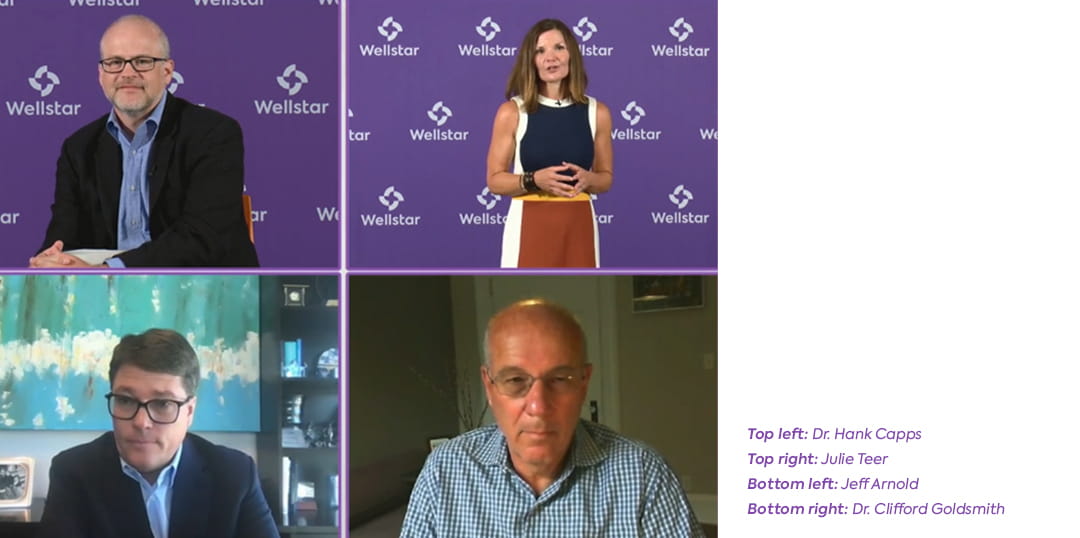 "There has never been a time in healthcare when getting the technology strategy right was more imperative than now," Dr. Goldsmith said. "There is a massive transformation underway in healthcare to significantly increase clinician productivity and enable teamwork across the care continuum, which will be a huge boost to patient satisfaction. Thank you to Wellstar for hosting this important conversation to fuel innovation."
Digital health is transforming healthcare through integrating innovation and advanced technology into patient care, improving quality of care and expanding access. In addition to the panel, three breakout sessions facilitated conversation about leading-edge, advanced technologies, including:
Machine learning and artificial intelligence to help provide augmented support for healthcare professionals across a wide range of specialties and operations
Advanced sensors to enhance diagnostics that simplify the patient experience and foster patient-provider communication and collaboration
Merged Reality (Augmented Reality/Virtual Reality) to enhance business insight, training, and patient partnership
Physician leaders from Wellstar Medical Group provided expert insights in the breakout discussions on the potential applications and impacts of these technologies on the future of healthcare. Physician experts included:
"The future of healthcare is not a 2025 vision – it is a 2021 reality," said Sharecare's Arnold. "Georgia continues to strengthen its position as a global center for public health, information technology, and digital media; and Wellstar is at the center with their focus on partnerships and healthcare innovation. Discussions such as the Wellstar Innovation Series help create momentum around viable solutions that will address gaps in care and a make a meaningful difference in the health and well-being of communities throughout the Peach State and beyond."
The event followed Wellstar's March 3, 2021 announcement that it will become the country's first Sharecare-enabled health system, and the May 18, 2021 launch of Catalyst by WellstarTM, the first-of-its-kind global digital health and innovation center created and operated within a health system. Catalyst by Wellstar is designed to harness, accelerate, optimize, and scale people-centric solutions that:
Disrupt how Wellstar delivers care to create better patient and provider experiences
Maximize quality and safety to improve outcomes while reducing the total cost of care
Enhance health and well-being for people through access, engagement, and empowerment
Optimize enterprise performance excellence, efficiencies, and productivity
Impact communities and the world by designing the future of healthcare
To further fuel healthcare transformation, Wellstar also announced a partnership with Engage, a collaborative innovation and corporate venture platform. Wellstar is the only healthcare company to partner with Engage, alongside other partners Chick-fil-A, Cox Enterprises, Delta Air Lines, Georgia-Pacific, Georgia Power Foundation, Georgia Tech, Goldman Sachs, The Home Depot, Inspire Brands, Intercontinental Exchange, Invesco, Invest Georgia, Tech Square Ventures, and UPS.
Innovation Series convenes thought leaders and changemakers
The Wellstar Foundation's Innovation Series convenes thought leaders, community partners, and industry experts in a series of roundtable discussions to explore how to transform healthcare to better serve Georgians. The conversations aim to facilitate collaboration that will lead to meaningful action and a pathway to transforming healthcare in Georgia. The series covers topics of health equity, digital health technologies, behavioral health and wellness, women's health and pediatrics, and workforce planning.