Stroke prevention and the future of stroke care
This article was originally published on Atlanta Business Chronicle on May 19, 2023.

Stroke is the fifth leading cause of death in the United States. The Georgia Department of Public Health reports the state had the 12th highest stroke death rate in the country. Georgia is also part of the "stroke belt," an area of the southeastern United States with stroke death rates 30% higher than the rest of the nation.

As the leading — but preventable — cause of disability, stroke can happen at any age.

Stroke is a medical emergency, meaning the blood flow to an area of the brain is cut off, depriving brain tissue of oxygen and nutrients. When this happens, brain cells start to die and abilities controlled by that area of the brain, such as speech or muscle control, are lost.

New drugs and new advanced treatments — such as the Tigertriever and Artemis — are helping reduce the death and disability impact of stroke, as well as comprehensive care programs and innovative hospital partnerships that expand stroke services into rural areas.

Physicians from Wellstar Health System and the CEO of a hospital in northeast Georgia joined Atlanta Business Chronicle to discuss stroke prevention and the future of stroke care.


Panelists & moderator
Dr. Rishi Gupta, Endovascular Neurologist and Co-Medical Director of Neuro Care
Dr. Ashis Tayal, Vascular Neurologist, Wellstar, Director of Neuro Care Network
Van Loskoski, CEO, Stephens County Hospital
David Rubinger, Market President & Publisher, Atlanta Business Chronicle; Moderator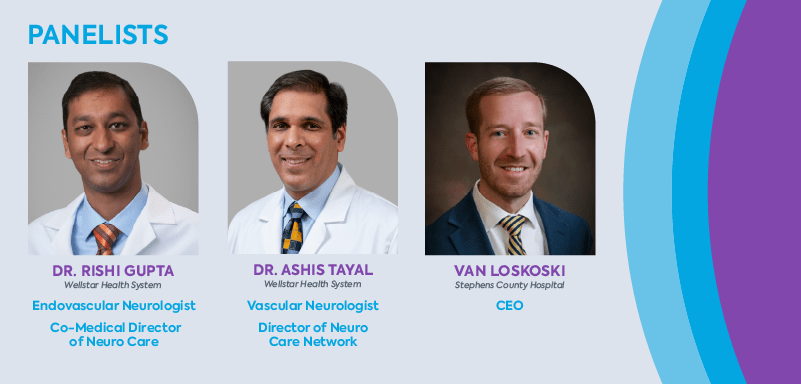 What is stroke, screening and secondary prevention
David Rubinger: Dr. Tayal, set the stage for us about the definition of stroke.

Dr. Ashis Tayal: A stroke is a sudden injury of the brain due to blockage or rupture of an artery in the brain. Injuries to the brain and disability can vary significantly.

The most common, ischemic stroke injury, is due to obstruction of an artery that causes a loss of blood flow to a critical part of the brain which damages the brain rapidly.

The other type of stroke is hemorrhagic stroke, where there's a rupture of an artery, bleeding into the brain, or the surfaces of the brain, and that is called an intracerebral hemorrhage or a subarachnoid hemorrhage.

Rubinger: I think Americans have become a little better educated as to who's at risk for stroke, but why don't you walk us through that. Who would be a potential stroke candidate?

Tayal: High blood pressure, or hypertension, is the most common risk factor for both ischemic and hemorrhagic strokes. High blood pressure is an extremely common but controllable condition. Almost 80% of people have hypertension as they're getting older.

Other risk factors include diabetes associated with elevated blood sugars causing accelerated blockage of arteries and high cholesterol, which can be related to diet and genetics.

Atrial fibrillation, a common heart arrhythmia that occurs as people get older, also places people at risk for the most severe and disabling types of strokes. And plaque buildup in specific arteries of the neck and brain also leads to an increased risk of stroke.

Smoking is another risk factor. Many adults still smoke despite a lot of progress in stroke treatment, and smoking puts people at risk for different types of stroke.

Rubinger: What about atmospheric things like stress and other areas like that? How does that play into it? Or do those things manifest themselves because of the other underlying physical conditions?

Tayal: I don't view stress, in and of itself, as a risk factor for stroke. I think that's more related to people's environments and their own personalities and how they respond to stress. I do think people who are under undue stress can have poor lifestyle habits, and those poor lifestyle habits, whether poor eating habits, smoking, weight gain or lack of exercise, can lead to conditions that increase the risk for stroke.

Rubinger: So how is the healthcare system doing treating strokes? Do you believe that what's going on at the primary care provider's office is helping or do we have a way to go?

Tayal: In the United States, preventive care has improved the treatment of risk factors that lead to stroke, but communities must maintain routine checkups as many of the risk factors are silent.

There are improved treatments for hypertension, more aggressive treatment for diabetes, and more efforts at smoking cessation. Just the fact that we treat hypertension better than we did a generation ago has had a great impact on lowering the prevalence of stroke.

That being said, some of the most exciting work on stroke has often been done in the area of acute treatment of stroke with clot-busting drugs, catheter-based treatments and medications to protect the brain during an acute injury.

Rubinger: Has pharmacology gotten better in terms of the hypertension medicines that are out there? Have anti-cholesterol medicines improved in recent years?

Tayal: In the past, healthcare providers were often undertreating people with hyperlipidemia — high cholesterol — and not fully appreciating the benefits of significant reductions in cholesterol levels. For example, we've learned that driving cholesterol down into much lower ranges under 55 mg/dL can benefit our patients who have vascular disease as a cause for their stroke.

In the fight against high cholesterol, newer medications that prevent the absorption of cholesterol are now available. Recent developments have led to the discovery of a new underutilized class of drugs called PCSK-9 inhibitors that are highly effective.


Read the full article