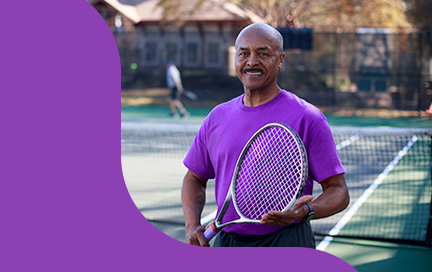 Wellstar Neuro Care
World-Class Care for your Brain, Spine & Nerve Health
People — including their brains, their nervous systems, their genetics — are all different. At Wellstar, you are not a stroke statistic, a chronic headache case or a spine condition.
You're you, and we treat you that way.
Watch video
---
Neuro Care at Wellstar
Wellstar Neuro Care provides comprehensive treatment for back and neck pain, seizures, headaches and other complex conditions of the brain and spine.

We are wholly dedicated to helping patients regain control of their lives. Wellstar Neuro Care physicians are located throughout metro Atlanta and West Georgia to serve you and help you get the diagnostic tests and care you need to manage your condition and live a better life as soon as possible.

Our board-certified and fellowship-trained experts care for patients with strokes, aneurysms, tumors, seizures, epilepsy, multiple sclerosis, migraine and headache disorders, Parkinson's disease, neuropathy, and many more neurological conditions.
Our Care Philosophy
At Wellstar, we know there's no one-size-fits-all approach to neurological care. That's why our experts deliver highly personalized, compassionate treatments for the most complex neurological cases, so you can have peace of mind knowing you will receive world-class, tailored care specific to your needs.

Wellstar is the first health system in Georgia that belongs to the Mayo Clinic Care Network. Our specialists have a direct connection to Mayo Clinic and can request detailed consultations for complex cases, at no additional cost to you.

Not only is Wellstar is recognized for its high level of stroke care by organizations including The Joint Commission and The American Stroke Association, but we are also home to one of Georgia's most comprehensive centers for treating headaches and migraines.
Multidisciplinary Approach
Wellstar offers a unique, collaborative network of care that's difficult to find anywhere else. Patients benefit from a broad team of specialists whose expertise focus on all aspects of the care journey from diagnosis and treatment to recovery. That includes non-surgical treatment, the operating room, the neurological intensive care unit, and inpatient and outpatient neurological rehabilitation.

Patients have access to a true continuum of care at Wellstar, with specialists collaborating for coordinated care. Our neurologists and neuroimmunologists work closely with specialists across the system including neuroradiologists, neurophysiologists, neurosurgeons, vascular neurosurgeons, as well as physical medicine and rehabilitation physicians and therapists in a neurological settings.

Care coordinators and nurse navigators educate patients and families and help them transition between specialists and support services seamlessly, so they feel comfortable and empowered in their health.
Nationally-Recognized Care
Our team excels to meet and exceed national quality metrics. We are reviewed by outside organizations to ensure patients can count on the highest quality care and the best outcomes.


Stroke care
Wellstar Kennestone Regional Medical Center and Wellstar North Fulton Medical Center are certified Comprehensive Stroke Centers by The Joint Commission and the American Heart Association/American Stroke Association. This is the highest level of stroke certification available. These organizations also recognize Wellstar Cobb Medical Center, Wellstar Spalding Medical Center and Wellstar West Georgia Medical Center as Primary Stroke Centers.


Spine care
Wellstar Kennestone Regional Medical Center and Wellstar Cobb Medical Center earned certification in Spine Surgery by The Joint Commission. This demonstrates our commitment to patients to maintain care processes that are safe and meet high-quality standards.


Neuro ICU care
The neurological intensive care units at Wellstar Kennestone, Cobb and North Fulton medical centers are Beacon-designated Neuro ICUs. The Beacon Award for Excellence is bestowed on hospital units that employ evidence-based practices to improve patient and family outcomes. Very few hospitals in the state have achieved this level of care.


Neuro Research & Clinical Trials
The Wellstar Research Institute and top industry partners have led the charge in providing state-of-the-art treatments for complex neurological conditions, often years before FDA approval.
Clinical trials close to home
For qualifying patients, clinical trials can offer access to new and cutting-edge treatments, procedures and technologies, often years before these therapies are approved by the FDA. Wellstar Health System is currently participating in many neurovascular clinical trials for stroke, aneurysm repair, brain contusions and other conditions.
Proven clinical success & excellence
The Wellstar Research Institute understands how clinical trials can advance the health of patients with neurological disorders, not only in the state of Georgia but across the entire nation. That's why we work to enroll qualifying patients in groundbreaking clinical trials close to home.

Thanks to our clinical trial participants, many advanced therapies and enhanced practices for neurological disorders are now available more widely.
Participate & make a difference
Clinical trial participants are leaders in their own healthcare and help other patients have access to innovative treatments, technologies and procedures. Depending on your medical history and neurological condition, there may be a clinical trial that's right for you.
Support with the Wellstar Foundation
As a not-for-profit, gifts to the Wellstar Foundation make it possible to provide patients with additional resources and amenities for a higher level of comfort and care.

Every dollar donated supports Wellstar's vision of delivering world-class healthcare, which is carried out through patient-centered programs, advancements in technology and making reliable healthcare available close to home. Your generosity also makes it possible to provide free diagnostic services to uninsured and underinsured patients every year.

For more information about how to support patients, visit the Foundation email [email protected] or call (770) 956-GIVE.
Diagnostics
Electroencephalograms (EEG)
Cerebral angiogram
Nerve conduction studies/electromyography (EMG)
Treatments
Prescription-based therapy
Botulinum toxin injections
Nerve blocks
Tenecteplase therapy
Thrombectomy and stent placement
Aneurysm repair
Intracranial and extracranial stent
Targeted radiation for brain tumors
Microneurosurgery
Endovascular surgery
Endoscopic pituitary surgery
Minimally-invasive/complex spine surgery
Vagal nerve stimulation (VNS)
---
Currently showing
22

total listed locations