Whether you experience an injury, minor illness or simply need a wellness exam, the most important step you can take is getting the care you need. That way, you can find trained experts for your specific medical needs, stay ahead of potential health issues or even help prevent your condition from worsening.
With primary, virtual, urgent and emergency care services available, as well as retail pharmacies, how do you decide which type of care is best for your medical situation? Learn the differences between each type of medical service so you don't delay and get care right away.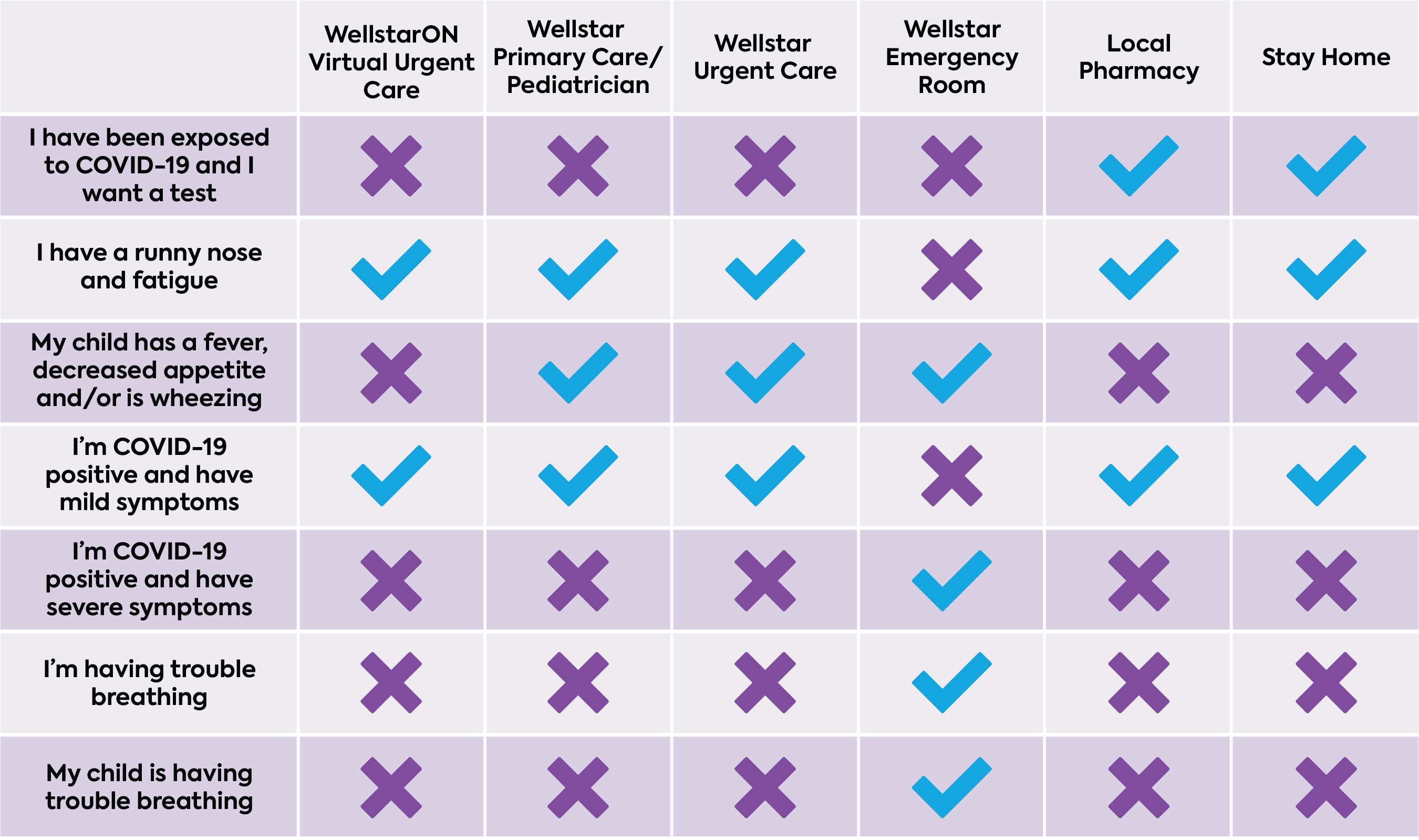 Local Pharmacies
If you are ill and have minor symptoms, over-the-counter medications can help you feel better. At your local retail pharmacy, you can find over-the-counter treatments for minor conditions like colds. If your symptoms worsen or do not go away with over-the-counter treatments, contact your primary care provider or visit an urgent care location.
Local pharmacies also carry at-home COVID-19 tests, offering a convenient testing option for people who have been exposed or are experiencing mild symptoms of COVID-19.
Virtual Care
Whether you have a busy schedule or are just looking for a more convenient option, virtual appointments are an easy way to keep up with your health from anywhere.
At Wellstar, we offer virtual visits with both primary care providers and specialists — no matter if you are an established patient or not. Connect with your Wellstar provider over the phone or with video on a computer, smartphone or tablet.
If you're an established patient, simply request a virtual visit through MyChart. If you don't have an account, it's easy to sign up for MyChart and keep all of your important health information in one secure space. You can also call your physician's office directly and request a virtual appointment over the phone.
These days, many types of appointments can be done virtually, including consultations, care for chronic conditions and prescription management. In addition to virtual primary and specialty care appointments, we also provide virtual urgent care through WellstarON for minor medical concerns.
While virtual care is a convenient way to stay well, it should never be used in place of emergency care. If you are experiencing a life-threatening medical emergency, call 911 right away.
Primary Care
Primary care is ongoing, comprehensive care and preventative medicine that helps you live a full, healthy life.
Your primary care provider — either an internal or family medicine physician, pediatrician or OB/GYN, depending on your age and medical needs — gets to know you and your health history on a deeper level. That means they have a more accurate view of your overall wellness.
Services include:
Annual wellness exams
Health screenings, labs and imaging
Care for chronic conditions, such as diabetes or high blood pressure
Immunizations for children and adults
Treatment for acute illness, such as the flu or colds
Coordinating care with other specialists
Physical and mental health concerns, such as weight loss or anxiety
Find a Wellstar primary care provider in your neighborhood.
Urgent Care
If you're dealing with a minor injury or illness or need care after your physician's regular office hours, going to urgent care is often the right choice. Wellstar Urgent Care Centers provide quick, convenient care for non-emergency medical conditions.
We also offer urgent care through WellstarON, which provides virtual health visits for minor medical concerns from the comfort and convenience of home.
Wellstar Urgent Care provides:
Care for minor illnesses and injuries, such as coughs, colds, sprains and broken bones
Treatment for medical issues like bites, burns and cuts
COVID-19 testing and evaluation for patients 12 and older
Lab and X-rays
Sports physicals
Occupational health services
Worker's compensation services
Find a Wellstar urgent care location near you or make a virtual urgent care appointment.
Emergency Care
In a life-threatening medical emergency, every second counts. Never put off getting the proper care when lives are on the line. Remember, driving yourself to the emergency department (ED) may delay care, so call 911 for the fastest access to emergency care.
When the unexpected happens, Wellstar is always ready in a medical emergency. Our trained team provides expert emergency care 24 hours a day for people of all ages. We even have several pediatric emergency room locations, specifically designed to treat children.
Recognize the signs of a medical emergency:
Difficulty breathing or shortness of breath
Chest discomfort or pain
Severe abdominal pain
Fainting or loss of consciousness
Sudden dizziness, weakness or vision changes
Sudden, severe pain
Uncontrolled or severe bleeding
Choking, coughing up blood or severe vomiting
Suicidal or homicidal thoughts
Changes in mental status, such as confusion or unusual behavior
Traumatic injury due to a motor vehicle or other accidents
Find a Wellstar emergency department close to you. Remember, call 911 right away in a medical emergency. That way, care can begin sooner during the crucial time it takes to be transported to the hospital.