Over the years, advice about breast self-exams and breast cancer screenings has changed. So what exactly should you be doing to make sure you're staying your healthiest? We brought together a panel of women's health experts to discuss the best strategies to keep tabs on your breast health—and who to talk to if you're diagnosed breast cancer.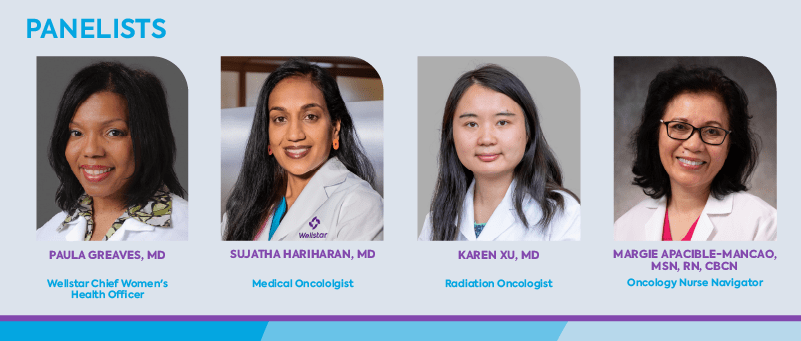 I do breast self-checks every month. Why do I need a mammogram too?
Dr. Paula Greaves, MD, OBGYN, Wellstar chief Women's Health officer: Unfortunately, 1 in 8 women will develop breast cancer in their lifetime, so early detection is key. We have shown over the years that the sooner we detect breast cancer, the more successfully it can be treated. Survival has increased significantly since we started finding breast cancer earlier—before there are symptoms, such as feeling a lump during a self-exam.

Mammograms are essential for early detection. It's recommended that women start getting mammograms at age 40. However, if you have a family history of breast cancer or other risk factors, your gynecologist or primary care provider may recommend starting earlier and will help you create a personalized screening plan. There are some risk factors that women cannot change, such as genetics, but there are some ways women can lower their risk, like quitting smoking, eating a healthy diet and exercising regularly. Wellstar offers 14 mammography locations, and our patients have state-of-the-art technology on their side. We offer high-resolution breast screening, including 3D mammograms.

Women should continue not only getting annual mammograms, but also seeing their gynecologist or primary care provider for regular breast exams. Women should also be aware of physical changes within their bodies, including breast changes. Changes in the texture of the skin or a lump or pain in the breast should always be checked out by their healthcare provider.

Margie Apacible-Mancao, MSN, RN, CBCN, nurse navigator: I am so passionate about breast cancer screening—every opportunity I have I tell patients to get a screening mammogram when they're of age. Tell someone in your circle that you're going, then they'll tell someone in their circle and the circle gets wider so more people will get screened.


Does it mean I have cancer if the doctor recommends a biopsy?
Dr. Sujatha Hariharan, MD, medical oncologist: When a mammogram detects an abnormality, a biopsy might be indicated. Many breast biopsies will be non-cancerous such as fibroadenomas.

If cancer is found on a breast biopsy, there are several parts of the pathology result that the care team will utilize to make a treatment plan. For example, the presence of estrogen and progesterone receptor positivity allows the potential for hormone therapy as part of the treatment plan. The HER-2 gene is also tested for and if that is present and positive, it allows for medication directed at the HER-2 gene to be given along with chemotherapy.

Sequencing of the various treatments for breast cancer—surgery, chemotherapy, radiation and hormone therapy—will be determined as a collaborative effort between the breast surgeon and medical oncologist.


If I'm diagnosed, who should I talk to next?
Margie: The anxiety of not knowing their diagnosis or what's next is one of the hardest parts. At Wellstar, patients have access to a nurse navigator on the day they are recommended to have a biopsy. We make an appointment with the specialists as quickly as possible because just knowing that someone is helping them get to the next step and get that appointment fast dials down their stress level.

Dr. Karen Xu, MD, radiation oncologist: If you are diagnosed with breast cancer, you will need to see a breast surgeon first to discuss your surgery options—lumpectomy or mastectomy; a radiation oncologist to discuss the duration of radiation treatment and whether lymph nodes should be included in the target; and a medical oncologist about whether endocrine therapy or chemotherapy is indicated and the timing of systemic therapy. Patients who desire reconstruction after mastectomy will discuss with a plastic surgeon the type and timing of reconstruction they want.


---
Schedule a mammogram
Find a breast imaging location near you online or call (678) 581-5900.