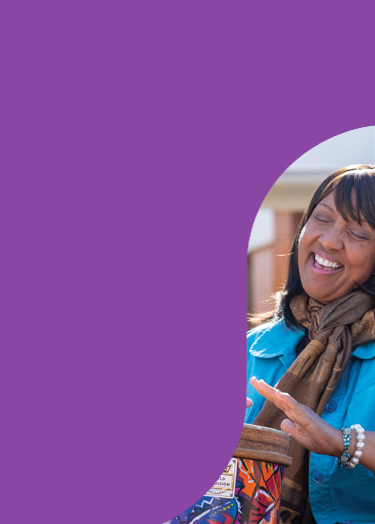 Breast Cancer Screening & Mammograms
Mammograms—or images of the breast—at regular intervals can
help identify signs of cancer before symptoms appear, and can help catch cancer earlier for better outcomes.
Learn more about mammograms at Wellstar
Mammograms Can Catch Cancer Early
Screening for breast cancer at regular intervals can help catch breast cancer earlier for better outcomes. Technology known as Tomosynthesis 3D mammography has become the standard of care for breast cancer screening. People in our communities have access to 3D mammograms, images of the breast that can help identify signs of cancer before symptoms appear. A benefit of 3D mammography technology is that it gives clearer images of dense breast tissue than a traditional mammogram.
What is a mammogram?
A mammogram uses low dose X-rays to examine the breast for abnormalities and signs of cancer. This brief exposure to a low dose of X-ray is relatively safe. Experts and doctors believe the use of a mammogram provides enough valuable breast information to outweigh any potential risks of radiation exposure.

Mammograms play a central part in the early detection of breast cancer because they can detect changes in the breast before they can be felt in a breast examination. But mammograms are not 100 percent accurate, so women should continue to have an annual breast examination with their provider regularly, and discuss any changes they notice throughout the year with their provider.
Benefits of a 3D mammogram
A benefit of 3D mammography technology is that it gives clearer images of dense breast tissue than a traditional mammogram. A 3D mammogram provides a series of detailed images of the breast, allowing healthcare providers to better evaluate breast tissue layer by layer, making fine details more visible and no longer hidden by overlapping tissue. Clinically proven to provide more accurate breast cancer screenings, a 3D exam can help reduce false-positive callbacks for additional imaging.

Having a 3D mammogram is similar to the process of getting a traditional 2D mammogram. Multiple images are taken in just seconds. The low-dose imaging of dense breast tissue is approved by the FDA and performed by trained technologists. This imaging service is currently covered by Medicare and a growing number of private insurance companies.
Who should be screened?
Wellstar offers screening mammograms for women who initially exhibit no symptoms of breast cancer or abnormalities. Diagnostic mammograms are also available to evaluate a possible abnormality found on a screening mammogram or for patients with a known abnormality of the breast such as a lump, focal pain, skin changes or nipple discharge.
Before the procedure
Your provider may recommend a digital mammogram one week following your period, especially if your breasts feel especially tender before your period. You should also inform your provider and radiologist if you believe you might be pregnant.

For the examination itself, you should wear a two-piece outfit and refrain from wearing deodorant, powders or perfumes as they could appear on the mammogram as calcium spots. If your breast sensitivity is accentuated by caffeine, do not use caffeine products for two to three days before the examination.

The examination is an outpatient procedure and should take about 30 minutes.
During the procedure
When you arrive, a Wellstar nurse or technologist will ask you to remove all of your clothing above the waist and change into a gown.

The mammography unit is a rectangular box that houses the X-ray tubes and special accessories so that only the breasts are exposed to radiation. Attached to the unit is a device that holds and compresses the breast and positions it so images can be taken from several different angles. A technologist will assist you throughout the examination.

For the procedure, you must remain still. There will be times during the X-ray when you will be asked to refrain from breathing for a few seconds to reduce the possibility of a blurred image. The technologist will ensure that the necessary images have been taken before completing the examination.
After the procedure
Once you have completed a mammogram, you may resume your normal, everyday activities. Once the radiologist releases the report, your results can be accessed through your online medical record with your Wellstar MyChart account login. You should receive your patient report letter within five to 10 business days following your examination.
Wellstar Women's Medical Imaging Locations
Currently showing
16

total listed locations