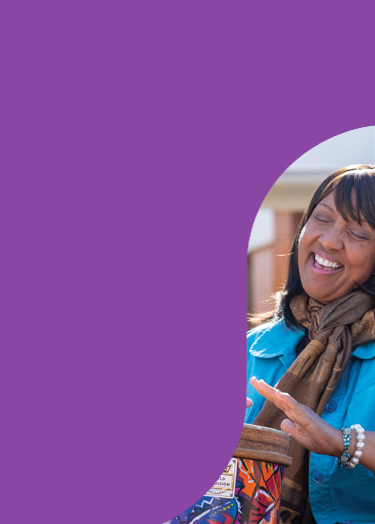 Breast Cancer Care at Wellstar
Women—and sometimes, men too—can be sure they have the best care available at Wellstar, with personalized care plans for your unique breast cancer diagnosis.
Personalized Care by Breast Cancer Experts
At Wellstar, people with breast cancer have access to experts who offer the most advanced diagnostics, treatments and clinical trials in medical oncology, radiation oncology and cancer surgery. Our breast surgeons have advanced training and are highly experienced with all the modern surgical techniques, including Hidden Scar breast-conserving surgery, advanced microsurgical techniques such as DIEP flaps as well as intraoperative radiation therapy (IORT).
We believe the team approach is better for the patient. Our close-knit team of breast cancer specialists is made up of medical oncologists, radiation oncologists, breast surgeons, plastic surgeons, radiologists, pathologists and genetic counselors. We review each patient's pathology and imaging together to make a diagnosis, stage the cancer and design the best treatment plan.
Our experts have experts
Our breast cancer experts have a direct connection to Mayo Clinic specialists through our membership in the Mayo Clinic Care Network. Wellstar physicians and patients can request eConsults — virtual second opinions — from Mayo Clinic specialists at no additional cost to patients.
Awards & Accreditations: NAPBC & COC
Through Wellstar's participation in accreditation and recognition programs, people with breast cancer can rest assured that our program is at the forefront of community cancer care.
Achieving accreditation by the NAPBC ensures Wellstar patients can be confident that their breast care team provides the best care available through their entire course of treatment. At Wellstar Kennestone Medical Center, a specially appointed committee of breast cancer specialists meets regularly to ensure our program continues to meet the NAPBC's rigorous standards, and offers everything a patient needs to have the most integrated care.
Finding Cancer Early
Personalized screening for breast cancer
In order to find breast cancer early, we determine if a patient is at regular risk or at a high risk for breast cancer. This allows us to provide different levels of screening based on a person's individual risk factors.
Wellstar offers screening mammograms for women who initially exhibit no symptoms of breast cancer or abnormalities. If you're at average risk of developing breast cancer, you should start annual mammograms at age 40. However, if you have a family history of breast cancer or other risk factors, your provider may recommend starting earlier and will help you create a screening plan.
Regular mammograms and other types of imaging may be recommended. When performed at regular intervals, mammograms help women in our communities find breast cancer before symptoms appear so they can start treatment earlier. The Wellstar imaging team aspires to make the breast cancer screening process as quick and thorough as possible. We want you to have the answers you need for your optimal health.
We use the most advanced technology to screen and diagnose breast cancer, including:
3D tomosynthesis mammograms
Breast ultrasound
Breast MRI
Minimally-invasive image-guided biopsies
Our compassionate breast cancer radiologists, technologists and nurse navigators are here to guide you through the process. You can count on having your imaging results fast—typically
within one to two business days
.
Learn more about breast cancer screening at Wellstar
Screening for people at high risk for breast cancer
People who are higher risk for breast cancer may have genetic mutations that are inherited or other risk factors that are identified during a routine screening mammogram. Physicians can use the Tyrer-Cuzick model to calculate a person's risk for breast cancer. This tool helps assess a person's likelihood of carrying the BRCA1 or BRCA2 mutations and ultimately, the likelihood a woman will develop breast cancer. Counseling is advised if the model predicts a 10% or greater chance of these mutations.
Wellstar is launching a high-risk breast cancer program at Wellstar Kennestone Medical Center. The genetic risk assessment team, the breast imaging team and our breast surgeons work together in a coordinated effort to identify and care for women who are at a higher risk. These patients are connected with a specialist for the level of surveillance that is equal to a patient's individual level of risk. The benefit is that if breast cancer appears, it can be found and treated earlier for better outcomes.
Genetic Risk Assessment
People with concerns about hereditary breast cancer and metastatic breast cancer have access to one of Georgia's largest genetic testing programs. Wellstar genetic counselors meet with patients and can perform testing to see if they carry any identifiable cancer genes—the list of known cancer-causing genes continues to grow and some can be effectively targeted with specific medical oncology drugs. Genetic counselors can also help patients determine their risk for additional cancers and identify at-risk family members to prevent additional cancers within the patient and their family members.

Learn more about genetic risk assessment at Wellstar.
Diagnosing Breast Cancer
Diagnostic imaging for breast cancer
A patient who has breast symptoms or an irregular screening mammogram will have a diagnostic mammogram and/or ultrasound, and will typically get results during the appointment.
Breast tissue biopsies
Sometimes a biopsy is needed. Biopsies can confirm or disprove the presence of cancer—around 80% of biopsies are found to be non-cancerous. Our nurse navigators assist you to schedule a minimally-invasive biopsy or a consult with a breast surgeon quickly. We offer several types of minimally-invasive procedures including 3D/stereotactic biopsy, MRI-guided biopsy and ultrasound-guided biopsy.
Breast cancer pathology
A patient's individual pathology provides detailed information that can help your team of cancer specialists give you the most personalized and effective care.

Wellstar pathologists handle each patient's biopsied breast tissue with care. We study your pathology to diagnose breast cancer as quickly and accurately as possible. A second Wellstar pathologist reviews every positive breast cancer diagnosis.

The pathology report includes information about how fast the cancer cells are growing and dividing. Pathologists look for specific biomarkers such as hormone receptors and other proteins. This collection of information helps determine which type of treatment will be most effective for each patient. For example, this information may reveal that hormone suppression therapy or targeted therapies could be effective treatments.
Breast cancer diagnosis and staging
Patients benefit from Wellstar's systemwide breast cancer tumor board conference for diagnosing and staging breast cancer. There are also multidisciplinary tumor boards at the local hospitals, including a Breast Cancer STAT Clinic at Wellstar North Fulton Medical Center.
Treatment for Breast Cancer
Our breast cancer specialists have the highest level of training in their field and work together to offer patients multidisciplinary care, which can improve outcomes. Each patient gets the level of attention and coordinated care they need due in large part to collaboration among their physicians and care team. At Wellstar North Fulton Medical Center, patients can meet with a multidisciplinary team of breast cancer specialists in one day in our STAT Clinic for Breast Cancer.

Almost all types of breast cancer require multiple types of therapy and the treatment is individualized for each patient's tumor to optimize their care. This therapy may include surgery, radiation oncology and some form of systemic therapy, such as targeted therapy, endocrine treatment, immunotherapy or chemotherapy.

Together, Wellstar physicians treat more than 1,000 patients with breast cancer every year. The multidisciplinary breast cancer program at Wellstar Kennestone Medical Center alone treats nearly 500 people with breast cancer annually, giving our specialists a high volume of experience in breast cancer disease.
Medical oncology for breast cancer
Our medical oncologists provide care that is wholly focused on what is right for each patient with breast cancer. We employ the latest advances in biomarker testing—also known as genomic testing—to learn about each patient's genetic makeup and characteristics of the breast tumor. And, we take the time to get to know our patients. Our caring relationships—paired with the latest scientific advancements—help us optimize your care.

While we have the newest treatments at our fingertips, every decision we make is based on what will lead to the best outcomes for each patient. For example, we emphasize treating aggressively when it's important. Other times, we deescalate—or lighten treatment when we can—to give patients the best quality of life.

Specific therapies we may use to treat someone who has breast cancer include immunotherapy, endocrine—or anti-estrogen—therapy, hormone therapy, chemotherapy and other targeted therapies based on biomarker testing. We are often able to enroll our patients in clinical trials to test groundbreaking breast cancer therapies.
Breast cancer research & clinical trials
Hundreds of people with breast cancer have participated in Wellstar's robust research and clinical trials program. We have a strong track record of making groundbreaking treatments available to breast cancer patients. In fact, we were the only site in Georgia to participate in the Genentech IMpassion130 trial, which led to the first FDA approval of immunotherapy for breast cancer in 2019. We continue to participate in clinical trials we believe are in our patients' best interest.
Breast surgery & reconstruction
Surgeons at Wellstar are leading experts in the breast cancer field. The first breast cancer specialist in the southeast was Dr. Phil Israel, a breast surgeon at Wellstar Kennestone Hospital. Many of the breast surgeons in Atlanta were trained by Dr. Israel at Kennestone Hospital. The center continues to be a high-volume, highly specialized treatment program for breast cancer today.

Breast surgeons are involved in the diagnosis of breast cancer, performing ultrasound-guided as well as 3D/stereotactic biopsies in their offices. We offer high-risk breast cancer assessment and care over time.

One treatment option for breast cancer is breast surgery. Surgeons at Wellstar offer breast reconstruction to women having a mastectomy or a lumpectomy at the same time as the cancer-removing surgery. Alternatively, reconstruction can be delayed. The goals of breast reconstruction can range from helping women fit more comfortably into their clothing to regaining their self-confidence. Reconstructing the breasts can be as much about emotional recovery as physical recovery.

Our specialists have advanced training and are highly experienced with all the modern surgical techniques, including:
Skin-sparing and nipple-sparing mastectomy
Hidden Scar for breast-conserving surgery
Intraoperative radiation therapy (IORT) performed in tandem with a radiation oncologist
Reconstruction at the same time as the mastectomy including implants, latissimus flaps or advanced microsurgical techniques such as DIEP flaps
Oncoplastic breast surgery, a lumpectomy with breast reduction
It's helpful for many patients to know that breast reconstruction is covered by all insurance companies for any patient diagnosed with breast cancer. Even if the insurance plan changes, a patient's insurance company is required to pay for any surgery related to breast reconstruction for the rest of their life.
Radiation oncology for breast cancer
Wellstar radiation oncologists are highly experienced at treating breast cancer. Patients at various Wellstar locations have access to leading radiation treatments and techniques delivered by state-of-the-art technology such as TrueBeam, TomoTherapy and CyberKnife.

This modern technology provides the physician the ability to specialize and individualize a patient's care, while treating the cancer and sparing surrounding healthy tissue. For example, many patients can be treated in the prone position, lying on the treatment table with the chest down. This position allows decreased radiation exposure to the heart and lung. When it is indicated for a patient, we also offer Intensity Modulated Radiation Therapy (IMRT) for more complex treatment designs and delivery.

Our Wellstar Kennestone Hospital team leads the state with the highest volume in accelerated partial breast irradiation (APBI), a faster radiation treatment option for women with early-stage breast cancer. It is delivered in just five days using high-dose rate brachytherapy. This breast-conserving therapy is typically paired with a surgical procedure called a lumpectomy.

Primarily at Wellstar North Fulton Hospital, our radiation oncologists team up with breast surgeons to perform a highly specialized procedure called intraoperative radiation therapy (IORT). A surgeon removes the tumor and a radiation oncologist directly applies a one-time radiation treatment.
Support for People with Breast Cancer
Our team of physicians are very focused on ensuring our program meets every need of our patients, which includes a robust offering of support services and support groups.
Perhaps the most impactful example of support is a patient's nurse navigator. These registered nurses are trained in breast cancer and bring a highly personalized level of guidance and support to each patient and her family.
A patient's support team may also include oncology-trained and registered team members such as a dietitian, genetic counselor, a social worker or a counselor, psychologist or psychiatrist.
Many women find comfort sharing their stories and learning from others in breast cancer support groups. Please talk to your nurse navigator to get connected with your peers.
Breast cancer rehabilitation
Wellstar physical therapists and lymphedema specialists help women overcome the physical challenges that arise from having breast cancer. We're here for you before, during and after treatment to help you get back to life and do what you love. Your therapist can work with you to regain physical function and strength as well as overcome the pain of lymphedema—persistent swelling that can occur in the arm, hand or chest area after surgery for breast cancer. We offer you a personalized rehabilitation plan centered around your needs and your life.

Learn more about cancer rehabilitation at Wellstar
---
---
---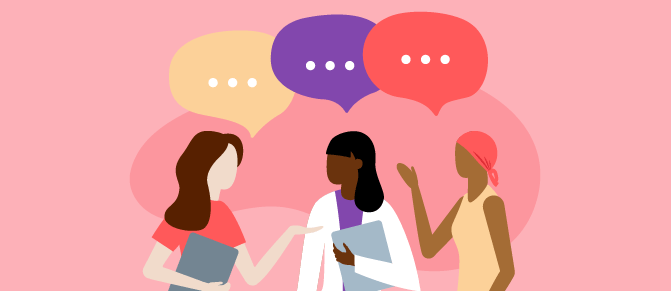 Breast Cancer Diagnosis: What to Expect
A patient joins a group of breast cancer experts to discuss what to do when you or someone close to you is diagnosed.
Get the scoop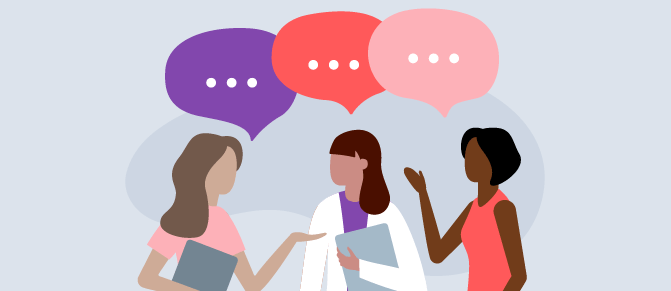 A Candid Talk About Your Breasts
A panel of women's health experts discuss the latest on breast self-exams, breast cancer screenings and what you should be doing to be your healthiest.
Get the scoop