Breasts play an important role when it comes to a woman's health, yes, but often they're an important part of a woman's identity, sexuality and function too. With 1 in 8 American women developing breast cancer in their lifetime, the disease affects many people physically and emotionally.

In this article, a patient and a group of breast experts discuss the best ways to prevent and fight breast cancer, as well as how to support family members, friends, colleagues or neighbors who may be diagnosed.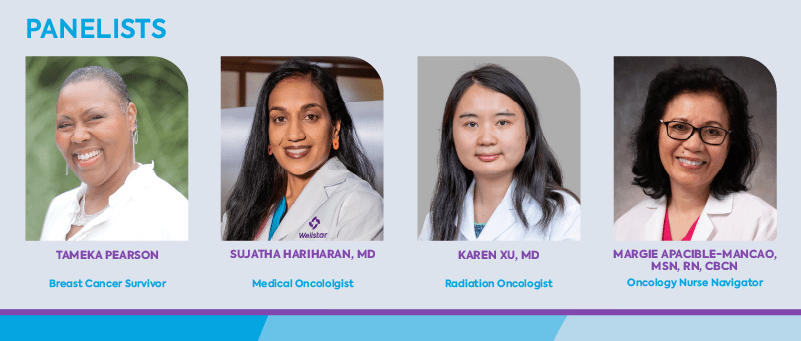 What do women struggle with the most during treatment, and what helps?
Tameka Pearson, breast cancer survivor: When I was diagnosed, I just went to pieces. I cried for about two weeks straight. There were tears in my eyes when I'd wake up. I didn't want to eat or go outside. I had to process the information. I was getting phone calls—updates and making appointments. But I was still a mom and a wife and had to go to work. That was a lot.

When I was a child, my mom would say, 'Pick yourself up and dust yourself off and get moving.' I gave myself permission to mourn for two weeks—permission to loathe, to cry, to get it out of my system. Once those two weeks were over, I was done crying—done feeling sorry for me. I picked myself up and persevered. I realized I have a lot to live for! I couldn't give up.

Before breast cancer, I did everything for my family—cooking cleaning, washing clothes. When I was diagnosed, they immediately took over. They became more independent, especially my children. My husband became more of the provider and caretaker. My children were like, 'Mom, we need you to sit down; we need you to rest.'

One of my coworkers from the past is also a survivor and started a group called Lean On Me. When I logged onto a Lean On Me Breast Cancer Network Zoom meeting, I loved it. They were uplifting, prayerful and gave me great information if I had questions.
Margie Apacible-Mancao, MSN, RN, CBCN, nurse navigator: After the initial shock of diagnosis, it's not uncommon to get depressed or anxious. There can be the stress of transportation, childcare if they have young children at home or financial concerns. Sometimes patients experience anxiety for the first time, sometimes they've had it in the past and being diagnosed brings it to the front. We can connect them to counselors, financial counselors and social workers, or they can join a support group. Meeting with other patients and survivors helps them know they are not alone, get through treatment with hope and form great friendships. We live in a society where we're trained to be independent, but when I meet with patients, I say, 'Allow yourself to receive help.'
Dr. Karen Xu, MD, radiation oncologist: In general, radiation treatment for breast cancer is very well tolerated and most women go through the treatment without much difficulty. The most common side effects are fatigue and skin irritation appearing as a sunburn-like reaction from radiation treatment. We see patients at least once a week during radiation treatment and we recommend different creams depending on how severe the skin radiation reaction is. Mild physical activity usually helps with fatigue.

Dr. Sujatha Hariharan, MD, medical oncologist: One of the initial concerns patients have when they start chemotherapy is potential hair loss. This can be devastating and disheartening. We are excited to now offer cool caps as a means to reduce hair loss from chemotherapy. Cool caps work by cooling the scalp, leading to constriction of blood vessels in the scalp. This might reduce the amount of chemotherapy that reaches the hair follicles leading to reduced hair loss from the head. The success rate of the cool cap can vary from person to person.

There is a vast cancer support network available through Wellstar. Aside from the doctors, patients have support from social workers, chaplains, dietitians, nurses and nurse navigators. A whole team of people is here to help patients through the process. Patients often meet other patients during treatment where they bond and support one another. This can be such a meaningful and valuable relationship.

The main thing is you're not going to be alone. Many people will be here to help you with all aspects of your care.