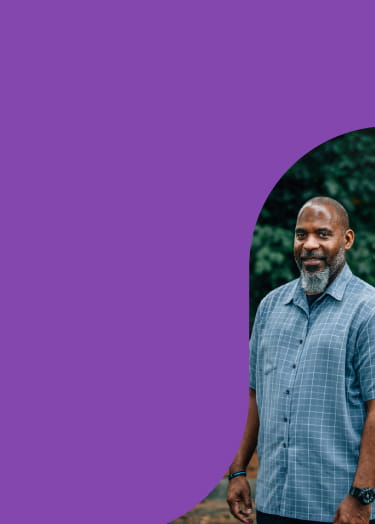 Prostate Cancer
Care personalized for you
How you choose to treat your prostate cancer is a very personal decision. We're here to help you understand your individual level of risk and your choices.
Watch video
Prostate Cancer Care That's Right for You
What's best for you is at the center of all we do. Prostate cancer is one of the most common types of cancer, but some types grow slowly and may cause little harm while others are aggressive and can spread more quickly. How we treat your prostate cancer depends on factors that are very personal to you. Our multidisciplinary team of prostate cancer experts will help you understand the type of prostate cancer you have and every option to move forward.
Multidisciplinary care
Across Wellstar, urologists, radiation oncologists, medical oncologists, radiologists and pathologists collaborate on the best way to treat patients. We also have a prostate cancer-specific tumor board to review more complex cases as a team.
Men and their partners can meet with a multidisciplinary team of prostate cancer experts and a nurse navigator for the most comprehensive and personalized care. Since surgery and radiation are often treatment options for prostate cancer, it can difficult to decide which is the best option. We provide the opportunity for patients to meet with a radiation oncologist and surgeon with their nurse navigator and leave feeling confident that they've made the right treatment decision.
Personalized care, from active surveillance to leading technology
Most of our patients with low-grade, early-stage prostate cancer choose to monitor their prostate cancer with their physician following an
active surveillance
protocol. Other patients benefit from
state-of-the-art prostate cancer treatment
including
same-day robotic prostatectomy,
leading-edge radiation therapies
and
genetic testing
. We also offer chemotherapy, hormone therapy and
clinical trials
that offer promising treatment.
Patient satisfaction
Our program is backed by high patient satisfaction scores that recognize the expertise of our urologists, radiation oncologists and medical oncologists as well as an excellent network of support led by nurse navigators.
Nationally accredited program
Wellstar is the recipient of The American College of Surgeons (ACS) Commission on Cancer (CoC) Accreditation and the Outstanding Achievement Award, the highest honor awarded to a cancer program in the United States. The CoC recognized Wellstar as the first Network Cancer Program in Georgia and the fifth in the nation.

Wellstar Vinings Health Park Imaging and Wellstar East Cobb Health Park Imaging are designated American College of Radiology Prostate Cancer MRI Centers by the ACR Committee on Magnetic Resonance Imaging Accreditation and the ACR Commission on Quality and Safety. This designation identifies these centers as top quality providers of safe, effective diagnostic imaging for individuals at risk for prostate cancer.