Cancer Care at Wellstar North Fulton Hospital
Cancer experts and nurse navigators at Wellstar North Fulton Hospital and Wellstar Avalon Health Park offer patients warm, personalized care. Our patients appreciate the level of attention and communication they receive here, alongside advanced cancer treatment technology and expertise.
Watch video
Wellstar North Fulton Cancer Care
State-of-the-Art Cancer Care in a Family Atmosphere
---
A growing number of people with cancer trust the team at Wellstar North Fulton Hospital to help them face cancer with confidence. In fact, the number of patients we care for has doubled in recent years. While our cancer experts perform a high volume of robotic surgery and other advanced cancer treatments, our patients say their care team treats them like family.

Our comprehensive program offers all aspects of cancer care, from diagnosis to treatment and survivorship. Part of what sets our program apart is how easily patients can communicate with our physicians and support teams. Nurse navigators offer a highly personalized level of guidance and surgeons are known to pick up the phone to answer questions and help patients feel calm prior to cancer procedures.


Why people trust our experts
Our cancer physicians are board-certified and fellowship-trained at some of the world's premier institutions. Paired with years of experience, this translates to unrivaled care and outcomes for people with cancer.

Patients here benefit from multidisciplinary care. We meet in tumor board conferences at the hospital as well as cancer-specific tumor boards within the Wellstar Cancer Network. For example, our patients' cases can be reviewed in focused tumor boards and STAT Clinics for breast cancer, gynecological cancer, prostate cancer, central nervous system tumors and esophageal and lung cancer. Tumor boards are made up of medical oncologists, cancer surgeons, radiation oncologists, pathologists and radiologists among other specialists. They collaborate on staging, diagnosis and treatments designed to give patients the most personalized care for their specific type of cancer, while also considering their underlying health conditions.

Wellstar and Mayo Clinic are working together to improve the delivery of healthcare. Through our collaboration, Wellstar combines the wisdom of Mayo with the expertise of Wellstar to offer the best care and treatment plans for even the most complicated diagnoses. As part of the Mayo Clinic Care Network, physicians at Wellstar can request consults with Mayo Clinic specialists on complex cases at any time. The best part? This service is offered at no cost to our patients.
---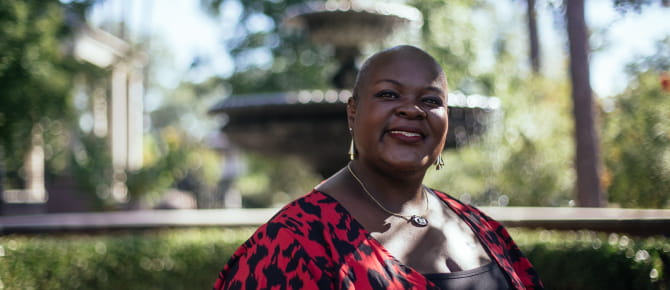 Conquering Breast Cancer with a Wellstar Support Team
When Ebony-Joy Igbinoba was diagnosed with bilateral breast cancer at age 38, an interdisciplinary team of Wellstar experts stood by her side to help her face cancer with confidence. Now she is living cancer-free, with a Wellstar care team dedicated to keeping her healthy.
Learn more
NanCare
For years, Alpharetta attorney Nan Harman-Dempsey dealt with high-pressure situations in the courtroom. But after receiving the results from her biopsy, there was a new challenge on the docket—breast cancer.
Read her story
---
Screening & Diagnostics
The goal of our cancer screening and genetic assessment programs is to help people find cancer in earlier stages when it is most curable. We use the most advanced protocols and technology at Wellstar North Fulton Hospital and Wellstar Avalon Health Park, where patients can have screening, diagnostic imaging and labs.

Our robust screening and genetic risk assessment programs help patients find cancer earlier when it is more treatable. Learn more and find contact information about our programs for breast cancer screening, lung cancer screening, and genetic risk assessment. We also encourage everyone to have regular colonoscopy screenings and men to have their PSA levels checked by a urologist on a regular basis to screen for colon cancer and prostate cancer.
Cancer Surgery at North Fulton Hospital
Wellstar North Fulton Hospital has a team of specialized cancer surgeons with a high volume of experience in minimally-invasive procedures, such as robotic surgery. While these surgeons have a high level of technical training and skill, patients say they appreciate their caring and unrushed manner. Our cancer program is committed to treating patients with the most state-of-the-art technology, which includes the latest da Vinci® Robotic Surgical System. While we're a community hospital with a family feel, our patients have access to subspecialists with a high level of experience in treating people with lung cancer, prostate cancer, breast cancer, gynecological cancer and brain and spine tumors.
Thoracic cancer (lungs and throat)
Our thoracic surgeons collaborate in a multidisciplinary fashion with pulmonologists and other specialized physicians to individualize cancer care for our patients. When a cancer is diagnosed, patients are evaluated in the STAT clinic, which allows them to meet all their cancer providers at one appointment during one afternoon and they leave with a comprehensive treatment plan. When surgery is recommended as a part of the treatment plan for both lung and esophageal cancer, it is typically performed with a minimally-invasive approach using the state-of-the-art da Vinci robotic surgical system for more precise and accurate surgery. The benefits of minimally-invasive surgery for lung and esophageal cancer include less pain, less scarring, less blood loss, a lower infection rate, shorter hospital stay and shorter recovery time with quicker return to work and better patient satisfaction. After surgery, patients also have access to programs like pulmonary rehabilitation, which help to facilitate recovery.
Prostate and kidney cancer
Our cancer surgeons have performed thousands of minimally-invasive surgeries for prostate and kidney cancer. This is important because high levels of surgical experience leads to significantly better outcomes for patients. One of Wellstar North Fulton Hospital's urologists was the first in the state of Georgia to perform laparoscopic prostate remove surgery and later, became the first in the state to perform a robotic prostate removal.
Breast cancer
Patients who have surgery for breast cancer here have access to the most advanced surgical techniques, including Hidden Scar-certified surgery and intraoperative radiotherapy (IORT). IORT is one of the latest surgical advancements for patients who are candidates for breast-preserving surgery. Wellstar North Fulton Hospital is one of a few hospitals in Atlanta to offer this advanced procedure, which combines breast surgery and radiation therapy to spare surrounding tissue.
Gynecological cancer
Gynecologic oncology is a rare field, with less than 1,000 of these specialists practicing in the U.S. Studies show that women treated by a gynecologic oncologist tend to have better survival rates than those who are not treated by a specialist early in their care.

This highly specialized care for women with cancer of the reproductive organs is available to women in North Fulton. Your gynecologic oncologist will help coordinate all aspects of your care from diagnosis onward. When it is appropriate for a patient, we utilize minimally-invasive surgical techniques including robotic surgery. Gynecologic oncologists also have experience administering chemotherapy and can manage that aspect of your treatment. Our patients can also benefit from pioneering treatment with access to NRG Oncology-sponsored clinical trials through a partnership between the Wellstar Research Institute and Mayo Clinic.
Brain and spine cancer
Wellstar North Fulton's neurosurgeons work with medical oncologists and radiation oncologists to offer a full spectrum of care for people with brain, skull and spinal tumors. These highly specialized neurological cancer experts perform complex open surgery to remove tumors. Our neurosurgeons also treat highly vascular tumors with minimally-invasive techniques to lessen blood loss and make treatment safer for the patient.
Medical Oncology at North Fulton Hospital
Medical oncologists and gynecological oncologists at Wellstar North Fulton Hospital offer our patients the latest immunotherapy and chemotherapy drugs. Immunotherapy wakes up a patient's own immune system to fight their cancer. Newer chemotherapy medicines have been developed with fewer side effects and newer cancer support drugs—such as anti-nausea medicines—to improve the treatment experience.


Clinical trials
Wellstar has a track record of success in clinical trials. At North Fulton Hospital, women with specific types of gynecological cancer may be eligible to be entered into clinical trials for potentially groundbreaking treatments. The Wellstar Research Institute offers these clinical trials through an affiliation with Mayo Clinic and NRG Oncology.


Infusion centers
For patients' convenience, there are two infusion centers at Wellstar North Fulton Hospital. An outpatient infusion center serves patients with all types of cancer and our gynecological oncology infusion location serves patients with gynecological cancers. Patients who receive intravenous chemotherapy, immunotherapy or other treatments have comfortable seating and privacy curtains.
Radiation Therapy at North Fulton Hospital
Radiation oncologists serve as part of Wellstar North Fulton Hospital's multidisciplinary cancer team to help patients get all the answers about radiation therapy so they can move forward with treatment.

At Wellstar North Fulton Hospital, we perform intraoperative radiation therapy (IORT) in tandem with a surgeon. While the patient is asleep in the operating room, the surgeon removes the tumor and a radiation oncologist directly applies radiation. For prostate cancer patients, we offer radioactive seed implant—also known as brachytherapy.

Radiation oncologists here often serve as a second opinion or additional consult for patients who may benefit from other types of radiation. Our sister facility at Wellstar Kennestone Hospital delivers a variety of treatment options by state-of-the-art technology, including CyberKnife, TrueBeam and TomoTherapy. Wellstar is the only program in Atlanta to offer patients treatment with state-of-the-art CyberKnife technology.
Support Services at Wellstar North Fulton Hospital
Facing cancer with confidence is as much about emotional and spiritual healing as medical care. That's why our program offers comprehensive care.

Patients at Wellstar North Fulton and their families say nurse navigators offer an incredible level of guidance, helping them understand their diagnosis, make informed decisions and assist with various physical and emotional needs. Our patients often see a Wellstar genetic counselor, who can help patients with specific cancer types and genetic mutations better understand which medical or surgical options could lead to the best outcomes.

Physical therapists and pain management specialists can help patients before, during and after treatment. We have physical therapy locations at Wellstar North Fulton Hospital and Wellstar Avalon Health Park. These therapies help many people with cancer reduce pain, improve their quality of life and return to work and other activities. Learn more about cancer rehabilitation.

Our patient's support teams can also include a Wellstar dietitian, social worker or financial counselor.

Support groups give patients the opportunity to learn from others and share your experiences to stay emotionally and physically healthy. If you're interested, ask your nurse navigator to connect you with your peers.
---
---
Currently showing
11

total listed locations