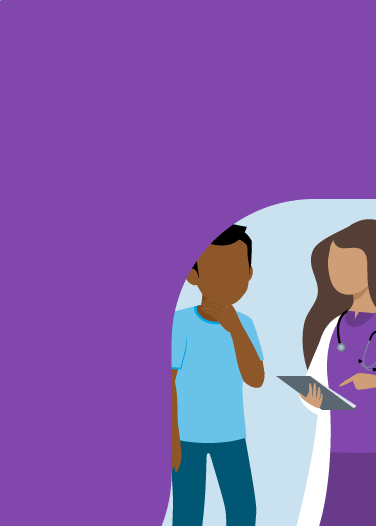 STAT Clinic for Head & Neck Cancer
Our Specialty Teams and Treatments (STAT) Clinic gives people with head and neck cancer the opportunity to visit with specialist head and neck surgeons, medical and radiation oncologists, as well as speech and communication therapists to get answers and start treatment faster to achieve better outcomes.
Watch video
Advanced Care for Head & Neck Cancer
Coordinating treatment for your
head or neck cancer
with multiple cancer experts once required making several appointments, balancing schedules and repeatedly driving back and forth to doctors' offices. It could take weeks to get a diagnosis and treatment plan in place.
With the STAT Clinic model, you can receive expert care and advanced treatments from doctors who are working together in one location on one day. You can get a diagnosis, have your questions answered and finalize a treatment plan. It's the quality care you need, faster.
Specialized head & neck cancer expertise
Utilizing the expertise of some of the most specialized medical professionals in the area, the STAT Clinic for Head and Neck Cancer takes an innovative approach to treatment. Patients have access to specialized surgical procedures not offered in many places in the Southeast. This includes complex excision, reconstruction with microvascular free tissue transfers and CyberKnife radiation technology.
Because of the comprehensive care patients experience here, Wellstar is accredited by the American College of Surgeons (ACS) Commission on Cancer (COC), who also honored Wellstar with the Outstanding Achievement Award, the highest honor awarded to a cancer program in the U.S.
What to Expect in STAT Clinic
How to prepare
Even before arriving for your first visit to the STAT Clinic, your nurse navigator begins to work with you, helping to get necessary imaging scheduled before the appointment — or requesting any imaging you've already had. The STAT team reviews imaging prior to meeting with you to avoid any unnecessary delays in diagnosis or treatment planning.


In the exam room
Once you arrive, you'll meet your nurse navigator, who will conduct an assessment before you connect one-on-one with your care team. You'll see a head and neck cancer surgeon who is also a facial reconstruction surgeon; a radiation oncologist; a medical oncologist; and a speech pathologist. Each provider will sit with you, explain their part of your personalized treatment plan and answer your questions.

In the STAT Clinic, you're able to review all treatment recommendations and get immediate feedback and support in one day, in one place.


Planning next steps
At the conclusion of this visit, your nurse navigator will provide a summary and help schedule any additional labs that may be required. You may be able to complete some of the labs the same day while you are onsite.


After your first visit
It's important to understand that this initial visit, though enlightening and helpful, is often quite exhausting. You're getting a lot of information and meeting with several medical professionals while dealing with a cancer diagnosis. Our entire team at the STAT Clinic is sensitive to that.

After your visit, there may be several different components of treatment, and we know it's important to start quickly. Our nurse navigator will work with you and your providers to get your treatments started in a timely fashion.

If you have questions once you leave the appointment, or aren't sure how to move forward, your nurse navigator will help you get the information and appointments you need quickly.


Surgery for Head & Neck Cancer
Our STAT Clinic gives you access to this high level of expertise and treatment. At your first appointment, you'll meet with a head and neck cancer specialist, who can discuss a variety of specialized surgeries, including:
Laryngectomy: A laryngectomy is a complex reconstruction procedure to remove the voice box due to invasion by cancer.
Oral cavity surgery: Procedures in the oral cavity remove part of, or entire structures like the tongue, teeth or jawbone as part of the treatment of cancer in the area.
Oropharyngeal cancer resection: In these surgical procedures, cancerous tissue of the oral cavity and/or pharynx is removed by various methods. These complex surgeries are often combined with reconstructive techniques to help with recovery and function.
Neck dissection: This major surgery removes the lymph nodes in the neck while preserving surrounding tissue, nerves and blood vessels.
Reconstruction and microvascular free tissue transfers, also known as free flaps: The goal of reconstruction is to maintain the form and function of tissues after a large tumor is removed from a person's head or neck area. In this complex procedure, skin or bone from other parts of the body — such as a person's forearm or leg — can be used to recreate skin and bone after cancer is removed from various places in the head and neck.
Skin cancer resection and reconstruction: Surgical treatment of skin cancers in the face, head and neck is also performed, as well as reconstruction with various types of surgical techniques to maintain form and function.
Many of these procedures are primarily offered at Wellstar North Fulton Medical Center — a destination center for head and neck cancer treatment.
Radiation Therapy for Head & Neck Cancer
In STAT Clinic, patients consult with a
radiation oncologist
to discuss treatment options.
CyberKnife radiation
is a non-invasive therapy that minimizes radiation exposure for people with complex head or neck tumors, protecting healthy tissue and limiting side effects. This treatment often shortens traditional radiation treatment time from weeks to just 1-5 sessions. CyberKnife is available at
Wellstar Kennestone Regional Medical Center
and
Wellstar North Fulton Medical Center
.
For patients with more advanced tumors, we can use intensity modulated radiation therapy (IMRT) to match radiation to the shape of the tumor. This treatment allows radiation oncologists to precisely control the intensity of the radiation that each part of the tumor receives, maximizing treatment to cancer cells while protecting surrounding heath cells. Side effects of treatment are also limited. IMRT is available at
Wellstar Cobb Medical Center
, Wellstar Kennestone Regional Medical Center,
Wellstar Paulding Medical Center
and Wellstar North Fulton Medical Center.
Medical Treatment for Head & Neck Cancer
The goal of head and neck cancer medical therapy treatments is to destroy cancer cells. This is done through:
Chemotherapy, which affects the ability of cancer cell DNA to divide and grow
Immunotherapy, which boosts a patient's immune system to fight and slow cancer growth
Targeted therapies, which target specific genetic abnormalities or proteins in cancer DNA
These treatments can be given individually or in combination with other therapies. What is best for an individual depends on factors unique to you, which patients will discuss with a medical oncologist at the first STAT Clinic visit.
Support Services
Navigating your cancer diagnosis at the STAT Clinic means never having to feel alone. Our capable and compassionate team will help you navigate your diagnosis and treatment with the goal of assisting you in healing medically, physically and emotionally throughout the entire process and beyond.
Patients may find it beneficial to work with:
Nurse navigators, who bring a highly personalized level of guidance and support to each patient and family members during every visit and beyond
Oncology social workers, who can help people adjust to their diagnosis and provide guidance, education, counseling, connection to community resources and help navigating financial services
Registered oncology dietitians, who help maximize patients' nutrition and well-being
Dental health professionals, who evaluate people and prepare them for treatment
Home health nurses, who assist and train patients and their caregivers for daily care
Rehabilitation specialists such as speech therapists, occupational therapists and physical therapists, who help patients with speech and swallowing challenges
Oncology psychologists and psychiatrists, who can help patients and their families cope with the emotional side of cancer and treatment side effects
A nurse navigator is always available
Nurse navigators are a key piece to cancer care at Wellstar. They are specialized nurses who help coordinate the many aspects of your care — your nurse navigator is the first person you'll talk to in STAT Clinic and your best resource for support along the way.
Nurse navigators are your partner for all follow-up actions that you'll need after any visit. They'll communicate with other departments — like radiation — to ensure your care progresses in a timely manner.
Learn more about nurse navigation at Wellstar.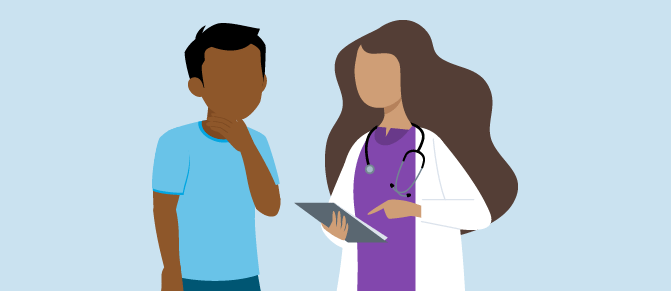 STAT CLINIC FOR HEAD & NECK CANCER
Now offering advanced care for people with head and neck cancer — a complex disease that requires coordination amongst multiple cancer experts — at Wellstar North Fulton Medical Center.
Learn more
Physicians may refer or patients may self-refer. For more information about the program, contact these locations:
Head & Neck Cancer STAT Clinic
Wellstar North Fulton Medical Center
4500 Hospital Blvd, Suite 120
Roswell, GA 30076
(770) 751-2556
Head & Neck Cancer STAT Clinic
at Wellstar ENT (Austell)

1790 Mulkey Road Suite 7
Austell, GA 30106
(770) 819-1435
Head & Neck Cancer STAT Clinic
at Wellstar ENT (Douglasville)
6002 Professional Parkway, Suite 100
Douglasville, GA 30134
(770) 949-4200