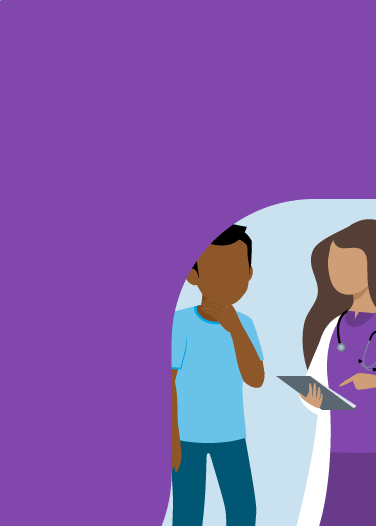 Head & Neck Cancer Care
A team of head & neck cancer specialists provides highly specialized head and neck cancer care
to help patients navigate their cancer treatment with confidence close to home.
Comprehensive & Complex Care
A high level of coordination is vital for patients with head and neck cancer to have the best outcomes. That's why our experienced head and neck cancer experts collaborate with other experts in multidisciplinary tumor boards, working together to diagnose, stage and treat your cancer.
Our head and neck teams include:
Head & neck cancer, reconstructive and skull base surgeons
Radiation oncologists
Medical oncologists
Pathologists
Genetic counselors

Speech pathologists
Dental health professionals
Pharmacists
Nutritionists
Psychologists, psychiatrists and counselors
As a member of the Mayo Clinic Care Network, Wellstar also gives our physicians the opportunity to request eConsults — virtual second opinions — from Mayo Clinic specialists at no additional cost to the patient.
Nationally recognized care
Wellstar is accredited by the American College of Surgeons (ACS)
Commission on Cancer (CoC)
and received the
Outstanding Achievement Award
, the highest honor awarded to a cancer program in the United States.
Advanced Treatments, Techniques & Technology
By working with our robust team of specialists, patients at Wellstar benefit from having access to comprehensive care, including:
A full range of head and neck cancer surgeries
Complex excision and reconstruction with microvascular free tissue transfers; Wellstar is one of the few community health systems in the region to offer these procedures
Other highly specialized procedures including thyroid (endocrine) cancer surgeries and lateral skull base tumor surgeries
Radiation therapy as a treatment modality in conjunction with surgery for the treatment of advanced head and neck cancer
Chemotherapy, targeted therapies and immunotherapy for the treatment of advanced head and neck cancer
Clinical trials for patients who are eligible for investigational therapy for advanced head and neck cancer
A STAT Clinic for Head and Neck Cancer, allowing patients to see multiple specialists in the same setting on the same day to get treatment started faster
Head & Neck Cancer Types We Treat
The comprehensive network of services at Wellstar benefit people who have various types of head and neck cancer, including those with:
Mouth (oral) cancer in the lips, gums, tongue, cheek lining, or the roof or floor of the mouth
Cancers in the throat (pharynx) or voice box (larynx)
Thyroid cancer (papillary thyroid carcinoma, follicular thyroid carcinoma, medullary thyroid carcinoma and anaplastic thyroid carcinoma)
Nasal cavity or sinus cancer
Soft palate cancer
Tonsil cancer
Salivary (parotid gland) cancer
Cancers in the neck and collar bone
Skin cancer in the head and neck area
Ear cancer, skull base cancer and paraganglioma
Symptoms of Head & Neck Cancer
Symptoms of head and neck cancers will vary based upon which part of the head and neck they appear. Signs include:
Hoarseness that persists or worsens over several weeks
Difficulty swallowing
Sore throat that does not go away
A lump that does not go away
A white or red patch on the gums, tongue or lining of the mouth
Swelling of the jaw
Bleeding or pain in the mouth
Blocked sinuses that do not clear up with antibiotic treatment
Frequent headaches of unknown origin
Tooth pain or denture problems
Ear pain
Swelling near the jawbone or under the chin
Numbness or paralysis of the face muscles
Difficulty hearing, pain or ringing in the ears
Trouble breathing or sleeping
Head and Neck Cancer Diagnosis
When a cancer of the head or neck is diagnosed, your Wellstar physician will categorize it by its current stage. Stage describes how large the tumor is and whether the cancer has spread to other groups of lymph nodes and to distant sites within the body.
Physical exam for head & neck cancer
The first step in the diagnosis process is having an ear, nose & throat specialist perform a physical exam. Some patients may benefit from an evaluation by a radiation oncologist as well because very small differences in size or location affect the best treatment for each patient. That's why our physicians in different specialties who treat head and neck cancer collaborate to give patients more accurate diagnoses, staging and treatment plans.
In our
STAT Clinic for Head and Neck Cancer
, patients can have their physical exam by two physicians in one place.
Laryngopharyngoscopy
Another important part of evaluating suspected head and neck cancer is having a laryngopharyngoscopy. In this in-office procedure, a long, thin and flexible instrument with a camera helps your physician visually evaluate the entire upper aerodigestive tract — including the nose, throat, voice box, windpipe, lungs and swallowing tube.
Nasal & Sinus Endoscopy
With a thin, flexible tube called an endoscope, our head and neck cancer specialists look at the nasal and sinus passages for signs of sinonasal cancers. This is typically performed as an in-office procedure.
Imaging
When a physical evaluation identifies abnormalities, imaging can aid in diagnosis. Imaging tests such as computed tomography (CT) scans or magnetic resonance imaging (MRI) can help physicians learn about a tumor's size and if other sites in the head and neck area may be cancerous. CT scans can also aid in the staging process, where your physicians determine how advanced a cancer is. If an advanced cancer appears to be identified, a positron emission tomography (PET) scan helps determine whether the cancer has spread, which also aids in the cancer staging process.
Wellstar Kennestone Hospital
was one of the first hospitals in the country to install a state-of-the-art digital
PET/CT.
Biopsy
The final test to diagnose and stage a head and neck cancer is a biopsy, which can be performed surgically or as a minimally-invasive image-guided needle biopsy by an interventional radiologist. Tissue removed during the biopsy is examined by pathologists.
Staging
Finally, a person's diagnosis, staging and treatment plan can be done by a team of Wellstar physicians. Ear, nose & throat cancer surgeons meet with radiation oncologists, medical oncologists, radiologists, pathologists and geneticists. They review each person's imaging and pathology to diagnose and stage the cancer. Working together to stage the cancer helps patients have a consensus on the best personalized treatment plan.
Treatment for Head and Neck Cancer
Depending on the type and stage of head and neck cancer, different treatment approaches are recommended. These approaches include surgery only, surgery followed by radiation or a combination of treatment modalities including chemotherapy and radiation together. Click on the corresponding tabs to learn more about each of these treatment options.
Surgery & Complex Reconstruction
Wellstar is the first community health system in the region to offer a full range of head and neck surgery, including complex surgical procedures not commonly offered at community hospitals. When a person's cancer is surgically removed, the tumor is sent to pathology for final staging. Studying the tumor tells physicians whether additional therapies may improve their outcomes. Our head & neck surgery experts offer many different types of head and neck surgeries, including:
Reconstruction and microvascular free tissue transfers, also known as free flaps: The goal of reconstruction is to maintain form and function of tissues after a large tumor is removed from a person's head or neck area. A reconstruction procedure involving free flaps is performed by a fellowship-trained physician who is dual specialized in head and neck cancer surgery and facial plastic reconstruction. In this complex procedure, skin or bone from other parts of the body — such as a person's forearm or leg — can be used to recreate skin and bone after cancer is removed from various places in the head and neck. The surgeon sews together delicate blood vessels under a microscope to help the transferred skin or bone become living tissue again.
Thyroidectomy & lymph node dissection: Surgery for endocrine cancer is performed by high-volume thyroid cancer surgeons at Wellstar, which leads to better outcomes for patients. During this highly specialized procedure, the surgeon removes the cancer from the thyroid and affected lymph nodes with the goal of maintaining as much normal tissue as possible. We work closely with patients' endocrinologists to achieve normal hormone function after surgery. Our specialists follow evidence-based guidelines to lessen side effects and offer the best outcomes for each patient.
Complex, interdisciplinary surgery for ear or skull base cancers and tumors: Tumors that are in the ear, ear canal cancer or even near the ear in the face or salivary (parotid) gland require highly specialized techniques to conserve nearby important structures. Many studies show that a team approach for surgery reduces complications, hospital stay, and better clinical outcomes for the patient. At Wellstar, our team surgery teams include a neurotologist — also known as a skull base surgeon — and an ear, nose & throat surgeon who specialize in head and neck cancer.
Laryngectomy: A laryngectomy is a complex reconstruction procedure of the swallowing pipe to enable someone to swallow again after a removal or partial removal of the voice box.
Oropharyngeal cancer resection: In these surgical procedures, cancerous tissue of the oral cavity and/or pharynx is removed by various methods. These surgeries often include lymph node dissections to remove and sample the regional lymph nodes and assure full tumor removal and appropriate staging. These complex surgeries are often combined with reconstructive techniques to help with recovery and function.
Parotidectomy: The patient's parotid gland is removed during a parotidectomy to treat cancer or other tumors. The facial nerve is usually preserved in this procedure.
Neck dissection: This major surgery removes cancer that has spread to the lymph nodes and surrounding tissue, nerves and blood vessels in the neck. How far the cancer has spread impacts how many lymph nodes and nearby structures need to be removed. When the cancer has not spread far, selective neck dissection and modified neck dissection procedures can be considered.
Sentinel node biopsy: A sentinel node biopsy helps determine whether the cancer has spread from a primary tumor into the lymphatic system. The sentinel lymph nodes are the first lymph nodes into which a tumor drains — they are found with an injected dye during surgery.
Endoscopic and open sinus surgery: People with sinonasal cancer and facial cancers have their cancer removed through an endoscopic or open sinus surgery. An endoscopic sinus surgery is typically an outpatient procedure. Using an endoscope, a thin flexible tube with a camera and specialized instruments, your surgeon works through the nasal cavity without cutting skin and bone. This helps protect normal tissue and reduces recovery time.
Facial surgeries: Our head and neck surgeons are skilled in performing facial surgery with a variety of techniques to improve function and appearance.
Mohs reconstructive surgery: Our dermatologists work with surgeons to offer innovative solutions for patients with skin cancer in the nose, lips and around the eyes. We use specialized Mohs procedures after removing people's cancer to rebuild facial features.
Radiation Therapy for Head & Neck Cancer
Radiation therapy can be an effective cure for many people with head and neck cancer. Often, evidence shows that it is most effective when given in combination with chemotherapy. When radiation is recommended, people can have confidence in our skilled radiation oncologists, who have years of experience. One of these types of radiation therapy is typically delivered at multiple sessions over a six-week period:
Intensity Modulated Radiation Therapy (IMRT): This state-of-the-art treatment is an advanced form of radiation therapy. Wellstar radiation oncologists can precisely control the intensity of the radiation that different parts of a tumor receive assisted by computer-controlled, movable "leaves" that mimic the shape of the tumor. This maximizes treatment to cancer cells while protecting surrounding healthy cells and limiting treatment side effects.
Image-Guided Radiation Therapy (IGRT): An enhanced radiation therapy treatment using computers and a linear accelerator pinpoints the exact location of a tumor while the patient is in the treatment position. The radiation oncologist can adjust the radiation beam based on the position of the targeted tumor to precisely destroy it while avoiding critical organs during treatment delivery.
Systemic Therapies for Head & Neck Cancer
Medical oncologists give patients medicine to destroy cancer cells with chemotherapy, targeted therapies and immunotherapy. For head and neck cancers, these therapies can be given intravenously through a port implanted in the skin that eliminates needle sticks.
These therapies can be given in combination with each other or with other therapies:
Chemotherapy affects the cancer cell DNA and its ability to divide and grow. This therapy is given to people with head and neck cancer when they are not eligible for surgery or as a treatment combined with surgery or radiation therapy.
Immunotherapy boosts a patient's own immune system to fight and slow down the cancer's growth. This is used more often for patients with recurrent or advanced head and neck cancer.
Targeted therapies are aimed at specific genetic abnormalities or proteins in the cancer's DNA, which are found by using advanced biomarker testing. These advanced tests and targeted therapies play a leading role in personalized medicine.
Clinical trials are sometimes available for patients with recurrent or advanced head and neck cancer, or when they don't respond to other treatments.
Support Services
Just as important as having experienced cancer physicians on a patient's team are their invaluable support team. Our physicians will help coordinate everything you need to maximize your treatment so you can return to the life you love. Depending on your individual needs, your support team may include:
Oncology social workers, who can help people adjust to their diagnosis and provide guidance, education, counseling, connection to community resources and help navigating financial services
Registered oncology dietitians, who help maximize patients' nutrition and well-being
Dental health professionals, who evaluate people and prepare them for treatment
Home health nurses, who assist and train patients and their caregivers for daily care
Rehabilitation specialists such as speech therapists, occupational therapists and physical therapists, who help patients with speech and swallowing challenges
Oncology psychologists & psychiatrists, who can help patients and their partners cope with the emotional side of cancer and treatment side effects
At Wellstar, every member of our team is here to help you face cancer with confidence.
Learn more about our support services for people with cancer.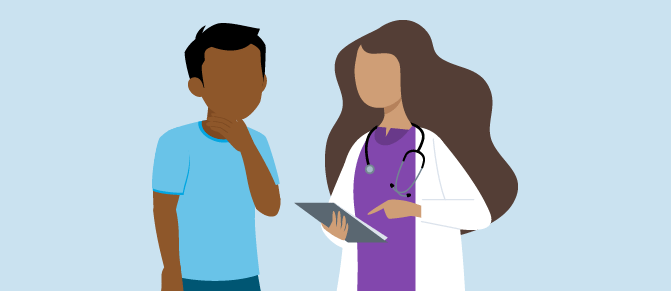 STAT CLINIC FOR HEAD & NECK CANCER
Now offering advanced care for people with head and neck cancer — a complex disease that requires coordination amongst multiple cancer experts — at Wellstar North Fulton Medical Center.
Learn more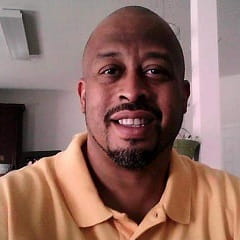 I had throat cancer. My doctors were so honest about treatment- what the benefits were and what the drawbacks could be. I really appreciated that.
The team that was put together for me at Wellstar has simply been miraculous. All three of my doctors and the staff – the radiation techs, the infusion nurses – everybody was outstanding. Having the ability to talk to someone else going through a similar process is so important. We're kind of programmed to tell people 'I'm doing okay.' To be able to share what you're truly going through with someone else who has gone through the same thing is enlightening, encouraging and supportive.
Once you've made the decision to go through treatment, it's important to keep looking forward and not get stuck in what you're going through. It's a challenge and it is well worth it. Things are going to get better.
—Daniel Rodriguez, Head & Neck Cancer Survivor