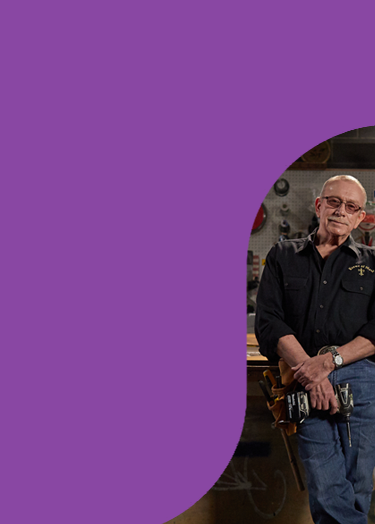 Lung Cancer Care at Wellstar
At Wellstar, people receive care by national leaders in lung cancer screening and treatment—close to home.
The Highest Level of Lung Cancer Care
At Wellstar, people with lung cancer have highly coordinated and collaborative care by a team of lung cancer experts. We offer the most advanced diagnostics and leading-edge treatments, including a robust clinical trials program. The expertise of our physicians, ease of getting appointments and our excellent network of support led by nurse navigators lead to high patient satisfaction scores.
The only lung cancer STAT Clinic in Georgia
As the only health system in Georgia with a STAT Clinic for Lung Cancer, Wellstar has seen patients in more than 10,000 STAT Clinic visits to help people start lung cancer treatment faster. The STAT Clinic model provides patients with the highest level of multidisciplinary care, allowing them to see multiple specialists in the same clinic on the same day—now in multiple locations. Ultimately, they have a cancer team consensus on the best treatment plan before they leave the building. This helps patients get a faster diagnosis and start treatment faster, leading to better outcomes.
Our experts have experts
Wellstar is the first health system in Georgia that is a member of the Mayo Clinic Care Network. As a result, our pulmonologists, thoracic surgeons, medical oncologists and radiation oncologists can request eConsults—virtual second opinions—from Mayo Clinic specialists at no additional cost to patients.
Advanced treatments, techniques & technology
The multidisciplinary team of lung cancer specialists at Wellstar stay at the forefront of lung cancer screening, diagnosis and treatment, offering the latest in:
Diagnostic radiology and minimally invasive biopsies with EBUS technology
Clinical trials for people with every stage of lung cancer
Personalized medicine through biomarker testing and targeted therapies
Minimally invasive procedures such as robotic-assisted surgery with the da Vinci® Surgical System and video-assisted thoracic surgery (VATS)
Stereotactic body radiation therapy (SBRT) by CyberKnife and TrueBeam technology for people with early-stage lung cancer—our CyberKnife team ranks in the top three in the country for CyberKnife volume
Intensity-modulated radiation therapy (IMRT) for people with larger tumors and later-stage lung cancer
Awards & accreditations
Recognitions help our patients understand the high level of care they can receive in our program. Because the comprehensive level of care provided here is not typically found in community hospitals, Wellstar was designated as a:
Finding Lung Cancer Early
Because lung cancer is the leading cause of cancer death in the U.S., Wellstar physicians built one of the country's largest and most comprehensive screening programs. Our goal is to help people identify lung cancer earlier, which leads to better outcomes, including more long-term survival.

Our low-dose CT scans help detect early-stage lung cancer before clinical signs or symptoms are evident. As a result, early-stage cancers can be more easily treated and more frequently cured than later-stage cancers.

In recognition of this program's high-quality care, Wellstar was designated as a Screening Center of Excellence and Care Continuum Center of Excellence by the GO2 Foundation. And, we're a designated Lung Cancer Screening Center by the American College of Radiology (ACR).

Learn more about who is eligible for screening, find a location near you or schedule your lung cancer screening at Wellstar.
Lung Cancer Diagnosis
A routine lung screening, lung cancer symptoms or an X-ray taken for a different reason may lead to a suspicion of lung cancer. The most common symptoms of lung cancer include coughing, coughing up blood or phlegm, shortness of breath and chest pain.

When a primary care physician, specialist or emergency room provider suspects lung cancer, they typically refer patients to our program for further evaluation and management.
Computed Tomography (CT)
When a lung mass is spotted on a chest X-ray—the next step for a patient is typically to have a CT scan, which is more precise than an X-ray. A CT scan is a technique for imaging body tissues and organs, conducted with a scanner that rotates around the body to capture detailed images.
Positron Emission Tomography—Computed Tomography (PET/CT)
Positron Emission Tomography—Computed Tomography (PET/CT)
has improved the detection of cancer, enabling radiology teams at multiple Wellstar locations to more accurately identify lung cancer. PET/CT scans can also play an essential role in determining whether cancer has spread outside the lung, which can help determine the stage of cancer (how advanced the cancer is).
Wellstar Kennestone Regional Medical Center
was one of the first hospitals in the country to install a state-of-the-art digital PET/CT, which can identify cancer that is smaller and in its earliest stages with less time in the exam room.
Biopsy for lung cancer
Biopsies and pathology reports can help physicians diagnose and determine the lung cancer type and stage. Lung cancer tissue is sent for biomarker testing and genome sequencing, which look for possible targeted therapies. With this information, our cancer team can build the best treatment plan for each patient.

Continue reading the next section on the Biopsy & Pathology to learn more about the diagnosis for lung cancer.
Getting a Lung Cancer Biopsy
A biopsy is a determining factor as to whether a nodule on the lungs is cancerous or benign. Your Wellstar specialist may perform one of the diagnostic procedures below to accurately diagnose and stage your lung cancer.

Bronchoscopy is used to look inside and biopsy the lungs' airways, called the bronchi and bronchioles. The airways carry air to the lungs by way of the trachea, or windpipe. In this procedure, a physician passes a thin, flexible tube called a bronchoscope through your mouth, through the throat, and into the airways. This is almost always performed under general anesthesia and is an outpatient procedure that usually doesn't require a hospital stay. The bronchoscope has a light and tiny camera that allows your physician to see, photograph and biopsy your windpipe and airways.

SuperDimension is a type of electromagnetic navigational bronchoscopy (NB) that helps our physicians locate small and hard-to-locate nodules or masses that cannot be seen using a traditional bronchoscopy. It helps make an early diagnosis of benign and malignant lung lesions, which enhances treatment options and minimizes the need for higher-risk procedures.

This technology is designed to extend the reach of the conventional bronchoscope. A minimally invasive technology, using superDimension is similar to having a GPS attached to the bronchoscope. The technology provides physicians with access to lesions deep in the lungs as well as lymph nodes along the airways. The patient's CT scan images are used to generate a 3D CT and virtual image of the patient's lung anatomy so the lung cancer can be located and accessed.

Endobronchial ultrasound (EBUS) is a procedure used to biopsy and diagnose lymph nodes in the chest. This technology allows pulmonologists to pass a thin flexible tube through a person's mouth and into their windpipe and lungs assisted by a video camera and ultrasound probe. Gaining a biopsy of the lymph nodes in the chest with EBUS minimizes complications.

Computed Tomography (CT) guided lung biopsy is procedure performed by our interventional radiologists. This type of tissue sampling uses CT imaging assistance to access lesions or abnormalities that are close to the skin. This is considered an outpatient procedure that usually does not require a hospital stay.

Minimally invasive robotic surgery or video assisted thoracic surgery (VATS) is sometimes needed to obtain tissue from the mass if the other techniques are not an option.

Our team of physicians will help patients determine the biopsy that is best for their specific type of cancer, which depends on the location of the cancer. The biopsy is sent to a pathologist who will be able to share very specific information about the cancer that will help your multidisciplinary team of specialists create the best cancer treatment plan for you.
Your pathology
When someone has lung cancer, their unique pathology report can help our team of specialists provide the most targeted and effective treatments. The result is often referred to as genomic medicine or personalized medicine. Identifying which genes and mechanisms are unique to each tumor has become crucial because of targeted therapy, which matches a specific genetic defect with the corresponding, tailor-made drug.

Since the lungs are a complex organ composed of many different cell types, many different tumor types can arise. In the current World Health Organization (WHO) classification of tumors of the lung, there are nearly 100 different tumor types and variants.

When studying your cancer cells, Wellstar pathologists determine the type of tumor and look for the presence of certain distinguishing features on the cancer cell surface, such as molecular markers. Some of the most commonly recommended biomarker tests for lung cancer include EGFR, ALK, ROS1, MET exon 14 skipping mutation, RET, K-Ras G12C and HER2. These names reflect different genes and gene products involved in the development of cancer. Abnormalities involving any one of these may make a patient eligible or ineligible for a certain treatment.
Staging cancer
Beyond making a lung cancer diagnosis, pathologists also work to stage cancers. Staging cancer is based on determining the extent of spread of a tumor. This involves examining other tissues away from the main site of tumor growth. Identifying tumor cells away from their place of origin confirms spread or metastasis. This may indicate a more aggressively-behaving cancer or perhaps a more advanced cancer at the time of diagnosis. The patient's cancer specialists will take these findings into consideration when planning specific details of the treatment plan.
Clinical Trials & Research for Lung Cancer
Through our robust cancer research program, patients at select locations have access to innovative treatments as well as cutting-edge screening techniques to detect early disease recurrence. The Wellstar Research Institute and Northwest Georgia Oncology Centers have enrolled hundreds of patients in numerous lung cancer clinical trials. In some groundbreaking trials, our program has been the first in the U.S. to enroll patients, and the only health system in Georgia to participate.

We have a strong record of participating in the right studies. In recent years, our participation in the following studies has provided effective treatments to our patients before they were commercially available:
The PACIFIC study, which led to the first FDA approval of immunotherapy in Stage III non-small cell lung cancer in 2018.
The IMpower 133 trial, which led to the first FDA approval of immunotherapy in small cell lung cancer in 2019. Wellstar's research program was the only program in Georgia to offer patients the opportunity to participate in this study.
The Checkmate 227 trial, which led to the first FDA approval in 2020 of a chemotherapy-free treatment for non-small cell lung cancer using the immunotherapy agents ipilimumab and nivolumab. This trial was available to Wellstar patients five years before FDA approval of the immunotherapy combination.
We continue to choose studies that offer patients treatments with high potential.
Medical Oncology for Lung Cancer
The medical treatment of lung cancer has benefited from the greatest advances in the last few years thanks to biomarker testing, targeted therapies and immunotherapy.

Targeted therapies: The first advancement came with the identification that certain lung cancers can have specific genomic mutations. These types of lung cancer can be most effectively targeted with specific medical oncology drugs. Some of most common genomic mutations are EGFR, ALK, ROS1, MET exon 14 skipping mutation, RET, K-Ras G12C, HER2 and others are to be discovered. We continue to stay on the forefront of knowledge in this area.

We offer patients with lung cancer the latest biomarker testing to learn if they have these genomic mutations. Targeted therapies are offered to patients with these mutations as the preferred, first line treatment. These truly revolutionary pills have a significantly higher response rate than chemotherapy and longer durations of disease control.

Immunotherapy: A second area of great advancement in lung cancer treatment is immunotherapy. One of the most exciting things we've seen with immunotherapy is the higher response rates than chemotherapy. A significant benefit of immunotherapy is that a small percentage of patients have long-term disease control, which has not typically been seen with chemotherapy.

Immunotherapy can be effective in patients with a high or low PDL-1 expression. This therapy can be given in a number of ways, including:
Combined with chemotherapy
As a single agent such as KETRUDA®, particularly if the patient has a high PDL-1 level
Given as double-immune therapy when combining Ipilimumab (YERVOY®) and OPDIVO® (nivolumab) for non-small cell lung cancer (NSCLC)
Minimally Invasive Surgery for Lung Cancer
Surgery is often an important part of treating cancer. Wellstar believes in giving patients access to highly experienced thoracic surgeons as well as state-of-the-art technology for the best outcomes.
Our thoracic surgeons perform minimally invasive lung cancer surgery, including robotic-assisted surgery with the da Vinci Surgical System and Video Assisted Thoracic Surgery (VATS). The benefits of minimally invasive surgery for lung and esophageal cancer include less pain, less scarring, less blood loss, a lower infection rate, shorter hospital stay and shorter recovery time with quicker return to work and high patient satisfaction.
Wellstar's state-of-the-art da Vinci robotic surgery systems are equipped with high-definition, high-magnification 3D cameras, along with surgical instruments that fit into incisions as small as 8 mm. The instruments have 360 degree rotational movement, allowing for more precise and accurate surgery.
After surgery, patients also have access to programs like pulmonary rehabilitation, which help to facilitate recovery.
Radiation Therapy for Lung Cancer
Radiation therapy can be an effective treatment with long-term survival rates for people with lung cancer. Wellstar's radiation oncologists have a high degree of experience and use state-of-the-art technology to treat lung cancer in both early and late stages. With the most modern technology and a team of highly experienced radiation oncologists, we can often offer patients who would otherwise be deemed incurable alternative, life-saving treatments.

For example, patients with COPD or other lung conditions are typically ineligible for curative lung cancer surgery. Additionally, patients who have had radiation treatment in the past are usually not able to have radiation treatment again. However, because of the highly targeted nature of stereotactic body radiation therapy (SBRT) and intensity modulated radiation therapy (IMRT), we effectively treat a significant number of patients who would otherwise be ineligible for radiation.
SBRT for early-stage lung cancer
Wellstar radiation oncologists have been pioneers in stereotactic body radiation therapy (SBRT) for more than 15 years. This type of radiation benefits patients with early-stage lung cancer. SBRT is currently offered at Wellstar Kennestone Regional Medical Center—one of the top three volume centers in the country—as well as Wellstar West Georgia Medical Center, Wellstar Cobb Medical Center and Wellstar North Fulton Medical Center.

Painlessly and without incisions, our experienced radiation oncologists use cutting-edge CyberKnife and TrueBeam therapy systems to deliver high-dose radiation with pinpoint precision to tumors. Because this treatment limits exposure to healthy tissue, most patients have no side effects or mild side effects such as fatigue, cough and—in rare cases—shortness of breath.

Traditionally, patients may have spent around 8 to 9 weeks receiving radiation treatments for lung cancer. However, the equivalent treatment can be delivered in large, pinpoint doses with SBRT over a course of just 3 to 5 days.

Wellstar Kennestone Regional Medical Center and Wellstar North Fulton Medical Center are the only locations in Atlanta with CyberKnife technology. As one of the highest volume centers in the country to offer lung cancer treatment with CyberKnife, our radiation oncologists have a high degree of experience, leading to better patient outcomes.
IMRT for later-stage lung cancer
Wellstar radiation oncologists offer hope for patients with larger tumors with a specialized treatment called intensity modulated radiation therapy (IMRT).

IMRT matches radiation to the shape of the tumor. We use 4D imaging to control for tumor movement related to breathing during treatment. Like SBRT, this type of radiation treatment is delivered to cancer cells while protecting surrounding healthy tissue and limiting treatment side effects. Typically, patients who have IMRT also undergo chemotherapy, delivered by a medical oncologist, to have the best outcomes.

Patients can have this radiation treatment at Wellstar Cobb, Kennestone, North Fulton, Paulding, and West Georgia Medical Centers.
Support for People with Lung Cancer
We recognize that people with lung cancer need support beyond medical treatment. At Wellstar, you'll be surrounded by a compassionate team of oncology physicians and cancer-specific support team members. Our patients experience a highly personalized level of guidance and support by lung cancer-specific
nurse navigators
, as well as
oncology-specific dietitians
,
social workers
,
psychologists
,
psychiatrists
and
counselors
. Additionally, patients who need help managing symptoms may benefit from support from
palliative care
physicians.
Symptom management
Many patients with lung cancer experience pain, cough and other symptoms such as anxiety and depression. We provide the patient with comprehensive services to address these issues, including aggressive pain management and the option for a referral to palliative care physicians, who are experts at symptom management.
We also have oncology-specific psychological services patients can benefit from, including counseling with our psychological oncology team made up of psychologists, psychiatrists and counselors.
Support to quit tobacco
For people who want to experience the benefits of a life without tobacco, meaningful support is available. Developed in collaboration with Mayo Clinic,
BecomeAnEx
is a free, easy and confidential smoking cessation program. Support that you can take advantage of includes:
Customized quit plans
Text messages for support to quit smoking or vaping
Interactive guides and tools
Advice from Mayo Clinic experts
An active, supportive community of real tobacco users who have been through it all


Get started by visiting
becomeanex.org
today.
Learn more about our support services for people with cancer.
---