GregCare
Picture a big swath of land out in West Georgia. It's a little wild and a little cultivated, but it's well cared for thanks to the Rodgers.
"My wife and I are blessed to live on this land," Greg Rodgers said. "God instructs us to be good stewards of the land and we are dedicated to doing just that. We're always mowing, planting and tending to fallen trees."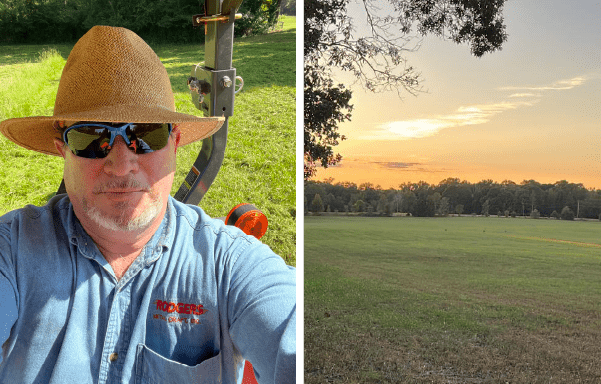 Much like their acreage, Greg sees his body as something that deserves to be maintained with care. And he's an advocate that other men do the same. Seeing a doctor regularly and getting screened can help identify conditions earlier so they're more treatable. Greg learned that from his personal experience with
prostate cancer
, and the team at
Wellstar West Georgia Medical Center
who helped him overcome it.
"It's not so much my story as the story of the professionals at Wellstar—they're tremendous people," he said.
The right tests for an accurate diagnosis
Prostate health is not something to ignore. Greg understands this now after a routine PSA test—a simple blood test—came back abnormal in 2020. When PSA levels are checked regularly and rise over time, they can be a sign of prostate cancer.
Because of his elevated PSA, Greg began monitoring his prostate health and eventually, connected with Wellstar
Urologist
Dr. Richard Jadick
in LaGrange. Dr. Jadick performed a UroNav fusion biopsy to investigate his climbing PSA. During the procedure, an MRI helps accurately target the biopsy location. This biopsy has a low false negative rate, meaning the results are more trustworthy than in the past. Greg's results came back positive for prostate cancer.
Pursuing personalized, expert care
Because every case of prostate cancer is different, there are a range of options for treating it, from active surveillance (monitoring with imaging) to advanced treatments like robotic surgery and targeted radiation therapy that have fewer side effects than traditional treatments.
Greg and Dr. Jadick discussed several options, but before Greg made any decisions, Dr. Jadick recommended he see
Dr. Robert Taylor
, a Wellstar
radiation oncologist
.
Greg remembers having reservations about radiation therapy. But once he arrived for the appointment, he felt immediately at ease. "Dr. Taylor is a quiet, confident person with a kind smile," he said. "He was really good at explaining everything, going through studies and the different procedures. He's so methodical, so good at answering questions and so patient."
The option they settled on was a high dose of targeted radiation aimed at the prostate during a shorter treatment course (20 days versus 44). A newer technology called SpaceOAR Hydrogel would separate the rectum from the prostate during treatment, preventing unnecessary radiation exposure—and side effects.
"When it comes to choosing the right treatment, everything is a balance between the risk level and a variety of other personal factors," Dr. Taylor said. "We want to provide treatment that is the least disruptive and most effective."
To be sure this was the best plan for Greg, Dr. Taylor requested a second opinion from Mayo Clinic. Wellstar experts have a direct connection to Mayo Clinic specialists through its Mayo Clinic Care Network membership. Wellstar physicians and patients can access eConsults—virtual second opinions—at no additional cost to patients.
Some additional imaging was recommended, which validated Dr. Taylor's treatment plan. Greg moved forward with his cancer treatment with pure confidence.
Keep reading
Published on: September 2023