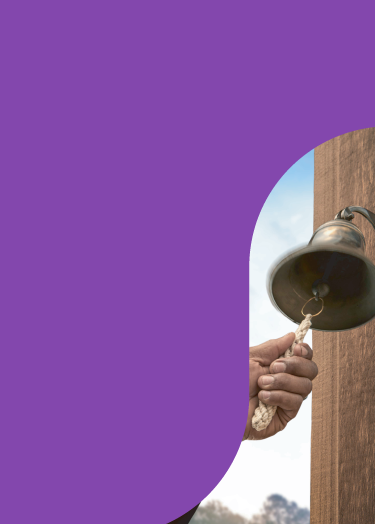 Ovarian Cancer Care
Women have access to dedicated ovarian cancer experts and a comprehensive support network at Wellstar. Every member of your personalized care team is here to help you face cancer with confidence.
Specialized Care by Ovarian Cancer Experts
Women with ovarian cancer have
compassionate and responsive specialized care
by experienced gynecologic oncologists at Wellstar. These physicians have additional training and expertise in cancers of the female reproductive system. Evidence-based care by a gynecologic oncologist is proven to help women with gynecological cancer live longer lives. That's why we bring
expert ovarian cancer care close to home for our patients
.
Wellstar
gynecologic oncologists
provide you with the most comprehensive care, collaborating with
genetic specialists
,
nurse navigators
,
surgical oncologists
and
pathologists
in a
Gynecological Cancer Tumor Board
. Our team has experience with
all types of ovarian cancer
, including
epithelial ovarian
cancer
and the less common
germ cell
and
stromal ovarian cancer
types.
At Wellstar, each patient has a
personalized care plan
, which may include a range of treatments, such as:
Minimally-invasive surgery (laparoscopic or robotic)
Fertility-sparing surgery
Traditional open staging and cytoreductive surgery
Cytoreductive surgery combined with hyperthermic intraperitoneal chemoperfusion (HIPEC), which combines heat and chemotherapy during surgery
Systemic therapies, such as chemotherapy and/or targeted therapy or immunotherapy
Genetic counseling and testing
Clinical trials available through the Wellstar Research Institute, affiliated with Mayo Clinic and NRG Oncology
A robust network of support, including cancer support groups, symptom management and more
Nationally-recognized cancer care
Wellstar is accredited by the Commission on Cancer (CoC), a program by the American College of Surgeons (ACS) and is the recipient of the organization's Outstanding Achievement Award, the highest honor awarded to a cancer program in the United States.
Ovarian Cancer Symptoms
Ovarian cancer does not always appear to cause symptoms when it first develops. However, the symptoms are not completely silent. More commonly, they are subtle because they hint at other conditions.

Testing first for other conditions and waiting to test for ovarian cancer later can cause a delayed diagnosis. However, women can have better outcomes when ovarian cancer is diagnosed and treated earlier. This is why it is important to pay attention to your body and take action when symptoms of ovarian cancer are persistent.

Whether you have mild or moderate symptoms, our gynecologic oncologists recommend you see your primary care provider when they are persistent — or when they last for at least 12 days in a month. It is also important to see your provider when a symptom gets worse over time.
Symptoms and signs of ovarian cancer can include:
Abdominal bloating
Constipation
Pain or discomfort in the abdomen, pelvis or back
Feeling full sooner than usual when eating
Loss of appetite
Frequent urination
Ovarian Cancer Diagnosis
While there is no screening for ovarian cancer or even obvious symptoms, there are quieter signs and symptoms of this cancer. Our primary care physicians, OB/GYNs and gynecologic oncologists are here to help you get answers quickly so you can start treatment faster.
The tests that aid physicians in the diagnosis of ovarian cancer can include:
A physical exam of the abdomen and pelvis and a visual examination of the vagina, cervix and genitalia.
Imaging tests such as an ultrasound or CT scan of the abdomen and pelvis to look for abnormal fluid or enlarged ovaries.
Blood tests can give clues that may point to ovarian cancer. Some information — like a cancer antigen (CA) 125 test — can look for specific information that may mean cancer is present. While results may hold important clues, this is not a definitive test for cancer.
An abdominal tap to drain fluid build-up (also known as ascites) with a needle is a way to give people relief from discomfort or pain. This procedure also gives your physician an opportunity to test for cancer cells. This is not a common way to test for ovarian cancer because not everyone with ovarian cancer has ascites.
A GI evaluation such as endoscopy or colonoscopy, may also be recommended if clinically indicated.
Genetic testing for ovarian cancer
Ovarian cancer is known to be associated with hereditary cancer syndromes. This includes BRCA1 and BRCA2 genes and Lynch syndrome, which also increase the risk of breast cancer and colon cancer respectively. There are several other genetic mutations that can increase a woman's risk for ovarian cancer.
When an individual has a hereditary cancer syndrome, each of their children, siblings and parents has a 50% chance to have the same condition. We offer relatives of our patients with hereditary cancer syndromes the opportunity to have genetic testing to determine if they have the same mutation.
Reducing your risk
When someone carries a hereditary syndrome, we can offer effective risk reduction options, dramatically reducing their risk of ovarian cancer and other specific types of cancer. While there is currently no proven effective screening tool for ovarian cancer, we can discuss other options, such as the use of oral contraception during child-bearing years and removal of the ovaries between the ages of 35 to 50, depending on which genes are identified. Women whose ovaries are removed can reduce their risk by over 95%, dramatically increasing their life expectancy.
Should you have genetic testing for ovarian cancer?
If you are diagnosed with ovarian cancer or have a first or second degree relative with ovarian cancer, you meet criteria for genetic testing, regardless of age of diagnosis of cancer or if that relative is maternal or paternal. At Wellstar, all women with serous ovarian cancer are referred for genetic testing, which can help create the most personalized treatment plan.
Learn more about the Wellstar Genetic Risk Assessment program
.
Ovarian Cancer Treatment
Women with ovarian cancer are referred to a gynecologic oncologist to manage all aspects of their care. Treatment may include surgery, HIPEC, chemotherapy, targeted therapy, immunotherapy, or radiation therapy in rare cases. We offer gynecologic oncology clinical trials through the Wellstar Research Institute, which is affiliated with Mayo Clinic and NRG Oncology.
Ovarian Cancer Surgery
Our gynecologic oncologists recommend evidence-based treatment paths so patients have a chance for the best possible outcomes. It is typical for women with ovarian cancer to have surgery first, followed by chemotherapy or chemotherapy combined with targeted therapy, depending on personal factors. Our gynecologic oncologists offer world-class technology and treatments, including robotic, laparoscopic and non-laparoscopic surgery. Procedures to remove ovarian cancer include:
Fertility-sparing surgery. This option is for women who still want to have children and have early-stage ovarian cancer. Our physicians may be able to offer fertility-sparing procedures for ovarian cancer when it is medically safe to do so. In one procedure, only the affected ovary is removed. If both ovaries have cancer, they are removed but the uterus can stay intact for pregnancy with frozen or donor embryos or eggs.


Primary surgical management. This treatment option for ovarian cancer includes the removal of both ovaries, both fallopian tubes and typically also hysterectomy (removal of the uterus). At the time of surgery, comprehensive staging is performed to determine how far the cancer has spread. This is a process called "staging." This includes removal of abdominal tissue called the omentum as well as pelvic and paraaortic lymph nodes. At the time of surgery, the goal is to remove all visible cancer. Our gynecologic oncologists utilize the most advanced surgical techniques available to achieve optimal cytoreduction — or removal of all visible tumors.


Cytoreductive Surgery Combined with HIPEC. This is for women whose ovarian cancer has spread throughout the abdominal cavity. This type of procedure is performed by highly specialized cancer surgeons and uses a combination of heat and chemotherapy administered during surgery. In specific cases, HIPEC can be beneficial for patients over surgery alone, thus offering improved outcomes.


After surgery, the tumor is sent to our pathology team. An analysis determines the stage of the cancer and provides specific information to detail the next best step of treatment for an individual.
Systemic therapies & clinical trials
Chemotherapy is the use of drugs given by mouth or injection to destroy cancer cells. It can be used to assist in the cure of cancer patients or to prolong life or the quality of life. Adjuvant chemotherapy is administered after surgery in certain circumstances when the patient is at high risk for recurrence.
Chemotherapy, a drug delivered in our state-of-the-art infusion centers, kills fast-growing cancer cells. It is often used in patients with ovarian cancer after surgery to kill any cancer cells that remain. There are also effective regimens to aid in the prevention of the cancer coming back, or to slow its return.


Targeted therapy is the hallmark of personalized medicine. These drugs have been developed to target specific genes in the cancer's DNA. Molecular testing on the tumor removed during surgery is performed by pathologists to determine whether specific targeted therapies may be effective.


Immunotherapy gives a person's immune system a boost so it can better recognize and fight the cancer.


Clinical trials of ovarian cancer treatments are available for patients who are eligible, depending on various factors. In recent years, the Wellstar Research Institute has participated in clinical trials that have led to the approval of immunotherapy for gynecological cancers.
Medical oncologists at Wellstar believe in a personalized approach to ovarian cancer therapy—often guided by the genetics of the cancer and the condition of the patient.
Support services for women with ovarian cancer
Women with ovarian cancer have access to a full range of support services, coordinated by a Wellstar nurse navigator who specializes in gynecological cancers.

Our patients with ovarian cancer find it helpful to participate in cancer support groups. These support groups offer a safe and supportive space to learn from others and share your experiences to stay emotionally and physically healthy.

Women with ovarian cancer often have guidance from cancer support team members through all aspects of a diagnosis, treatment and care. Depending on a person's individual needs, a support team may include:
Nurse navigators, who bring a highly personalized level of guidance and support to each patient and their family members
Genetic counselors to look for hereditary factors that may affect the best treatment for you and your family
Palliative care specialists to help manage ovarian cancer-related symptoms
Physical therapists, who specialize in pelvic floor or lymphedema therapy
Financial counselors to provide help navigating financial programs
Oncology social workers, who provide strategies to empower and improve the quality of life for people with cancer
Registered oncology dietitians, who help patients maximize nutritional status before, during and after treatment
Psychologists and psychiatrists, who help patients cope with the emotional side of cancer and treatment side effects
Every member of your personalized care team at Wellstar is here to help you face cancer with confidence.
Learn more about our support services for people with cancer.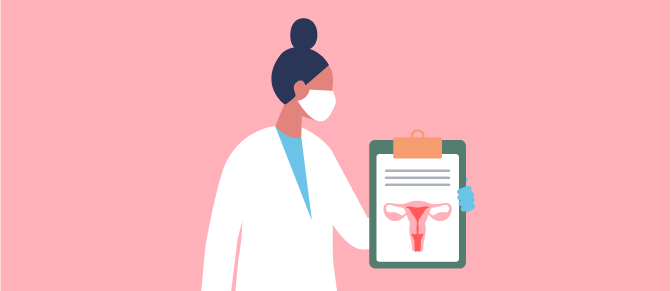 BOOSTYOURGYNIQ
It is more important than ever for women to brush up on their health IQ to help stay ahead of gynecological health issues. The more you know could potentially save your life one day.
Learn More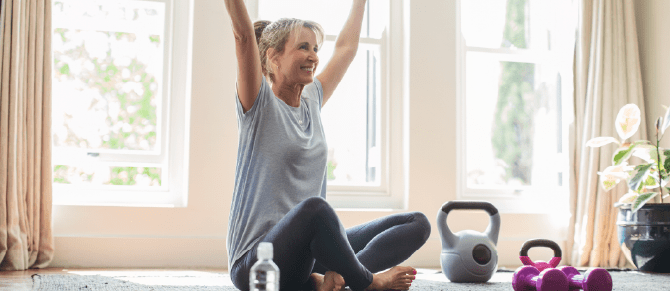 KNOWTHESIGNS
It's important to know the warning signs of ovarian cancer — and other gynecological cancers that don't have screening tests — and to do what you can to prevent them.

Learn More