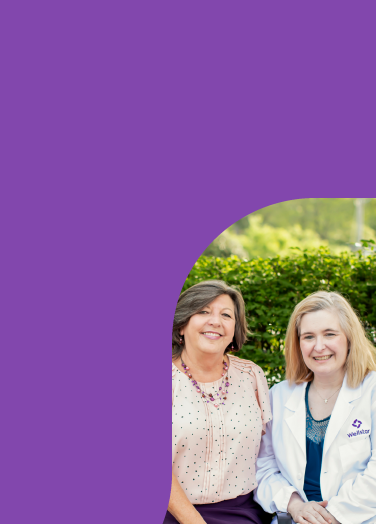 Cancer Care at Wellstar Paulding
People with cancer receive expert care and advanced treatments delivered by a compassionate cancer team at Wellstar Paulding Medical Center.
Wellstar Paulding Cancer Care
Neighbors Caring for Neighbors with Cancer
---
At Wellstar Paulding Medical Center, our motto is '
Neighbors Caring for Neighbors
' and that's true for our cancer program too. Our patients often say it feels like family when they get to know our cancer experts, nurse navigators and cancer support team members.
Our team of close-knit cancer physicians provides comprehensive care for people with
prostate cancer
,
breast cancer
,
head and neck cancer
,
lung cancer
,
colorectal cancer
,
gynecological cancer
and other cancers. We offer the
latest technology and advanced treatments — such as the TrueBeam® radiotherapy system —
to help people get diagnosed, staged and treated closer to home — with the convenience of a shorter drive.
Expert cancer care
Multidisciplinary care is the cornerstone of our cancer program. Our team of
board-certified
and fellowship-trained doctors
includes medical oncologists, radiation oncologists, cancer surgeons, pathologists, radiologists, nurse navigators and genetics specialists. We collaborate in regular tumor board conferences to diagnose, stage and create the best cancer treatment plans.
And, our experts have experts. As a member of the
Mayo Clinic Care Network
, Wellstar Paulding Medical Center's cancer specialists can request eConsults —
virtual second opinions
— from Mayo Clinic specialists at no additional cost to patients.
Nationally-recognized care
Wellstar is accredited by the American College of Surgeons (ACS)
Commission on Cancer (CoC)
and received the
Outstanding Achievement Award
, the highest honor given to a cancer program in the United States.
While our cancer experts provide warm, neighborly care,
Wellstar Paulding Medical Center
has also been nationally awarded and recognized for being one of the
safest hospitals in the nation
and for delivering high-quality nursing care.
---
Personalized Care Close to Home
At Wellstar Paulding Medical Center, our patients with cancer have access to expert physicians and cancer support team members who offer the most personalized care for the best outcomes.

We bring together the comprehensive cancer care expertise you need right here in the community. Our multidisciplinary team includes specialists who work together to diagnose and develop personalized treatment plans for each individual. Our cancer teams are made up of medical oncologists, cancer surgeons, radiation oncologists, interventional radiologists, pathologists, nurse navigators and genetic specialists.
We are proud to expand our radiation oncology services and offer TrueBeam® radiotherapy, delivering advanced cancer treatments including stereotactic radiosurgery.
Cancer Screening for Better Outcomes
The goal of cancer screening is to identify cancer in earlier stages when it is most curable. We encourage you to talk to your primary care provider about the screenings that are right for you, which may include:
Breast Imaging at Wellstar Paulding
A compassionate team of breast cancer experts use state-of-the-art technology here in Paulding County to help you screen for and diagnose breast cancer closer to home.
Our radiologists, interventional radiologists, nuclear medicine physicians and breast surgeons work together to offer these services to women in our community:
Tomosynthesis (3D digital mammography) for breast cancer screening and diagnosis
Breast ultrasound
Breast needle localization
Lymph node mapping (injection)
Our
nurse navigator
meets with every woman who has an irregular mammogram to guide you through the next steps and help you make the right connections so you can move forward with additional imaging, and treatment if needed, as quickly as possible.
Radiation Therapy
At our comprehensive cancer care center, we treat nearly every type of adult cancer with advanced radiation therapy and techniques. Our board-certified radiation oncologists work closely with your specialists to deliver the excellent and convenient cancer care you need right here at Wellstar Paulding Medical Center.
The radiation oncology team also includes cancer dietitians and social workers, who help patients access the highest standard of care.
We are proud to expand our radiation oncology services and offer
stereotactic body radiation therapy (SBRT).
This technology uses highly accurate, three-dimensional imaging to deliver targeted radiation treatment, sparing surrounding healthy tissue.
This advanced cancer treatment method can be used to treat tumors in areas of the body that are traditionally difficult to treat. This non-surgical approach can be effective for many types of cancer and can often reduce treatment to just one to five sessions.
Radiation therapy treatments here include:
Stereotactic body radiation therapy (SBRT)
Intensity modulated radiation therapy (IMRT)
Image-guided radiation therapy (IGRT)
High-dose rate brachytherapy (HDR)
Volumetric-modulated arc therapy (VMAT)
Accelerated partial breast irradiation (APBI)
Prostate brachytherapy
Medical Oncology
Our medical oncologists serve as a partner in care for each patient, and work in a multidisciplinary fashion with other cancer experts to help our patients achieve optimal clinical outcomes. The compassionate medical oncologists here offer personalized care plans and advanced treatments. The right treatment for an individual may include chemotherapy, immunotherapy or targeted therapies — given independently or in combination.
Cancer Surgery
Our experienced cancer surgeons and plastic surgeons perform operations for people with breast cancer, prostate cancer and head and neck cancer in Wellstar Paulding Medical Center's state-of-the-art operating rooms. Using the latest techniques and technology, we offer traditional open surgery and minimally-invasive procedures.

In 2022, we brought robotic surgery to Paulding County. These minimally-invasive robotic procedures shorten hospital stays and speed recovery for patients. The advanced da Vinci surgical system enables patients with prostate cancer and other urinary tract cancers to have highly precise procedures performed by experienced surgeons. We anticipate expanding use of robotic surgery to other surgical specialties soon.
Our team works closely with cancer surgeons at other Wellstar hospitals when needed to offer a broad range of advanced cancer surgery to our patients.
Interventional Radiology
Our experienced interventional radiologists perform minimally-invasive procedures to diagnosis and treat people with cancer. Some procedures can be done as outpatient procedures, usually in about 30 to 45 minutes.
Interventional radiologists at Wellstar Paulding Medical Center provide these cancer services close to home for our patients:
Image-guided biopsies, which play a prominent role in the diagnosis of cancer.
Image-guided tumor ablation, where a special needle delivers extreme heat or cold to kill cancer cells in specific areas such as the kidney, liver and lung. (Coming soon.)
Mediport placement for efficient delivery of chemotherapy.
Placement of feeding tubes for delivering nutrition and hydration.
Thoracentesis, paracentesis and tunneled pleural and peritoneal catheter placement to relieve fluid build-up in the chest and abdomen.
Cancer pain management that combines radiofrequency ablation with vertebral augmentation to treat pathologic spine fractures.
Biliary and urinary drainage placement to provide relief for an obstruction or allow healing while recovering from surgery.
Cancer Support Services
People with cancer have access to a compassionate network of support at Wellstar Paulding Medical Center. While you navigate your diagnosis and treatment, our one-on-one support, education and peer support groups can improve your quality of life in many ways. The goal of our comprehensive support program is for patients to heal medically, physically, spiritually and emotionally during treatment and beyond.
Patients may find it beneficial to work with:
Nurse navigators, registered nurses trained in specific clinical areas who bring a highly personalized level of guidance and support to each patient and family
Oncology social workers, who help people undergoing treatment improve their quality of life with counseling, education and connection to resources
Registered oncology dietitians, who help people maximize their nutrition and well-being
Physical therapists, lymphedema therapists and speech therapists who provide cancer rehabilitation services
Genetic counselors, who help patients with rare syndromes linked to cancer to understand their disease, make informed decisions about treatment and lifestyle choices, and discuss how results may affect their family members
Chaplains, who offer you spiritual care with hope and a compassionate presence
No matter which type of support you need, we're here to help you and your loved ones face cancer with confidence.
Learn more about our support services for people with cancer.
Health Highlights & PeopleCare Stories
---
---
Currently showing
7

total listed locations