Well Starts with Well Stats
Whether you need a wellness exam, health screening or other preventative testing, get to know your latest health numbers so you can be well at any age and stage of life.
Preventative Care Screenings at Wellstar
Everyone wants to be healthy and live life to the fullest — and the best way to achieve that is by establishing a primary care physician, having a yearly check-up and tracking your health stats. An annual wellness exam isn't just another medical appointment. It's your opportunity to partner with your Wellstar primary care provider and create a personalized health plan. Everyone ages 3 and older should get a health check-up at least once a year. Newborns and children under the age of 3 as well as people with certain chronic conditions may require more frequent visits. It's important to consult with your provider to get a tailored care plan and appointment schedule based on your unique needs.
Know your Foundational 4
At your check-up, your physician will assess your health with a physical exam and wellness screenings to help you understand your current health stats and stay ahead of potential medical issues. These screenings include your Foundational 4 numbers:
Body mass index (BMI): This metric for a healthy weight should be between 18.5 and 24.9.
Blood pressure (BP): The healthiest reading is less than 120/80 mmHg.
Blood glucose (BGL): A healthy blood sugar level is less than 140 mg/dL.
Blood cholesterol (LDL/HDL): For women and men, an ideal low-density lipoprotein is less than 100. For women, the best high-density lipoprotein reading is 50 or higher and for men, 40 or higher.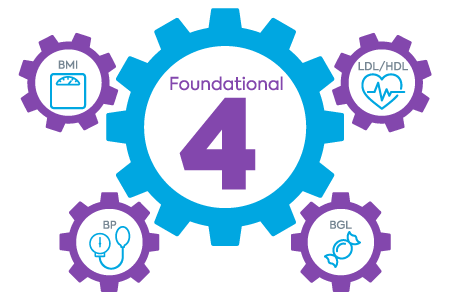 These numbers are the cornerstones of your health. The results of these preventative screenings may help identify risk factors and indicate the onset of certain conditions, such as high blood pressure, heart disease or obesity. Depending on your age, gender and family medical history, your Wellstar primary care provider may order additional screening for certain cancers, heart disease or other serious illnesses.
Types of Screenings
Annual exams
Blood cholesterol
Blood glucose (sugar)
Blood pressure
Body mass index (BMI)
Bone density screenings
Colonoscopy
Depression
Diabetes
Genetic risk assessment
Hearing & vision
Heart screenings

HIV
Lung cancer
Mammogram
Nutrition therapy
Pelvic exam
Pap smear
Prostate exam & prostate-specific antigen (PSA)
Sexually transmitted diseases (STD)
Skin cancer screenings
Smoking cessation support
Well-baby and well-child visits, from birth to age 21
Pediatric Checkpoints
Meeting Milestones at Wellstar
Protect your child's well-being by partnering with a Wellstar pediatrician and knowing their health stats as they grow. From newborns, toddlers, teens and everything in between, we'll help keep your child on track. Having an established Wellstar pediatrician or family medicine provider is essential to measure your child's developmental progress from birth, childhood, adolescence and through the early adult years.
Wellness for the first years
From the very beginning, your child should see a pediatrician every few months at these ages:
The first week (three to five days old)
1 month old
2 months old
4 months old
6 months old
9 months old
12 months old
15 months old
18 months old
2 years old (24 months)
2 ½ years old (30 months)
Then starting at age three, children and adolescents should see their provider once a year through age 21, when they can switch to an adult
primary care physician
to continue their care.
Healthy kids at every age
Your family's provider will get to know you and your child, personalizing care as they grow and keeping track of their development.
Ages 3 to 5. Preschool-age children stay busy conquering milestones like climbing, learning shapes and colors, taking turns and showing affection for others. The pediatrician will ask if you have any concerns and discuss your child's health, including eating habits and activity levels.
Ages 5 to 12. At this age, your child is growing quickly — a little more than two inches a year — but your Wellstar provider will help ensure your child stays on track. Sometime between the ages of seven and 11 in girls, and 9½ to 13½ in boys, children start experiencing hormonal changes, and your family's provider can help keep your child healthy, both physically and mentally.
Teens. At this age, patients may have their own questions about their health and will have the opportunity to speak with their provider alone. A check-up will include a physical exam, hearing and vision tests, and lab work like blood tests. The exam will likely include several screenings, such as checking for scoliosis, measuring blood pressure and listening to the heart with a stethoscope.
Men's Health
Men, Take Charge of Your Health
Men often have the stats of their favorite sports teams memorized, but their own health stats are the most important numbers they need to know. That's why all men should schedule an annual exam at least once a year.
At your wellness check-up, your provider will take your Foundational 4 numbers: body mass index (BMI), blood pressure, cholesterol and glucose readings. Depending on your age and medical history, they may recommend additional testing to help you stay ahead of potential health issues.
Prostate cancer screenings
Screening at regular intervals can help identify whether an individual has prostate cancer, and if it may cause harm if left untreated. Men who identify their prostate cancer early can have the best outcomes, which is an important reason to consider screening on a regular basis. All men can be screened for prostate cancer depending on their individual risk factors. The time when you may benefit from screening varies by age. Men at higher risk for prostate cancer may need to start their screening in their 40s. A prostate-specific antigen (PSA) blood test is the most common way for men to screen for prostate cancer on a regular basis. To get screened, schedule an appointment with your primary care physician or urologist.
The Wellstar Prostate Health Program
evaluates people with a higher risk for prostate cancer, offering a personalized approach and multidisciplinary care.
Colorectal cancer screenings
As part of a preventative testing program, men should also get regular
colorectal cancer
screenings, which are often performed with a colonoscopy. The
American Cancer Society
recommends that people at average risk for colorectal cancer screening get checked regularly beginning at age 45. Screenings should continue through age 75, and after that, patients can discuss their personal risk and history with their provider.
Lung cancer screenings
Wellstar's
lung cancer screening program
is a national leader in early detection. Our low-dose CT scans help detect early-stage lung cancer when it is often easier to treat than later-stage cancers. Screening is recommended for people who are most likely to develop lung cancer. This may include current and past smokers and those exposed to harmful, cancer-causing agents, including radon, arsenic, asbestos, diesel fuels, silica and Agent Orange. Statistically, men have a higher chance of developing lung cancer in their lifetime than women. According to the
American Cancer Society,
Black men are about 15% more likely to develop lung cancer than white men. There are pros and cons to screening, so speak with your provider about starting a screening program.
Women's Wellness
Women, Prioritize Your Well-Being
Whether you're a businesswoman or busy mom, it's important to know your latest numbers so you can live a full, healthy life.
Every woman should schedule an annual check-up at least once a year. As part of your well-woman exam, your provider will take your Foundational 4 numbers: body mass index (BMI), blood pressure, cholesterol and glucose readings.
Depending on your age and medical history, your physician may recommend additional testing to catch potential health issues early.
Breast cancer screenings
Mammograms
— or images of the breast — at regular intervals can help identify signs of cancer before symptoms appear, and can help catch cancer at the beginning stages.
Clinically proven to provide more accurate breast cancer screenings, 3D mammograms give clearer images of dense breast tissue than a traditional exam.
Wellstar provides screening mammograms for women who have no symptoms of breast cancer or abnormalities. Diagnostic mammograms are also available to evaluate a possible abnormality or for patients with a known issue, including a lump, focal pain, skin changes or nipple discharge.
Cervical cancer screenings
Prevention is the best protection against cervical cancer. The
human papillomavirus
(HPV) vaccine helps prevent cervical cancer. It is recommended to give the vaccine to children around 11 or 12, but can be given as early as nine years of age.
Even some adults in their 30s and 40s may benefit from getting an HPV vaccine, so it's important to talk to your provider about what's right for you.
Women can also be screened for cervical cancer at regular intervals. The more traditional is a Pap smear, which looks for precancers, or cell changes on the cervix. The newer HPV test looks for HPV, a virus that can cause the cells to become cancerous.
Bone density screenings
Half of all women over 50 will break a bone because of osteoporosis, according to the US Surgeon General.
Wellstar uses an ultrasound measurement of the heel bone to determine if your bone density is normal. If your bone density is below regular levels, your physician can often slow or stop bone loss and prevent osteoporosis.
Preventative Testing
Know Your Risk
Early detection saves lives. Preventative screenings and genetic testing can help you take control of your well-being by identifying health risk factors and catching potential diseases at the start.
Heart screenings
Know Your Heart
is a prevention and early detection program to determine an individual's risk for heart disease, stroke and other serious conditions, such as high blood pressure or high cholesterol. After the screening, each person receives an individualized health report. We will provide risk-factor education as well as diet, weight and exercise recommendations to help you live heart healthy.
Cancer screenings
Conquer cancer before it starts. Cancer screenings for breast, cervical, colorectal and prostate cancers can help find diseases early, when they are more treatable. Lung cancer screening is also recommended for individuals at high risk.
Talk to your provider about your family history, risk factors and health status, so they can help create a personalized cancer screening plan for you.
Genetic risk assessment
Genetic Risk Assessment Program
determines if you may develop or carry certain genetic disorders. Whether you're concerned about your medical history or planning to start a family, genetic testing can identify potential hereditary risks and give you a better picture of your health.