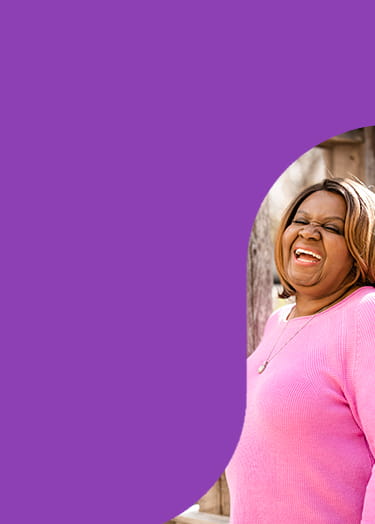 Cancer Care at Wellstar Kennestone
Every person is unique. That's why your multidisciplinary team of cancer specialists at Wellstar Kennestone and our health parks will design a cancer care plan, personalized just for you.
Wellstar Kennestone Cancer Care
Personalized Cancer Care, Close to Home
---
People face cancer with confidence in the serene Wellstar Cancer Center at Kennestone Regional Medical Center.
You can count on receiving the most elevated form of
multidisciplinary care
from physicians with in-depth expertise. We offer a broad range of
advanced treatments
and
clinical trials
. Our patients also appreciate convenient screening options for cancer, labs, imaging and the ability to see cancer specialists at our health parks in Acworth, East Cobb and Cherokee County. This ensures you receive the care you need, close to home.
Wellstar and Mayo Clinic are working together to improve the delivery of healthcare. Through our collaboration, Wellstar combines the wisdom of Mayo with the expertise of Wellstar to offer the best care and treatment plans for even the most complicated diagnoses. As part of the Mayo Clinic Care Network, physicians at Wellstar can request consults with Mayo Clinic specialists on complex cases at any time. The best part? This service is offered at no cost to our patients.
STAT Clinics
bring multiple cancer specialists to the patient in one place on one day
and can start treatment faster
. After going through the STAT Clinic process, patients often comment on the personal attention from physicians and nurse navigators.
Awards & Accreditations
Our patients can rest assured that their care is the best. Our cancer program is nationally-recognized for providing the highest levels of care for cancer with these accreditations and awards:
The American College of Surgeons (ACS) Commission on Cancer (CoC) Accreditation, which also awarded Wellstar the Outstanding Achievement Award, the highest honor awarded to a cancer program in the United States
The Commission on Cancer (COC) Oncology Medical Home Accreditation Program for Northwest Georgia Oncology Centers
The GO2 Foundation for Lung Cancer which named Wellstar a Care Continuum Center of Excellence
The American College of Radiology (ACR) which designated Wellstar a Lung Cancer Screening Center
The National Accreditation Program for Breast Centers (NAPBC) through the American College of Surgeons
National Accreditation Program for Rectal Cancer (NAPRC) Accreditation through the American College of Surgeons
Our Care Team
Your care team will help you achieve optimum health and wellbeing from the time of diagnosis and beyond. We care for you physically, mentally and spiritually with a compassionate team, which can include oncology specialists, a certified oncology nurse navigator; a genetic counselor; an oncology-registered dietitian; an onco-psych team member such as a psychologist, psychiatrist or counselor; an oncology social worker, financial counselor; chaplain; or cancer rehabilitation specialist.
Health Highlights & PeopleCare Stories
---
---
Screening for Breast, Lung, Colorectal and Prostate Cancer
Our powerful screening and genetic assessment programs can help people identify cancer in earlier stages when it is most curable.

We use the most advanced cancer screening protocols and technology at Wellstar Kennestone, health parks and imaging locations throughout our community.

We encourage men to have their PSA levels checked by a urologist on a regular basis to screen for prostate cancer and for women to have regular visits with their gynecological healthcare provider to have pap smears at the recommended times. To learn more about our cancer screening and genetic risk assessment programs, click on the links below:


Cancer Surgery
Surgeons are often the first cancer physician a person will see because they often perform diagnostic surgery to determine if someone has cancer. It's important to have a highly experienced cancer surgeon, because they often perform life-saving cancer surgery for a variety of cancers. Wellstar Kennestone's surgeons are historically the first in the region to offer minimally invasive and other leading-edge procedures for many cancer disease types; have a high volume of experience; and serve as teachers of other subspecialists in their fields.
Our leading cancer surgeons offer patients a variety of minimally invasive procedures including robotic surgery, laparoscopic surgery and Video Assisted Thoracoscopic Surgery (VATS). Wellstar Kennestone's surgeons are known for leading in various specialized complex procedures such as the robotic pancreatomy, the robotic Whipple and cytoreductive surgery with Hyperthermic Intraperitoneal Chemoperfusion (HIPEC).
Radiation Therapy
We believe people with cancer deserve to have experienced radiation oncologists with access to the most advanced technology and techniques. Our specialists offer individualized care with state-of-the-art technology including CyberKnife radiosurgery, TrueBeam and TomoTherapy radiation and high-dose rate (HDR) brachytherapy. These therapies precisely target cancer cells and spare healthy tissue anywhere in the body, leading to better outcomes for patients and allowing them to return to doing what they love sooner after treatment.
CyberKnife
Wellstar Cancer Center at Kennestone Regional Medical Center is one of the country's top programs, with a high volume of cases and 15 years of experience. The latest CyberKnife S7 system enables us to perform high-precision stereotactic radiosurgery (SRS) and stereotactic body radiotherapy (SBRT)—faster. It can be used to target cancers anywhere in the body with high doses of radiation delivered by pencil-thin beams, drastically reducing treatment times.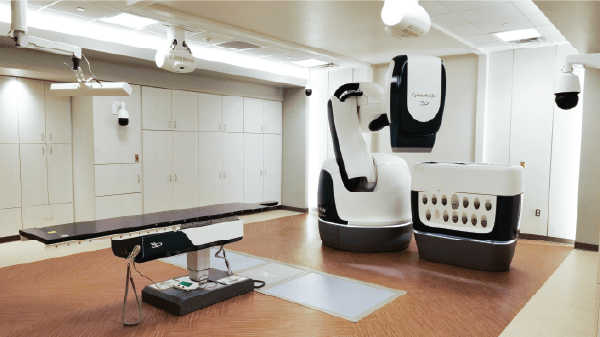 Targeting cancers with specialized technology
While we can target every type of cancer with a variety of radiotherapy tools, our program offers treatments that are not widely available, such as a short-course SBRT for prostate cancer and pancreatic cancer. Patients can also have highly specialized HDR brachytherapy for skin cancer and gynecological cancers such as cervical, uterine and vaginal cancer.

For breast cancer, our program leads the state with the highest volume of experience in accelerated partial breast irradiation (APBI). This faster radiation treatment option for women with early-stage breast cancer is delivered in just five days using HDR brachytherapy. Our modern equipment allows patients with breast cancer to lie prone—or chest-down—for treatment, which can decrease radiation exposure to the heart and lungs.

No matter what type of cancer you have been diagnosed with, our specialists will offer you individualized care with state-of-the-art technology so you can get back to doing what you love sooner.
Find a radiation oncologist near you and book an appointment.
Medical Oncology
With the largest team of medical oncologists in the Wellstar Cancer Network, our physicians have a high degree of specialization and experience in treating specific tumor types. We employ the latest in genetically-based biomarker testing and targeted therapies, immunotherapy and chemotherapy.
Led by knowledgeable medical oncologists, our Cancer Center is the hub for research and clinical trials to fight various types of cancer. We are known for providing groundbreaking treatments to patients, often years before FDA approval.
Patients find a higher level of comfort in the modern infusion center at the Wellstar Cancer Center at Kennestone Regional Medical Center. Semi-private bays, entertainment cabinets, dimmable lighting, motorized seating and automatic doors make the chemotherapy experience more comfortable. Our onsite pharmacy specializes in oncology and hematology drugs for patients' convenience and is dual-accredited with oncology distinctions by URAC and ACHC, international accreditation organizations.
Because our patients are at the center of everything we do, we are currently redesigning our oncology offices and service areas to create the best patient experience. The renovation is slated for completion in 2021.
Learn more about medical oncology at Wellstar
STAT Clinics
Wellstar Kennestone Regional Medical Center's leading cancer specialists created STAT Clinics, the most patient-centric care model. STAT Clinics bring you best-in-class multidisciplinary care. Here, the patient truly is at the center of a treatment plan and the physicians come to you. Patients and their families benefit from meeting multiple specialists meeting together on the same day, being involved in their diagnosis and treatment plan design, and ultimately, starting treatment faster. Visit our STAT Clinic pages to learn more:


Click the Tumor Boards tab to the left to learn about the specialized level of multidisciplinary care we provide for patients with a variety of cancers.
Tumor Boards at Kennestone: Specialized Multidisciplinary Care
At a typical tumor board conference, physicians come together to discuss a variety of cancer cases, ranging from breast cancer to brain cancer to rectal cancer and others. However, because Wellstar Kennestone Regional Medical Center is a high-volume cancer treatment center, our weekly tumor boards are subspecialized, focusing on specific cancer types which leads to better outcomes for patients. Physicians throughout the Wellstar footprint are able to present their cases at these subspecialized tumor boards as well.
Our multidisciplinary tumor boards are attended by every type of physician who has involvement with the patient to bring about the best possible care. They partner to review, diagnose and offer a consensus on personalized treatment. Patients benefit because these physicians see a higher volume of specific cancer types and have a higher level of experience and expertise. Our tumor board programs include:
General tumor boards for all cancers
Subspecialized tumor boards:
Nurse navigation
Many patients at Wellstar Kennestone say they could not imagine care without their nurse navigator. Nurse navigators are registered nurses trained in specific clinical areas and bring a highly personalized level of guidance and support to each patient and family members from initial diagnosis through post-treatment follow up.
Cancer nutrition
Patients have the opportunity to meet with a trained cancer dietitian and develop a personalized dietary plan. Oncology registered-dietitians at Wellstar Kennestone help patients build and maintain their weight as they go through cancer treatment. Patients can attend healthy nutrition events in our modern demonstration kitchen with Wellstar's dietitians and renowned chefs throughout the year.
The Wellstar Kennestone Cancer Center features the Calm Waters Café, providing healthy nutrition options to patients, patients' families and team members for breakfast and lunch.
Oncology social worker
Your oncology-certified social worker at Wellstar Kennestone focuses on strategies to empower and improve your quality of life during treatment and beyond. Support from an oncology-certified social worker can include short-term counseling, groups and connections to psychological therapy. Cancer can affect many different parts of life, and we can help you adjust to your diagnosis. We provide guidance and education on how to share this information with your family, friends and community. Our social worker can also connect patients and families with community resources and help you navigate financial programs and services that may help you.
Psychiatric & psychological therapy
Wellstar Kennestone offers patients the opportunity to work with an oncology-trained psychologist, psychiatrist or counselor. These support team members can help patients, couples and families cope with cancer and treatment side effects as well as pre-existing conditions such as depression and anxiety.
Spiritual care
Recognizing that spirituality is an important part of healing and facing cancer, the cancer center at Kennestone houses the Rick Gray Family Chapel. The bright and modern space is a peaceful retreat where patients and their families can pray and spiritually recharge. Spiritual care is provided by chaplains from Wellstar Kennestone, who often meet with patients in the cancer center for support.
Peer support
Peer support is an important part of survivorship. A number of cancer-specific support groups give patients the opportunity to learn from others and share experiences. They benefit from staying emotionally healthy. Your nurse navigator can assist you in connecting with your peers.

Learn more about our support services for people with cancer.
Heart Care for People with Cancer
Recent research has found a connection between cancer and cardiovascular health, leading to the creation of cardio-oncology. This new, highly specialized field of study focuses on the link between cancer and heart disease and how to optimize patients' health. Cardio-oncologists are cardiologists with training in cardiovascular disease who have additional knowledge of how cancer therapies affect the heart.

Our cardio-oncologists help people receive the most appropriate cancer therapies while managing their risk for heart complications.

Learn more about cardio-oncology at Wellstar.