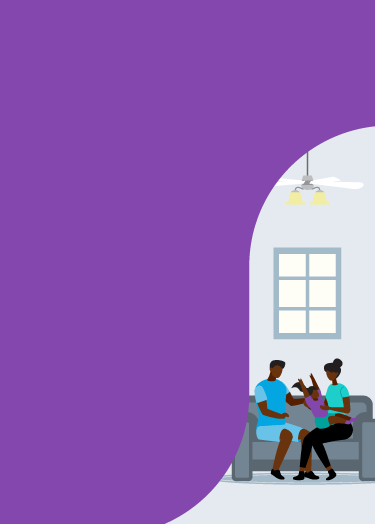 Wellstar Primary Care
Whatever your health goals or medical concerns, our primary care providers deliver tailored care to help you live your fullest, healthiest life.
---
Primary Care at Wellstar
Across Wellstar Primary Care, our clinicians believe your healthcare experience should be as unique as you are. That's why our experts focus on providing tailored care for each person, through every age and stage of life.

Our primary care providers offer expert, comprehensive care at many convenient locations throughout metro Atlanta and West Georgia. Our team will understand and address your individual health needs, whether through managing a chronic condition, maintaining a healthy weight or planning to start a family.

We aim to be true partners on your wellness journey. Because we never take a one-size-fits-all approach, our primary care providers help create a personalized healthcare plan just for you.

PeopleCare Starts Here
If you have been putting off regular check-ups or jumping from provider to provider, you may be missing out on a full primary care experience.

Having an established Wellstar primary care provider has many important benefits, including keeping you as healthy as possible, treating you when you feel sick and providing premier access to other Wellstar specialists across our robust health system.

Our primary care providers specialize in treating the whole person, focusing on physical, mental and emotional health. These experts are trained to treat many medical conditions, from minor health problems to potential health issues, such as diabetes or high blood pressure.
Choosing a world-class caregiver
Many people may have the same primary care provider for years, even decades. With hundreds of healthcare providers and convenient medical offices across our health system, Wellstar makes it easy to find a quality caregiver close to you.

During an in-person or virtual visit, our care team will help you feel comfortable and listen intently to your medical concerns. Our goal is to get to know you as a person and understand your health needs, so we can provide the highest level of care possible.

To find a Wellstar primary care provider:
Browse our website or search for a specific physician, location or condition.
View each Wellstar provider's profile on our website and read real patient reviews to help your choose the right fit for you.
To schedule an appointment, simply click 'Book Now' at the top of any page and follow the steps provided, or search by physician, location or condition.
Healthcare partnership
Your Wellstar primary care provider is your most important healthcare relationship. That's because our health experts get to know you—your body, medical history and health concerns—on a deeper level.

Whether you feel sick or need a last-minute wellness exam, Wellstar primary care providers will often prioritize established patients' care. That means making sure you have an appointment as soon as possible or consulting with specialty providers right away.

As you grow older or experience different life events, your healthcare needs will change. Over the years, your Wellstar primary care provider will guide you through these stages of life and keep you healthy.

Wellstar primary care providers can also quickly and seamlessly coordinate care with other Wellstar specialty medicine providers, if any potential health issues are identified during your wellness exams.
Partners in Your Wellness Journey
Your established primary care provider is your personal healthcare leader, helping to coordinate care with a multidisciplinary team of specialists.
Primary care providers
Wellstar primary care providers deliver tailored, world-class care for each and every patient, whether you are a busy parent, active senior or working professional.

Think of your Wellstar primary care team like your healthcare home base. These dedicated experts are always in your corner, acting as one of your most loyal health advocates and ensuring they:
Get to know and understand your unique health needs
Coordinate care and provides referrals for specialists
Order appropriate health screenings, diagnostic tests and follow-up care
Treat you for acute illnesses, such as colds or the flu
Specialty medicine providers
Primary care providers can help spot serious medical conditions early and then seamlessly coordinate care with Wellstar specialty medicine providers.
Pediatricians – Pediatricians specialize in treating children of all ages, from newborn to early adulthood. These experts promote your child's health and well-being by performing routine check-ups, diagnosing and treating a wide variety of pediatric conditions and providing up-to-date immunizations.
Obstetrician-gynecologists (OB/GYN) – An OB/GYN specializes in all aspects of women's health, including menstruation, pregnancy and menopause. These specialists are highly skilled in managing women's healthcare needs at all stages of life, diagnosing and treating disorders of the reproductive system, and providing prenatal care.
Specialty medicine providers – If you are diagnosed with or suspected to have a chronic condition, specialty providers like cardiologists, neurologists and oncologists can provide you with complete, high-quality care without ever having to leave Wellstar Health System.
Wellstar medical specialists have expert training in specific fields of medicine, offering world-class technology, the latest research and therapies to give you the best outcome for your health condition.
Coordinated care across the board
Accidents and other sudden medical events can happen. If you have an unexpected trip to a Wellstar emergency department or urgent care center, your Wellstar primary care provider will be kept in the loop and notified of your health condition and treatment. That means your provider can easily provide follow-up treatment, diagnostic testing or specialty care you may need.
Stay connected with MyChart
MyChart keeps all your important health information right at your fingertips. Through this digital patient portal, you can manage appointments, access test results, communicate with your provider, pay medical bills and request prescription refills.

Because your medical records are all in one online place, MyChart makes it easier for you to take charge of your health and communicate with your care team.

Learn more about Wellstar MyChart

To sign up for a MyChart account, visit mychart.wellstar.org.
SafeCare Near You
Whether or not you are an established patient, Wellstar offers many options get world-class primary care that fits into your schedule.
Family medicine & internal medicine
Primary care providers at Wellstar Health System practice in one of two areas: family medicine and internal medicine.

Family medicine providers care for the whole family at every age, including babies, children, teens, adults and grandparents. With their vast area of expertise, these specialists can become a trusted and reliable source for all of your family's health needs.

Internal medicine providers solely treat adult patients, starting from young adulthood through elderly years. Because of their narrow focus, these experts are highly skilled at treating both common and more complex health concerns that affect adults.
Urgent care
Wellstar Urgent Care Centers are a convenient and affordable alternative to the emergency department, if you need immediate care for non-life-threatening medical conditions between your provider's regular office hours or are unable to get an appointment with your physician.

Walk-ins are always welcome, so you don't have to make an appointment. However, you can sign up for an available time slot in advance to hold your place in line. Wellstar has 16 urgent care locations open seven days a week with extended weekday hours for your convenience.
Wellstar virtual care
Wellstar offers several options for virtual care—including virtual doctors visits and Wellstar Online Care—so you can take charge of your health on your own schedule.
Virtual doctors visits
Virtual visits are a safe and convenient way to keep in touch with your Wellstar primary care provider. From the comfort of your home, you can speak virtually via a smartphone, computer or tablet.

To schedule a virtual visit:
Call a physician's office and request a virtual appointment.
Click 'Book Now' at the top of any page of our website and follow the steps provided.
Established patients may set up an appointment via MyChart.
Wellstar Online Care
With Wellstar Online Care, you can get quick access to urgent care 24/7 at home or on-the-go, for patients two years of age and older.

There's no need to make an appointment. Just use your smartphone, tablet, or computer to connect with a board-certified clinician for just $49 per visit.

Learn more about WellstarON
PeopleCare for Everyone
Wellstar believes in helping each and every person live their healthiest life, improving access to preventative health and providing continuity of care through the health system.
Prioritize preventative health
Annual wellness exams with your Wellstar primary care provider are the cornerstone of your health. No matter your age or medical history, it is recommended to get a check-up at least once a year.

During routine and preventative screenings, your primary care provider can often catch major diseases in the early stages, before they turn into a bigger problem. They can also identify risk factors, including high blood pressure and obesity, which may lead to medical issues in the future.
Annual wellness screenings
For many people, basic health screenings may include a:
Blood pressure, glucose and cholesterol test
Body mass index (BMI) screening
Well-woman exam, which often include a mammogram, pelvic exam and pap smear
Prostate exam and prostate-specific antigen (PSA) test
Depending on your age and family medical history, your Wellstar primary care provider may order additional screening for certain cancers or other serious conditions.
Seamless specialty care
If you require additional treatment or specialized care, you can find thousands of Wellstar healthcare providers across our system. Our smooth referral process gets you in front of the right medical specialists quickly so you can get the treatment you need.

With convenient hospitals, health parks, urgent care centers and hundreds of medical offices, Wellstar makes it easy to get world-class, multidisciplinary care all in the same healthcare system.
Committed to SafeCare
At Wellstar, your health and safety are our highest priority. Across our locations, our team is dedicated to providing a safe and clean environment for you and your family.