Cancer Care at Wellstar Cobb Hospital
Our cancer program offers compassionate, comprehensive care in your community.
Watch video
Wellstar Cobb Cancer Care
Comprehensive Cancer Care in Your Community
---
Wellstar Cobb Hospital offers comprehensive surgical, medical oncology and radiation services for people with cancer. Our specialists have provided care for thousands of people with cancer since 1985. After the consolidation of cancer services into one location at the Wellstar Cobb Cancer Center, it is now more convenient to have imaging and first-line cancer treatment regiments in your community. Our patients find it reassuring to know that their local cancer center offers clinical trials and world-class technology.
We also bring select services closer to home for people near Wellstar Vinings Health Park. At this location in South Cobb, we offer imaging, mammography, physical therapy, lymphedema therapy and cancer specialists.

Wellstar Cobb Hospital's program is accredited by The American College of Surgeons (ACS) Commission on Cancer (CoC) and received the Outstanding Achievement Award, the highest honor awarded to a cancer program in the United States. This accreditation demonstrates that we offer patients the highest level of cancer care in their community.


Expert cancer care
Wellstar Cobb Cancer Center's specialists have a high degree of experience in all cancer types and provide comprehensive multidisciplinary care in breast, lung, colorectal, prostate, head and neck and gynecological cancers. Our cancer experts meet together in multidisciplinary conferences and STAT Clinics to review cases so patients have the best possible outcomes.

Through Wellstar's membership in the Mayo Clinic Care Network, our physicians and patients can request e-consults and second opinions by Mayo Clinic specialists at no additional cost to the patient.

Wellstar radiation oncologists and cancer surgeons use the latest technology and techniques—such as the TrueBeam radiotherapy system and da Vinci Xi robotic surgical system. Medical oncologists and gynecological oncologists offer the latest in immunotherapy, targeted therapies, chemotherapy and clinical trials.
---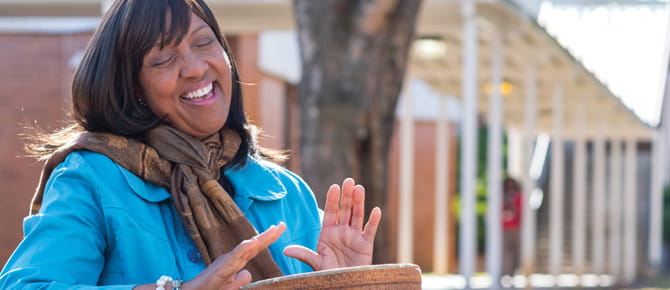 BelindaCare
Belinda Momon has been making music her whole life, encouraging elementary students to build good character, serving as band director, playing percussion and traveling with her church choir. There's little that can stop this lifelong teacher and Douglas resident.
Read her story
---
Screening for Cancer
Our powerful screening and genetic assessment programs can help people identify cancer in earlier stages when it is most curable.
In our imaging locations at Wellstar Cobb Hospital, nearby health parks and locations throughout our community, patients have access to the most advanced cancer screening protocols and technology.
Our urologists work with men to monitor their PSA levels on a regular basis to screen for prostate cancer and our gynecologists screen women for gynecological cancer. To learn more about our cancer screening and genetic risk assessment programs, click on the links below:
STAT Clinics
Patients experience the highest level of patient-centered care in our STAT Clinics for specific cancer types. In these multidisciplinary clinics, multiple specialists come to the patient in one day, to help a patient understand their diagnosis and treatment options. Because of this model, patients typically start treatment faster, which can lead to better outcomes.

Visit our STAT Clinic pages to learn more:
Cancer support services
Wellstar Cobb Hospital's comprehensive cancer care program provides every aspect of support for families and caregivers, going above and beyond treatment. When working with our support team, patients have commented on the compassionate and personalized care they experience, and how they feel listened to.

A patient's personalized support team can include an oncology-specific nurse navigator, a dietitian, a social worker, a financial counselor and a chaplain.

In many cases, our patients work closely with Wellstar genetic counselors to help them understand possible hereditary cancer syndromes that may run in their family.

When needed, palliative care physicians and cancer rehabilitation specialists can help with symptom management.

Oncology-specific psychologists and psychiatrists can provide support for other challenges patients and their spouses may face, including depression and anxiety.

Support groups are a meaningful way for many of our patients to connect with peers. Your nurse navigator can help you get connected.



STAT Clinic for Head & Neck Cancer
---
---
Currently showing
10

total listed locations