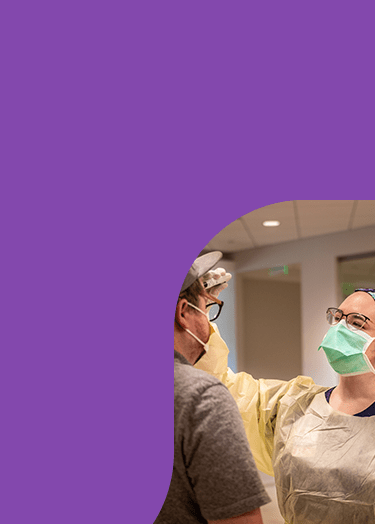 Coronavirus Resources & Information
Wellstar is committed to providing the world-class care Georgia needs during the COVID-19 pandemic, safely.
Wellstar COVID-19 Updates
We are keeping our communities up-to-date on the number of COVID-19 patients we are caring for throughout our 10 hospitals as well as the proportion of vaccinated vs. unvaccinated COVID-positive patients. Getting the COVID-19 vaccine is the number one way to prevent severe illness and death. Find a vaccination site near you at Vaccines.gov.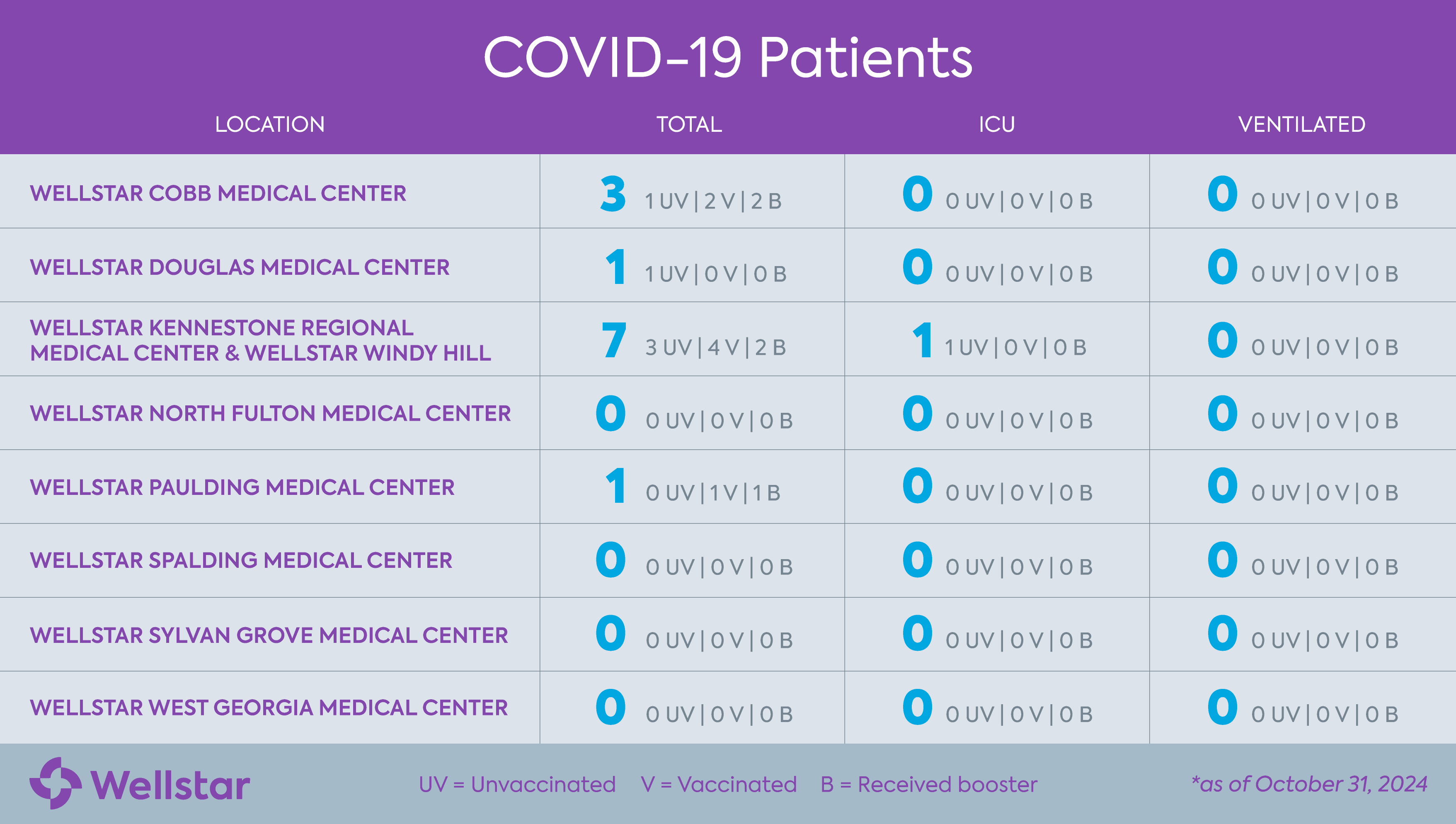 COVID-19 Visitation Policy Updates
As new variants of COVID-19 emerge and nationwide vaccination efforts continue, the pandemic is ever-evolving. Therefore, visitation policies at our hospitals, health parks and offices may vary by location and regionally.

For details about a specific location's current visitation policy, view our Visitation Guidelines.
System-wide Safety Precautions
To ensure the health and safety of our patients and team members, we've put strict policies in place to prevent the spread of infections:
Each person coming into a Wellstar facility will be asked about their potential COVID-19 exposure.
Every visitor or patient is asked to wear a medical-grade mask — not a cloth mask — for protection. Acceptable masks have nose wires, two or more layers of fabric and should completely cover the mouth and nose, fitting snugly against the face with no gaps.
All social distancing guidelines are observed.
Anyone with symptoms of COVID-19 or respiratory disease will be asked to wait in a separate area.
Our updated visitor policy remains in effect, although from time to time changes may be made, so it is recommended that a potential visitor check the website if they are making plans to come to a Wellstar facility.
Get the COVID-19 Vaccine
As new variants of COVID-19 emerge, it's important to remain vigilant. You can do your part to "stick it to COVID" and keep yourself and the community safe by getting vaccinated. The COVID-19 vaccine is available at a DPH location or your local retail pharmacy.

People should still take extra safety precautions such as proper hand-washing, disinfecting high-touch surfaces and social distancing to prevent the spread of COVID-19 and other illnesses. Wellstar offers detailed prevention tips to keep our communities safe and healthy.
Latest Virus Information
For the most current and comprehensive information, please refer to the Coronavirus Disease 2019 website for the Centers for Disease Control and Prevention. They have many tips and resources to help address questions.
How to Get Help
If you're experiencing COVID-19 symptoms that become unmanageable, call the Wellstar location before you arrive. You can:
Wellstar is dedicated to ensuring that the people and communities we serve are well-cared for. Keep in mind, the best defense against any viral infection includes:
Frequent hand washing and sanitizing
Disinfection of common areas regularly
Cover a cough or sneeze with the bend of your elbow
Avoid areas where there are active outbreaks
Get the COVID-19 vaccine and seasonal flu shot when available
Monoclonal antibody therapy is administered by IV infusion. The antibodies in the treatment mimic your body's natural response to COVID-19, helping to boost your immune system. This can help stop the virus from entering your cells, limiting the spread of infection and preventing your symptoms from progressing. Learn more about monoclonal antibody therapy.