Pediatric Care During COVID-19
Wellstar is committed to helping children stay healthy during the COVID-19 pandemic. Count on our dedicated healthcare team to keep your child in safe, expert hands.
COVID-19 Vaccine: Children Ages 5 to 11
The U.S. Food and Drug Administration (FDA) has approved the Pfizer COVID-19 vaccine for emergency use authorization for children ages 5 to 11 years old. Now, anyone age 5 and older is eligible to receive a COVID-19 vaccine.
Certain immunocompromised children ages 5 to 11 may now receive a third primary series dose. Young people ages 12 and older can also get their booster, as well. Learn more.
Getting vaccinated is an important way to protect your child's health during the pandemic, especially as new variants of the virus emerge.
Wellstar will be offering COVID-19 vaccines for children ages 5 to 11 years old. For more information or to book a vaccine appointment, contact your child's Wellstar pediatrician.
You can also schedule a COVID-19 vaccine for your child at your local retail pharmacy or visit vaccines.gov to find a convenient vaccination site close to you.
Pediatric COVID-19 Testing
As new variants of the virus emerge and spread, parents may be worried about their child's health and possible COVID-19 exposure.

Before you take your child for a COVID-19 test, it's important to know the proper location for their medical circumstance.
Know Where to Go
If you are concerned your child may have been exposed to COVID-19 and is:
Asymptomatic (showing no symptoms): Find a local COVID-19 testing site near you.
Showing mild to moderate symptoms: Contact your Wellstar pediatrician's office directly to determine the appropriate location to receive care.
Experiencing severe symptoms, such as difficulty breathing, persistent high fever, unable to keep liquids down, lethargy, or severe gastrointestinal symptoms: Seek immediate medical care at the nearest pediatric emergency department.
Choose the Right Location
Take your child to the right location for their medical circumstance.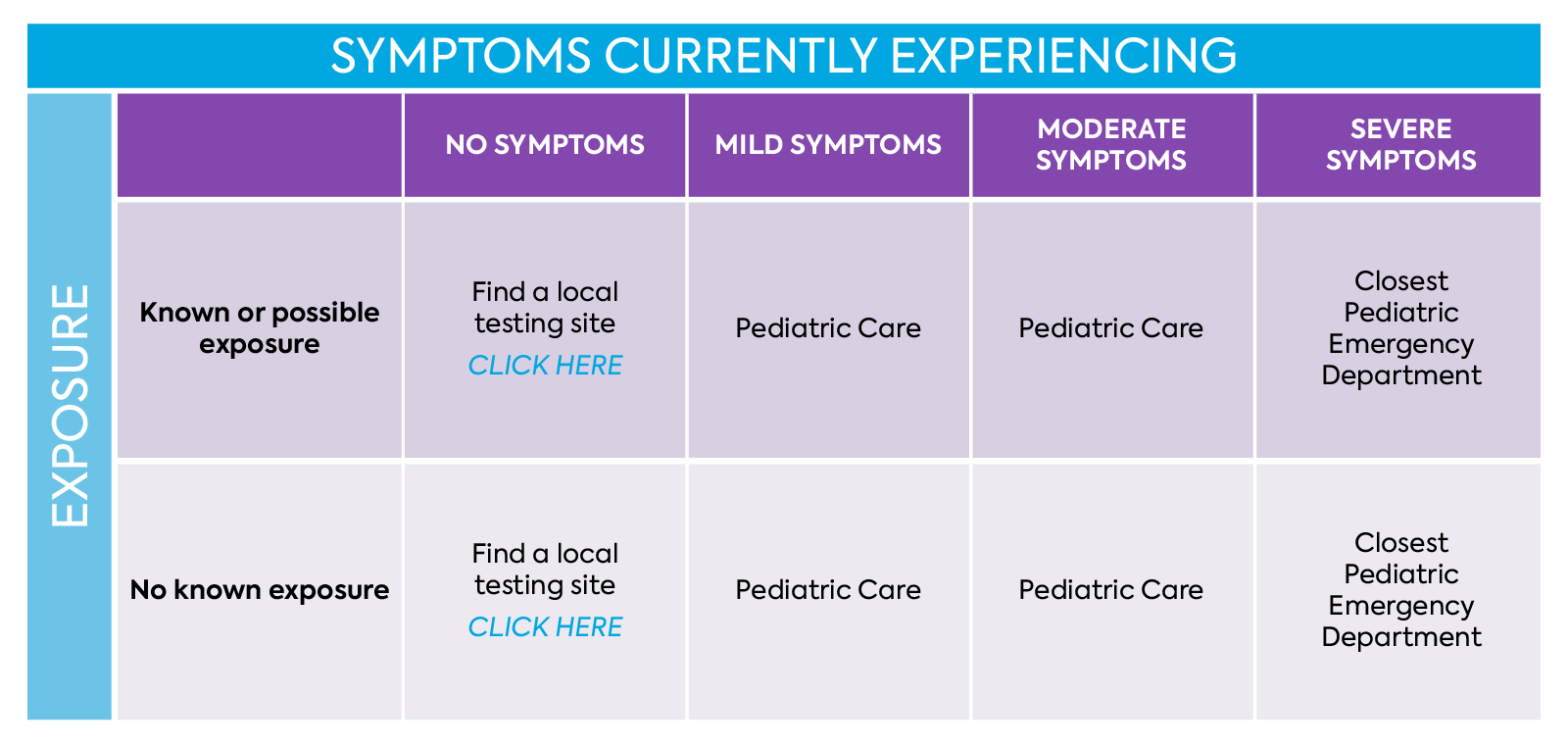 For more information about the types of testing offered at Wellstar, visit our main COVID-19 testing page.
If you, your child or a loved one has been diagnosed or exposed to COVID-19, we encourage families to follow the CDC's recommended guidelines for quarantine or isolation, especially for school-aged children.
Keeping Your Child Safe
The best protection against COVID-19 is prevention and stopping community spread.

Young children who are not eligible to receive the COVID-19 vaccine are counting on the community to take action and get vaccinated. Be sure you and your family members who are age five and up get the COVID-19 vaccine.

Parents can also help protect their child's health by teaching them the 3Ws — wear a mask, wash your hands and watch your distance.

Learn how you can make well happen.

For more health tips, visit our COVID-19 resource page.