Wellstar Health System has announced that Atlanta magazine recognized 79 Wellstar physicians on its 2021 "Top Doctors" list in the July issue. This list is compiled annually from nominations by physicians whom they consider to be among the top experts in their region for their medical specialty. The number of Wellstar doctors named to the distinguished list increased 14% from 2020 to 2021.
"As a community-based, non-profit health system, Wellstar physicians are focused on providing high-quality patient-centered care to everyone who comes through our doors," said Dr. John Brennan, executive vice president and chief clinical integration officer of Wellstar Health System. "Wellstar is extremely proud of the doctors recognized by this prestigious list published annually by Atlanta magazine, as well as all of our team members, who are committed to delivering outstanding care to every person, every time."
Atlanta magazine's "Top Doctors" list is compiled by Castle Connolly Medical Ltd., a leading healthcare research and information company founded to help consumers reach America's top doctors and hospitals. Physicians are nominated by their peers and selected after a rigorous screening process that reviews professional, educational, and patient care excellence. The final list with detailed information about the doctors' education, training, and medical expertise is included in Atlanta magazine's July 2021 issue. Below is the complete list of Wellstar physicians who were honored on the 2021 list.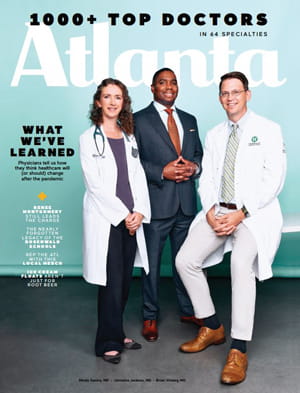 2. Grace Chiang, Allergy & Immunology
4. Jacob Blatt, Cardiac Electrophysiology
5. Anand Kenia, Cardiac Electrophysiology
6. Mohammad Kooshkabadi, Cardiac Electrophysiology
7. Bryan Piedad, Cardiac Electrophysiology
8. Michael Riley, Cardiac Electrophysiology
10. Bruce Alayof, Cardiovascular Disease
11. Mindy Gentry, Cardiovascular Disease
12. Barry Mangel, Cardiovascular Disease
14. Jennifer Jones, Dermatology
15. George Dobo, Dermatology
16. Jodi Ganz, Dermatology
19. Israel Orija, Endocrinology, Diabetes & Metabolism
21. George Brown, Family Medicine
22. Thomas Gearhard, Family Medicine
26. Edward Holliger, Hand Surgery
28. Ebon Bourne, Internal Medicine
29. Amber Driskell, Internal Medicine
31. Daniel Eller, Maternal & Fetal Medicine
34. Carlos Alarcon, Obstetrics & Gynecology
35. Elizabeth Taghechian, Obstetrics & Gynecology
36. Mary Chappell, Obstetrics & Gynecology
37. Kimberly Huffman, Obstetrics & Gynecology
38. Terry Kelley, Obstetrics & Gynecology
39. Colleen Killian, Obstetrics & Gynecology
40. Natalie Needham, Obstetrics & Gynecology
41. Elizabeth Street, Obstetrics & Gynecology
43. Mark Berman, Ophthalmology
44. Monica Bratton, Ophthalmology
45. Charles Ho, Ophthalmology
46. Denise Johnson, Ophthalmology
48. Erroll Bailey, Orthopedic Surgery
49. Stephanie Martin, Orthopedic Surgery
50. Tapan Daftari, Orthopedic Surgery
51. Robert Kelly, Orthopedic Surgery
52. Douglas Lundy, Orthopedic Surgery
54. Roy Schottenfeld, Otolaryngology
55. David Parks, Otolaryngology
58. Christian Williams, Pediatrics
61. K. Keith Jeffords, Plastic Surgery
63. Russell French, Pulmonary Disease
64. Jody Hughes, Pulmonary Disease
65. Eduardo Molinary, Pulmonary Disease
67. Kelly Weselman, Rheumatology
69. Philip Ramsay, Surgery
71. Theolyn Price, Thoracic & Cardiac Surgery
74. Murphy Townsend, Urology
76. Alan Zuckerman, Vascular & Interventional Radiology
78. Shariq Sayeed, Vascular Surgery
79. Steven Oweida, Vascular Surgery