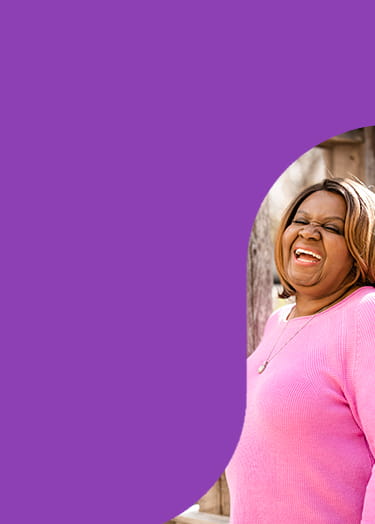 Care for Your Type of Cancer
People with many different types of cancer have access to cancer experts, personalized plans and advanced treatments for the best outcomes at Wellstar.
Expert Care for People with Cancer
Our teams of compassionate cancer experts work together toward the best outcomes for every person. Our patients have access to leading-edge treatments, clinical trials and an incredible network of support. The goal of our comprehensive cancer program is to care for patients and their families in every way — physically and mentally — during treatment and beyond.

Our experienced cancer specialists are available closer to home for people with many types of cancer. As a member of the Mayo Clinic Care Network, Wellstar gives our cancer specialists the opportunity to request eConsults — virtual second opinions — from Mayo Clinic specialists at no additional cost to the patient.

Wellstar is accredited by the American College of Surgeons (ACS) Commission on Cancer (CoC) and received the Outstanding Achievement Award, the highest honor awarded to a cancer program in the United States.

---
---
Blood Diseases
Breast Cancer
Endocrine Cancer
Adrenal cancer
Pituitary tumors
Genitourinary Cancer
Penile cancer
Testicular cancer
Urinary tract cancer
Head & Neck Cancer
Skin Cancer
Basal cell carcinoma
Melanoma
Squamous cell carcinoma
Brain & Spine Tumors
Cancer of Unknown Primary
Gastrointestinal Cancer
Anal cancer
Esophageal cancer
Small intestine (bowel) cancer
Stomach (gastric) cancer
Gynecological Cancer
Sarcomas & Soft Tissue Tumors
Bone sarcomas
Ewing's sarcoma (peripheral primitive neuroectodermal tumors/pPNET)
Kaposi's sarcoma
Leiomyosarcomas
Liposarcomas
Soft tissue sarcoma
Other soft tissue sarcomas
Thoracic Cancer
Learn more about cancer care at Wellstar.
Patients face cancer with confidence at Wellstar because of our multidisciplinary care model, the depth of our physicians' expertise and access to advanced treatments close to home. In fact, we have more than 300 healthcare providers that focus on care for patients with cancer at nine cancer programs with convenient locations across Georgia.