Radiation Therapy
Wellstar gives patients access to state-of-the-art radiation therapy for personalized cancer treatments to fight many different types of cancer.
Personalized Radiation Therapy Plans
At Wellstar,
radiation oncologists
design a
personalized plan for each patient
. Radiation therapy delivers targeted energy from X-rays or radioactive sources to destroy cancer cells in a localized area.
Cancer is caused by cells with mutations in the DNA that cause them to grow uncontrollably. Our radiation oncologists use advanced techniques and technology to turn cancer's strength into its greatest weakness. Radiation attacks cancer by altering the DNA within cancer cells and prevents them from reproducing and growing. Radiation therapy is completely painless—what patients experience during treatment is similar to undergoing imaging X-rays.
Radiation is effective for treating patients with many different types of cancer, including lung, breast and prostate cancer. Wellstar radiation oncologists design the best radiation therapy for each person based on the cancer type, stage and various factors. Patients may benefit from radiation alone or combined with other cancer treatments such as surgery, targeted therapy, immunotherapy or chemotherapy.
State-of-the-art technology to personalize your fight
Wellstar's cancer experts have the latest cutting-edge technology to apply the latest research and personalize your fight against cancer. People who would benefit from radiation therapy have access to our skilled physicians and some of the most sophisticated radiation therapy techniques and technologies available today, including state-of-the-art CyberKnife, TomoTherapy and TrueBeam technology.
CyberKnife
The latest CyberKnife robotic radiosurgery systems use advanced technology, a robotic arm and a miniature linear accelerator to deliver large doses of radiation in a pencil-thin beam, helping patients have faster treatments and better outcomes. Our cancer centers at Wellstar North Fulton Medical Center and Wellstar Kennestone Regional Medical Center offer CyberKnife technology, with the highest volume of CyberKnife experience in Georgia.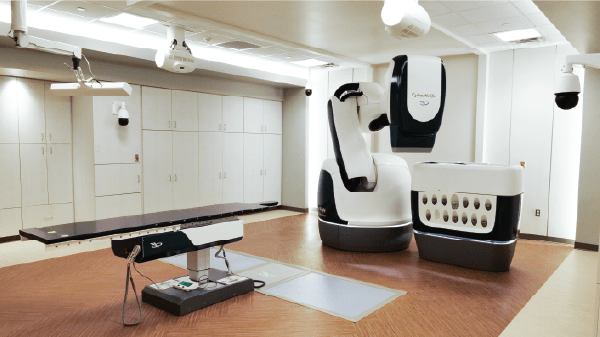 TomoTherapy
This external beam radiation therapy rotates 360 degrees around the patient to deliver continuous external beam radiation therapy at every angle. CT imaging identifies the exact position of the tumors during the treatment and adjusts to patients' movement, which reduces negative impact on surrounding healthy tissue.
TrueBeam
This technology delivers very high precision dosages with flexible treatment options including the capability to change the size and shape of beams to mimic the tumor shape and minimize exposure to surrounding healthy tissue. This precision external beam radiation therapy tailors treatments to patients with high definition digital accelerators to ensure high quality treatment. The volumetric modulated arc therapy beam is continuously aimed at the tumor as the machine rotates around the patient, which increases patient comfort.
Types of Radiation Therapy
---
Brachytherapy
Known as brachytherapy, radiation is sometimes administered from inside or near the cancer with implanted devices such as wires, balloons, needles or seeds, which can be as small as the size of a grain of rice. This type of therapy is sometimes recommended alone or in other cases, it is a supplement to other types of cancer treatment depending on what is best for your personal cancer fight.

This type of radiation therapy is especially effective in treating prostate, cervical and breast cancer.


High-dose rate brachytherapy
With high-dose rate brachytherapy, patients typically receive a higher dose of radiation over a shorter period of time. Patients' treatments may last just a few minutes and will receive a few treatments over a number of days.


Low-dose rate brachytherapy
Low-dose rate brachytherapy is typically used for prostate cancer patients. Tiny seeds are implanted directly into the prostate, right next to the cancer, in a single procedure while the patient is under anesthesia. There is no incision as the seeds are implanted via needles so patients are typically back to normal activities the next day.


External Beam Radiation Therapy (EBRT)
External beam radiation therapy aims high-energy X-ray beams at a specific part of the body to destroy cancerous or benign tumors. The treatment destroys the genetic material that allows tumor cells to grow and divide.

This therapy most typically treats:

Image Guided Radiation Therapy (IGRT)
An enhanced radiation therapy treatment using computers and a linear accelerator to pinpoint the exact location of a tumor while the patient is in the treatment position. This allows the radiation oncologist to adjust the radiation beam based on the position of the targeted tumor so that the tumor can be precisely destroyed and critical organs can be avoided during treatment delivery.


Intraoperative Radiotherapy (IORT)
One of our newest surgical advancements is the addition of intraoperative radiotherapy (IORT). This intense radiation therapy is performed during surgery for patients who are candidates for breast-preserving surgery. This high-dose radiation therapy is performed during surgery to treat specific types of cancer, such as breast cancer. Synchronizing their procedures, a radiation oncologist applies high-dose radiation therapy while a surgeon moves or shields surrounding tissue and nearby organs. The benefit of IORT is that it spares surrounding tissue.


Intensity Modulated Radiation Therapy (IMRT)
Intensity modulated radiation therapy (IMRT) is an advanced form of radiation therapy. Wellstar radiation oncologists can precisely control the intensity of the radiation that different parts of a tumor receive assisted by computer-controlled, movable "leaves" that mimic the shape of the tumor. This is another way Wellstar uses technology to maximize treatment to cancer cells while protecting surrounding healthy cells and limiting treatment side effects.


Stereotactic Body Radiosurgery (SBRT)
Like stereotactic radiosurgery, this method can treat tumors with highly targeted, high-dose radiation. But now this advanced radiation therapy can be applied to any location in a person's body. Because of the multiple X-ray beams coming from many different angles as well as the high treatment precision, surrounding tissue, organs and nerves are spared.


Stereotactic Radiosurgery (SRS)
Despite its name, stereotactic radiosurgery uses radiation—not surgery—to treat small cancerous tumors in the brain with precisely targeted beams of radiation. This is like virtual surgery because this advanced technique can destroy a tumor with minimal effects to the surrounding brain. People who undergo this treatment do not require anesthesia and do not feel anything during treatment administration.

The precision comes from 3D imaging that pinpoints exact coordinates with submillimeter accuracy. Because of the high dosage and precision, fewer treatments are typically required and most treatments can be finished in a single session.

While an individual beam has no significant affect on tissue it passes through, many precisely targeted beams intersect at the targeted site to destroy tumors. This is how this technology spares surrounding tissue.


Three-Dimensional Conformed Radiation Therapy (3D-CRT)
A type of external beam radiation therapy, 3D-CRT uses state-of-the-art computers in conjunction with CT scans to create a digitally constructed 3D image of the tumor and surrounding normal tissue. Radiation oncologists can then shape and direct the treatment field more precisely to better target the cancer and spare the normal tissue, thereby reducing radiation side effects.


Volumetric Modulated Arc Therapy (VMAT)
This precision external beam radiation therapy tailors treatments to patients with high definition digital accelerators. The volumetric modulated arc therapy beam is continuously aimed at the tumor as the machine rotates around the patient, which increases patient comfort, shortens treatment time and allows for sophisticated tumor targeting.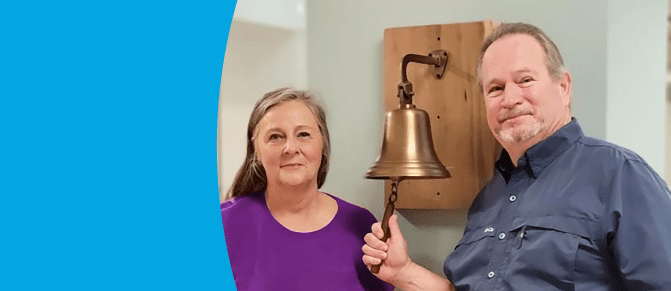 GREGCare
Like his family's land, Greg maintains his body with care, especially after his prostate cancer diagnosis, which he navigated with his Wellstar team.
Read his story