JudyCare
Judy Robinson finished her fifth tour as a civilian assisting the military in January of 2018. She prioritized visiting her mother, her three adult daughters and five grandchildren when she returned to Douglasville. Second on the list was scheduling her routine health checks, as required every year by the military, including having a mammogram.
Mammograms can catch cancer early and lead to better outcomes
A mammogram is a routine X-ray that takes a picture of the breast to identify early signs of breast cancer. Mammograms can catch cancer before it can be felt, sometimes up to three years earlier. When breast cancer is detected earlier, the outcomes can be better for patients.
At Wellstar Douglas Medical Center, Judy's mammogram identified a lump in the breast. A biopsy confirmed it was cancer. This was the third time Robinson was diagnosed with breast cancer in 20 years.
Overcoming breast cancer, time after time
"The most aggressive breast cancer I had was the very first time," she said, explaining that when her breast cancer was treated in 1998, she had a lumpectomy (a breast-preserving procedure that only removes the abnormal tissue from the breast), radiation and chemotherapy.
Her daughters were school-aged children at the time, and Robinson's mother helped with their care as Robinson underwent aggressive treatment.
"I went to work one day, and I thought to myself, 'I can't do this. This is too much,'" she remembered. "I saw their picture on my desk, and I thought, 'You know what, Lord, I've got to hang in here for them.' My whole attitude changed. It wasn't about me or how I was feeling. It was about providing for them."
She fought breast cancer and won, eating healthily, exercising and loving her family for nearly 10 years before it returned.
"I was on Tamoxifen (a hormonal therapy used to treat hormone-receptor-positive breast cancer), and it was so strong it threw me into menopause," she said. "I was having hot flashes so bad, so I stopped taking it. If I would have stayed on it, it may not have come back."
When cancer returned to her left breast, Robinson chose to have a mastectomy — complete breast removal and reconstructive surgery.
"My attitude for treatment was better the second time," she said, smiling. "I would skip in there and bring that positive sunshine personality to rub off on everybody else!"
In 2018, she was diagnosed for the third time — this time, the breast cancer was in her right breast. She had a mastectomy at Wellstar Cobb Medical Center and breast reconstruction surgery in September 2020.
"Breasts don't make or break us," Judy said. "We are who we are as humans. It's all about what's in the heart. I've learned that. And, reconstructive surgery has its perks!"
Her oncologist recommended a long-term oral medication to help decrease the chance of the cancer returning. Throughout her treatment, Robinson found comfort by participating in a breast cancer support group at Wellstar Douglas Medical Center.
"I didn't have any hair — I was wearing a wig," she remembered. "I met a lady who had ovarian cancer, and it was amazing. I always find comfort in talking to others there."
Robinson's purpose
Robinson has had her share of health challenges, including living with multiple sclerosis, diagnosed around the same time as her third breast cancer diagnosis. But she has an incredibly positive outlook.
Robinson owns two service-oriented businesses and runs them with her sister and two of her daughters.
Nell's Place is a transitional home serving civilians and veterans with disabilities such as bipolar disorder and schizophrenia. Robinson goes above and beyond the call of duty, often playing the role of a family member in addition to that of a daily caregiver. She often takes groups of residents out to dinner to celebrate a resident's birthday when their family is not involved.
Judy and her family also operate In Loving Hands Adult Day & Health, caring for seniors with Alzheimer's Disease and dementia and children and adults with developmental disabilities.
"I look at my purpose for still being here as God's purpose," she said. "I don't take anything for granted. He's allowing me to be a good steward — to see about others, even in my condition. I'm still able to give, and I'm still able to love."
Have you had a mammogram?
Screening can help catch breast cancer early and may improve outcomes after treatment. Learn more about mammograms and schedule one at a location near you.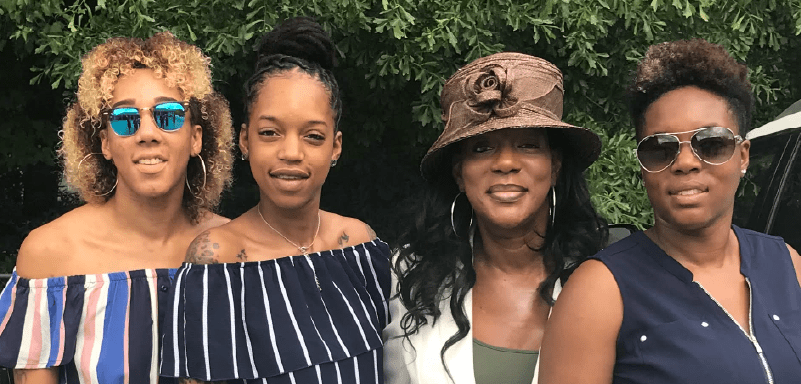 IN THE PHOTO:
Judy Robinson overcame breast cancer three times to run service-oriented businesses with her sister, Wendy Favors (not pictured), and her daughters. Pictured from left to right: Tamara Robinson, Somer Robinson, Judy Robinson and Brittia Childs.
Keep reading
Published on: October 2022