Wellstar Community Health Programs
We support the health of our communities. At Wellstar, we are more than healthcare, PeopleCare.
Community Health Programs
Community Health Programs at Wellstar
As one of the leading healthcare systems in Georgia and one of the top ten charity care systems in the nation, we embrace the responsibility of supporting our communities throughout the state. Our community health efforts exist to coordinate connections between people who experience poor health outcomes and a lack of resources in order to help improve their chances for sustainable health and well-being. We do this by providing access to care through our community clinic network and community transformation programs, and by providing access to COVID-19 vaccinations and colorectal cancer and prostate cancer screenings, to name just a few examples. In fact, we have facilitated over 10,000 community vaccinations in collaboration with local public health, and we've distributed 1,300 Colorectal Cancer Screening Kits through our partnership with BLKHLTH. Across Wellstar, our caregivers and team members from many disciplines work to focus their talents toward service. Because access to healthy foods is a key component of healthy living, we endeavor to offer this support in our community efforts, including our food resource initiatives. When Wellstar's Community Health Needs Assessments identified food insecurity as a key social determinant of health impacting the well-being of the communities we serve across the state, Wellstar joined the Goodr partner network and launched Wellstar Mobile Markets, a uniquely branded variation of pop-up grocery markets. These Mobile Markets have reached communities in metro Atlanta and beyond. Since its inception in 2020, the "Wellstar on Wheels" Mobile Market has served over 25,000 individuals. Wellstar's Spiritual Health staff support and give care during moments when people most need it. Their primary goal is to provide a compassionate and supportive environment that allows patients, families and other caregivers to feel safe and respected. These efforts include nondenominational spiritual support for patients and family members through our congregational health network, as well as the compassionate attention of social work students on rotation in our medical centers. The efforts of our Wellstar Women's Health caregivers support positive maternal health and wellness by providing vital resources and education to pregnant and postpartum birth givers. Wellstar has partnered with Healthy Mothers, Healthy Babies Coalition of Georgia (HMHBGA) to provide maternal health resources in support of new mothers and birth givers in Georgia. Part of these efforts include distributing free care packages, including practical tools and educational information. Wellstar is also part of a pilot program, Operation MIST, which is studying the maternal mortality and morbidity crisis that is impacting birth givers and the health of their babies. All this important work, and more, to support the health of our communities highlights our Wellstar motto that we are more than healthcare, PeopleCare.
2023 Wellstar Mobile Markets
Locations and Dates
Learn more at
wellstarmobilemarket.com
Butts dates: March 23rd, April 27th, May 25th, June 22nd (STARTS AT 11:00 AM), October 26th
Jackson United Methodist Church
409 E 3rd St, Jackson, GA 30233
Event start time: 5:00 PM
(EXCEPT June 22nd event starts at 11:00 AM)
Cobb dates: March 9th, April 13th, May 11th, June 8th, October 12th
Austell Senior Center
4915 Austell Powder Springs Rd, Austell, GA 30106
Event start time: 10:00 AM
Douglas dates: March 15th, April 19th, May 17th, June 28th, October 18th
First Presbyterian Church Douglasville
9190 Campbellton St, Douglasville, GA 30134
Event start time: 10:00 AM
Fulton dates: March 16th, April 20th, May 18th, June 15th, October 19th
Fulton County Oak Hill Child Adolescent & Family Center
2805 Metropolitan Pkwy SW, Atlanta, GA 30315
Event start time: 10:00 AM
North Fulton (Roswell) dates: March 11th, April 15th, May 13th, June 10th, October 14th
Zion Missionary Baptist Church
888 Zion Cir, Roswell, GA 30075
Event start time: 10:00 AM
Paulding dates: March 31st, April 28th, May 26th, June 23rd, October 27th
New Season Church
4457 Atlanta Hwy, Hiram, GA 30141
Event start time: 10:00 AM
Spalding dates: March 2nd, April 6th, May 4th, June 1st, October 5th
New Mercy Baptist Church
730 Park Rd, Griffin, GA 30224
Event start time: 5:00 PM
Troup dates: March 4th, April 1st, May 6th, June 3rd, October 7th
AMC CLASSIC LaGrange 10
201 Main St, LaGrange, GA 30240
Event start time: 10:00 AM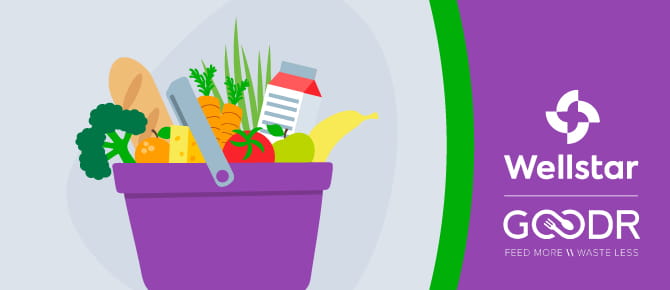 Wellstar Partners with Goodr to Launch Mobile Grocery Store to Address Food Insecurity
Wellstar joined the Goodr partner network and launched Wellstar Mobile Markets, a uniquely branded variation of the pop-up grocery markets.
Learn more