Wellstar Kennestone Hospital, the largest hospital in the nationally recognized nonprofit Wellstar Health System, is celebrating its 71st anniversary. In addition, Wellstar Kennestone is marking a year of significant accomplishments and accolades that include national emergency and trauma care designations, as well as community and national recognition for service and care excellence.
"Wellstar Kennestone Hospital has proudly provided lifesaving and compassionate care to Georgians for 71 years," said Mary Chatman, Wellstar Health System executive vice president and president of Wellstar Kennestone and Windy Hill Hospitals. "We are an integral part of the community we serve, and so grateful for the support we have received over the past year, which has been especially challenging for everyone."
"Our exceptional and dedicated team members stand ready to serve the community's healthcare needs with excellence and compassion," said Marianne Hatfield, chief nursing officer at Kennestone. "As one of the largest and busiest hospitals in the state, recent designations and accolades we have received simply underscore what we are committed to doing every day: providing expert medical care to people, no matter their age or stage in life." Founded on June 27, 1950, Wellstar Kennestone Hospital marked its 71st anniversary this week by hosting a small reception to thank hardworking and selfless team members, dedicated community members, and key supporters.
A history of recognition for care excellence
Wellstar Kennestone has a rich history of delivering quality care for Georgians, and has received many national and regional accolades and certifications for care excellence over the years. The hospital recently received the highest level of recognition for emergency cardiac care in Georgia and was designated a Level I Emergency Cardiac Care Center by the Georgia Department of Public Health, Office of Cardiac Care.
Wellstar Kennestone Hospital was also verified as one of only four Georgia Level II Trauma Centers by the American College of Surgeons. This achievement recognizes the Trauma Center's dedication to providing optimal care for injured patients.
Wellstar operates the largest trauma network in Georgia, with Wellstar Kennestone managing one of the nation's newest and largest emergency departments, with state-of-the-art care for pediatric and adult patients. The new emergency department is connected to the main hospital and is located near the intersection of Church and Cherry Streets at 115 Cherry Street NE, Marietta, Georgia 30060.
Additional accolades
In addition, Wellstar Kennestone and its providers and team members recently received numerous recognitions, including:
U.S. News & World Report 2020-2021 Best Regional Hospitals and one of the nation's High Performing Hospitals.
America's 100 Best Critical Care Hospitals and 250 Best Hospitals by Healthgrades, which recognizes hospitals that deliver superior patient outcomes in Critical Care. Wellstar Kennestone was also listed as a best hospital in five service line categories.
AMSN Prism Award by the Academy of Medical-Surgical Nurses and the Medical-Surgical Nursing Certification Board for exemplary practice of the medical-surgical unit.
American Association of Critical Care Nurses' 2020 Beacon Award of Excellence, recognizing units that distinguish themselves by improving every facet of patient care.
Atlanta Business Chronicle 2021 Best in Real Estate Awards "Healthcare Deal of the Year" for the Wellstar Kennestone Hospital Emergency Department, which opened in July 2020 during the COVID-19 pandemic.
Atlanta Magazine 2021 "Best of Atlanta" recognition for "New Emergency Care: Wellstar Kennestone Hospital's New Emergency Department."
Georgia Trend 2021 "Top Doctors," a listing of the state's top physicians, with many of the 130 doctors on the list serving Wellstar Kennestone across multiple service lines.
Atlanta magazine 2021 "Top Doctors" list featuring 79 Wellstar physicians, many of whom serve at Wellstar Kennestone.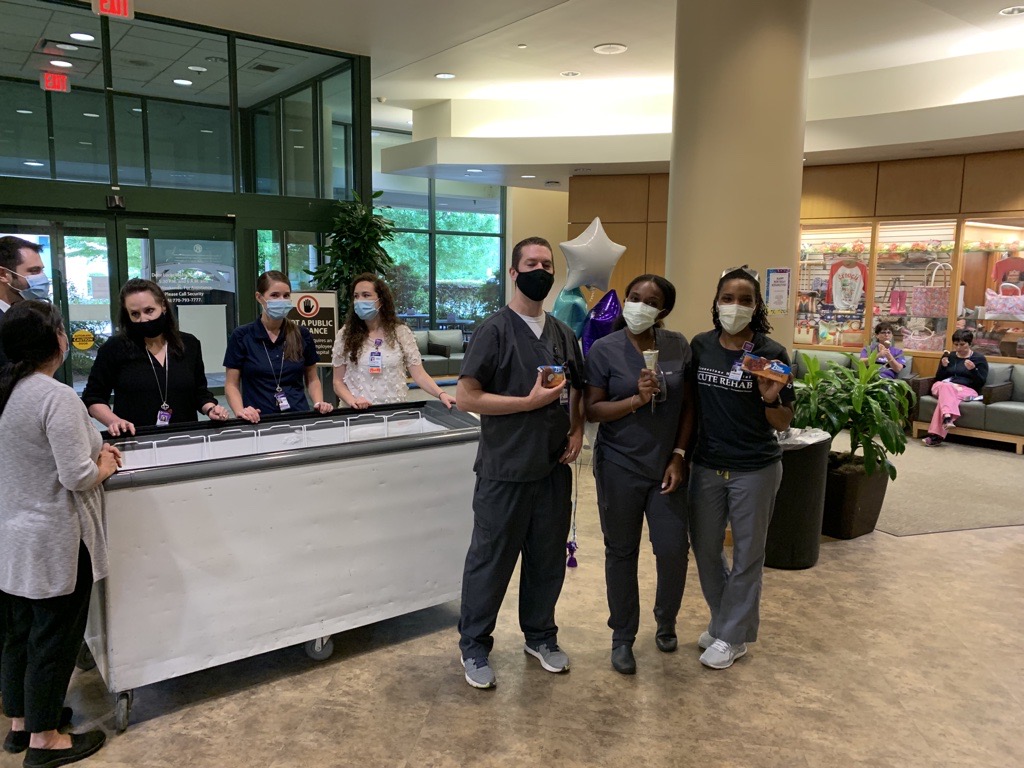 Wellstar Kennestone Hospital celebrated its 71st anniversary by hosting an ice cream social to thank team members for providing outstanding and compassionate care to the community.