Heart Disease Assessment at Wellstar
Genetic counseling can help determine a person's risk of developing inherited heart disease. People with rare cardiac diseases have a higher risk of developing hereditary cardiac conditions than other people. Some of these conditions include hypertrophic cardiomyopathy (HCM), dilated cardiomyopathy (DCM), and arrhythmogenic right ventricular cardiomyopathy (ARVC). Additionally, inherited heart conditions such as Long QT syndrome and Brugada syndrome affect the electrical system of the heart, causing abnormal heart rhythms called arrhythmias.

The Wellstar Genetic Risk Assessment Program helps people understand if they or their children are at higher risk for cardiomyopathies.

People with known cardiac syndromes may benefit from medications or interventions that reduce the risk of a cardiac event.

Common reasons to see a cardiac genetic counselor include:
Family history of sudden cardiac death in one or more close relatives.
Cardiomyopathies, including dilated, hypertrophic and restrictive cardiomyopathies.
Arrhythmias or a family history of an inherited heart problem, including Long QT, Brugada, Loeys-Dietz, Fabry, Marfan, Short QT syndrome, ARVD or CPVT.
Aortic aneurysm or aortic dissection.
Congenital heart disease or structural heart abnormalities, including Tetralogy of Fallot, transposition of the great arteries, atrial septal defect or left-sided obstruction defects.
Visit the Wellstar Genetic Risk Assessment Program page to learn more about the genetic counseling experience, what to expect at your appointment and whether genetic testing is covered by insurance.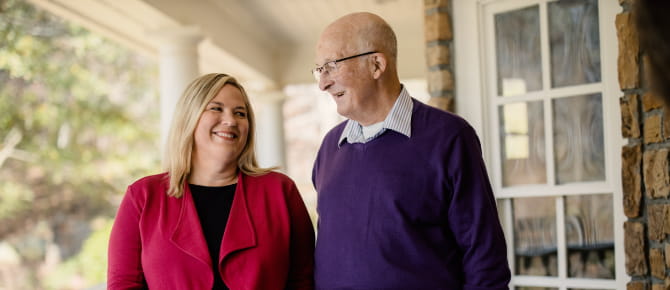 John&JaninCare
If "adventure" were a gene, John Petrick surely passed it on to his daughter, Janin. The father-daughter duo has always wanted to experience everything life has to offer. Together, the pair has survived an avalanche in the Alaskan wilderness, spent the night stranded on a cliff and even made a cross-country move from California to Georgia. But one thing they never expected to have in common was a rare heart condition.
Read their story