Wellstar Health System, one of the largest and most integrated healthcare systems in Georgia, is announcing that the planned construction and expansion project to further enhance patient services and facilities will begin at Wellstar Kennestone Hospital on December 20, 2021. During construction, the Church Street entrance to Wellstar Kennestone Hospital will be closed.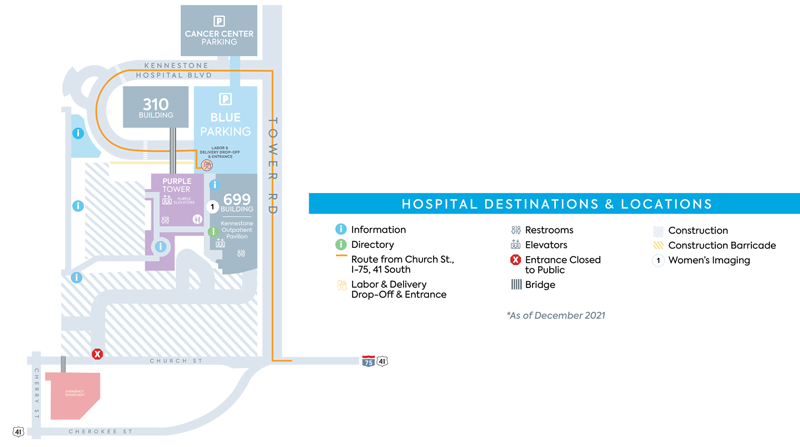 WHEN: Starting December 20, the covered walkway from the hospital's Blue Parking Deck to the main entrance will be replaced with a temporary covered sidewalk, shifting the Labor & Delivery Entrance and Drop-Off to inside the Blue Parking Deck at the existing Kennestone Outpatient Pavilion (699 Building) entrance. To access the Labor & Delivery entrance, visitors will need to use Kennestone Hospital Boulevard, off Tower Road, then follow the signs into the covered Blue Parking Deck.
Wellstar Kennestone Hospital is taking the following steps to minimize the impact on patients, team members, providers, and the community:
The main lobby entrance will remain open, as will Kennestone Hospital Boulevard.
Visitors who park in the Blue Parking Deck can use the temporary sidewalk into the main lobby or enter the hospital through the Purple Tower.
The new Labor & Delivery entrance location is covered, with ample space for curbside drop-off. The area will be open 24 hours a day and fully sta­ffed to welcome and direct patients to their destination.
Signs will be posted on the construction barricades, in the parking deck, and in the hospital corridors to guide visitors to their desired location.
Traffic directors will be stationed outside the hospital lobby to help visitors navigate the changes.
WHY: Wellstar Kennestone Hospital is prepping the site for the proposed expansion project and new patient tower. Wellstar is developing the new tower to expand its women and children services, enhance campus amenities, and address community requests for more private rooms. The new tower will replace the current Baird Building and is expected to open in mid-2025.
To see the latest updates on the project, visit the Wellstar Kennestone Hospital web page.