Pediatric Allergy & Immunology
Pediatric Allergy and Immunology specializes in identifying, treating and preventing illnesses related to allergies, asthma and immune deficiencies in children. Through treatments such as dietary changes, environmental controls, immunotherapy and medications, our doctors help children and their families improve how they feel, sleep and function in school and at home.
Pediatric Allergy & Immunology at Wellstar
Allergies can disrupt children's lives, from chronic skin irritation and breathing problems to life-threatening food reactions, medications or environmental triggers. Whether present at birth or acquired later, immune system issues can make it difficult for children to fight infections. Autoimmune conditions cause the body to start attacking itself.

Wellstar pediatric allergy and immunology doctors know each child us unique. We are experts at working with young patients, their families, and their primary care physicians to identify and diagnose allergic conditions. Treatment plans are developed with kids in mind to relieve symptoms, prevent future issues and help them, and you live life to the fullest.
What we treat
Our pediatric allergy and immunology physicians identify and treat a full range of conditions, including:
Asthma
Allergic rhinitis
Allergic conjunctivitis
Allergies (animal, environmental, food, insect)
Anaphylaxis
Eczema and atopic dermatitis
Eosinophilic esophagitis
Immune system deficiencies
Recurrent fever disorder
Sinusitis
Hives
Do I need a referral to see a pediatric allergist?
No, appointments with a pediatric allergist do not require a referral.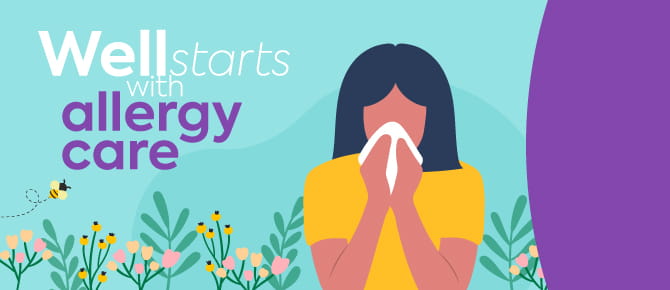 Well Starts with Allergy Care
If you're one of the more than 50 million Americans suffering from seasonal allergies, take back control of your health with help from Wellstar.
Learn more