Wellstar Windy Hill Orthopedic & Total Joint Center
At Wellstar Windy Hill, our bone & joint care experts tailor orthopedic care to your individual needs, alleviating pain and helping you get back to living your best life.
Orthopedic Care That's Both Comprehensive and Compassionate
---
At Wellstar Windy Hill, we know that painful bone or joint symptoms can prevent you from living your fullest life. That's why we deliver orthopedic care that's tailored for your individual needs. Whether a total joint replacement could help you keep up with your grandchildren or a minimally invasive procedure might get you back on the sports field, our care is designed to help you live the life you want to lead.
We are a Total Joint Center of Excellence. Our doctors, surgeons and specialists know how to treat bone and joint conditions with skill and experience – and our expertise in caring for shoulders, elbows, hands, wrists, hips, knees, ankles and feet is for everyone, from geriatric to pediatric patients.
The support of our comprehensive program begins as soon as your doctor recommends surgery. You'll be advised on what to expect with your surgery, and you'll receive the information and resources you need. We'll answer your questions and ensure any concerns you may have are addressed. We can also help facilitate physical therapy appointments or other follow-up care that's needed.
At our outpatient surgery center, you'll receive personalized care in our intimate, respectful and family-like setting where your Nurse Navigator will guide and support you through your complete orthopedic health journey. We utilize minimally invasive, arthroscopic techniques whenever possible, which typically involve shorter recoveries with fewer complications.
Patients travel from out of state for our specialized care, such as hip resurfacing and nerve decompression, and our patients share that this is their preferred place to have bone or joint surgery, when it is needed. The breadth of resources available in our Wellstar Health System gives our care the expertise to meet any healthcare challenge.
Our Care Team
You're in expert hands at Wellstar Windy Hill, where our orthopedic specialists are highly trained. You'll meet our team of encouraging, supportive professionals, from pre-admission testing and care coordination team members to our board-certified surgeons and physicians to our anesthesiologists, registered nurses and physical therapy providers. Each team member strives to make your experience great by giving you caring and attentive service. In fact, our patients comment positively on the compassion and support provided by our team.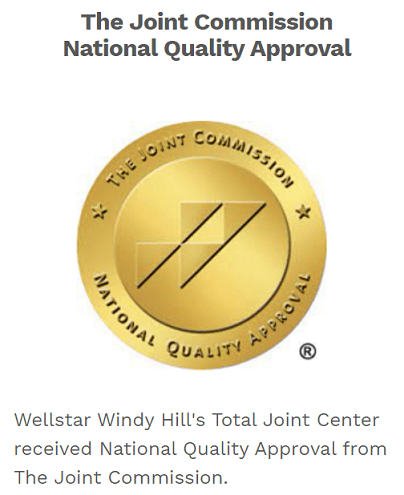 ---
Currently showing
4

total listed locations