Where do I go if I am delivering a baby?
Labor & Delivery patients ONLY may be dropped-off at the Outpatient Pavilion entrance just inside the Blue Parking Deck
The Labor & Delivery Drop-off/Entrance has shifted to the Outpatient Pavilion entrance, just inside the Blue Parking Deck. To access this Labor & Delivery entrance, visitors use Kennestone Hospital Boulevard, off Tower Road, then follow the Labor & Delivery signs into the Blue Parking Deck, which is our primary parking area.
This entrance is covered, there is plenty of space for drop-off, and the reception desk is staffed 24-hours a day.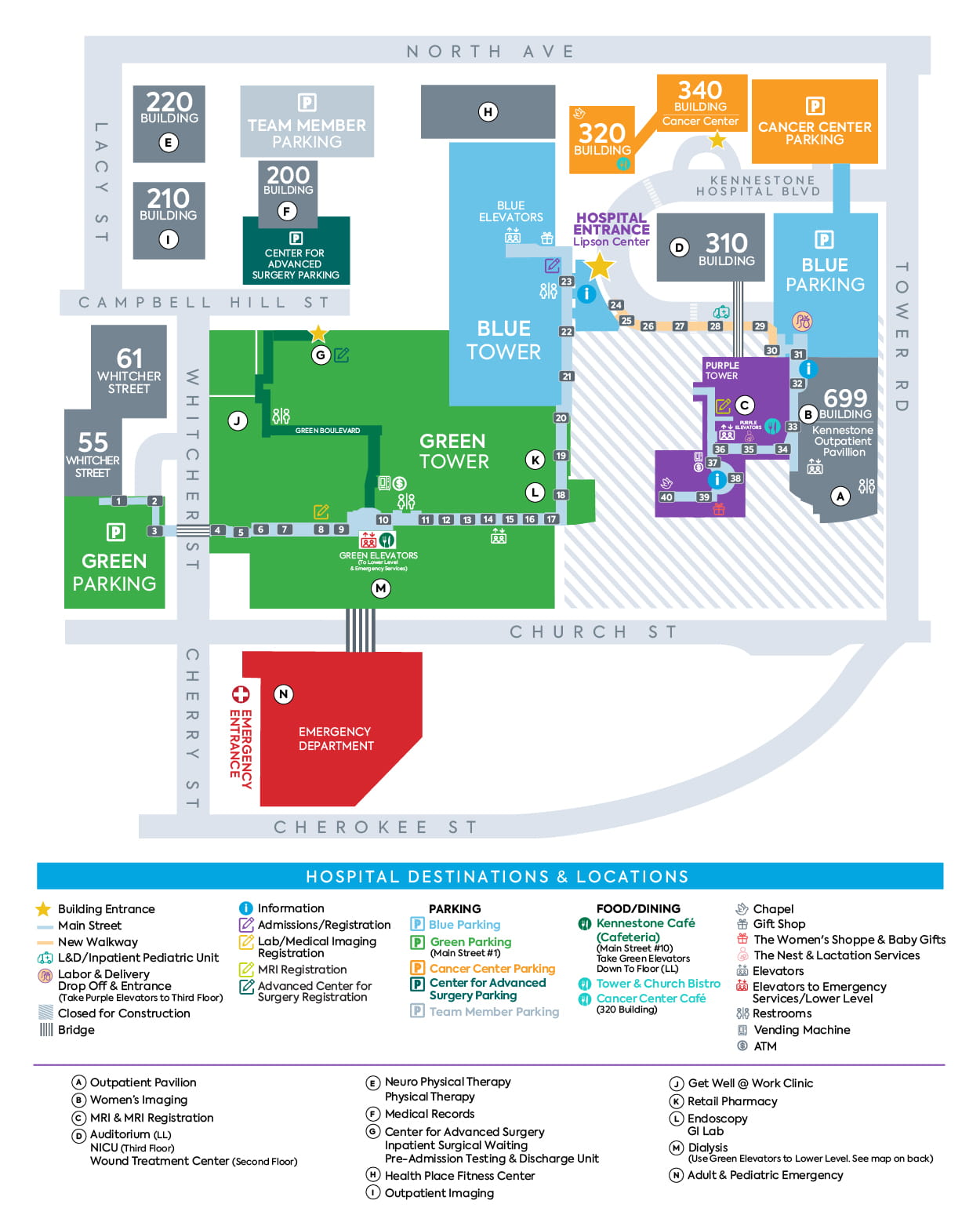 From your first prenatal appointment to the birth of your child and the amazing days to follow, Wellstar helps you prepare for your new baby with our interactive education, accessible resources and personalized care. Thousands of new parents choose to celebrate their baby's birthday surrounded by our highly skilled maternity services team providing family-centered care in technologically advanced birthing centers. There's no need to travel far when top-rated, world-renowned childbirth services are nearby.
Birth Day
The day you've been preparing for and anticipating for the last nine months has finally arrived. While every woman's experience with labor and delivery is different, and even each birth experience for the same woman is different, there are many things that you can expect to happen during your labor and delivery. All patients should report to the Labor and Delivery nurses' station for labor, induction, or a scheduled c-section. You should only bring items needed for delivery; all other personal belongings may be brought in once you are admitted.
Parking Information
Parking is available for a fee in the Blue Parking Deck. Please note we do not validate parking. Valet parking is available for a fee during daytime hours at the Lipson Center entrance (on your right before you reach the Labor and Delivery entrance). For more information, call Lanier Parking at 770-793-9140.
Food Options
Please note new moms are provided with meals during their hospital stay.
Cafeteria (located in the Lower Level of the Green Tower) Dine-in and takeout options are available.
Weekday and non-holiday hours:
Breakfast: 6 AM - 10 AM
Lunch: 11 AM - 3 PM
Late night: 11:30 PM - 3 AM
Weekend and holiday hours:
Breakfast: 7 AM - 9:30 AM
Lunch: 11 AM - 2 PM
Dinner: 4:30 PM - 6:30 PM
Late night: 11:30 PM - 3 AM
Tower & Church Bistro (located on the first floor of the Kennestone Outpatient Pavilion) Open for breakfast, lunch, and dinner. Dine-in and takeout options are available.
Vending machines (located in vending areas throughout the hospital) Snacks, coffee and other beverages are available 24 hours a day in the vending areas.
Outside food -Visitors are allowed to bring outside food into the hospital, and there are several restaurants in the area. Please note we do not provide refrigerators for food storage.
Newborn Photography
Wellstar hospitals partner with Bella Baby Photography to offer in-hospital newborn photography. If you would like to participate, a photographer will visit your room the day after your baby is born to take photos. The photo sessions are complimentary and there is no obligation to purchase. For more information, visit
bellababyphotography.com.