Helpful Information for Physicians
---
Study Description
MR Enterography (MRE) is an examination targeted to detect small bowel inflammation and associated complications. MRE often permits differentiation between active inflammation and chronic disease. Multiplanar acquisition with real time radiologist guidance can optimally define anatomy. Bowel motility is assessed to further enhance diagnostic confidence and identify functionally significant bowel stenosis, areas of fibrosis, and adhesions. The combination of motility data, bowel morphology, and enhancement kinetics obtained during MRE can help referring clinicians triage patients to medical therapy or surgery. Serial MRE exams during a trial of medical therapy can assess treatment efficacy without subjecting the patient to radiation exposure.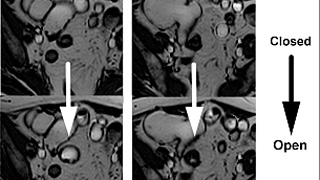 Patient Selection and Indications
Test is ideal for patients with suspected inflammatory bowel disease (IBD) including Crohn's.

It is a much more sensitive substitute for fluoroscopy exams such as small bowel follow through. Unlike capsule endoscopy or colonoscopy which only visualizes the mucosa, MR enterography is ideal for detecting both mucosal and extraluminal pathology. Unlike CT enterography, it does not expose the patient to ionizing radiation. This is an important consideration given the young age of most IBD patients and the chronic nature of the disease, necessitating serial imaging exams. It is ideal for follow up examination in patients undergoing a trial of new medical therapy such as anti-TNF antibody treatment.

Unlike competing tests such as CT enterography and capsule endoscopy, the additional bowel motility data obtained during MR enterography often permits differentiation between acute disease, managed medically and chronic disease, managed surgically.

MR enterography can be applied in other clinical scenarios as well, including:
To evaluate source of intermittent small bowel obstruction (most useful when symptomatic).
To assess degree of patency of a surgical small bowel anastomosis, including in post gastric bypass patients.
To locate post-surgical adhesions and identify their functional significance.
An MR enterography exam takes longer than CT enterography and should not be used in an emergency setting. CT enterography may be considered as a first line therapy in ER patients, septic patients, and in the evaluation of abscess and surgical drainage. It may also be obtained as a baseline exam in the post-surgical patient as anatomy may be more easily defined with that modality.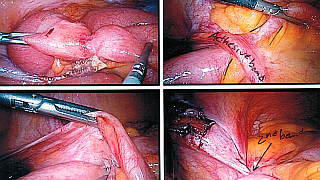 Patient Preparation
Standard MRI Precautions should be employed. Patients should be fasting a minimum of 6 hours before the test.

Exam requires administration of oral contrast, 1-2 L total volume of Barium suspension, sorbitol, and water, followed by a 45' delay before the start of imaging. Total imaging time varies depending on the degree of pathology but may exceed 1 hour. Images are routinely review by the radiologist while the study is in progress, and additional series may be obtained based on this preliminary assessment. If the patient needs to take a short break during the test, this may be readily accommodated without compromising the exam.

Prior to the contrast enhanced portion of the exam, patients receive Glucagon 0.5mg IM to reduce image blurring from bowel motion. GADOLINIUM 10ml IV is given to assess the mucosa and bowel vascularity. In allergic patients or in those with renal failure who are at risk for NSF, a non–contrast version of the study may be performed.

The majority of the test is performed with the patient free breathing, but breath holds of short duration are required during the post contrast portion.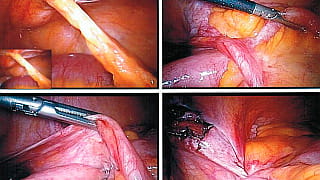 Reporting and Outcomes
MRE has high sensitivity and specificity in depicting early changes of IBD as well as assessment of complications such as abscesses or fistulae.

MRI provides excellent image quality. Soft-tissue contrast is superior to competing modalities. It provides an extremely sensitive depiction of fluid and edema. The addition of Gadolinium increases detection of subtle inflammation and allows assessment of multiple vascular phases.

Steady-state free precession (SSFP) imaging depicts bowel motility. Unlike CT, it may differentiate areas of fixed narrowing from stricture vs. inflammation from benign areas of transient narrowing due to normal peristalsis. Real time physician review is useful for optimally assessing abnormal bowel segments during a single test and for correcting imaging artifacts. As the abdomen and pelvis are both imaged in their entirety during MRE, pathology in other organs may often be detected incidentally. A comprehensive report detailing findings in the abdomen, pelvis, and in the bowel is provided to the referring clinician. If urgent findings are encountered, these are relayed in real time by telephone. A copy of the examination and report is furnished to the patient upon request. The exam may also be reviewed directly with the radiologist in the radiology department at a Wellstar facility.