Coronary Calcium Scoring CT
A Calcium Scoring CT is a non-invasive test to detect calcified plaque in the coronary arteries. It is quantified and compared with research statistics to determine an individual's risk based on a similar age and gender patient population.
Helpful Information for Physicians
---
Patient Selection and Indications
Greater calcium deposits in a person's arteries, as measured by a CT scan, increase the likelihood of a future coronary event such as a heart attack, angina, or death from coronary heart disease, according to a study funded by the National Heart, Lung, and Blood Institute of the National Institutes of Health. This study is the first to confirm this finding in multiple ethnic groups. The findings, titled "Coronary Calcium as a Predictor of Coronary Events in Four Ethnic Groups," from NHLBI's Multi-Ethnic Study of Atherosclerosis (MESA) are published in the March 27, 2008, issue of the New England Journal of Medicine.

A coronary calcium scan is most useful for patients at moderate risk for a heart attack. People who are at moderate risk have a 10–20& chance of having a heart attack within the next 10 years. This can be estimated using the Risk Assessment Tool from the National Cholesterol Education Program.

Low risk individuals who have a family history of coronary artery disease may also benefit from a coronary calcium scan.

Individuals at high risk or who already have known atherosclerotic disease are unlikely to benefit from this exam. Other imaging options such as a coronary CT angiogram or a cardiac MRI may be more appropriate in such patients.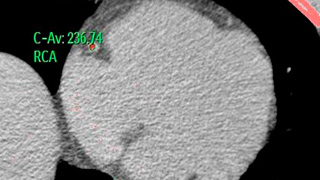 Patient Preparation
The exam should only be performed at a center with a 64-slice CT scan or better to minimize cardiac motion artifacts. The patient may need a low dose ß-blocker to lower HR to < 65. Higher heart rates may be permitted with the faster 256-slice CT scanner at Wellstar Kennestone Hospital.

The test is not suitable for patients with irregular heart beat or those who are pregnant. It should not be ordered for patients who have had a prior MI, CABG, or coronary stents. It is not suitable in a patient with a prior CT angiographic exam or screening CT calcium score within the last 4 years.

No stimulants should be taken 6-8 hours prior to test. Stimulants include caffeine, tobacco, cold medications, etc. Patients may otherwise eat and drink prior to the test.

Blood pressure and cardiac medications should be taken as normal. If there is concern a medication will interfere with the exam, please contact the scanning facility for more information.

Patient's heart rate must be 75 beats per minute or less at the time of the scan or it will need to be rescheduled.

Single Scan Rate ($99.00) vs. Couples Scan Rate ($149.00)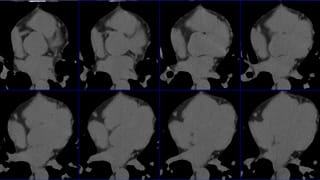 Reporting and Outcomes
A sample report is provided at right. The specific calcified vessels are identified along with a total coronary calcium score. A graph showing the patient's score relative to their cohort is provided, as is a table indicating relative risk. Higher risk may justify more aggressive medical intervention, additional non-invasive testing, and even coronary intervention.

In addition to assessing the coronary calcium score, the cardiac radiologist performs a comprehensive evaluation of all imaged thoracic anatomy. This includes the mediastinum, upper abdomen, lung parenchyma, and osseous structures. The radiologists report may provide additional recommendations based on unexpected but clinically relevant findings.

All results are immediately available to Wellstar affiliated physician via the Wellstar Portal. Otherwise, results may be mailed to the patient and/or outside referring MD.